We may earn commission from qualifying purchases at no extra cost to you.
Learn more
As we move into summer, pet owners and their canine friends go out into nature more frequently. Enjoying activities such as hiking, camping, and swimming. However, there are unseen dangers lurking. During these warmer months, local snakes also come out of hiding and become more active. So, pet owners, this summer exercise caution and take preventative measures to safeguard your pet from snake bites. You can do this by first avoiding snakes and second by having a plan to follow if your pet is bitten.
Can dogs survive a snake bite?
Dogs can survive a snake bite when they are treated to the proper care. A non-venomous snake bite is much less serious, while a venomous bite is much more serious. Either way, you should get your pet to a vet as soon as possible. However, the process of treating a snake bite can be very pricy and the bite will be painful for your pet. So, taking precautions before the event of a bite is the best way to go if possible.
Comprehensive guide to keeping dogs safe from snake bites:
In order to safeguard your pet against snake bites you want to take the following precautions.
Clear away undergrowth, and debris from your yard that can act as hiding places for snakes.
Clean up any food, fruit, or other resources that may end up attracting mice and other rodents to your yard. Where rodents go snakes will follow.
When walking, hiking, or camping with your pet or keep them on a leash.
If you allow them off leash watch your pet closely and keep them away from areas where snakes might be hiding. Keep them on the path and away from bushes, tall grass, and rock formations.
If you see a snake, turn around with your pet immediately. Remember: snakes can and will lunge and strike at threats. They can lunge forward about half their body length, which depending on the snake and its age could be several feet long.
Do your research and know what snakes are most common in your area, it can vary depending on season and region.
Finally, talk to your vet about vaccines to protect against venomous snake bites. These vaccines aren't necessarily right for all dogs, or all areas, so please speak to a professional to see if vaccines are right for your pet.
Despite all of these precautions, it is still possible that your canine could be a bit, and experience symptoms of envenomation. Dogs may be man's best friend, but they are still animals. Instinctually, they will try to chase down snakes if they find them. This antagonizes the snake encouraging them to bite. Which is why you need to take be prepared in the event that your dog is bitten.
How do you know if your dog has been bitten by a snake?
If you find that your dog has a wound you suspect might be from a snake look for the following symptoms:
Weakness and/or collapse
Muscle spasms
Dead tissue around the wound
Shortness of breath
Vomiting
Dilated pupils
Loss of bladder/bowel control
Paralysis
Blood in the urine.
Local and/or general swelling
Intense and consistent pain
Low blood pressure

You can check your dog's blood pressure by finding their pulse on the inside of their back thigh, or my poking their gums and looking for the pink color to return in approximately 1 – 3 seconds.
What does a snake bite look like?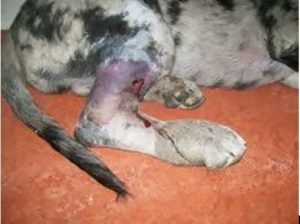 This image shows the reaction of a rattlesnake bite to a dog's back leg.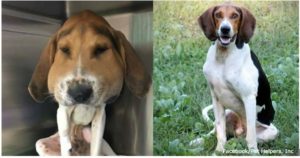 Image credit: Pet Helpers Inc.
This beagle was bitten by a copperhead snake, the photo on the left was taken when they arrived at the hospital.
My pet has been bitten by a snake, what should I do?
1)    Most importantly, you need to stay calm. If you get worked-up you may cause your dog to panic and it will be hard to follow step two.
2)    Again, it is very important to keep your pet calm, while limiting your pet's activity as much as possible.
3)    Locate the location of the bite, most commonly pets are bitten on the face, neck or legs.
4)    Remove the dog's collar and other restricting items near the bite area (in case of swelling).
5)    If you can see the snake, then take note of special markings or the type of snake if you know it. However, always put your safety first and never try to hunt down capture, or harm the snake.
6)    While identifying the snake is helpful, never try to handle a snake. Even if the snake appears dead. Muscle contractions can make it possible for snakes to bite after they have died.
7)    Immediately locate the nearest emergency veterinary clinic and get your pet there quickly and safely. Do not drive across town to your favorite vet.
8)    Alternative remedies in place of getting your pet to the Vet are not advised. They may just waste precious time.
9) Simply keep your pet calm, still, and keep the wound above heart level during transit to the Vet.
How do you Treat a snake bite on a dog?
While you may have heard of many alternative ways of treating a snake bite in all reality, your best chance of helping your dog in the case of a venomous snake bite is to get to the nearest emergency animal clinic as soon as possible. There is no way to treat a venomous snake bite at home. If you know the type of snake, inform your Vet, but don't worry if you don't, they can test for what kind of venom if any is present in your dog's bloodstream.
Anti-venom is most effective within 6 hours of the snake bite. The Vet will give you a full report and will be able to tell you the severity and what you should be watching for. You will likely have to keep a close eye on your dog for 48 hours following the administering of the anti-venom. Sometimes it can take quite a while for all the symptoms to appear and then subside. Depending on the severity of the bite your dog could be cleared within a few days but might need up to several weeks for recovery.
In the case of a non-venomous snake bite treat the injury like any other puncture wound. There really isn't any reason to panic as long as you are not observing the symptoms of a venomous snake bite. Simply clean the wound thoroughly, and wrap the wound if necessary. Your biggest fight, in this case, is against infection. If you see signs of infection take your dog in to be looked at by a professional. Your Vet will be able to guide you in the case of infection and will prescribe antibiotics, anti-inflammatories, or antihistamines as required.
Most venomous snakes for dogs in North America:
There are many factors that are in play when it comes to the way your pet will react to a snake bite. Most notably, the type of snake, amount of venom injected during the bite (if any at all). Something to keep in mind is that there are around three thousand species of snakes however, only about five hundred of those species are venomous. In North America, the most common venomous species are Rattlesnakes, Copperheads, Cottonmouths, and Coral snakes.
While you do need to be cautious of these snakes remember that even venomous snakes will "dry bite" as a warning. Snakes use their venom to paralyze and kill there pray, so if they perceive your pet as a threat rather than as prey, they will try to reserve their venom.
Eastern Diamondback Rattlesnakes: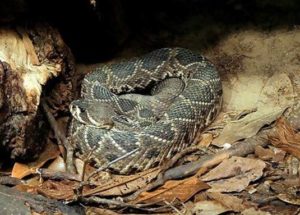 Ranges from 1.6 to 6.6 feet, and has been reported up to 8.2 feet.
This snake is found all through Florida and several offshore islands and keys, north to southeastern North Carolina and west to southern Mississippi and parts of Louisiana.
Western Diamondback Rattlesnake: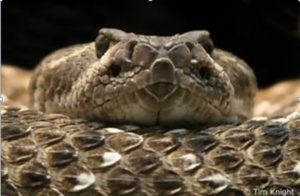 Can be up to 7 feet long. Ranges from central and western Texas, through southern New Mexico and Arizona, and into southern California. It also extends into central Mexico. This species is not found in Washington state.
While they are highly venomous, rattlesnakes at least give a warning. Like most snakes, they don't want to bite! They shake their rattle-like tail as a warning. In the case that your dog is bitten, the sound of a rattle is a great way to identify the snake and to know if it is still in striking distance.
Copperhead: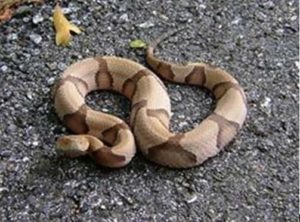 Copper heads are around 2 – 3 feet in length and have been reported to reach just over 4 feet long. They are found in Northern Florida up to Massachusetts, Texas and southeastern Nebraska.
While Copperheads are harmful to humans, they are not usually fatal. In the case of a dog, copperhead bites can be fatal.
It all depends on the size of the dog
. The smaller the dog the more likely there will be a fatal outcome. However, copperheads strike as a warning, so they will likely only administer a small amount of venom so if your dog is bitten get them to an emergency clinic and the chances of your pet's survival will be much better.
Cottonmouth (Water Moccasin):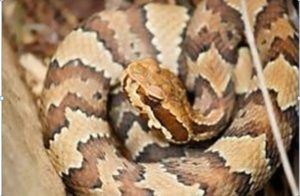 Cottonmouth or Water Moccasin snakes generally range from about 2 – 4 feet in length, however, snakes up to 5.8 feet have been reported.
These snakes are seen from Florida all the way north to Virginia and west to Illinois, Missouri, Oklahoma, and Texas.
This is a water snake, so if you are near water this is definitely a snake to watch out for.
Coral Snakes: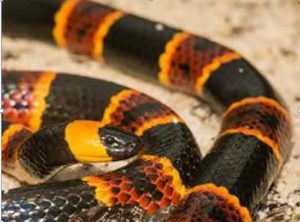 On average, coral snakes range from 20 to 30 inches in length. There are eastern coral Snakes as well as coral snakes, which are in the western part of America. Coral snakes are found in Texas, Louisiana, Arkansas, and sometimes in Oklahoma. The eastern coral snake is more frequently found near the Mississippi River.
Their venom usually doesn't cause immediate symptoms. The neurotoxins in the venom can take up to 12 hours to take effect. So, if you are unsure if your pet was bitten by a venomous snake, and don't see symptoms immediately, it is still a good idea to take your animal into the Vet.