Does your dog go crazy for the trimmings after the farrier has been? Does he want the smelly and gross clippings?
Can Dogs Eat Horse Hooves?
Whilst some dogs might eat horse hooves regularly with no issue, it is generally recommended that they do not eat hooves. Eating horse hooves can cause gastrointestinal distress, vomiting and even seizures. It is safer to stick to treats that you know are clean and will not splinter or break apart when digested.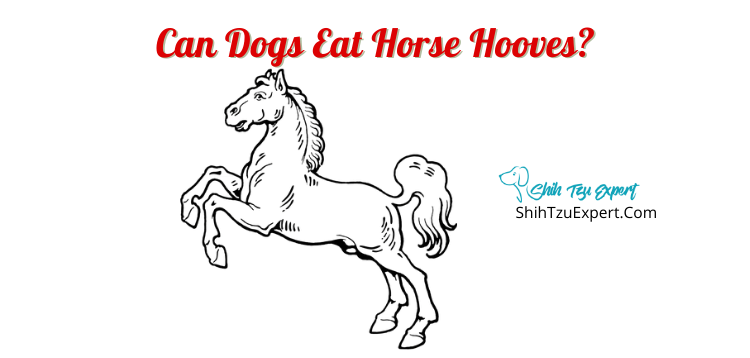 Can dogs eat horse hooves?
Is it safe for your dog to eat horse hooves? Will it make him sick? Why does he even want to eat them? Whilst a horse hoof might smell delicious for your dog, they are not always safe to eat. They may be dangerous for your dog to digest – and could cause serious harm.
What Are Horse Hooves Made Of?
Horse hooves are effectively the horse's toenail, just as humans have a toenail. Horse hooves are made of a material called keratin. This is a type of protein that humans also have; it can be found in your skin, hair and protects your nails. In a horse hoof, the wall has only about 25% moisture which makes it appear very coarse and rough.
It's important to look after a horse's hoof to protect from injury and infection and the person who looks after the horse hoof is known as the farrier. They will care for the horse's feet, including cutting his nails (hoof). You may notice that your dog gets very excited when a farrier comes to visit as it means that the horse hoof trimmings might be available for a snack.
Can Dogs Digest Horse Hooves?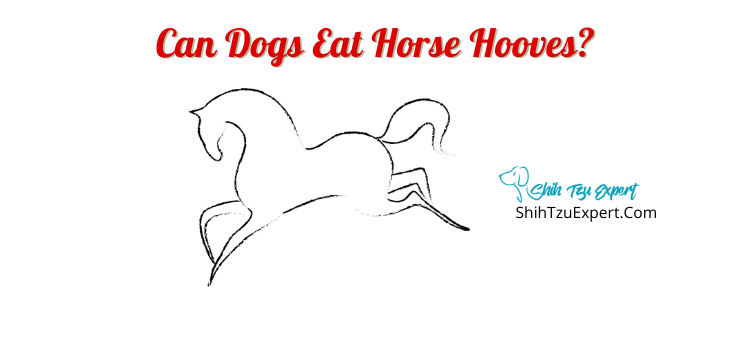 Whilst your dog may love finding and snacking on discarded horse hooves it is not always safe. Most dogs will eagerly await the farrier and try and jump in the stable with them to get their share of the hoof trimming, however it's best to keep them at bay.
Many dogs have had bad reactions after eating hooves, including vomiting and intestinal distress. This is mainly caused by the brittle and sharp ends that can create distress in the stomach and intestines. The sharp components of the hoof can get stuck in your dog's throat, create lacerations in their stomach lining and even get trapped.
Are Horse Hoof Trimmings A Safe & Suitable Treat For Dogs?
Some dogs eat horse hooves with no complications at all. When a hoof is freshly cut the shavings may be quite flexible and soft however the harder hoof can be brittle and dry. If you must give your dog any part of the hoof, ensure they are eating fresh shavings that have been cut up to small pieces. This will safeguard against the large drier pieces becoming lodged in the stomach or getting stuck in the esophagus. Owners have even reported their dogs having seizures after ingesting horse hooves although the cause of the seizures is not certain.
A horse hoof itself is not toxic, however there is also little to no nutritional content in the hoof. Whilst most reactions that appear with dogs have been caused by eating older, drier and more brittle hooves, it is still recommended to practice caution. If you are unsure what is a safe treat for your dog you can get advice from your vet.
Why Does My Dog Throw Up After Eating Horse Hoof Trimmings?
Not all dogs will throw up after eating horse hoof trimmings. Your dog may vomit for a number of reasons after eating horse hooves. The main reason is because the trimmings have gotten stuck along the digestive path, and they need to vomit it up to clear the path. This is their first step in trying to clear their digestive tract or avoid pain in the stomach.
Your dog may also throw up because of a bacterial infection that has been caused by the hoof and this is more serious. Infection may cause vomiting and diarrhea and make your dog very sick. It's important to have them reviewed by a vet to ensure it's nothing ongoing or serious.
Why Do Dogs Go Crazy For Stinky Horse Hoof Trimmings?
Dogs love stinky! The odor of the horse hoof is attractive to your dog, and they will fight over the horse trimmings when your farrier has been. A horse will carry all sorts of smells under their nail, including manure and food and your dog is attracted to this aroma. The trimmings are also hard and dogs love to chew! They can chew on the trimmings and soak up the taste and smell over a long time.
Why Horse Hooves Trimmings Can Be Dangerous To A Dog?
Not only is the horse hoof potentially dangerous for your dog, due to the brittle nature of the discarded hoof, but there may be items in the hoof that could harm your dog. A horse may have trodden on a nail for example that is still in the hoof and could cause serious harm to your dog. They could also carry a lot of harmful bacteria that could be bad for your dog's stomach.
With brittle and dry hooves, also comes a risk to your dog's teeth, causing them to break.
What Is A Horse Ergot/Horse Chestnut?
A horse chestnut is a small growth that will appear on the front legs of a horse, above the knee or occasionally on the back legs. Ergots are a growth that will appear at the bottom of a horse's fetlock (the upper 'knuckle' above the hoof). The difference between the two is that the chestnut will be devoid of hair, but the ergot is often covered by hair.
Can Dogs Eat Horse Ergots?
This is not recommended as there is a related toxicity to ergots that can cause rapid intestinal distress in your dog. You also don't know if any medication and / or infection in the horse will be carried through to your dogs.
References
https://www.horseandhound.co.uk/news/beware-of-dogs-snacking-on-discarded-hoof-parings-311094
https://www.goldenretrieverforum.com/threads/horse-hooves.70444/
https://www.horseandman.com/handy-tips/should-the-dogs-eat-the-trimmings/02/17/2012/
https://equimed.com/health-centers/hoof-care/articles/horse-hoof-trimmings-a-suitable-dog-treat