Very often after your dog has finished a meal, they will grab a toy and want to play, or they will want to chase your other dogs around the yard. There are a few reasons for this, but it's important to know when it's okay for your dog to play after eating, and when it can be a health risk.
Dog Wants to Play After Eating?
Your dog loves their mealtimes, and they especially love getting to spend time with you after. Their food is tasty and gives them energy, so they may want to play after they are done eating. Making them wait for any vigorous physical activity, however, is the best thing you can do for them. It lets their bodies digest their food properly and helps to avoid serious health conditions that can arise from playing too soon after eating.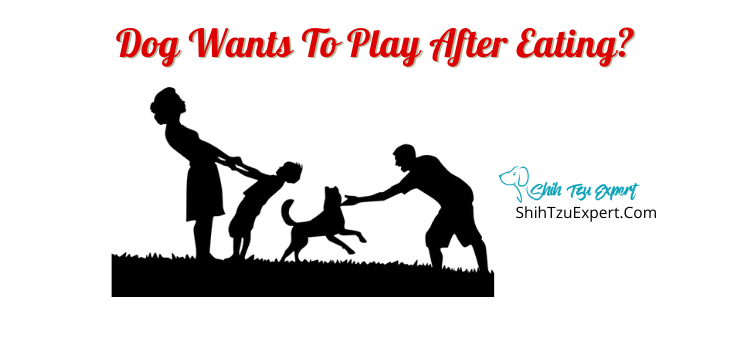 Is It Normal for a Dog to Play Soon After Eating?
When most dogs get done eating, they feel very content and satisfied and will hunker down to digest their food.
However, some dogs, puppies and younger dogs especially, will get bouts of energy after eating and want to play and run and jump.
This behavior should be closely monitored as there are serious health complications that can arise from playing too vigorously too soon after eating for dogs.
How Long Should a Dog Wait to Play After Eating?
Bodies need time to digest food. Ours do, and so do our dogs'.
Ideally, your dog should wait between one to two hours after eating before they engage in vigorous activity of any kind, including play.
This gives your dog's tummy time to digest all of their food and will help to avoid bloat and intestinal twisting (also known as Gastric Dilation Volvulus or GDV).
Can I Walk My Dog 30 Minutes After Eating?
Many people like to take their dog for an evening walk.
It's a nice way to wind down the day, get out any excess energy your dog may have, and spend time with your dog after a long day.
Wait at least thirty minutes to walk your dog after they are done eating, and make sure that you keep the walk short and non-strenuous.
Your dog doesn't need to go for a 5k right after eating, and honestly neither do you. But a light, calm, easy walk will help move the food through their digestive tract and help them work off some residual energy.
How Long Should a Dog Wait to Swim After Eating?
As with walking or playing, your dog should definitely wait to swim after eating.
Us humans have a saying, "Wait 30 minutes to swim after eating". The same thing applies to our dogs.
Although, you might want to wait an hour just to be on the safe side. Dogs can have more complications if they exert themselves too much too soon after eating, and getting a cramp or something worse while they are swimming is very dangerous.
How Vigorously Should Dogs Be Allowed to Play After Eating?
If possible you should not let your dog play vigorously after eating.
Your dog should not be exerting themself immediately after eating.
The most they should play, if they play at all, is maybe some light fetch or tug-of-war. They should not be running around like crazy, play fighting with other dogs, or going on strenuous, long walks.
Can All Dogs (Puppies, Seniors, Pregnant,) Play After Eating?
Some dogs will definitely want to play after eating.
If possible, keep dogs of any age from playing for at least an hour after eating.
Puppies and younger dogs can play sooner after eating as their bodies will handle digestion faster.
Senior dogs and pregnant dogs should be kept from playing for at least two hours after eating to make sure they have plenty of time to digest their meal without risking any complications.
Should I Stop My Dog from Running, Playing After Eating?
You need to make sure that your dog has fully digested their meal before you allow them to play vigorously after they eat.
It's best to keep your dog in a calm state immediately after eating and for up to an hour or two hours.
This allows time for their body to process the food and for their digestive system to work the way it's supposed to.
Why Do My Pups Don't Want to Eat, But Play During Their Mealtime?
If you have puppies that don't want to eat when you give them their meal, but instead want to play and play and play, don't worry too much!
Puppies are just like little kids – they have a lot of energy, are easily distracted, and most won't eat if they're not hungry.
If you have multiple puppies in the household, chances are they will be more interested in playing with each other than eating their food.
It's very easy for puppies to get distracted during mealtimes, so make sure they are in a nice calm state before feeding them.
It could also be that your puppy is just not hungry at the time that you are feeding them. Try adjusting their feeding schedule to a different time and they might be more likely to want to eat instead of play because they will be hungry.
Is It Ok to Play, Run Before Meals?
Playing and running around before their meals can be a great thing for most dogs.
Getting rid of some energy and stimulating their brain with playtime will tire your dog out and amp up their hunger levels.
Letting your dog play and run around before they eat is a great way to get them to eat their full meal and to make sure they are more calm after they eat.
Dog Acts Weird After Eating?
Weird has a very broad definition, but for the purposes of this article let's say weird means any behavior that is unusual for your dog.
This could be being more lethargic, whining, panting, etc.
If you notice that your dog is acting weird just after they've eaten, make sure that they aren't choking on a small piece of kibble.
It could also be that they've eaten too quickly and have lots of gas as a result. You can rub their stomachs in small circles to help stimulate their digestive tract and help them pass the gas.
If you think it is something more serious, call your vet's office or an emergency vet if it is after hours.
Should Dogs Exercise After Eating?
In short, no.
Your dog should not engage in exercise, vigorous physical activity, directly after eating.
They should wait at least an hour to ensure their food is properly digesting.
How To Keep Puppy Calm After Eating?
Puppies are notorious for being full of energy and life, and keeping them calm after eating can be difficult.
One way to keep your puppy calm after eating is to make sure they played well beforehand. Playing will tire them out.
But the best way to keep your puppy calm after eating is to put them in their crate.
All puppies should be crate trained, and placing your puppy in their crate after mealtime ensures that they won't be up and running around, but instead calm and peaceful so they can digest their food.
It also teaches them that after eating they need to be calm.
Should I Feed Dog Before or After Morning Run?
A lot of people like to take their dogs with them when they run in the morning. It's great exercise for both you and your dog.
Always feed your dog after you return from your run.
This will prevent cramping and bloating, which could occur if you fed your dog immediately before your run.
You could also always feed your dog at least an hour before going on your run if you are worried about them not having enough energy for the run itself.
Should I Give My Dog Water After a Walk?
Making sure your dog stays hydrated is one of the most important jobs you have as a dog owner.
After any kind of activity, you should make sure your dog is drinking water.
Ensure your dog has access to fresh drinking water at all times, and encourage them to drink after walks, runs, training, and playtime.
Why Does My Dog Get Zoomies After Eating?
The zoomies are one of those inexplicable but really interesting things that your dog may do.
Puppies and younger dogs, but also occasionally older dogs, may get hte sudden urge to race around your house or yard in a frenzied excitement. These are known as "zoomies".
For a lot of dogs that ge the zoomies immediately after eating it's because they are so satisfied with their life that they have to express it.
It really is all about the joy of the moment with your dog.
Why Does My Dog Flop Around After Eating?
One of the many behaviors that your dog might exhibit after eating is to roll around on their belly and back.
This is usually a result of the burst of energy that comes with eating.
Food gives dogs energy, just like us, and if your dog isn't a runner or a player, then the way they might use this energy is by flopping around on the floor, rolling around on their backs and stomachs.
It's totally normal behavior, and isn't as strenuous as playing or running around, so it doesn't necessarily need to be discouraged.
Why Does My Dog Walk Around with a Toy in His Mouth After Eating?
There are a few reasons your dog might walk around with a toy in his mouth after mealtimes:
He's begging someone to play with him. Walking around with a toy is a pretty clear signal that your dog might want to play. Remember not to play too hard immediately after your dog eats.
He's just happy. Some dogs have their favorite toys, and if your dog walks around with their favorite toy after they're done eating, they could just be enjoying how good life is.
They could be self-soothing. If your dog knows they need to stay calm after they eat, then chewing on a toy can help them to not run around.
Puppy Gets Super Excited After Eating, I Am Worried About Bloat?
Puppies are more likely to get big bursts of energy after eating, and that makes sense because puppies are just full of energy in general.
You should do your best to keep your puppy from playing or running around too hard after eating because they can get bloated or get their intestines twisted up.
It's a serious condition, both bloating and intestinal twisting, and something to be very away of in your dog.
Putting your puppy in their crate immediately after mealtime is the best way to not have to worry about either, as the crate will keep your puppy calm and relaxed after eating so they can fully digest their food.
How To Keep Dog from Playing, Running After Eating?
Similar to what you would do for your puppy to keep them calm, you want to set your adult dog up for success after eating as well.
Crate training is the best thing you can do for your dog. It gives them a space that is safe and calming that they can go to whenever they need to.
Putting your dog in their crate after mealtimes is a lifelong practice that you can employ.
References
https://wagwalking.com/behavior/why-do-dogs-play-after-eating
https://dogdiscoveries.com/behavior/why-do-dogs-go-crazy-after-eating
Walking A Dog Before or After Eating: Risks, Benefits & More
Why does my dog roll around after eating?