Is air conditioning beneficial for dogs? Do they even like it?
This is what we will be looking at as it's important for you to know before you decide where and how to keep your dogs.
Can Dogs Sleep In Aircon Room?
Dogs can sleep in a room with Aircon Especially on those hot summer days. It is actually recommended so long as the temperature is maintained at an ideal level (not too cold!) for the breed, life stage, and health conditions.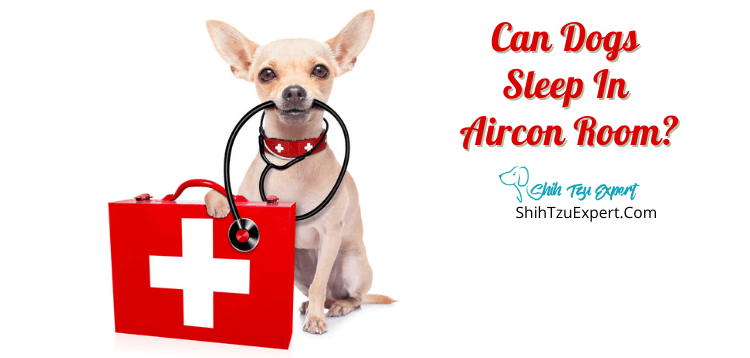 Can Dogs Get Sick From Air Conditioning [Do They Get Cold]?
Dogs, just like everyone else, have individual preferences when it comes to what temperature they think is the most comfortable.
That being said, most dogs can live without any health issues in quite a range of temperatures, depending on the dog.
So as long as your air conditioning isn't set to arctic temperatures they should be they should not get sick from living in a space with air conditioning.
If it's a hot day it would be better to leave it on than to leave them without it.
When Can I Bring My Newborn Puppies In An Air-Conditioned Room?
From 1-4 days old puppies should be kept in a place that is warm, around 85-90°F as at this age they are not able to regulate their own body temperature properly.
After the first 4 days, you can slowly start to bring them down to 80°F. This should be gradually done and completed by the 7th-10th day.
After the tenth day, they should be able to regulate their body heat better so you shouldn't have to fuss nearly as much about specific temperatures.
By the time they are 4 weeks old, air conditioning shouldn't be a problem.
Based on my own personal experience though, some puppies will cry and cry if kept in a room that is too warm for them.
If this is the case for you, maybe try taking them to an air-conditioned room or even just to the AC in your car and letting them sit in the cool air until they calm down and fall asleep.
Why Is It Dangerous To Keep Puppies In Extreme (Cold Or Hot) Temperature?
Not only puppies, but it is also dangerous to keep almost all animals at extreme temperatures unless they are animals specifically designed for more extreme climates.
This is because we all have an internal temperature that our bodies are kept at, and being in a place where there is an extreme temperature difference from our own will displace ours.
So if a puppy were to be at too hot of a temperature, it could cause the puppy to suffer from heat exhaustion, heatstroke, or even sudden cardiac arrest, which could kill them.
On the other hand, if a puppy were to be too cold they could get hypothermia, which is fatal if not treated properly or even frostbite which if not treated can result in amputation being needed.
Can My (2, 3, ..11) Months Old (Shih Tzu, Maltese, Beagle, Boston Terrier, Golden Retriever, GSDheat stroke …) Puppy Sleep In An Aircon Room?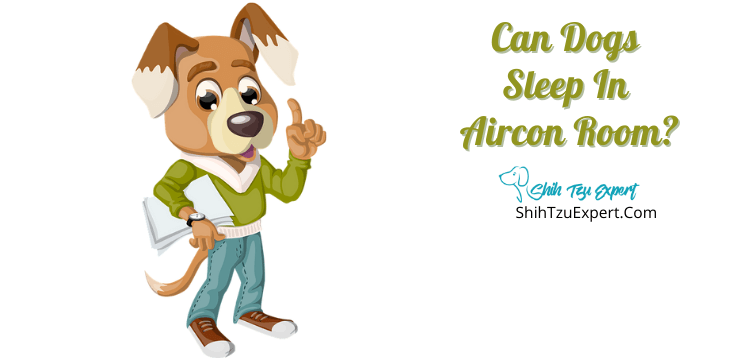 After a puppy is about a month old or older they are able to regulate their body temperature pretty well.
This means as long as you have a nice warm bed for them to curl up on, leaving them to sleep in a room with the AC on should be no problem for them.
Why Do Some Puppies Love Aircon [And Hate Hot Weather]?
Whether or not a puppy loves the air conditioner really is just a matter of personal preference, the same as it is for us!
Some puppies are naturally warmer and so they prefer to be in a nice air-conditioned room, while others are colder naturally and would rather be curled up by the fire.
This could also be because dogs aren't able to sweat to cool down the same way that humans do, so they have to rely on their environment or panting to cool themselves off.
Ideal Highest & Lowest Home Temperature For Dog
In an ideal world, your home should be kept between 68-72°F to be the most comfortable for both you and your dog. It isn't always achievable to control the exact temperature though.
If we are looking at the max comfortable range, your thermostat shouldn't be set below 60°F or above 90°F, anywhere in between those is safe for most dogs.
Ideal Temperature For Puppies To Sleep In
Usually, something on the warmer side is ideal for puppies, especially if they are still in their first few weeks of life.
As they get older they may start to prefer things to be a little bit colder though, as dogs have an easier time warming up than cooling down.
You will be able to see what your dog prefers as they grow, whether they like to sit by a radiator or close to something cooling.
Puppies Less Than 1 Week Old
For puppies less than a week old they should be kept in a nice and toasty room, around 85-90°F should be perfect for them at this age.
Puppies 2-3 Weeks Old
They are getting better at regulating their own temperature at this age but should still be kept in a relatively warm room.
75-90°F is a good temperature range for this age, make sure you are decreasing temperature slowly over time though, not all at once.
Puppies 1-Month-Old
This age is when puppies start to be able to fully regulate temperature by themselves. At this age, they can be kept from 70-90°F.
It would be best not to keep them outside when it's hot or cold at this age though, as they still have not fully developed their adult coat and could be vulnerable.
Puppies 2-3 Months Old
This age range has the same temperature requirements as 1-month-olds, however, you can probably allow them outside for a little longer even if it's a little hot or chilly.
Puppies More Than 3 Months Old
Once puppies are this age they are fully able to regulate their temperature and have probably shed a lot of their puppy coat.
Keeping your house anywhere between 60-90°F will be okay once they reach this age.
Do Dogs Need Air Conditioning
This depends on where you live, if you live somewhere that has a temperate climate that doesn't fluctuate too much, air conditioning should not be necessary.
If you live somewhere that is very hot or has frequent heat spells though, you will need air conditioning to keep your pet safe and healthy.
Do Dogs Actually Like Air Conditioning?
Dogs are actually quite bad at cooling themselves down since they can't sweat, they can only pant or find cool surfaces to cool themselves down on.
So, yes they love it! It means that they never have to get too hot or worry too much about cooling themselves down.
Can Dogs Be Left At Home With Air Conditioning On?
Absolutely, if it's a hot day you should be leaving the air conditioning on for your dog so they don't overheat.
If it's a temperate or cold day though this shouldn't be necessary.
How To Know When Your Puppy/Dog Is Too Cold?
Since dogs can't speak to us in order to voice when they're uncomfortable, you have to be able to read their body language to know when something is wrong.
When a dog is cold, they will often start to shake or shiver. They also can start to hunch their back and tuck their tail between their legs.
They can often also start whining or seeking shelter when they're cold, all of these can be a sign that it's time to bring your dog back inside to the warm house.
How To Know When Your Puppy/Dog Is Too Warm?
Overheating can be very dangerous and sometimes even deadly for dogs, this is why it's important to be able to spot it when your dog is getting too hot.
Some of the signs of overheating include:
Excessive panting or rapid breathing
Excessive drooling
Vomiting or diarrhea
Looking disorientated
Irregular/fast heartbeat
Can Shih Tzu Sleep In Aircon? What Temperature Can Shih Tzu Tolerate?
As long as you don't set it to get too cold it should be fine, Shih Tzu's as a general rule do not like to get too hot so they will probably enjoy the nice, cool room.
Can Beagle Sleep In Ac?
Beagles, while not having a particularly thick coat are actually pretty well insulated and good at regulating their temperature.
This means that they are completely fine sleeping in an air conditioned room.
Can Maltese Sleep In Ac?
They certainly can, Malteses have a lovely thick coat that protects them, but can also mean that they find themselves being too hot where other dogs would be fine.
they probably love to sleep with the air conditioning on! Especially on hot summer days.
Do Chow Chow Need To Be Kept In Air Con?
Chow Chows are known for having a thick coat of fur that allows them to withstand cold temperatures that other dogs definitely would get sick from.
This being said, Chow Chows would only need to be kept in an air conditioned room if it were hotter than normal room temperature (65-70°F).
Do Huskies Need To Be Kept In Air Con?
Huskies are a double-coated breed, designed to be sledge dogs that live in cold climates.
This means that if it is a hot day, huskies are very prone to overheating, if it is at all a hot day definitely keep the air con on for your huskies.
Can Pomeranians Sleep In Ac?
Pomeranians with their small bodies and large fluffy coats are actually very vulnerable to heatstroke, so it is a very good idea to let them sleep in AC, especially on hot days.
Can Golden Retrievers Sleep In Ac?
Yes, golden retrievers, being used to retrieving things out of the water, are good at regulating their own body temperature.
So while not necessary unless it's a very hot day, golden retrievers can absolutely sleep in air conditioned rooms.
What Determines The Best Temperature For A Dog?
Normal core body temperature.
Type of coat or fur.
The area in which the dog was bred to live in.
All of these can affect what the best temperature for a dog is. A dog's normal core body temperature is higher than ours (around 101.0 to 102.5°F.)
This means that a dog's comfortable temperature range is shifted slightly higher than ours.
The type of coat also plays a factor. If the dog has a thick coat they are better insulated and prefer slightly cooler temperatures than ones with a thin coat.
The way different dogs handle heat can also be influenced by where their breed was originally bred to live.
So dogs native to nordic regions would be better adapted to a colder climate than those who are commonly kept nearer to the equator.
Is It Safe For A Dog To Sleep Next To Air Conditioner?
As long as it does not get too cold (below 60°F) in the room where they are sleeping, there should be no problems sleeping next to the air conditioner.
How To Keep Dog Cool Without Ac? [Or When It's Broken]
There are obviously a few commercial options you can use to cool down your dog, like cold blankets or ice packs.
There is a neat trick I learned though that tends to be less of an aggressive cooling method and more gentle for your dog.
This is slightly moistening some paper towels or cloths and putting them in the freezer for twenty minutes or so, then laying them on your dog. Really works a treat!
Dog Doesn't Like Air Conditioner
This can be a very difficult situation when your dog doesn't like or is afraid of something that they need or would be beneficial to them.
Luckily, there are some things you can do to help them be less afraid and like it more.
One thing you can try is every time you switch on the air conditioner, give them a treat and only leave it on for 10-15 minutes at a time.
This way they will start to associate the air conditioner with something positive, like getting a treat and they don't have to be overwhelmed by it being on for long periods of time.
You can also try just sitting with them while the air conditioner is on, petting them if you feel like it would help so that they know they are safe and don't have to be afraid of the air conditioner.
Is It Bad For A Dog To Sleep With A Fan On?
No not at all! The only time this would be bad for your dog is if the room or the dog is already too cold, otherwise, this is perfectly fine.
If your dog is afraid of the fan it might also be a good idea to leave it off unless it is needed, like during a heatwave.
References