There are many benefits to soothing your dog's paws with lotion. Your best pal's paws can go through various changes in one year.
Changes in the weather, long exposure to outside elements, and even long walks on gravel or dirt can have an impact on the hydration of your dog's skin.
It is not recommended to use human lotions because they are made with chemical ingredients not safe for dogs. in.
Using dog-friendly lotions, balms, waxes, or oils can all help properly hydrate the skin. Unfortunately, all products are not created equal and it's important to do your research to make sure you chose the best option for your dog.
Can I use Aveeno on my Dog's Paws?
Aveeno lotion is well-known for the toxic-free ingredients that make it safe to use on your dog's paws. It is suggested never to apply Aveeno lotion to any open sores or cracked skin that is so dry there is blood present. Fragrance-free with soothing oat is going to be the best Aveeno lotion to moisturize those pads. Outside of Aveeno products you will see that Vaseline & Gold Bond can also be used on your dog's paws.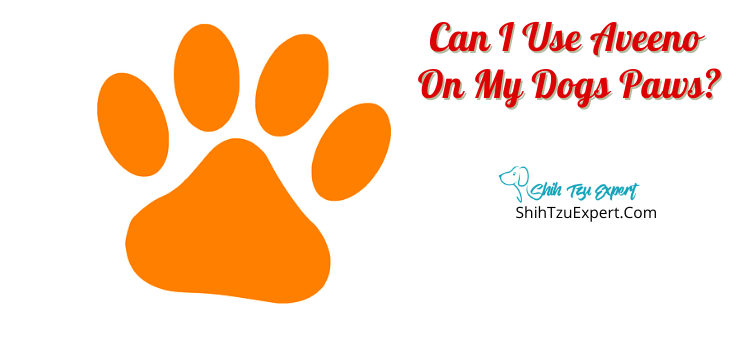 Can you use Coconut Oil on the dog's paws?
Coconut Oil is one of nature's most pure and safe moisturizers. There is a plethora of benefits coconut oil has for your precious pet, including antifungal and antibacterial properties. It has also been proven that adding coconut oil to your dog's meals will help create a shinier coat, hydrated skin, as well as, internal benefits to the gastric tract. Because of the slippery nature of the coconut oil it is once again important to put booties or socks on your dog or wipe off completely before resuming activities.
Should a dog's paws be moisturized?
Applying moisture to your dog's paws is a perfect solution to natural ailments the pads can suffer, like being too dry, starting to peel, or crack. A dog's pads can crack and possibly become infected with bacteria or fungus. Keeping their skin and pads moisturized will avoid these dangerous issues from happening. If you start to notice that your dog's paws are more dry than usual or cracked, it is time to moisturize. When deciding which products would be best to use on your pet's paws, make sure to do your research.
Should I put lotion on my dog's paws if they are dry?
It is perfectly safe to lotion your dog's paws if they are dry, cracked, or peeling. It is important to never put lotion on an open wound or sore. When you moisturize your dog's paws, you are avoiding potential health issues such as bleeding and infection. There will be many options in this article to help you choose the best way for you to keep your dog's paws and skin hydrated. Some of them can be bought in the pet store or internet but there are also options that you can find right in your kitchen cabinets.
Is it safe to lotion my dog's paws? Should I use human lotion?
It is not recommended to use human lotions because they are made with chemical ingredients not safe for dogs. The chemical ingredients you want to avoid are Zinc Oxide, Diclofenac, and Calcipotriene. All three of these chemical ingredients are commonly found in your everyday sunscreens and lotions, even pain creams. Remember that our four-legged friends love to lick and should never ingest any of these chemicals. Make sure to check all ingredients before putting a human lotion on your dog.
Why do my dogs like to lick lotion after I have put it on?
Dogs love to lick, especially those they love. Whether an act of grooming or just because they are enticed by the smell and taste of their owner's skin, dogs are going to lick. A dog's sense of smell is 40 times higher than a human's. So, we may enjoy the scent of our lotions, but we don't smell each ingredient individually like a dog can. Once I heard a dog's sense of smell described as this, when we make a stew we smell the stew as a whole. When a dog smells stew, they smell the potatoes, carrots, meat, onions, broth, and celery individually.
What is a Dog-Friendly Lotion?
Dog-friendly lotions need to be non-toxic with limited or organic ingredients. They are not heavy in chemical ingredients because a dog can easily lick it off and become sick. Human lotions are not dog-friendly because of the chemical components.
My dog Ate Aveeno Lotion; what should I do?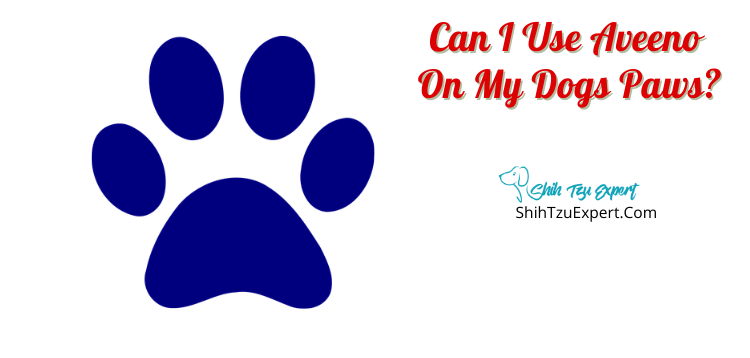 Always remain calm if your dog ingests a small amount of lotion, there is no need to worry. However, if your dog ingested a large amount of Aveeno lotion, watch closely for an upset stomach, vomiting, and diarrhea; it is always best to contact your vet right away. It is also always helpful to keep an emergency veterinarian's phone number on hand. You can avoid your dog ingesting the lotion by putting booties or socks on your puppy, closely watching until you are ready to remove the remaining lotion with a towel.
Can you use Aveeno Oatmeal Bath on your dog? Aveeno Body Wash? Aveeno Shampoo?
When it comes to an oatmeal bath to soothe your dog's coat and paws, Aveeno baby shampoo is a great choice because it uses oat extracts. Another great, all-natural option for your dog's care is oatmeal. Oatmeal is known to treat allergic reactions on a dog's skin, rash, and dry skin. Oats contain Vitamin B, which helps strengthen the skin. The Aveeno Baby Shampoo is mild and hypoallergenic to soothe the most sensitive skin. It rinses easily and will not leave a residue or heaviness on your dog's beautiful skin. Aveeno Baby Shampoo has been noted as a wonderful human shampoo that can be used on dogs. Even though Aveeno products are made with mostly natural ingredients only the Baby washes and shampoos have been approved for use on dogs.
Can you use Vaseline on your dog's paws? How does Vaseline help moisturize rough paws?
When looking at Vaseline as a possible alternative, you will find that the ingredients are great to coat your dog's paws before a walk in the winter. The Vaseline will hydrate their paws and also protect them from the elements such as snow, ice, and salt. It does not take long for the impact of the salt to affect your dog's pads. The salt can speed up the dehydration of your dog's skin and pads. As with Aveeno, if your dog is to ingest a small amount of Vaseline, there is no need for alarm. Make sure to wipe your dog's paws off when they come back in from the winter weather so they aren't sliding around the house, although funny could be dangerous.
Can you put Gold Bond Lotion on your dog?
Gold Bond lotion also offers a soothing oatmeal ingredient good for your dog's paws, but there are several varieties of Gold Bond lotions available. Make sure to do your research on the ingredients before choosing this option. If you do choose Gold Bond, make sure to watch your dog carefully and wipe paws clean so that this lotion is not ingested. Out of the several options available this would be the least likely choice for me.
Can you put Cocoa Butter on your dog's paws?
If you are considering a cocoa butter alternative, Palmer's has created a fragrance-free relief balm for dogs. The ingredient Vitamin E helps soothe those itchy, dry, or cracked pads. Just like the other options, do not use it on open wounds or broken skin with blood exposed. Although this is an optimal choice, regular cocoa butter is toxic to dogs and should not be used on your dog. If cocoa butter is ingested it can cause stomach pains, seizures, and even abnormal heart rates because of the caffeine in the cocoa. If not treated, it can be fatal. Be sure to always contact a vet before putting any product on your pet that they can possibly ingest.
What products are safe for your dog's paws?
There are products made especially for soothing your pet's paws and even their little noses. One would be the Burt's Bees Paw & Nose Lotion with all-natural ingredients, sure to soothe and not ache your pet. The Paw Soother is a vegan balm that is full of antifungal and antibacterial properties. Paw Nectar is 100% organic balm made with avocado oil and Vitamin E, safe in case your dog decides to lick. Musher's Secret Paw Wax is made of beeswax and organic ingredients. Dermapaw Skin and Paw Treatment is loaded with Vitamin E. Although there are hundreds of products available, we are going to close this section out with the Pet Head Oatmeal Natural Paw Butter, an organic balm with plenty of oatmeal to soothe your dog's paws.
Homemade Dog Lotion for Dry Skin:
After researching several home remedies for a dog's dry skin/paws, the Chamomile and Herbal Tea Soak is my top choice. Chamomile and green tea have soothing properties, and they help cool irritated and dry skin. These soaks are best for more extreme cases of dry skin/pads. It is also as easy as 1) Fill your tub or sink with warm water. 2) Steep several tea bags in the water for 3 minutes. 3) Let your dog soak for five minutes. This will leave your dog's skin feeling hydrated, and the soothing ingredients are non-toxic for your dog. Just thinking about how soothing tea is in general makes me believe that this soak would feel amazing during and after.
When it comes to a human's best friend, research is the key to a happy and healthy dog. There are so many benefits to using an all-natural approach to caring for your dog's paws. Even with the vast availability of dog-friendly products on the internet, you should always read the ingredients.
References
How powerful is a dog's nose? https://phoenixvetcenter.com
Our favorite treatments for dry dog skin: butters, salves, and oils https://rover.com
How to properly care for your dog's paw pads. https://preventativevet.com
How to make an oatmeal bath for dogs with itchy skin https://m.petmd.com