Believe it or not, Shih Tzus were bred to be palace dwellers, and palace dwellers certainly do not live outside, they are bred to be and should be indoor dogs.
Can Shih Tzu Be Outside Dogs?
Since Shih Tzus are a smaller breed of dogs they are more susceptible to the weather, whether it be too hot or too cold which can really hurt them and their health. Shih Tzus are bred to be inside dogs and companionship dogs so they would miss you too much if they were outside all day, especially without you by their side.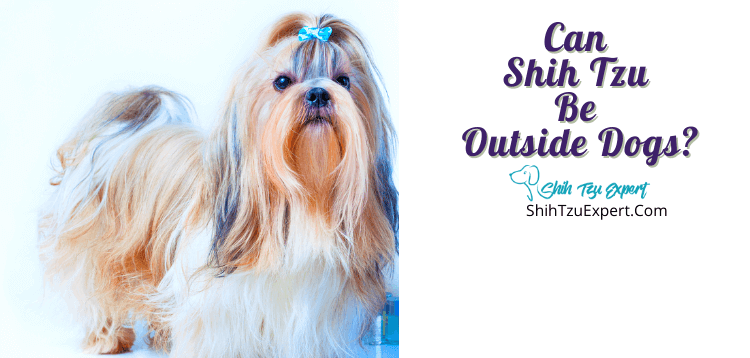 Why Can't Shih Tzus Live Outside?
Since they are smaller dogs have a harder time regulating their body temperature. This can be a problem not only in cold weather but in heat as well. When a Shih Tzu is left outside for too long it can have negative effects since they overheat and get cold easier than other breeds.
Can A Shih Tzu Stay Outside?
It is important for every dog to spend time outside to enjoy the fresh air and get the exercise they need. If you are outside with them they will probably enjoy their time out there more as they are known to be companion dogs and want to be where you are.
Can Shih Tzus Stay Outside All Day?
It is not advised that your Shih Tzu stay outside all day, especially alone. There are many reasons but mostly the weather, why Shih Tzus are to be considered inside dogs. One of the reasons is that if it is summer and too hot, Shih Tzus are more prone to heatstroke.
The way Shih Tzus are built is that their noses are shorter than other dogs which can cause some breathing issues. Since their snout is shorter this can cause them to have a harder time breathing which their breathing allows them to stay cool which they need especially on a hot day.
Can Shih Tzu Sleep Outside?
No, your Shih Tzu should not sleep outside if it is too hot or too cold, if you are out there with them at a comfortable temperature it is okay that they take a nap, but should never be left out overnight.
How Long Can You Leave A Shih Tzu Outside?
Depending on the weather they should not be outside more than 1-2 hours at a time especially if they are not being supervised.
Are Shih Tzu Indoor Dogs?
Yes, Shih Tzus are considered to be indoor dogs, the way that they are built their bodies thrive inside as that's where they feel the safest and comfortable. With their coat too, it is easiest to keep well groomed when they live inside.
Can Shih Tzu Tolerate Cold Weather?
Yes, but only to a certain degree, usually if it is above 45 degrees Fahrenheit they will be okay out there for a little while. Your Shih Tzu may enjoy an occasional play date in the snow but should be quickly dried and warmed up once they are done to get them back to their normal body temperature.
How Cold Is Too Cold For A Shih Tzu?
40 degrees Fahrenheit (4 degrees celsius) is too cold for your Shih Tzu. Since they are smaller and have a thinner coat they are more sensitive to the cold than other breeds. Just like humans, Shih Tzus can get sick/a a cold from being cold for too long.
Shih Tzu Don't Tolerate Cold Weather Well [Hypothermia]
Shih Tzus can get hypothermia easier than other breeds and need extra care taken for them when they need to go out in the winter. There are signs of hypothermia that you need to look out for in your Shih Tzu.
Breathing issues
Shivering
Trembling
Slowing down while walking/overall slower movements
Cold to the touch (fur and skin)
Pale inner eyelids and gum (can even turn blue)
Heart rate slows down
Signs Of A Cold In Shih Tzus
Sniffling just like us
Sneezing
Runny nose/eyes
Lack of an appetite
If your Shih Tzus symptoms seem to be getting worse and they start to cough then it is time to see the Vet. There are some things you can do to help though like:
Encourage them to eat/drink
Add extra nutrients/vitamins to their meal like cooked chicken, brown rice, etc
Avoid taking them outside
Encourage more rest or even rest with them
Give them all the love and attention!
Warm-up a heating pad/warm water bottle and put it in their bed (but not too hot that it could burn them)
Use a steamer
Taking Care Of A Shih Tzu In Winter
Check the temperature before taking them out for longer periods (walks)
Add more blankets to their bedding or move closer to a heater to keep them warm inside
Give them warm water and make sure it doesn't get too cold
Create an indoor potty space if too cold to be outside
Get a sweater/jacket and boots to keep your dog warm when you need to go outside for exercise or bathroom breaks
Don't let them eat the snow
Don't let them get too wet, always dry them off when you bring them inside and warm them up
How Long Should You Let Your Shih Tzu Stay Outside In The Cold Weather [Winter]?
50-60 degrees should be no problem.
45 degrees should be okay, keep an eye on their behavior
30-40 degrees could be dangerous for your Shih Tzu to stay outside for too long, especially without the right equipment/care
Do NOT take your Shih Tzu outside if it is 25 degrees or less
Factors on how long they should be outside in these temperatures depend on if they have on a coat/boots, if the sun is out and if the ground is wet or dry.
Are Shih Tzu Sensitive To Heat?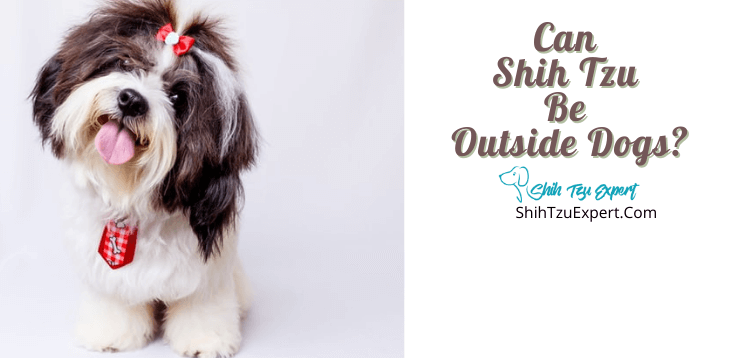 We know Shih Tzus due to size and breathing problems are prone to getting heatstroke, so yes they are sensitive to heat. Make sure to take the necessary steps listed below to take care of your pup during the warmer days to make sure they live the longest life possible.
Can Shih Tzu Get Heat Stroke Easily [Hyperthermia]?
Yes, Shih Tzus tend to get heatstroke easier than other breeds due to their breathing problems. Heatstroke is caused by the dog getting overheated and not being able to cool themselves down with panting. An extreme case of heatstroke can kill your dog immediately so it is good to watch for the signs of it to keep your pet safe.
The signs of heatstroke in a dog can include:
An excessive amount of panting
Slow movements
Not responding to their name/commands when they normally would
Drooling
Dizziness
Unable to walk/move
Vomiting
Diarrhea
How To Prevent Heat Stroke
NEVER leave your dog in the car without cold air conditioning on and for long periods
If you do leave them outside for a short time do not leave them without shade and water
Invest in a cooling mat
Avoid playing outside and going on walks when it's the hottest time of the day (usually midday)
Always have cool water available and even take on walks if you're going for a long one
How Hot Is Too Hot For A Shih Tzu?
Once the temperature hits 85 degrees, this can be very harmful to your pup for many reasons. Not only is heat stroke a concern for your dog, but the ground can get too hot and burn your pup's feet. If we weren't wearing shoes as humans it would burn our feet, we need to be mindful of our dog's feet as well.
Damage to your dog's paws due to heat is especially prevalent while they are still puppies. A good idea is to lay the back of your hand down on the ground and hold it for 10 seconds, if you cannot do so then it is too hot for your dog to be walking on. Consider walking in only shaded areas or getting shoes to protect their feet.
How Long Should You Let Your Shih Tzu Stay Outside In The Hot Weather [Summer]?
Try to let your dog spend their time outside in the early morning or late evenings when it is cooler in the summer so they don't overheat. If they need to go out for a bathroom break mid day, that is fine just make sure they aren't running around too much and they get breaks to get cool and water. Do not leave them outside all day especially if it is above 85 degrees (Fahrenheit).
How To Keep A Shih Tzu Cool In Summer?
Always have cool weather available (AC on the inside, a fan on them, etc)
Let them play outside in the morning or evening when cooler
Keep your home cool for them or get a cooling mat
Get dog boots for when it is too hot to walk on the ground
Know the signs of overheating
NEVER leave them in the car
What Temperatures Can Shih Tzu Tolerate/Handle?
Small dogs like the Shih Tzu can spend a couple of hours outdoors with temperatures of 60-90 (without humidity) and when it is winter and below 32 degrees for no more than 10-15 minutes. If you are too hot or cold and uncomfortable with the weather, likely, your Shih Tzu is as well.
What Is The Ideal Temperature For A Shih Tzu?
Anywhere between 60-80 degrees is a comfortable temperature for your Shih Tzu, they are most likely comfortable when you are comfortable with the temperature as well in your home.
Why Does My Shih Tzu Want To Be Outside All The Time?
It is normal for a dog to want to be and play outside as there are so many exciting and new smells out there but if this is new behavior and they have become obsessive over it, this could mean a health problem. If they have to pee right away and frequently for an hour then it could be a UTI, also if your dog has diarrhea they will feel like they need to go out a lot, check with your vet if you see these signs.
Why Shih Tzus Should Not Be Left Outdoors?
Shih Tzus are simply not built to be outside dogs! Having a hard time regulating their temperatures so they get overheated and colder quickly than other dogs is just one reason they should not be left outdoors. They are smaller dogs as well and could get easily hurt outside if left alone in a nonfenced/gated area.
Also being outside unsupervised for long periods allow your dogs to get into things that they maybe shouldn't, like eating bugs/other small animals.
Do Shih Tzus Need Outdoor Exercise?
Exercise, yes! Outdoor exercise? Not necessarily. If the weather does not permit there are some places like doggy daycares where you can take your dog for them to get exercise inside. If the weather is good then it is great for your dog to get exercise outside for the fresh air!
Can Shih Tzu Be Outside Dogs?
No, they cannot and should not be outdoor dogs.
References
https://www.ncbi.nlm.nih.gov/pmc/articles/PMC6395217/