Dogs will commonly become attached to one specific person. Whether it be you, your significant other, a grandparent etc.
Dog Won't Go Outside With My Husband?
Believe it or not, dogs get jealous! If you find that your dog is avoiding your partner, it could be because your dog is very jealous of your partner. Your dog sees you spending time with this person, and cuddling each other, etc., and can get extremely jealous. Alternatively, the dog does not feel safe & comfortable with your husband due to a range of reasons!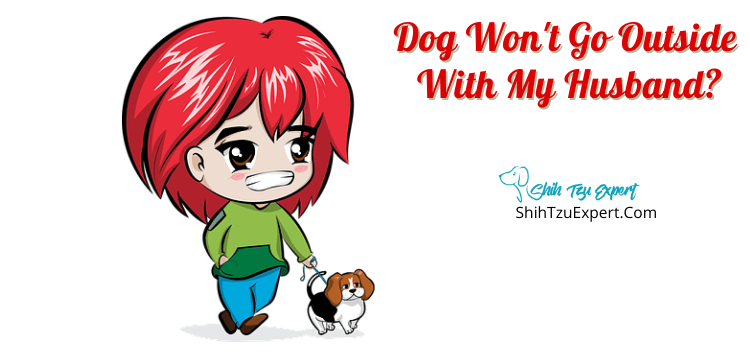 Why Won't My Dog Walk With Anyone But Me?
Have you found that your dog will only go on walks with you? This is largely related to the necessities and comfortability that a dog feels towards you. Your dog may only feel comfortable with you therefore only wanting to be vulnerable around you. It can also largely be due to the pack mentality. If your dog feels you are the alpha, he/she will only want to follow you.
Dog Will Only Pee Or Poop For Me?
Dogs often feel very vulnerable when doing their business. If you are your dog's alpha or comfort zone, then doing something that makes them feel vulnerable, they will want you around as their protector.
My Dog Will Only Get Up In The Mornings With Me, Not My Husband
It is common for dogs to feel more attached to one person. Especially if that other person doesn't spend a lot of time, or energy with the dog. Your dog has certain levels of respect towards people and views people how they would view other dogs in their pack. If you find your dog only waking up with you, rather than your partner, it could very well be because your dog views your husband lower in the pack.
On the flip side, your dog may find that it needs to protect you and that you are lower in the pack and need protection and guidance.
Why Does My Dog Follow Me Around The House But Not My Husband?
If your dog is more attached to you, they will only follow you around. To them, there is no need to follow your husband around as he is not part of the pack in their eyes, or he is self sufficient enough to where he doesn't need protection like how your dog sees you need.
How Do I Get My Dog To Like & Respect My Husband/Wife/Partner?
If you want your dog to respect your partner there are a few things you can try.
Have your partner give them their meal
Partner takes dog to the park/spends more time with dog
Treats and praise
Long walks
Don't force it!
Make sure your unrespected partner is taking time to care for the dog to build a better bond. Remember, it doesn't happen quickly and to not force anything. Forced love can result in even more disrespect or something more aggressive like biting or biting at your partner.
Why Is My Dog Suddenly Aggressive Towards My Husband?
It's easier to understand the reasons why your dog is suddenly aggressive towards a partner if you have recently adopted the dog. Rescue dogs and adopted dogs have histories that we may not know or understand. Your partner could have done something to trigger the dogs memories of their awful past, making them scared of your partner.
Is The Velcro Dog Syndrome Real?
Velcro Dog Syndrome is a term commonly used to describe an extremely clingy dog. Velcro Syndrome can happen in any dog and has a few common causes.
Breed

Lap dog breeds are affected more

Boredom

Dogs need something to do, if they are bored or physically/mentally restless you may find them following you around more

Bred to be Dependent

Dogs bred to be working or herding dogs are taught to work with their human and rely heavily on human guidance

Change in Surroundings

Moving to a new house or a change in atmosphere can be stressful for some dogs and end up following you around for comfort

Illness

Like people, dogs like comfort too when they are feeling unwell

Vision or Hearing Impared

Dogs that are blind or deaf tend to be a bit more clingy, as they look to you for guidance
Are Rescue Dogs Clingy?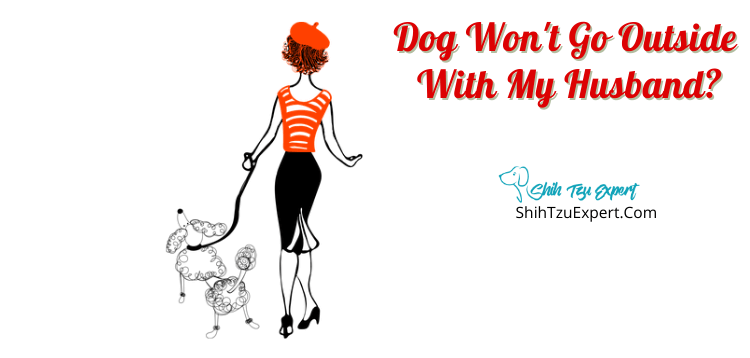 Rescue dogs usually have interesting backgrounds. They could have faced lots of pain and anxiety in their lifetimes. When a rescue dog is finally adopted, you may find that the dog is following its new owner around everywhere. They're usually looking for the love and affection they may have missed out on in their lives.
It is usually a good sign that your rescue dog is following you around. It means they feel safe around you and want your love.
Why Doesn't My Rescue Dog Want To Walk?
Some rescue dogs come with troubled pasts that we may not know about. Because of these pasts, they can carry heavy anxiety issues and tend to be very afraid of certain things.
If My Wife Is Around, the Dog Won't Walk Without Her?
It happens often that if your wife has walked the dog more than anyone else, your dog will only want to walk with her.
Dog Will Only Go For A Walk With Both Of Us?
Puppies will often only walk when everyone is out of the house. It is a pack mentality that everyone goes together.
My Dog Refuses To Go With The Dog Walker?
Apart from attachment issues, your dog may be facing trust issues. Since dogs feel so vulnerable during walks, walking with a new person can be scary for dogs, especially dogs that are shy and working on trust issues. Rescue dogs will more commonly face these issues. Here are some tips to help your dog work on these issues with your dog walker.
Try different people out

Remember that it is okay if the person you hire doesn't work out. It can take a few tries until you find the right match

For the first few times, hang out with your dog and the dog walker at your house

This can help your dog see that this new person isn't a threat and is someone that can be trusted
Make sure the dog walker communicates with your dog frequently and gives lots of positive attention and treats

After a few times, eventually go on a walk with your dog and the dog walker
Why Does My Puppy Refuse To Walk Away From Home?
The world is a big place for a small puppy. Don't be discouraged if your puppy is scared to walk further than your house at first. Each day try to go a tiny bit further than their comfort zone. Use treats and positive reinforcement. If your dog is still refusing, don't push it. Try again the next day.
My Dog Won't Go Outside On His Own At Night Anymore?
If your dog is afraid or refuses to go outside alone at night, it is probably because something happened to him/her to make them afraid. Something traumatic may have happened, it could've been another animal, sound, or person that scared your dog enough to the point where they are scared to go outside.
Another option could be that your dog is in physical pain. It is a common symptom for dogs to not want to be alone or relieve themselves when they are feeling under the weather or have major body pain. It could be a good idea to call your vet and have you dog looked it if the symptom continues, or if other symptoms arise.
Tools To Make Dog Walking Easier
Dog walking can be a breeze, other times it can be extremely frustrating! Sometimes all you need are a few things to help you and your dog have a good walk.
Front Clip Harness

If your dog pulls, this is a life saver and not only is good for pulling, it also creates more support and is more gentle than a normal collar

Stop and Sniff

Be patient! Let your dog stop and smell frequently

Treats

Bring lots of yummy treats for all sorts of reasons like distractions, praise, training

Poop Bags

Biodegradable poop bags are necessary for any dog walk. Make sure to bring much more than you think
Why Your Dog Won't Go Outside And Walk
Medical Reasons
One of the most common and most important reasons why your dog won't go outside is due to medical reasons. If your dog randomly won't go outside and seems lethargic/moping around, it's probably medical. Call your vet right away.
Lack Of Leash Training
If your dog is having a hard time walking, they haven't had proper leash training. There are many leash training specificities to help you and your dog learn how to walk. A proper harness, treats and positive reinforcement are key to a good walk.
Too Much Exercise
If you've had a busy day, or your dog has already been outside in the yard etc. they may just be tired and don't need a walk. This is fine and you don't need to push them.
Your Dog Is Scared
Being scared can cause dogs to not want to do things. Rescue dogs will commonly face this issue. They may have had something traumatic happen to them in their past causing them to be fearful of walks. With proper reinforcement training and positive energy, you can help your dog rid themselves of their fear.
Your Dog Is In Pain
It's hard to move about when you're in pain- the same goes for dogs. If you notice your dog limping or squealing when you touch a certain area, it's a good indicator that they're in pain. This is means to call your vet straight away.
They Are Getting Old
Older dogs oftentimes will stop wanting to go for walks. They are either too tired or in too much pain. To make sure they still go to the bathroom, try very short walks, or just let them into the yard for a short amount of time.
Sound Sensitivity
Dogs have very sensitive hearing. Puppies and older dogs especially are more sensitive to high pitched and loud noises. There are lots of noises outside, and some that may bother these dogs.
They Haven't Had Proper Socialization Training
Dogs can have a load of anxiety issues. Sometimes when dogs haven't been properly socialized with other people and other animals, it can make going outside very scary to them. Start by having other dogs over to your house and get your dog to play until you can bring your dog outside to play.
What Not To Do If Your Dog Is Scared?
It's important to keep our dogs happy and comfortable. If your dog exhibits fear towards something, don't push them towards it. It can only cause the dog to be more fearful and your dog could become fearful of you in the process. If your dog is scared of something that they can't be separated from, approach with the proper training techniques to allow your dog and their fear to coexist.
How To Get Your Dog To Have More Adventures And Explore?
The first step to getting your dog to explore more is to take the initiative and get out there with them! Start small by going on walks at the beach or at a dog park. Eventually, take your dog on longer hikes and even things like camping or a road trip. Most dogs are happy doing what their owners are doing, so it's as easy as just putting your dog in the car and going somewhere outdoors!
Is It Bad For A Dog To Never Go Outside?
Dogs are not meant to be inside their whole lives. They need the fresh air and sunlight just as much as all other creatures. Think about where dogs came from- wolves. So naturally, a dogs instinct is the outdoors. It is important for dogs to get outside and sniff around and dig and do fun dog things. All of these activities keep dogs happy and healthy. It keeps their minds stimulated and helps them from getting bored or depressed.
What Happens If A Dog Doesn't Go Outside?
If your dog is refusing to go outside, it will start going to the bathroom in your house. They will also continue to be depressed and maybe even start getting aggressive. Before their symptoms worsen, it is necessary to figure out why they won't go outside and then use the proper actions to help your dog along.
Dogs, as we know, can have many attachment issues and will oftentimes become attached to one person in the house more than another. With proper training and spending more time with the dog, your dog will love everyone equally.
References
An 8 Step Approach To Help Your Shy Dog Bond With Their Dog Walker or Dog Sitter
https://www.google.com/amp/s/www.canadavetexpress.com/blog/velcro-dog-syndrome-causes-and-ways-to-overcome-it/amp/
10 Dog Walking Tips Everyone Should Know