Many dog owners enjoy jetting off, however, often face the dilemma of what to do with their pet pooch. If the dog allowed on the plane? How can you prevent motion sickness in your dog? Are they allowed near the controls? The following, and more, are answered in this article.
Can You Fly A Cessna (172 ,182, Etc) With A Dog?
You can fly in a Cessna with a dog. However, there are important factors to take into consideration, such as where is best to sit your dog, how to stop their ears from hurting and how to prevent sickness. These are important to keep them happy and to have a stress-free flight.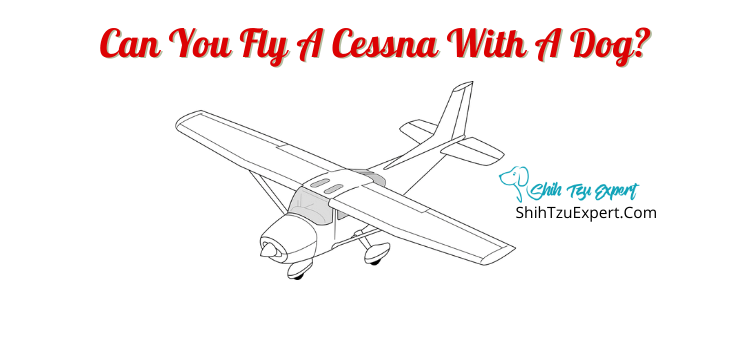 Can Dogs Fly In Small Aircraft?
Dogs can fly in small aircrafts, however, there are some things you need to consider before taking your furry friend on this, or any, aircraft. Depending on the size of your dog, you need a soft cage for a small dog, or a seatbelt tether for a larger dog. You will also need to make sure they go to the toilet before they get on the plane, as otherwise they may relieve themselves on the plane, particularly if they are scared.
Can You Take A Big Dog In A 4 Seater Cessna [Is It Safe]?
Yes, it's perfectly safe to take a bigger dog on a 4 seater Cessna. Just make sure they are secure in the plane and can't cause any chaos and everything should be fine.
Can Pilots Take Their Dogs With Them In Small Planes?
If the pilot owns the plane, it's perfectly acceptable for them to take their dog with them on a small plane. However, their dog should be restrained in some way so they don't start messing with any of the controls. If the pilot doesn't own the plane, they would have to ask the owner. As long as they say it's okay and/or doesn't go against the company's policy, then they can do so if they want.
Tips For Flying Your Pet On Private Aircraft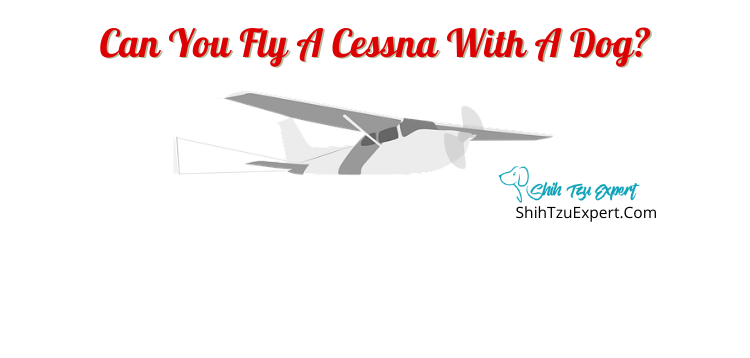 Before you fly with your pet, there are a few things you need to take into consideration first: – make sure you have the relevant documents and that they are fully vaccinated and microchipped – don't take them when they are only a few weeks old – have a check-up with your vet at least ten days before you fly, to check your pet is healthy enough to fly and to get any extra advice you might need – don't give them too much to eat or drink before the flight to lessen the urge for them to go to the toilet during the flight – make sure they are fully secured before take-off (either by putting them in a crate or harness) – make sure to give them plenty of food and water after the flight
When Dogs Are Flying In An Unpressurized Aircraft, It's Important To Keep Below 10,000 Feet If Possible Because Dogs Can't Wear Oxygen Masks You can also put ear muffs that are made specifically for dogs over their ears so their ears aren't affected, although not all dogs mind the noise of the plane.
How Many Of You Fly With Your Dog/S?
There are currently more owners flying with their dogs than there ever has been. One company even reported an 86% increase in the number of animals that were flying with them over a period of two years.
This is even true for private planes, where many dog owners say they prefer flying private because their pet pooch can be around people they know and not surrounded by strangers, which makes the whole experience much more comfortable for them. They also have a bit more chance to move around on a private plane, instead of being restrained either by a crate or harness.
Would A Dog Behave In A Plane Exactly The Way It Does In A Car?
It helps if you have either the same harness or crate that you use in the car on the plane, as this will give your dog a sense of familiarity and make them feel more at ease with the flight.
How Far Can You Fly In A Small Aircraft With A Dog As A Passenger?
It's actually recommended that when you're on a flight you should book one that's nonstop as you may have to put your dog in the cargo hold and this will prevent them from being on the tarmac for too long in extreme weather conditions or being mishandled by baggage personnel. However, if you do have some stopovers, some airlines may request that you spend a minimum amount of time on land, which will often be at least an hour or two depending on where you're flying from and where you're flying to.
How High Can You Fly In An Unpressurized Small Aircraft With A Dog (Who Doesn't Wear An Oxygen Mask)?
It's typically recommended to not fly more than 10,000msl (mean sea level), but you can often measure how far is too far for your dog by how the people in the plane are reacting to the oxygen levels. It is a typical rule within aviation that if you feel yourself needing oxygen, your dog will need oxygen too. You also need to consider other factors within each individual dog, such as their health, age, breed, whether or not they're pregnant, and whether or not they have a snub nose.
Can A Dog Handle Pressure Changes In An Unpressurized Small Air Craft?
Dogs are much more affected than us by the effects of high altitude and they are much more sensitive to the changes in pressure and will cause them to bark. The changes in pressure cause their ears to hurt as the pressure changes so quickly that their ears have issues equalising to the amount of pressure, so it's important to be mindful of this before taking your furry friend on a plane.
Just Be Prepared For Lots Of Canine Flatulence As You Ascend! Canine flatulence can be caused by anxiety and stress. As flying isn't something your dog will be used to, this is what then leads to them becoming quite gassy on a flight. Just try and keep your furry friend as calm as possible and the flatulence should be a lot less.
How Fast Can You Fly In A Cessna With A Dog As A Passenger (Will The Engine Noise Hurt The Dog)?
It depends on the dog. Some dogs will be bothered by the noise, others won't. If you are worried about the noise from the engine harming your dog, you can buy them dog ear muffs to wear during the flight. However, the faster a plane is going, the louder the engine is. Therefore, if your dog is really stressing out about the loud plane engine, you could try and slow it down to make your dog happier.
Are Dog Earmuffs Necessary?
They're not completely necessary as not all dogs will be too affected by the change in pressure with their ears. However, some will be affected so it's always best to have some to hand just in case you need them and it turn out you don't need them, over your dog needing earmuffs but you not having any to hand.
Do I Need To Tranquilize The Dog To Take Him In A Cessna?
No, you should NEVER give your dog a tranquilizer before taking them on a Cessna, or any form of aircraft for that matter. If you give your dog, or any pet, a tranquilizer before a flight, this can cause them to have heart and respiratory problems. It can also affect their natural ability to adapt and react to the change in environment.
What Type Of Dog Crates/Restraints Should Be Used In A Cessna?
The crate should be big enough to allow your dog to stand at full height without their head touching the top. They should also be able to fully turn without hitting anything and should be able to fully stretch out without getting squeezed.

If your dog has a snub nose, you will need to get a crate that's one size bigger than you would normally get so they can be comfortable and be able to stretch so they don't get sore muscles. However, it shouldn't be too big as the extra space makes them more likely to pee.

It should be made out of any of the following materials: fiberglass; metal; weld metal mesh; rigid plastics; plywood; and/or solid wood.

The crate should be leakproof so in the event your dog does go to the toilet, it doesn't leak in the plane.

The crate door should be fully secure, spring loaded and have an all-around locking system. This is so the dog cannot break through the crate material and get out. It also shouldn't have any wheels on so the crate cannot move around during the flight.

In regards to restraints, these should be ones that can be attached to the seatbelts on the plane and are ones that don't allow your dog to easily wriggle free and out of the seat.
Is It Safe For My Dog To Sit In My Lap While I Am Flying The Plane?
No, it's best if your dog remains either in their crate or is attached by a restraint to a chair. This is for everyone's safety as the dog could suddenly jump up onto the controls and cause something to go wrong with the plane.
Can My Dog Occupy The Co Pilot Seat In A Cessna?
It is recommended to keep your dog in the backseat of a plane if you are taking them on one, regardless of whether you are the pilot or passenger. The issue with having your dog in the co pilot seat is that even with a restraint, there is still a chance they could start messing with the controls, therefore putting the pilot and any passengers in danger.
Dog Dogs Get Airsick?
Motion sickness in dogs is incredibly common. However, this is often more common in puppies than adult dogs because the parts of the inner ear that are involved in balance aren't yet fully developed. However, adult dogs can also experience motion sickness due to a lack of conditioning and the unusual stimuli that is involved with being inside a moving object (in this case, a plane). As this feels unusual to them, it causes stress/anxiety which then leads on to sickness.
One Thing To Watch For Is To Monitor Your Pet For Any Sign Of Ear Infection. Ear Infection Could Cause Intense Discomfort For Your Furry Family Member! Although, dogs are perfectly okay to fly with an ear infection. As long as the ear drum is still intact, they should be perfectly fine to fly. But it is worth checking with a vet first and also considering whether it is completely essential for you to fly with your pet pooch. After all, you wouldn't want to make them feel uncomfortable if there is no real purpose to it.
How To Keep A Dog Cool In A Cessna On A Hot Day?
The cessna should have air conditioning, which should be able to keep your furry friend and yourself completely cool throughout the flight.
References
https://aviation.stackexchange.com/questions/11567/whats-the-right-way-to-take-a-dog-in-a-small-plane https://www.quora.com/Can-a-pilot-bring-their-dog-in-the-cockpit http://philip.greenspun.com/bboard/q-and-a-fetch-msg?msg_id=000uFr https://edition.cnn.com/travel/article/why-more-travelers-are-flying-their-pets-by-private-jet/index.html