We may earn commission from qualifying purchases at no extra cost to you.
Learn more
Cavalier King Charles Spaniel mixes are some of the most popular mixes.They are friendly and outgoing lapdogs that make excellent pets for everyone. This breed has a rich history, and has provided comfort, care, and companionship to their owners for numerous years. If you are a current Cavalier King Charles mix owner,you already know how great they are! If you are looking to bring a Cavalier King Charles Spaniel mix into your family, you're in the right place. Whether you're seeking a general idea of what these dogs are like and what kind of care they require, or you're a current owner with a specific question, this article will answer your questions. We will begin with some basic information about the breed such as the history, appearance, and must know facts. Further, we will dive into more specifics about health, care, and grooming. There is a lot of information to know about this breed, but this is the best way to be a prepared owner! In order to provide the best care possible for your Cavalier King Charles Spaniel mix, you must have this information.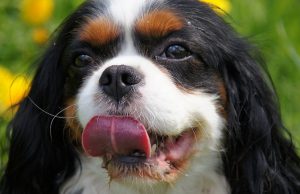 What Is The Breed?
Know the basics of this breed involves knowing the history of the breed, their pedigree, life expectancy, average weight and size, and how to recognize the breed. Knowing the basics will help you prepare for more in-depth information discussed later on.
History and Origins
In order to properly understand the temperament of this breed and to prepare for bringing a Cavalier King Charles Spaniel into your home, you should know their history and origin. This helps you have a better, more rounded idea of what to expect from this breed. The Cavalier King Charles Spaniel mix has a rich history.
Cavalier King Charles Spaniels originate from toy spaniels. This breed has been present and popular since the renaissance times. They were especially beloved by the 17th century british monarchs, King Charles I and King Charles II. King Charles II was especially known for his live of these spaniels,he even decreed that the spaniels were not to be denied access to any building and even bred them himself. He became so well known for his love of these dogs that they were named after him. This breed continued to soar in popularity throughout the 18th and 19th century in England. Even before that, the breed was extremely popular and loved in Scotland. The breed was brought to Scotland in the 1500s, and was treated as royalty. They were excellent lap dogs, and can even be seen featured in some paintings alongside their wealthy or royal owners.
In the age of victoria, after red and white spaniels were bred, they began to breed toy spaniels with Asian toys breed such as the Japanese Chin. This breed quickly became known as the English Toy Spaniel, or the King Charles Spaniel.
This type of spaniel dominated, becoming so popular that previous versions of the toy spaniel became nearly extinct. This new version had a flatter face, and became very popular very quickly. However, in the 1920s owners longed for the original version of the toy spaniel. Breeders got to work once a money prize was offered for the revival of the old breed by Roswell Eldridge. Once this was accomplished, the breed was deemed Charles Cavalier King Spaniels.
Pedigree/Kennel Club Association
The Cavalier King Charles Spaniel is a pedigree dog and is recognized by the American Kennel Club.
Average Life Expectancy
While we can make predictions and informed guesses about how long your Cavalier King Charles Spaniel will live, this does not guarantee that they will live that long. This is solely based on average lifespans, and doesn't necessarily account for sudden accidents or illness. That being said, you can trust that Cavalier King Charles Spaniels generally live about nine to fourteen years. With a dog that will most likely live a decade long or more (with the right care), you have to understand that this is a long-term commitment, especially if you are purchasing or adopting a puppy. You must be prepared to care for and love this dog for a decade or more. While this will be easy sometimes because they are such friendly and lovable dogs, the care and financial burden can become a problem if you are not informed or prepared. It is important to understand the time and money commitment before bringing a Cavalier King Charles Spaniel into your home.
Average Weight and Size
Again, these are just estimates made by the general spaniel population. The biggest factor in your Cavalier King Charles Spaniel's size will be their age. As a puppy, they will be their smallest, this stage lasts the first six months. Most of their life is spent in the adult stage, and they will most likely be the biggest in this stage. In the last couple years of their life they will be considered a senior. In this stage, they will most likely stay the same size they did in the adult stage, but may lose or gain weight depending on their diet and exercise requirements. In general, however, Cavalier King Charles Spaniels are usually thirteen to eighteen pounds in weight, and twelve to thirteen inches in height.
How to Recognize a Pup?
Recognizing a Cavalier King Charles Spaniel should be relatively easy, as they have a distinct appearance. This is an important skill to have if you are going to be an owner of a Cavalier King Charles Spaniel. It is vital to be able to pick out your dog in public, in a group of other dogs, and incase they get lost. This is especially important due to their small size. Cavalier King Charles Spaniels are smaller dogs that come in four colors. They may be ruby, black and tan, tricolor, or blenheim. They have long ears, and typically have a flatter face. They are large compared to some toy breeds, but are still considered a toy breed nonetheless.
In order to add a visual aspect, below will be some pictures of Cavalier King Charles Spaniels:
Health and Care
Now that we've covered the basics, let's talk about the most important aspect of being an owner: health and care. It is your responsibility to ensure your dog is in top shape, is having regular vet visits, and make sure you're keeping a close eye on them incase they exhibit any signs of common health conditions for Cavalier King Spaniels. In order to do that, you must know a few things.
What You Need To Know About Their Health
To break it down, there are a few different fundamental things to understand about your Cavalier King Spaniel's health. It is important to know common health problems to know what to look out and prepare for, a basic understanding of care, teeth and muzzle problems, and knowing how to spay/neuter your Cavalier King Charles Spaniel.
Common Health Problems
There are some common health problems that Cavalier King Charles Spaniels sometimes experience. It helps to be aware of these, not so you can be afraid, but so you can be prepared. Knowing what might come means you can know and recognize the signs, so you can hopefully interfere before it becomes too serious. It is also important to understand the financial burden some of these conditions may have, so you can also be prepared in a monetary sense. The most common conditions for Cavalier Charles Spaniels are heart murmurs, Mitral Valve Insufficiency and seizures. Other health problems they sometimes endure include canine hip dysplasia, deafness, entropion, epilepsy, weakened immune system, patellar luxation and syringomyelia.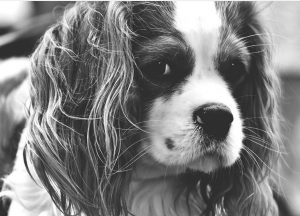 How To Take Care of Your Pup
There are various facets of taking care of your Cavalier King Charles Spaniel. The biggest, more prominent facets include grooming, health, eating, and exercise. If you are able to retain this knowledge, you should be well prepared to care for your pup. Remember that regular vet visits are extremely important, regular exercise will keep them healthy, and that they need a balanced diet. We will go more into detail into each of these categories later in the article, but it is important to know these are the primary facets of dog care. Of course, the most important thing after all of these is simple-love. You just need to love your dog. Cavalier King Charles Spaniels are extremely loving and devoted dogs, and they deserve that treatment back.
Teeth and Muzzle
Unfortunately, the culprits for many of the Cavalier King Charles Spaniel's health problems are their teeth and muzzles. They are more likely than most dogs to develop dental disease, and their flat muzzles can sometimes make it difficult for them to breathe properly. Be sure to keep an eye out for both of these. You can prevent dental disease with a good diet, and consider having them chew on dentist approved bones. As for their muzzle, just be sure to not have them do anything too strenuous.
Is It a Good Idea to Spay/Neuter my Cavalier King Charles Spaniel?
Yes! Most vets and dog expert agree it is best to spay or neuter your dog. The question that is often disagreed upon is when. Some vets believe they should be neutered very young, while others suggest you wait. The best thing to do is to bring your Cavalier King Charles Spaniel to their vet and have them decide. Every dog is different, and your vet may have a recommendation based on the specific needs of your Cavalier King Charles Spaniel.
Essential Products and Grooming Accessories
After health concerns, one of the most important aspects of caring for your Cavalier King Charles Spaniel is grooming. Grooming involves more than you may think. This includes bathing, brushing, haircuts, and nail trimming. All of these are essential to keeping your dog looking healthy, clean, and happy. Before we dive into how to properly groom your Cavalier King Charles Spaniel, you first need to know the products you'll need in order to do this properly. There is a lot to consider as you purchase grooming products. You want products that are long lasting, not too much of a financial burden, and is great for your pet. Going shopping for these products, however, can be overwhelming. There are so many products available, it can be hard to narrow down what you need. Luckily, you're in the right place and we have some recommendations.
Best Grooming Clippers for Cavalier King Charles Spaniels
Grooming clippers are extremely important to have when grooming your dog. There are a variety of different types. Some are faster, some are cordless, and others have cords. The type of clippers needed depends on the type of cut you want for your dog, as well as how often you plan on grooming them. Overall, there are some great recommendations. The best grooming clippers for Cavalier King Charles Spaniels are the Wahl Pro Ion Rechargeable Pet Clipper Kit, the Andi's AGC 2 Speed Professional Clippers, Wahl Acro Pro Pet Clippers, and the PetTech Professional Grooming Kit.
Best Brushes for Cavalier King Charles Spaniels
For Cavalier King Charles Spaniels, you'll want brushes that are of good quality and are long lasting. This is so you can regularly brush them without worrying about constantly replacing them. Your Cavalier King Charles Spaniel can and should enjoy the time you spend brushing them, although the first couple times might be difficult. Some of the best brushes for Cavalier King Charles Spaniels are the Hertzko Self Cleaning Slicker Brush, the HappyDogz Pro Slicker Brush, the Oster Combo Large Brush, the Miracle Care Pet Slicker Brush, the Wahl 2-in-1 Combination Bristle Brush, the Poodle Pet Detangler comb, and the FURminator Dual Grooming Brush.
Best Nail Clippers for Cavalier King Charles Spaniels
Nail clippers are often forgotten when grooming, but they are an essential part of the process. By trimming their nails, you're keeping them clean and from hurting others or themselves accidentally. To do this properly, you'll want the best clippers possible as this can be difficult for dogs especially the first few times. Some of the best nail clippers for Cavalier King Charles Spaniels are the Epica nail clippers and the Millers Forge Nail Clippers.
Best Shampoo for Cavalier King Charles Spaniels
Shampoo is one of the most important products to buy for grooming. It also requires a lot of care. Some dogs have more sensitive skin, there can be allergies, and there can be specific needs in terms of cleanliness. For this reason, there are a plethora of shampoos to choose from for dogs. However, there are a few shampoos that are best for Cavalier King Charles Spaniels. These include the Everyday Jasmine and Vanilla Silky Coating Shampoo for Dogs, the Healthy Breeds Herbal Avocado Dog Shampoo, the Groovy Pets Super Concentrated Oatmeal Dog Shampoo and Healthy Breeds Shampoo.
Grooming Tubs and Tables
If you have chosen to groom your pet yourself, you may want to consider purchasing a grooming tub or table. These make it much easier to groom your dog and more comfortable for both of you. They are typically more expensive, but you will use it frequently if you are grooming your dog yourself. Some of the best tubs and tables are the Go Pet Club table, the AUXLEY folding table, the LivEditor Grooming Table, the Trixie Dog Pool, and the Everyday Grooming Deluxe table by Master Equipment.
The Basics of Grooming
Now that you know what materials you need for grooming, you need to know what to use them for! As stated in the pervious section, grooming entails bathing, trimming, and brushing your Cavalier King Charles Spaniels' coat and trimming their nails. All of these aspects of grooming take care, time, and dedication.
Because Cavalier King Charles Spaniels are double coated, they require daily brushing. This keeps their fur from matting or getting too tangled. You'll want to brus them when they are relaxed, and make sure they are used to being brushed very early on. Bathing is also important. However, Cavalier King Charles Spaniels only need to be bathed three to four times a year. Too much bathing can actually harm them and hurt their sensitive skin. When you do bathe them, you have to go over their fur twice with the shampoo to clean them properly. As for hair cuts, they will most likely be nervous. Bring lots of treats and use positive reinforcement. Have a plan of what you want them to look like first, don't just jump in. As for nails, make sure you are trimming them regularly in order to keep them from hurting themselves or others. This breed is not hypoallergenic, but they do not shed much especially if you brush them daily.
FAQs
Before moving on, let's go over some of the more asked questions concerning Cavalier King Charles Spaniels. We've covered a lot of what they expect from you in terms of health, care, and grooming. However, it is also important to know what to expect from them. While these are generalizations and may not apply to every Cavalier King Charles Spaniel, they are still relatively reliable.
Adaptability- Are They Good With Families?
Cavalier King Charles Spaniels are excellent dogs for those who have families, as well as those who live alone. This is because they are extremely friendly and affectionate. They generally get along very well with children, as well as other animals. As much as they are affectionate, they requite that affection back. Be sure to give them lots of attention and do not leave them alone for long periods of time. These companion dogs need companions too.
Are They Good Companions?
Yes! As previously stated, Cavalier King Charles Spaniels are excellent companions. They are loyal, devoted, affectionate, petite, compact, can be calm and relaxed at times, crave constant love and attention, funny, proud, majestic, fun, friendly, and very intelligent.
Are You a Good Match for a Cavalier King Charles Spaniel?
Cavalier King Charles Spaniels are great matches for families, couples, singles, and seniors. They provide comfort and companionship regardless of who you are or your surroundings. This means that as an owner, in order to be a good match, you just need to be able to reciprocate that unconditional love. You will need to be prepared to care for them financially, health-wise, grooming, and of course, emotionally. They will most likely be extremely dependent on you, and if you can follow through, you are an excellent match for a Cavalier King Charles Spaniel.
Pros and Cons of Getting a Cavalier King Charles Spaniels
PROS-
Intelligent
Good for travelling
Lap dogs
Get along with children
Get along with other pets
Affectionate
Quiet
Low Maintenance
CONS-
Not a guard dog
Need brushing
Eat a lot
Somewhat expensive
Always need a leash
Temperament and Personality
To go a bit more in depth about the Cavalier King Charles Spaniel's personality and temperament, you can expect them to be extremely friendly and affectionate. They make great lap dogs, and are always looking for attention. They are also extremely intelligent dogs, which makes them relatively easy to train.
They are also very active dogs, they love cuddles and pets but they also love to run around. They will often run after birds, squirrels, bunnies, etc. Keep a close eye on them when outdoors! These are also great dogs to travel with, as they love to hike and go on walks.
Cavalier King Charles Spaniels get along with everyone! They make take some time to warm up to strangers, but they are very protective and loving towards the people they do know. Because they are so dependent on you and your attention, be sure to not leave them alone for long periods of time as they could become depressed or anxious.
Their devotion to their owner also makes Cavalier King Charles Spaniels excellent service dogs. They are intelligent, emotionally inclined, and protective of their owner.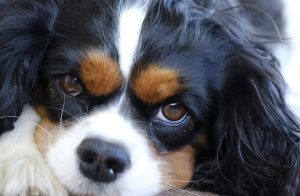 Tips for Finding a Cavalier King Charles Spaniel
If you have made it this far in the article, it can be safely assumed that you are at least strongly considering finding a Cavalier King Charles Spaniel to bring into your home. Congratulations! However, the adoption process can be confusing and overwhelming. There are a few different options. You can go to a breeder, or you can go to a rescue group. Rescue groups are always great because those dogs are always in need of homes. Breeders are a good option too, but you should be careful to find a good one and not be afraid to ask questions.
Some recommendations for Rescue groups include the following:
If you live in the US, some of the best rescue groups include Start Over Rover in NE, Pet Lovers Inc in MI, Dirty Dawgz Animal Rescue in CO, Save a Dog Day in NM, Evolution Tails in TX, Odies Place Inc in MA, Crazy Rescue Ladies Inc in FL, Last Chance Ranch Rescue in PA, Hill Hounds in MD, Tomorrow's Promise Animal Rescue in NH, and Lucky Dog Rescue in GA. These are only a few. You can find these or other rescue groups near you and ask about their breeds available. Since shorkies are still a new breed, there aren't a very large oversupply, but it is always a good idea to check rescue groups first.
In the UK, some of the best rescue groups are Animal Care Treatment International Network, Siempre Contigo Protectora, Clare Animal Welfare, Cyprus Pride House, Mutts with Friend Rescue, Jerry Green, People of Animals Welfare Society, Manchester & Cheshire Dogs' Home, and UK French Bulldog Rescue.
For Australia, there are also several rescue groups to look to. To name some, Aussie Rescue and Placement, Friends of the Paw, Save a Pound Pooch, Paws and Recover, Silver Lining Pet Rescue, Gladstone Animal Rescue Group, Moorook Animal Shelter, Halfway Home Animal Rescue, and Animal Aid.
Moving on to Canada, some of their best shelters are Heartprints Dog Rescue Society, All Breed Canine Rescue, Animal Care Centre Lobo, Animalert Pet Adoption Inc, Bow Wow Rescue, City of Toronto Animal Services, Genesis Dog Rescue, Kingston Animal Rescue, Kismutt Small Dog Rescue, and LOYAL Rescue.
Finally, in Asia, some of the best rescue groups are Animals Asia Foundation, Soi Doi Organization, Animals Asia, Friends of Nature, China Small Animal Protection Association, and the Xi'an Pomegranate Stray Animals Rescue Base.
Reach out to these rescue groups that are in your area and see if they have shineses available. There are typically a lot of crossbreeds in these rescue groups so you should be able to find the breed of your choice relatively easily. Once you've found the right rescue group, make sure you can trust them.
Training and Exercising Your Cavalier King Charles Spaniel
The Cavalier King Charles Spaniel is a very intelligent dog, so it is relatively easy to train them. Training include social training and house training. The earlier you begin both of these, the easier it will be for both you and your dog. You can begin with social training by slowly introducing small amounts of new people, or even enrolling them in doggy kindergarten. As for house training, you have to make sure that you are bringing them outside very frequently and always to the same spot. Training will be difficult at first, but have some patience. Positive reinforcement will work wonders!
As for exercise, Cavalier King Charles Spaniels need at least one hour of exercise and walks a day. They are very active dogs, and love hiking, climbing, and walking! Don't be afraid to bring them on adventures with you.
How To Feed Your Cavalier King Charles Spaniel
Cavalier King Charles Spaniels need a lot of protein in their diet. Meat, fish, and poultry are great sources of this. You will want to try to avoid dry food and kibble all together. Home prepared meals are always a great option as long as you keep their diet balanced.
Obesity is a very common health problem for Cavalier King Charles Spaniels, so make sure that you are keeping their diets balanced and that they are getting plenty of exercise. Also be sure to visit your vet regularly, as they may have recommendations concerning your Cavalier King Charles Spaniel's diet.
Most Popular Names for Cavalier King Charles Spaniel
Nessa
Cooper
Buster
Jane
Delilah
Evie
Motte
Lottie
Lady
Daisy
Prince
Ranger
Greggy
Mick
Now that you're an expert on all things Cavalier King Charles Spaniel, you should be ready and prepared to be the best owner possible for your dog. Remember that love and support are the most important things. Doing the research is the hard part, but once they're in your arms it will all be worth it.