We may earn commission from qualifying purchases at no extra cost to you.
Learn more
The Jatzu, a hybrid cross between a purebred Japanese Chin and a purebred Shih Tzu, is a designer, or "boutique," dog breed. Recognizable by their diminutive stature, floppy ears and playful demeanor, Jatzus are known as lap dogs who make great companions, especially in small spaces.
Ranging between 8-11 inches in height and 8-22 pounds (on the large end) in weight, Jatzus are expected to live between 12 and 16 years.
The Mix — A Dog's History
When adopting or buying a hybrid dog, it's important to note that you may not get a 50-50 mix between breeds. Appearances can vary between hybrid dogs, with the pup taking on slightly more characteristics of one breed than another. As such, it's important to familiarize yourself with both the Japanese Chin and Shin Tzu breeds individually.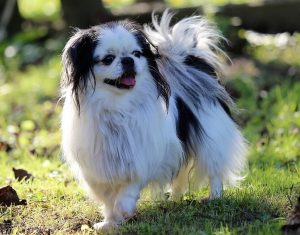 History of the Japanese Chin
The origin of the Japanese Chin is widely debated. While some believe the pups actually originated in China, others believe historical documents which assume that the Japanese Court were gifted these regal pups by rulers of Korea as early as the 700s. Japanese nobles gradually bred these doggies to be small enough to carry around in women's kimonos. Japanese Chins were brought to the U.S. by Commodore Matthew Perry in 1853 and became companions to the American and British upper class. Queen Alexandra in particular popularized the breed, as she was photographed with her own little Japanese Chin often.
Japanese Chins are now recognized as "toy" dogs who are quiet and aristocratic looking. Their faces are generally flat, their outline square and their coats silky. They were recognized by the American Kennel club in 1977.
History of the Shih Tzu
Shih Tzu, meaning "lion dog," is actually one of the 14 oldest dog breeds in the world, and existed as early as 8,000 B.C. Paintings and carvings show that this pup was treasured by members of China's Tang Dynasty. The Shih Tzu is likely a cross between two even older dogs, the Tibetan Lhaso Apso and the
Pekingese
. The dog became popular to the common classes during later dynasties as well, but was also known as a royal companion, especially in the mid-1800s when Empress T'zu Hsi was gifted a pair of Shih Tzus by the Dalai Lama.
In 1928, a male and female pair of Shih Tzus were brought to London, before coming to Ireland in 1933 and finally the U.S. by Maureen Murdock. The breed was recognized by the American Kennel Club in 1969 as a member of the toy group.
Staying true to its royal lap dog origins, the Shih Tzu is still known as a friendly dog and an excellent companion. Affectionate and lively, this breed is one of the most popular in the U.S. today.
The Jatzu as a Designer Breed
No breeder has claimed the Jatzu as their own creation yet, and it has yet to be recognized by the American Kennel Club. Yet, owing to both its parent breeds, the Jatzu is a friendly, quiet lap dog who loves attention and dotes heavily on its owners — much as both the Japanese Chin and Shih Tzu doted on their royal owners for generations.
It can be difficult to tell if a Jatzu has more of the Shih Tzu genetics or those of the Japanese Chin. Some hybrids will be more square in frame like the Chin; others will be long-backed like the Shih Tzu. The Chin has a flatter skull, while the Shih Tzu's head is rounder with a square muzzle. Either way, the breed will be small and share an aristocratic face with a medium-to-long silky coat. Their eyes are round and bright, and their ears are furry and floppy.
Pedigree and Recognitions
The American Kennel Club does not recognize any "designer" dog breeds, including the Jatzu.  Organizations that recognize the Jatzu include:
The American Canine Hybrid Club
Designer Breed Registry
Designer Dogs Kennel Club
Dog Registry of America
International Designer Canine Registry
Appearance
The Jatzu is an extremely small dog by design. A six month old pup will likely weigh only 11 pounds and stand 8 inches tall. As it grows to the 12-18 month range, it may grow another inch and gain a few more pounds. You can recognize a senior pup as opposed to a younger one by its weight, as Jatzus have a voracious appetite and are susceptible to weight gain as they grow older and less active.
Jatzus come in many colors, though the most common are white, brown, cream, apricot, black-and-white, black, and gold. Their eyes are typically brown, and their noses can be black or blue.
Jatzus have a long, dense, straight coat of hair that needs a moderate amount of grooming and maintenance. Japanese Chins have a single coat, while Shih Tzus have a fluffier double coat, so depending on what mix you get, your dog's coat may be more prone to shedding or tangling. Puppies are born with a single coat of fur that needs a gentler brushing than an adult coat.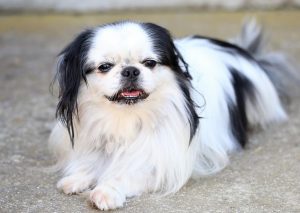 Personality and Adaptability
Bred for companionship, Jatzus are well-regarded as a low-maintenance but loving breed great for families, couples, or even seniors. They do not bark often, get along well with other pets (including cats), and crave attention while still being calm and relaxed. They can be a bit mischievous and stubborn, but with a bit of training will not cause much trouble.
There are many pros to getting a friendly, cheerful dog such as the Jatzu. It is great fun to have a loving lap dog who loves to both cuddle up and to play with you. She is great to take on walks and hikes and can even be entertained by doggie puzzles or games in the home. As she is a small dog, the Jatzu is great in an apartment setting and therefore for city dwellers. Other positives for indoor folk: Jatzus do not have an extremely strong odor, an advantage for living with a dog in a small space.
Jatzus are also great for families, as they love the infectious energy of playing with children, and tolerate the lack of personal space that young kids sometimes bring. Jatzus love attention, but are also generally all right spending time alone and won't get too upset if you have to be out of the house for a longer period of time.
As they don't bark often or scare easily, the intelligent Jatzu is excellent as a support animal. They train easily, enjoy walking, and are brave and protective, defending their owners against perceived threats. Just be careful about taking your Jatzu on super long walks — her small size means that any long hikes might leave her tired and napping all day long!
Some possible cons to watch out for in owning a Jatzu: these dogs do love to dig! If you have a yard, be warned. Do not leave this pup alone in the yard either, as a breed this small is especially susceptible if it gets into any misadventures.
Be prepared to also ensure that these pups have at least 30-40 minutes of playtime each day. Outdoor play is best for these doggies, but doggie puzzles and interactive toys can help keep their brains sharp.
Training
The Jatzu is a relatively easy dog to train, but due to its stubborn streak, it's important to socialize and train this breed on the younger side. Exposing this breed to a variety of situations, including potty training and other house pets, is best done in its youth.
This mix doesn't like negative reinforcement or punishment; positive reinforcement, like compliments or food rewards, are the way to go. The Jatzu is one of the more food-motivated breeds out there, despite their small size, so you'll want to get a few little treats for training.
To potty-train a Jatzu as a puppy as young as 8-weeks old, you can take the dog every two hours to encourage it to "go" outside. Using food rewards and positive reinforcement to reward your doggie once it goes, designate an outside spot for your puppy to use the bathroom before it can engage in playtime. Keep a close eye on your Jatzu during early months to ensure it goes to the bathroom at the first sign it needs to. With these protocols in place, you'll be able to ensure your Jatzu is potty trained at a young enough age for the changes to stick.
Exercise Requirements
Despite being a small dog, your Jatzu has lots of energy to burn off! Jatzus need time outside to walk, run and play. At least 30-40 minutes is required, but Jatzus can be outside for an hour or two and still be happy to play. Just remember that they are sensitive to heat, and could also be sensitive to extreme cold if they are single-coated. If you're in a very cold climate, buying your pup a little pet sweater is encouraged.
Grooming
What You'll Need
Pin brush
Comb
Scissors
Nail clippers
Tearless puppy shampoo
Leave-in puppy conditioner
Cotton swabs and washcloths
Hairdryer
Towels
The kind of coat a Jatzu might inherit from its parent breeds ranges from long and heavy to a light single coat. Either way, these pups should be brushed just about every day to minimize shedding. Brushing with a simple pin brush ensures that there won't be tangling or matting in your dog's coat, ensuring more comfort for your Jatzu (and for you!)
Many owners say they keep their Jatzu's head in a puppy cut, as it's easy to maintain and generally considered very cute. You can take your pup to a professional groomer for trimming and cleaning, or you can get your own set of clippers, scissors and a brush to do it at home! Amazon even has a few dog grooming starter kits that have all the tools necessary for comprehensive cleaning.
Jatzus should be bathed about every four weeks. Make sure when you bathe them to use a sensitive dog shampoo and not a shampoo for humans. Conditioner is helpful if the Jatzu has inherited a longer coat from the Shih Tzu — and leave-in conditioner is preferred, as it's stronger than conditioner that needs to be rinsed.
To bathe your Jatzu, you can use your own tub and stick a mat in it to ensure your Jatzu doesn't slip, if it is prone to slippage. You can also purchase a grooming harness like this one if your dog won't stay still for grooming. In the bath, make sure to pay extra attention to your dogs eyes and ears, as Jatzus are prone to tear stains and ear infections. You can use a washcloth for around its eyes and cotton balls for cleaning the ears.
After the Jatzu's bath, wrap him or her up in a towel and then blow or air dry. Make sure the pup is thoroughly dry to avoid knotting in the long coat.
Brushing each day is crucial and stops shedding from becoming excessive. The Jatzu sheds fairly often, which essentially cancels out its hypoallergenic classification. Though both the Japanese Chin and Shih Tzu are considered hypoallergenic, as is the Jatzu, its shedding still causes allergies in some owners.
Your Jatzu's nails should be clipped whenever you can hear the sound of its paws on your floors. This may not happen often as, being such an active pup, the Jatzu may wear down its paws by itself due to so much activity. Just keep an eye on it and have a pair of doggie clippers on hand just in case!
Feeding
Jatzus, for their small size, definitely know how to eat. Their healthy attitude can work to your advantage, as you can use their affinity for treats to train them and make them happy. However, you want to make sure that they don't grow overweight for their size, which can lead to health issues as they age.
High-quality dry food is the way to go for these doggies. Make sure you choose a kibble that's best for any special needs your dog may have, including factoring in if it's an older dog. It's also good to choose a brand without any additives or preservatives. Merrick's Lil' Plates' kibble might be a good start, as it's small enough for a dog the Jatzu's size, helps clean its teeth, and has a main ingredient of real chicken.
The recommended amount to feed your Jatzu is about twice a day with one to one-and-a-half cups of dry food. It's important to make sure you feed your pup less in the evening than in the morning, as you'll be feeding them little treats throughout the day!
Health Conditions to Watch For
As stated above, the Jatzu is a deeply food-motivated animal. However, that can lead to problems later in life as its activity levels decrease. Obesity can lead to heart issues, hypothyroidism, kidney problems, liver issues, diabetes, joint strain, and hernias.
It's important to keep your dog's teeth clean two to three times a week, or every day if they are more amenable to it. You can use a specially-made toothbrush for small dogs, a child's toothbrush, or even a cotton swab. As for toothpaste, it's best to use pet toothpaste that's flavored like kibble. Never use toothpaste meant for humans on a dog.
Jatzus are also especially prone to eye and ear issues, mainly skin infections around the eye, ear infections, and, in rare cases, deafness. Though uncommon, some serious conditions a Jatzu may contract are patellar luxation, Von Willebrand disease, heart murmurs, and brachycephalic syndrome. If you think your pup may be experiencing any of these, contact your vet right away.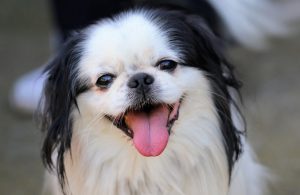 Finding a Jatzu 
Jatzus, being a designer dog, are likely easier to buy from a breeder than to rescue. If buying from a breeder, definitely ensure the breeder is reputable. Jatzus are not recognized by the American Kennel Club and thus may not have official pedigree papers. It's crucial that your breeder is knowledgeable about your pup's parentage, as a clean bill of health from both parents will lead to fewer issues in your dog down the road. Buying from a knowledgeable breeder, and especially one who keeps their dogs happy and healthy, is safer than from a pet store or puppy mill.
You can also find some organizations who rescue Jatzus and adopt from there. If in the United States, you may be able to find a Jatzu at the Florida Little Dog Rescue or BrokeTail Rescue in California, as well as anywhere in the U.S. or Canada PetFinder. Rolda is a rescue org serving the United Kingdom; TinyPaws Dog Rescue is based in Ontario, Canada. SavourLife has a great list of rescue organizations in Australia, and Shanghai, China also has a massive organization that saves pups, including mixed breeds like the Jatzu. Soi Dog Foundation is fighting the dog meat trade and also ships small rescue dogs to the U.S., Europe, or China.
Cost and Maintenance 
From a breeder, a Japanese Chin and Shih Tzu hybrid pup can cost anywhere from 150 to 800 dollars. But as we know, pet care is a long commitment and can accumulate a yearly expense too. On average, medical costs such as vet visits, shots, flea protection, insurance and the like come out to between 435 and 535 dollars. Non-medical expenses like grooming, treats, food, toys, and training costs amount to between 575 and 675 dollars. And of course, there's microchipping, spaying and getting the pup a crate, which altogether runs you about $360-400. These expenses are all necessities for a healthy dog!
Unless you plan on breeding your pup, it is always a good idea to spay or neuter them. The reason for this is that you save both yourself and your dog a bit of hassle! An unfixed Jatzu can become angry and irritable, and may be uncomfortable especially during a mating season. Also, they may spray or bleed on your house and furniture. Spaying and neutering ensures their comfort and yours.
Naming Your Dog
Naming a dog is a personal journey; short of anything offensive, there's no right or wrong answer for what to name them! According to rover.com, the top male name for a dog in 2019 was Max; the top female name was Bella. But you can name your dog anything that speaks to you. Just make sure your dog comes to learn to recognize its name, as it will make training easier!
Summary
In short, Jatzus are sweet companion dogs perfect for families or people in small apartments. They are loyal, affectionate, loving, and fun to play with. They can be a bit stubborn, and certainly need early socialization, but are not difficult and can even be fun to train. They also have some heftier grooming requirements (similar to a Dalmadoodle or Golden Irish), so be mindful of having a pin brush, nail clippers, and cotton swabs on hand and ready if you're thinking of buying or adopting a Jatzu.
If you're looking for a dog of a similar size and stature, but want to keep exploring your options, check out the La Pom, Maltichon, or Lhasa Apso.