Dogs occasionally need to be treated for pests and a popular topical treatment is Advocate. Dog owners should educate themselves about the potential side effects that using this treatment could cause.
Why Do Dogs Hate Advocate?
Advocate flea treatment and dewormer is a topical medication that kills many external and internal pests. However, Advocate has a strong scent and may create an unpleasant sensation when applied that dogs do not like. Dog owners should be aware of possible side effects before using Advocate on their dog.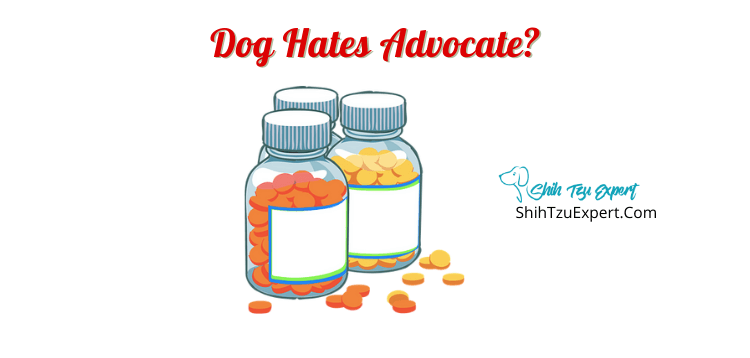 Why Do Some Dogs 'Freak Out' When They Smell Advocate?
Dogs have a strong sense of smell. Because of that, the scent of certain chemicals can cause dogs to freak out. Many common household chemicals such as vinegar, naphthalene, citrus, and strong alcohol can repel dogs or cause them discomfort.
Many flea treatment chemicals can smell like some of these common household chemicals and be very unpleasant for dogs. According to some dog owners, Advocate may smell like almonds. Other owners complain of a general bad smell. Regardless of the actual scent, some dogs do not enjoy any kind of chemical scent and may freak out when Advocate is applied.
How Do I Train (Counter Condition / Desensitize) My Dog To Not Hate Advocate?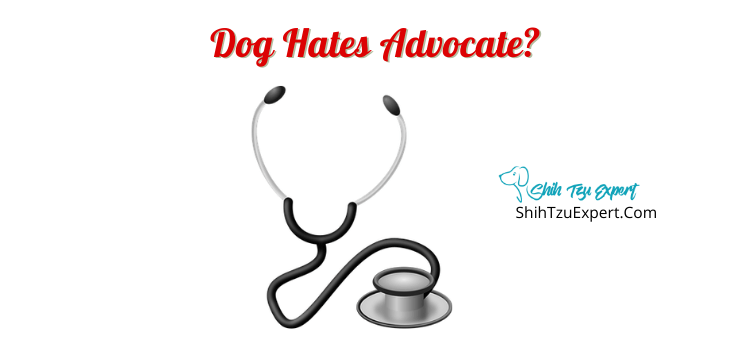 Dogs can be desensitized to the application of Advocate if they do not like it. There are a couple of important steps that dog owners can use to help train their dogs not to freak out during the application of Advocate.
Give a treat to the dog each time it receives an Advocate treatment.
Play with the dog immediately after it receives an Advocate treatment.
Making sure that the dog associates good things with its flea treatment helps to ensure future cooperation with subsequent treatments.
What Not To Do With A Dog Who Hates Advocate?
Applying flea treatments to dogs is a necessary part of keeping them safe and healthy. If your dog hates the flea treatment Advocate, it is best to apply the treatment when the dog is calm and happy. Dog owners should avoid applying Advocate to a dog that is stressed or unhappy.
In addition, dog owners should not yell at their dogs when applying the Advocate flea treatment. Yelling at the dog makes them think they have done something wrong and they may associate the flea treatment with being punished, thereby increasing their dislike of Advocate.
Should You Comfort A Dog Who Hates Advocate?
A dog that hates Advocate should not be comforted. Dog owners may feel guilty about giving their dog the Advocate flea treatment, but attempting to comfort the dog can unintentionally communicate that there is a problem and the dog should be concerned.
What Exactly About Advocate Does My Dog Hate (The Smell, Texture?)
Because dogs have an extremely powerful sense of smell, that is likely the first sense they use to understand and interpret the world around them. The Advocate flea treatment contains chemicals that have a strong scent. That scent may be one of many kinds of scents that tends to repel some dogs.
My Dog Is Getting An Increasingly Dislike Of Advocate?
Sometimes dogs can develop an increasing dislike for the Advocate flea treatment. Fortunately for dog owners, this may not be a problem with the treatment. Instead, the problem may be in how the treatment is applied.
The flea treatment should not be applied to the dog while the dog is unhappy, stressed, anxious, or feeling any kind of negative feeling. It is best to apply the flea treatment when a dog is feeling relaxed and happy.
Dogs that receive the treatment while unhappy may associate it with bad things, and dogs that receive the treatment when they are happy may associate it with good things.
Is Advocate Dangerous To Dogs?
The Advocate flea treatment is not harmful to dogs when applied correctly. However, if the chemical is ingested or inhaled, it is poisonous and a veterinarian should be called immediately. In addition, the chemical is harmful to the eyes. If the chemical comes into contact with the eyes, they should be well rinsed immediately.
What Best Alternatives To Advocate That Dogs Do Not Hate?
Advocate is a flea treatment that protects dogs from more than just fleas. Advocate also protects dogs from ear mites and several parasites including heartworms, roundworms, and other intestinal parasites. Advocate is the only all-in-one, comprehensive treatment of this type currently on the market.
Dog owners who have dogs that hate the Advocate flea treatment, however, have alternative treatment options. Flea treatments can be combined with dewormers that will afford dogs some of the same protections that Advocate offers. One popular example combines the Advantage flea treatment with a dewormer like Drontal.
Several different flea treatment/dewormer combinations exist. Dog owners should talk to their vet to decide which combination would work best for their dogs.
Dog Acting Strange After Advocate?
Sometimes, dogs act strange or behave abnormally after receiving an Advocate treatment. There may be a couple of reasons for this strange behavior. One reason may be the smell is unpleasant for dogs and they may act crazy if they are trying to get away from the smell.
Another explanation for abnormal behavior after treatment could be that dogs may feel an unpleasant sensation as the treatment is administered. The location of the treatment, between the shoulder blades, could be a sensitive spot and dogs may be unaccustomed to feeling any sensation there and so react strangely.
Advocate Toxicity Dogs?
If the Advocate treatment is administered to dogs incorrectly, it could prove toxic. Advocate is a pesticide, a neurotoxin that is designed to affect fleas and worms. At doses that are too high or administered too frequently, dogs could be adversely affected.
In addition, if the treatment is ingested or gets into the eyes, it could also prove harmful to dogs.
Advocate Flea Treatment For Dogs 4-10Kg
The Advocate flea treatment requires a prescription from a veterinarian. Once a dog owner has the prescription, the box of single-dose applicators can be purchased. For medium-sized dogs between 4 and 10 kg in weight, dog owners should apply the 1 mL ampule of medicine between the shoulder blades where the dog cannot reach to lick the application site.
Advocate For Dogs Side Effects?
Common side effects that may occur after applying the Advocate flea treatment to your dog include skin redness, itchiness, vomiting, and greasy fur. If these symptoms occur, they typically disappear without additional help. However, if any of these symptoms do occur, contact a veterinarian.
Dog Vomiting After Advocate?
Vomiting can be one of the side effects of applying the Advocate flea treatment. Dog owners should closely monitor their dogs after applying the treatment. If a dog begins vomiting after the application of Advocate, the owner should immediately contact a vet.
Dog Has Diarrhea After Advocate?
Diarrhea is not a typical side effect of the Advocate flea treatment. However, that does not mean it is an unrelated symptom. If your dog suffers from diarrhea after receiving Advocate, immediately contact your veterinarian.
How To Apply Advocate For Dogs?
The amount of Advocate that is topically applied to dogs depends on the size of the dogs. For puppies and small to medium-sized dogs, Advocate should be applied between the shoulder blades where the dog cannot reach with its tongue.
For larger dog breeds, Advocate should be applied in a couple of different locations along the spine to ensure complete coverage while still avoiding areas the dog can reach with its tongue.
Does Advocate Make Dogs Sleepy?
In very rare cases, an application of Advocate has been known to cause lethargy. Lethargy in dogs can look like sleepiness, listlessness, disinterest in normal activities, lack of energy, or little to no reaction to stimulation. If lethargy is observed after the Advocate treatment, call the vet immediately.
Can Dogs Have A Reaction To Advocate?
The Advocate treatment can cause a reaction in dogs. Some dog breeds such as collies and Old English sheepdogs seem to be more sensitive to Advocate and may more frequently exhibit side effects or adverse effects after topical application or if they accidentally ingest it.
Why Does My Dog Go Crazy When I Put Flea Medicine On Him?
Topical flea medicines like Advocate can cause some dogs to react with crazy, abnormal behavior. Many dogs do not like the feeling of having a greasy, cold substance being applied to their skin in a sensitive spot on their body.
A dog may act crazy simply because the feeling of the medicine as it settles onto the skin is unpleasant.
Does Flea Treatment Make Dogs Act Weird?
The application of a topical flea treatment can cause a dog to act weird. The dog may start to pace incessantly, run around, roll around on the ground, or shake. This weird behavior can be a normal reaction for some dogs. The weird behavior should stop once the application site is dry.
If the weird behavior your dog exhibits is a concern for you, try using an oral flea treatment instead of a topical one.
How Often Should I Advocate My Dog?
The Advocate treatment should be applied to your dog only once per month or once every four weeks. The type and severity of the infestation will determine how many months are required in the treatment plan. A consultation with a veterinarian to monitor the effectiveness and success of the treatment will ultimately determine how long treatment should last.
How Long Does It Take For Advocate To Work?
For some infestations such as fleas and lice, only one Advocate treatment is necessary to achieve success. For other infestations such as skin worms, treatment may last up to six months. Prevention of various parasites such as heartworm can be attained by regular or seasonal use of Advocate.
Consultation with a vet is necessary to determine the right treatment plan for your dog.
Can Advocate Cause Seizures In Dogs?
When Advocate is applied correctly at the proper dosage, seizures do not occur in dogs. However, if a dog receives the wrong dosage, ingests too much Advocate, or is exposed to an Advocate formulation not meant for dogs (i.e., equines), then neurological symptoms such as seizures may occur.
Why Is Dog Flea Treatment Not Working?
If a dog owner observes that the flea treatment being administered does not work, then something about the treatment is not appropriate for the dog. For instance, if the dosage of the treatment is too low, then not all of the fleas will be killed.
In addition, if the treatment is not administered at the appropriate frequency, then it may not be effective in eliminating all of the fleas or immediate reinfestation is allowed to occur. Work with a veterinarian to determine the correct dosage for your dog.
Is Advocate The Best?
Advocate is the only topical treatment that effectively kills fleas, lice, ear mites, and a variety of intestinal parasites. Whether that makes it the "best" treatment is up to the individual dog, its owner, and their vet.
If the dog does not need a general dewormer or does not have a problem with fleas, then its treatment may only require a medicine that targets the specific problem.
Treating a dog with a general topical medicine like Advocate may be useful to make sure a wide variety of parasites and other pests are not a problem. However, for general maintenance and prevention, a medicine with a more specific target may yield better results.
Is Advocate A Dewormer?
Advocate is not only a flea treatment, but also a dewormer. In fact, Advocate will kill several intestinal worms that dogs may acquire. Those worms include heartworms, roundworms, hookworms, and whipworms.
What Happens If I Give My Dog Too Much Advocate?
Unless the amount of Advocate administered to a dog far exceeds the prescribed dose, dogs should not experience adverse effects from a small overdose such as accidentally administering more than one application per month. However, dogs should be monitored for side effects that include hair loss, itching, redness, or vomiting.
References
"How Do I Tell if I Have a Lethargic Dog?" Central California SPCA. https://www.ccspca.com/blog-spca/lethargic-dog/
Sines, Daniella. "Seizures in companion animals." Veterinary Nursing Journal Vol. 33, Issue 1, https://www.tandfonline.com/doi/full/10.1080/17415349.2017.1387413