Dog Hates Ear Medicine
Dogs can often get an ear infection and whilst this, theoretically, is simple to treat, there is the small issue of dogs hating ear drops. But what is it exactly about ear drops that dogs hate? And are there any other methods to treating an ear infection that dogs actually do like?
Dog Hates Ear Drops
Dogs hate ear drops because they cause an unpleasant sensation in their ear that they're not used to. Luckily, there are other methods of treating an ear infection that your furry friend will (hopefully) find rather soothing.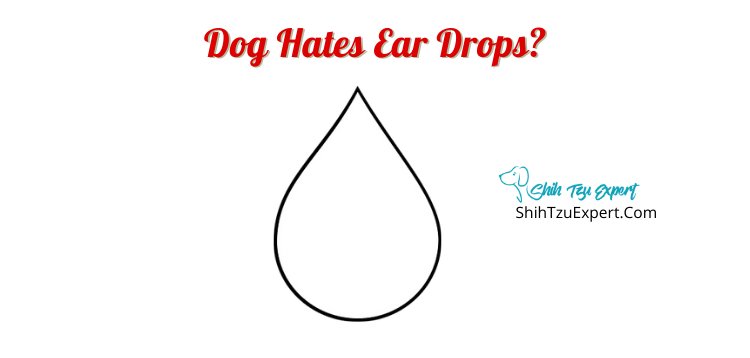 Why Does My Dog Keep Scratching His Ear? Overgrown Ear Hair?
If your dog is constantly scratching their ear, this may be a sign they have ear mites. These like to eat ear wax, oil and any other debris that is found in your dog's ear. They can also cause your dog to shake their head, have dark brown crumbly residue from their ears, and painful sores on their head or outer ears from the scratching.
An itchy ear can also be a sign of an allergic skin disease, yeast infection, foreign objects, aural masses, and bacterial infection.
If you notice your dog constantly scratching their ear, you should take them to the vet. The vet can use a magnifying ear cone to get a better look at the ear to see exactly what is causing the itch.
How Can I Soothe My Dog's Itchy Ears?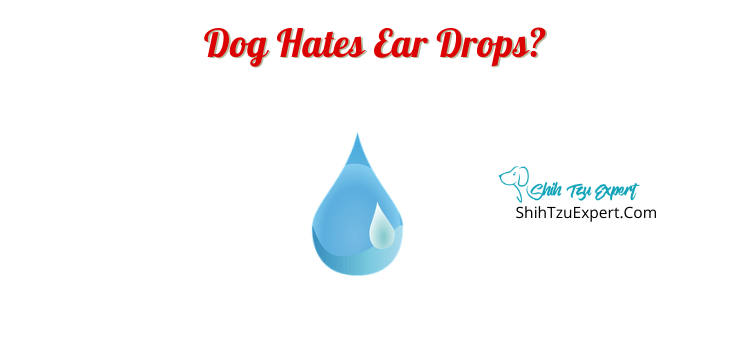 The main way for you to soothe your dog's ears is by using ear drops.
Ear drops contain antibiotics, antifungals and anti-inflammatories that help clear any swelling and pain your dog may be in.
How To Treat Dog Ear Infection Without Drops?
If you don't want to treat your dog's ear infection with drops, there are other ways you can treat your dog's ear infection.
They can take antibiotics in pill form, which is easy to hide within their food, so they won't even realise they're being given medication.
There are also home remedies you can treat them with. These include calendula lotion, diluted apple cider vinegar, hydrocortisone ointment, mullelin oil, and antihistamines. It's also important to note that if you are using the home remedies, you should check with your vet first on whether you can put them inside the ear canal. If not, they should be applied along the outer cartilage and skin of the ear.
Why Do Dogs Hate Ear Drops?
The drops entering the ear can feel a little weird to dogs and it's this sensation that makes them hate it when you try and put ear drops in their ear to treat an infection.
Why Do Dogs 'freak Out' When They Feel Ear Drops In Their Ears?
Because the sensation is different to one they would normally experience, so it causes them to freak out because they want to get away from this sensation.
How Do I Train (Counter Condition / Desensitize) My Dog To Not Hate Ear Drops?
You should start off by using a restraint of some sort, such as a muzzle or a lead and a head halter, so the dog can't try and snap at you or try and run off when you're putting the drops in. Next, with one hand, hold out a treat and with the other, reach out towards their ear.
Repeat this a few times until they don't flinch at least five times in a row, and then repeat this with the other ear. Then, you should offer your dog a treat and lift up their ear flap. You should only reward your dog when they don't flinch and should repeat as you did with the step above.
You can then start to put the drops in the ear. It may help to give them a treat that is long-lasting whilst you apply the drops so they are too focused on eating the treat to notice you are putting the drops in their ear.
Once you have finished, give them a treat for being good; as well as lots of praise.
What Not To Do With A Dog Who Hates Ear Drops?
Don't go too fast when it comes to teaching them how to respond when putting in ear drops. You will need to go at your pet's pace as otherwise they won't respond well. Take your time with it and eventually, they should start responding better to having ear drops put in. You also shouldn't try to spend too much time getting them to respond well to the ear drops. This can cause your dog to become overwhelmed, so keeping each individual session short and sweet is a much better option.
Don't try and give them the drops if they already seem uncomfortable. If they go near the bottle and decide they don't like it, trying to put the drops in means they'll associate the drops with an unpleasant experience and it will make it more difficult for you to apply the drops.
You shouldn't be too forceful when trying to get your dog to remain still whilst you put the drops in. Your dog won't understand why this is happening, so you'll be being forceful for no reason. If they do need to be restrained, use a lead or get someone to help you and use plenty of treats.
Should You Comfort A Dog Hates Ear Drops?
Yes, it's important to be really comforting if a dog hates ear drops. This will help make them feel more at ease and as long as you convince them that the drops aren't going to harm them, they should be able to take to them more easily.
What Exactly About Ear Drops Does My Dog Hate (The Smell? Look? Noise? Sounds? Taste?)
It's mostly the noise and feeling it makes when it goes in their ear. This is something they aren't used to and it makes them want to get away from it as fast as possible due to how uncomfortable it makes them.
My Dog Is Getting An Increasingly Dislike Of Ear Drops?
If your dog's hate of ear drops is getting stronger, instead of trying to force the ear drops upon them, you should gradually introduce the drops to your dog so they associate them as a positive thing.
Take things slow, give plenty of treats when they start reacting positively to the drops and don't try and force them into taking them if they're really distressed because this will increase the issue they have with the drops.
Are Ear Drops Dangerous To Dogs?
Ear drops are only dangerous to dogs if they have an allergy to at least one of the ingredients. This is more likely to occur if you buy the drops over the counter, which is why it's better to get them from your vets.
Your vet should be aware of the allergies your dog has, so will be able to recommend drops that your dog won't have a reaction to. Alternatively, there are other healing solutions you can use, such as diluted apple cider vinegar and antihistamines, to avoid a reaction.
What Best Alternatives To Ear Drops That Dogs Do Not Hate?
If your dog really doesn't like ear drops, your vet may give you some antibiotics that you can hide in your dog's food so they won't notice it's there. Even though dogs aren't a fan of taking a tablet, hiding it in their favourite food means they don't notice it in the slightest.
The antibiotics are probably the best version as you can hide them. Most ear remedies dogs won't like because they're not used to them. But antibiotics can either be hidden or crushed in food, so your pet pooch won't even realise what they're having.
My Dog Won't Let Me Put Ear Drops In?
It is always worth trying to tire your dog out before you try to put the drops in, so at least then they won't have loads of energy to try and run away from you.
You should also keep them on a short lead and get someone to hold the lead to try and keep them still whilst you put the drops in. Also have this person on hand to give the treats when your dog behaves so they associate the drops as being a positive experience.
My Dog Tries To Bite Me When I Put Ear Drops In?
Your dog may do this because if you have tried to put ear drops in the past, they may have acted in an aggressive way which has caused you to stop putting the drops in. Trying to bite you means they have learned you will stop putting the ear drops in. It's a learned behavior.
However, it's also important you don't continue with this struggle because you may be putting yourself in harm's way. Hopefully, your dog isn't aggressive in general and it's just this as an isolated incident, but you need to try and change their mindset to one where they see ear drops as a positive.
It may also be a case of needing to put a muzzle on your dog when you apply the drops. This can stop them from trying to bite you, however, it doesn't teach them that acting in this way due to having a bad experience is inappropriate behaviour.
In this instance, it may be best to seek advice from your vet or a pet behaviour specialist on how to prevent this behaviour from happening again.
How Much Is Too Much Ear Drops For A Dog?
This is why it's best to go to the vets and get prescribed ear drops over getting them from over the counter. The vet will be able to recommend an exact number of drops to give your dog, so please follow that guidance.
How To Restrain A Dog For Ear Drops?
You can try and hold them (it may be helpful if there are two of you, one to hold the dog and the other to administer the drops). Alternatively, you may need to use their lead and possibly a muzzle to stop your dog from running off/biting you.
Dog Shaking Head After Ear Drops?
This is completely normal and is something you should allow your dog to do once you have applied the ear drops. This can help get rid of the debris that was in your dog's ear, which you will then need to wipe away with either a tissue or a cotton ball.
Sedate Dog To Clean Ears?
It is possible to have your dog sedated to clean their ears out if they are acting aggressive when you're trying to apply the drops.
Obviously, this should be your last resort and will only be something your vet will do if you have tried every other option. But the most important thing is sorting your dog's ear infection out as it will be painful for them, so if this is the one remaining option, it's the one you should do.
What Do You Do If Your Dog Doesn't Like Ear Drops?
Try and make it a positive experience for them. You can do this by giving lots of encouragement and giving treats when they behave in a good way so they know this is the appropriate behaviour to do.
Why Does My Dog Keep Getting Ear Infections?
Your dog may be more likely to continuously get ear infections if they have a lot of moisture in their ears, they have allergies, they have an endocrine disorder, they have an autoimmune disorder, they have a lot of ear eax, or their are foreign bodies in their ears.
They may also be more prone to getting a continuous ear infection if they have had an injury to their ear canal or either yourself or your dog is cleaning their ear too much. It's important to keep their ears clean but just do this every so often and not all the time.
What Does Ear Infection In Dogs Look Like?
As long as the ear infection is only on the outer part of the ear, this may look like head shaking, face/head rubbing, itchy and painful ears, redness, swelling, heat, smelly, discharge, and scabs/crusting.
If the ear infection has moved to the middle/inner ear, this may look like head tilting, loss of balance, vomiting, and partial deafness.
How Can I Treat A Yeast Infection In My Dog's Ear Without Going To The Vet?
There are plenty of at-home methods you can use to get rid of a yeast infection in your dog's ear:
Applying diluted apple cider vinegar to your dog's entire body, as this helps restore their pH levels. This should be applied after your dog has been swimming/bathed as yeast thrives in a wet environment. You can also apply coconut oil mixed with virgin olive oil, lemon essential oil and lavendar oil onto the infected ear(s). This can be applied every week to ensure the infection stays away.
Can Coconut Oil Help Dog Ear Infections?
Coconut oil is very good at helping ear infections. It is a natural remedy and one that your dog should much prefer to ear drops.
How To Hold A Dog Down To Clean Ears?
Simply keep a hold of their sides in a way that's strong enough to keep them still but not too strong that it hurts them.
Alternatively, keeping them on a short lead may give you more control and make it a bit easier to keep your pet pooch still.
References:
https://www.pdsa.org.uk/pet-help-and-advice/pet-health-hub/conditions/ear-infections-in-dogs
Dog Ear Infections: Symptoms, Causes, Treatment, and Prevention