If you have a big strong dog or even a small dog that likes to pull on the leash when walking, it can be frustrating and scary. The good news is that with the correct training you can teach your dog to walk on a loose leash.
Dog Too Strong To Walk
Make sure to use the right collar or harness for your dog so they are comfortable and you can handle them easily. Early socialization and obedience training is always a good idea to help your pooch and to enjoy your outing more. Most importantly, be patient and enjoy your walks with your best friend.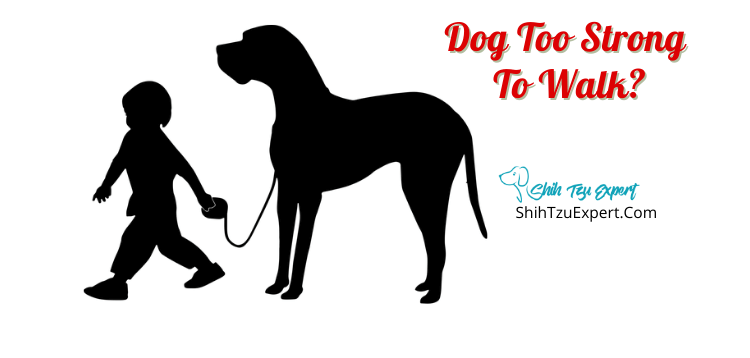 I Hate Walking My Dog. He Pulls The Entire Walk, And Makes Walks Very Unenjoyable.
Walking your dog should be fun for both of you. Getting fresh air and exercise is important for your dog but if your pooch is strong or keeps pulling on the leash it could become a problem.
Some dogs are very strong and big, making it almost impossible to stop them if they decide to pull you while walking them. This could make walking your dog unenjoyable.
Below we are going to look at some common questions to help you so that you can enjoy taking your dog on a walk.
Why Is My Small Dog So Strong And Pull All The Way During The Walk?
Your dog may be small but when he gets excited and pulls on the leash, it could feel like he is a lot stronger than you think.
Small dogs are usually feisty but with some training and a lot of patience you can teach your dog to walk without pulling on his leash.
Why Is My Dog Constantly Pulling On Walks And Won't Listen?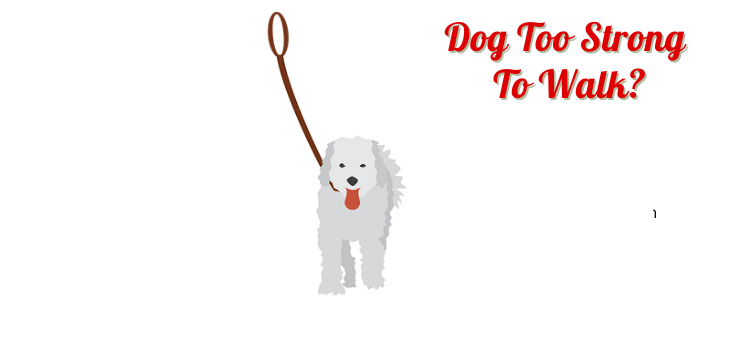 Dogs love going on walks, there are so many things for them to see and smell outside. Your dog might be over excited and distracted when on a walk which is causing him not to listen to you.
Your pooch may be overstimulated with everything going on around him and this could cause him to have difficulty concentrating on you and what you want from him.
It might also be that you are not walking your dog enough and when you do take him outside he is so excited that he can't focus on listening to you.
There is also the possibility that your dog doesn't understand what you want. Your dog might listen to you at home, but when they are outside, it is a different environment and you might have to be patient and willing to train them to understand you better.
Being outside can be scary for a dog that hasn't been socialized properly and this can cause your pooch to feel a lot of anxiety and not listen to you.
How To Train A Dog To Walk On A Leash Without Pulling?
Teaching your dog to walk on a leash might be difficult but it will be very rewarding for both of you when you can go on a walk without a struggle.
An easy way to help your dog understand not to pull is to stop walking whenever he pulls. He will learn that pulling doesn't get him anywhere and might stop the behaviour
How To Train A Dog To Walk On A Leash Beside You [Not In Front]?
If your pooch keeps on running in front of you, simply stop walking until they return to your side. Once they are walking beside you, give them a treat to re-enforce the behaviour.
How Do You Walk A Big Strong Dog That Pulls?
If you have a big strong dog it is best to start training them when they are small so that they can understand your instructions without getting confused when over-stimulated.
You are going to want your dog to learn to walk on a loose leash and not a tight leash like when he is pulling.
Once you are sure that your pooch is well trained and socialized you can start leash training.
When he pulls on the leash, stop walking and wait for him to return to your side, he might be confused at first but reward him with a treat to help him understand what you want.
How Can I Slow Down My Dog When Walking?
To get your dog to walk at a nice slow pace instead of running, you can use a short leash so that they can't run ahead. This might be uncomfortable but you will only use it for training.
Walk slowly and if he tries to pull, stop and wait for him to calm down before continuing at a slow pace.
Give him treats and verbal encouragement when he is walking slowly beside you so that he can learn what you want from him.
How Do You Stop A Dog From Pulling So Strong?
Don't try different training methods, choose one and stick with it. Decide on which side you want your dog to walk and start training in an area where there isn't a lot of excitement. The less there is going on around your pooch, the less distracted and excited he will get.
Try using a front clip harness and praise your dog for good behaviour.
Am I Responsible If My Dog Walker Gets Hurt Because Of My Strong Dog?
This will depend on the situation and the state you live in. You should discuss this with your dog walker before hiring them.
How To Walk A Dog That Is Stronger Than You Are?
Walking a dog that is stronger than you can be difficult, but it doesn't have to be. Follow these easy training steps to start you off on the right path.
Socialize your dog early so that he doesn't get distracted easily.
Walk your dog often so that he doesn't get over excited.
Train your dog so that he or she understands what you want from them.
Use the right collar or harness.
Train them to walk beside you.
Use treats and verbal praise if they listen to you.
Benefits Of Walking Your Dog Daily Vs My Sanity When Walking A Strong Dog Who Pulls:)
When your dog is strong and pulls on the leash it can be very frustrating but do not let this stop you. Walking your dog can be extremely beneficial for both of you.
You will have to train your dog to stop pulling though because if you don't it will only get worse over time. You can take your dog to doggy school or train him yourself.
Exercise is good for humans and dogs and taking your dog on regular walks will help both of you to be healthier.
Dogs have a lot of energy and they need to let it out or they can get destructive. Taking your dog for a walk will help them to let out some of the energy so that they can live a calm balanced life.
Walking together is also a bonding experience for you and your pooch and will help grow your relationship.
What Is The Best Lead To Stop A Dog From Pulling?
Using a front attachment harness is the best leash to help stop a dog from pulling. The leash attaches to the front of the harness on their chest and if they pull on it, they will be turned around to face you which will interrupt their walk. This will teach them not to pull if they want to continue on their walk.
What Not To Do When Walking A Strong Dog?
There are a few things to avoid when walking a strong dog. You want the experience to be fun and rewarding for both of you and once your dog is properly trained you should allow them to enjoy their walk.
Don't use a short leash unless you are training them and don't rush your dog, let them sniff and explore as long as it is safe.
Make sure to focus on the task at hand. Even if your dog is trained you should always be aware of what he is doing and the environment around you.
Don't take the same route every day. Keep it fun and exciting by having a few different routes for you and your dog to explore.
How Do I Make My Dog Walk Straight [And Not Cross From Front & Behind]?
You can get your dog to walk straight by training them to follow verbal commands. If your dog starts crossing, stop walking and instruct her to take her position beside you before continuing to walk.
How Do I Get My Dog To Stop Walking In Front?
You can teach your dog to stop walking in front of you by training them to heel. This basically means that you will give a simple command or hand gesture and your dog will know to return to your side.
Should I Ever Let My Dog Lead The Walk?
No, you can let your dog explore and enjoy his walk but you should be in control at all times. Make sure that your dog follows your instructions so that you both stay safe and enjoy your walk together.
Can You Walk A Dog Too Much?
Dogs benefit greatly from exercise and taking your pooch for a walk is one the best forms of exercise for them. Most dogs will benefit from daily walks but it is possible to walk your dog too much.
If your dog is overweight or unfit he could get injured from too much exercise if he is not used to it.
If you are unsure of how much activity your dog needs, you can talk to your vet who will be able to work out an exercise plan for you.
Should I Let My Dog Sniff On Walks?
Yes, sniffing is a natural instinct for dogs and it is good for them. Smell is very important for dogs and they use sniffing to explore their environment.
When Walking A Dog What Side Should It Be On?
It doesn't matter if your dog walks on your left or right as long as you are both comfortable.
Most trainers will teach their dog to heel and walk on their left side but it is mostly for competitions and isn't going to make a difference if you are taking your dog for a walk.
How Often Should A Dog Go For A Walk?
How much exercise your dog needs depends on their breed, age, weight and health. You can speak to your vet if you are unsure but in general most dogs need to be walked daily.
You can go for a 30 minute walk or break it up into two 15 minute walks.
Can Dogs Hurt Themselves By Pulling On Harness?
Yes, your dog can hurt himself by pulling on a harness if it doesn't fit him right; however, a harness is much safer for a dog to pull on while on a walk.
They are more likely to injure themselves if you are using a collar and a leash. A front attachment harness is the safest option for your dog.
Walking My Dog Is A Stressful Event [How To Make It Fun]?
If walking your dog is causing you a lot of stress, you need to find ways to make it more fun and relaxing.
Don't go into the walk feeling stressed, your pooch can pick up on your energy. Staying calm will help both of you.
Add some fun training exercises to the walk and change your route so that your pooch has new things to explore and you can enjoy the different scenery.
You can also stop by a dog park so your dog can have some off leash fun while you relax in the sun.
How To Teach Dog To Walk On A Loose Leash
With a bit of patience and a lot of treats you can easily teach your dog to walk on a loose leash. First you have to decide which side you want your dog to walk.
Hold some treats in that hand and the leash in the other. Walk forward and then stop, your dog might try to run but don't worry.
Open your hand with the treat right next to your body where you want your dog to be. Your dog will come to you and eat the treat.
Continue doing this until your dog realizes that he should stay next to you which will enable him to walk on a loose leash.
Leashes That Won't Work On Strong Dogs?
Try to stay away from retractable leashes, bungee leashes and rope leashes if you have a strong dog that likes to pull while walking.
What Should I Do When My Dog Keeps Pulling?
If your dog keeps pulling you can try to train him to walk on a loose leash. If you do not succeed, you can enrol him and yourself in some dog training classes where a professional can help you to get your dog to stop pulling.
Crucial Tips For Walking A Strong Dog
Try these useful tips for walking a big strong dog.
Start obedience training at a young age.
Make sure that your pup understands the heel command.
Don't try to walk more than one dog if they are big and strong.
Make sure you are using the right collar or harness.
How To Walk A Dog That's Heavier And Stronger Than You?
The best way to walk a dog that is heavier and stronger than you is to use the loose leash method. This will take a lot of training but will be rewarding for both of you.
How Do I Get My Dog To Calm Down When Walking?
Dogs get over excited when they have too much excess energy. If your dog is jumping, pulling and barking you need to get them to calm down.
Do not encourage excited behaviour by giving your dog attention; instead, ignore him until he has calmed down. Once he is calm and relaxed you can give your pooch some affection or treats, this will help him learn to stay calm.
You should also make sure that you walk your dog enough and that he has a lot of playtime to get rid of excess energy.
What Do You Do When Your Dog Is Stubborn On Walks?
Don't yell at your dog, this will make them anxious and scared. If your dog is being stubborn you should be patient and train them by giving them affection or treats when they behave the way that you want them too. This will reinforce the behaviour.
References
https://wagwalking.com
https://thehonestkitchen.com
https://www.animalhumanesociety.org