Dogs use their voices to communicate the same way that we do. The problem is that we don't speak the same language. When your dog seems to be barking for hours on end with no end in sight, it's because they are trying to tell you something and you are not understanding them.
Why Don't Dogs Get Tired of Barking?
Your dog is physically capable of barking for hours on end, it's how the communicate with the world around them and especially with us. Remedying the reason for them barking is the best way to nip the behavior in the bud.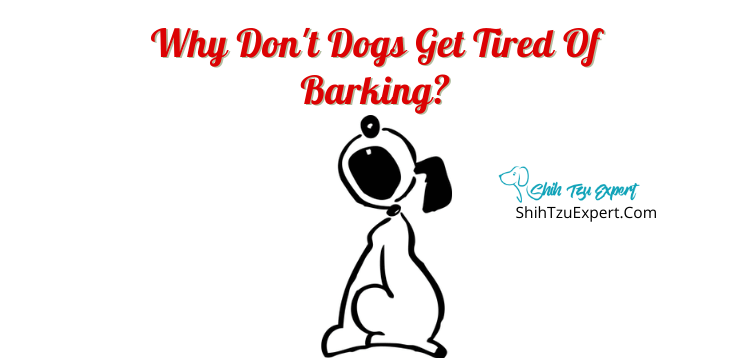 Why Do Some Dogs Bark Non-Stop?
There are a lot of reasons that your dog barks, but when your dog is barking non-stop then it's usually because there is an underlying problem that isn't being addressed.
When you hear your dog barking, check on them to make sure they are not uncomfortable or scared or anything like that.
If you have an older dog, it could also be that they are not even aware that they are barking. Loss of hearing, sight, and mental acuity can mean that your older dog could be barking and barking and not even know it.
How To Stop a Dog Who's Barking Incessantly?
The first thing that you need to do is to figure out WHY your dog is barking.
Dogs will bark for a variety of reasons:
If they are startled
If they are nervous
From separation anxiety
If other dogs are barking
If they are territorial
If they are injured
If they are stuck somewhere
If they are hungry or thirsty
The list could go on.
The key to getting your dog to stop barking is to figure out why they are barking and to solve that problem for them.
What Never to Do If Your Dog Won't Stop Barking?
Dog barking, especially if it has been going on for a long time, is grating on the nerves. It can also be frustrating and aggravating, and all of those things.
But yelling at your dog for barking is not going to stop them. It will only add to their anxiety and can cause more behavioral problems.
So, if your dog won't stop barking, don't just yell at them.
Don't ignore them either. Your dog is trying to communicate with you about a problem they are having.
Should You Punish a Dog Who Barks Non-Stop?
When your dog is barking non-stop it's because they are trying to let you know about a problem they are having.
Punishing your dog for something that is built into a dog's DNA won't yield results.
It won't stop your dog from barking because it won't be solving the problem they're having.
It can also lead to trust issues between you and your dog, and other behavioral issues.
How Easily Do Dogs Grow Out of Barking?
Some puppies will be barkers. They will bark because they are anxious, excited, nervous, or just chatty.
As your dog grows and learns more about the world and grows more comfortable, they will be more confident and should bark less.
That being said, not all dogs reach this state of comfortablility and it might be something that you have to work with your dog on.
Do Dogs Get Tired of Barking at Night?
Your dog could bark for hours without getting physically tired.
But after hours and hours of barking, your dog will get tired mentally.
Because your dog is probably barking to let you know something, after hours of being ignored they will get tired from being on alert for so long.
And nighttime brings more for your dog to alert you to – animals wandering around, shadows and sounds that they don't see during the day – all of these things are something your dog will want to let you know about.
Do Puppies Get Tired of Barking?
Puppies have a lot of energy, but they also don't know how to portion out that energy yet.
Your puppy will get tired more quickly from barking than an adult dog would simply because they won't know when to take a break.
And barking is something that is more mentally tiring than anything else, which will tire out your puppy quickly.
Do Dogs Ever Get Tired of Whining?
Some dogs choose to whine instead of bark, and unfortunately whining is a lot less tiring than barking.
This means that dogs that whine can whine for longer than dogs that bark.
Again, with whining they are trying to let you know something. The longer they go without being heard and having their needs met, the more tired they will become. But they can whine for HOURS before this happens.
How Long Can a Dog Bark Before It Gets Tired?
Barking is something that is natural and sustainable for your dog.
Your dog knows how to optimally use its vocal chords and its lung capacity so they can bark for hours before they get tired.
What will get your dog tired won't actually be physical exhaustion, but mental.
Why Does My Dog Bark When Other Dogs Are Barking?
Dogs don't have to bark to communicate with each other. They have forms of nonverbal communication that they use 90% of the time to communicate with each other.
When your dog is barking when other dogs are barking, it's because there is something that the group is trying to communicate.
How Do I Get My Dog to Stop Barking When I Go Inside?
If your dog barks whenever you go inside and leave them outside, they are most likely dealing with separation anxiety.
Separation anxiety in dogs is very real, and the best way to fix it would be to consult with a professional trainer.
Working with a trainer will help you come up with the best solutions for you and your dog.
My Dogs Won't Stop Barking Once I'm Out of the House [Why Do They Bark? & What Should I Do]?
If your dog starts barking when you leave the house, it can be difficult to deal with for you and your neighbors.
They are most likely barking because they have separation anxiety.
Dealing with separation anxiety with your dog can be difficult, and consulting a professional dog trainer will help massively in handling this issue.
They may suggest crate training your dog so they can go into their crate when your gone. Their crate will become their safe space so they feel comforted while you're gone.
Does Barking at a Dog Make the Dog Stop Barking?
Some people will tell you to bark back at your dog to stop them from barking.
This might work once as it will confuse your dog. But in the long run it is not a solution to a barking problem.
Why Don't You Care about Your Dog Barking Anymore?
As you and your dog grow together and go through life together, you'll learn what barks need attention and what is just your dog playing or having fun.
After awhile, you may just not care about your dog barking anymore because you'll know when they need your attention and when they don't.
Just make sure you're not ignoring them when they're being a nuisance to your neighbors.
Why Don't Stray Dogs Bark at People?
Stray dogs have lived much harsher lives than dogs that have loving homes and families.
Stray dogs have learned that not all human attention is good attention, so they will do their best to not draw attention to themselves. This includes barking.
If you see a stray dog, be kind to them and don't approach them as you don't know how they will react to you.
What Happens If You Ignore a Barking Dog?
Dogs bark to let us know that something is happening that needs our attention.
If you ignore your dog's barking, they will just keep doing it until they get the reaction they want from you – most likely your attention.
It's better to address the cause of the barking if you want your dog to stop.
Does Barking Hurt Dogs?
Barking is natural for dogs. It's how the communicate with us and the world around them.
It doesn't hurt them to bark because it's what their vocal chords are built for, the same way that talking doesn't harm us.
Is Constant Barking Bad for a Dog?
As far as your dog's health is concerned, constant barking will mentally tire them out more than anything physical.
Constant barking can lead to anxiety issues, trust issues, and other behavioral issues if left unaddressed.
In this way, yes, it can be bad for your dog.
Can A Dog Lose Its Voice from Barking?
Your dog would have to be barking a lot for it to lose its voice, but it can happen.
Just like with humans, overuse can cause strain on your dog's vocal chords, resulting in a loss of the voice.
Signs of your dog losing its voice may be rasping sounds when it tries to bark.
Don't Dog's Voiceboxes Get Tired of Barking?
Your dog can get tired from barking. It can cause strain on the throat and the vocal chords resulting in a loss of voice.
If you have a dog that barks constantly, you will find that it may stop after awhile simply because its voice is tired.
Do Dogs Get Sore Throats From Barking?
Just like humans, overuse can cause sore throats and loss of voice in dogs.
How Long Can A Dog Bark Without Stopping?
It really depends on the dog.
Some dogs may only bark for a few minutes before getting tired, while other could go for hours.
Can I Get Fined for My Dog's Barking?
It's important to read up on your city's noise ordinance laws if you are considering getting a dog.
Even if where you live doesn't have specific laws for dog barking, they will most likely have noise ordinance laws.
If your dog is barking excessively at all hours of the day and night and causing a nuisance for your neighbors, they may call the local authorities to have them fine you.
How Cruel Are Bark Collars and Shock Collars?
People are pretty divided over the use of bark and shock collars for dogs.
Consulting with a professional dog trainer is the best course of action before purchasing anything that may cause harm to your dog if used improperly.
What To Do If My Neighbors' Dogs Are Barking?
If your neighbor has a dog that barks all the time, the first step should be to talk with your neighbor.
They may not even know that their dog is barking while they are away from home. And once they are notified, they can take steps to correct the behavior.
How Long Can a Dog Bark Before Calling the Cops?
If your neighbor's dog is barking and barking and doesn't seem to stop, and you've talked to your neighbor and given them an opportunity to correct the behavior and they haven't, then you are perfectly withing your rights to call the nonemergency number for your local authorities.
They may or may not do anything depending on the time of day. But they may come by to do a welfare check if the dog has been barking unrestrained for hours.
What Is The U.S. Law About Excessive Dog Barking?
Laws about excessive dog barking will vary from state to state and even county to county within states in the US.
You can check your local laws regarding dog barking and noise ordinances to find out the specifics of the law in your area.
Can I Be Evicted for Dog Barking?
In most places, your landlord will be perfectly within their rights to evict you for nuisance noise complaints.
It's important to read through your leasing contract thoroughly so that you have a good understanding of the rules around dogs in your lease.
Can My Landlord Make Me Get Rid of My Dog?
If your dog is barking excessively, your landlord may give you the option of getting rid fo the dog instead of being evicted.
Why Do Some Dogs Bark More Than Others?
The amount that your dog barks really depends on the temperament of the dog.
Some dogs are naturally more anxious and nervous than other dogs, so they may bark more when left alone or when scared.
Other dogs are very relaxed and not worried about much, so they may not bark unless it's an emergency situation.
References
https://pets.webmd.com/dogs/guide/understanding-why-dogs-bark#1
https://www.dailypaws.com/dogs-puppies/dog-behavior/common-dog-behaviors/do-dogs-get-tired-of-barking
https://akcgr.org/akc/app/document/35641313?0
https://rehome.adoptapet.com/answers/dog-rehoming/can-you-be-evicted-for-dog-barking
https://www.thesprucepets.com/stop-your-dog-from-barking-3877988
https://wagwalking.com/sense/can-dogs-lose-their-voice