Have you noticed a foul odor coming from your Shih Tzus eyes?
Is there a sticky crust forming on the eyelids that doesn't look healthy?
If these issues sound familiar to you, your dog may be suffering from Keratoconjunctivitis Sicca or dry eye. Read on to find out how this is affecting your pet and what you can do to treat it.
How Do I Stop My Shih Tzu's Eyes From Smelling
With regular cleaning and medical care, eye odor caused by dry eye is manageable in Shih Tzus. Through constant care, you can make sure that your dog leads a life unaffected by chronic pain and irritation. Without treatment, this condition can result in complete blindness!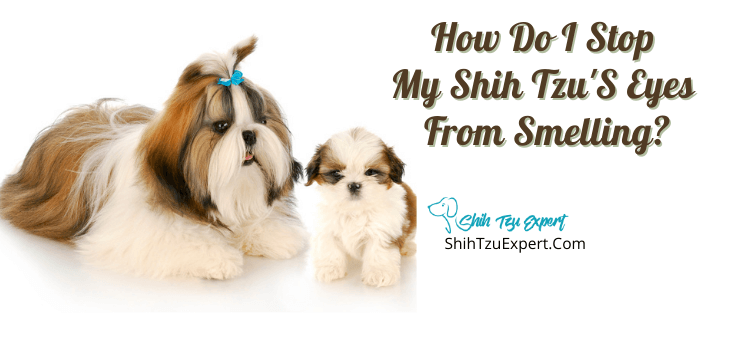 Shih Tzu Puppy's Eyes Smells Bad?
As the owner of a Shih Tzu, you may notice that your pet has had an odor coming from their eyes. Maybe there seems to be discharged as well?
You may have already noticed by seeing other Shih Tzus that this seems common among the breed. In the case that there aren't any other Shih Tzus you know, you'll be relieved to know that this is a common problem for your favorite dog and it isn't only your pet.
Shih Tzus are susceptible to Keratoconjunctivitis Sicca, which in simpler terms is dry eye.
With Keratoconjunctivitis Sicca or KCS, the tear glands fail to produce enough moisture to coat the eyes. This results in pain, discomfort, itchiness, and redness for your pet. KCS will cause the eyes to discharge sticky pus. If the pus becomes thick with a yellowish or greenish color, this is a sign that the condition has worsened and now a bacterial infection has taken place.
Although less common in chronic forms than sudden forms, ulcers of the cornea can occur and rupture. This can result in the loss of an eye. According to a study done in 2007, 75% of affected Shih Tzus experience corneal scarring as a result of ulceration.
Without treatment, this condition worsens and can result in complete blindness. It's important to take note of the symptoms your pet may be displaying and take the necessary measures.
Old Shih Tzu's Eyes Smells Bad?
Your senior dog may be slowing down. Maybe he or she isn't as energetic as they once were and you're wondering their eyes smelling is related to the aging process.
KCS, or dry eye, is more common in older dogs.
As with any ailment, disease, or injury, your senior pet is at a higher risk. Although KCS occurs in younger Shih Tzus, your older dog is prone to this issue as their bodies aren't running at the same level of efficiency as they once did.
How To Clean A Shih Tzu's Eyes?
To clean your Shih Tzus eyes you will need:
Cotton balls or rounds
Saline solution
A towel
Warm Water
Take the cotton ball or round and moisten it with the saline solution. For the saline solution, you can use any contact lens solution or an over-the-counter eyewash.
Place the moist cotton ball on your pet's affected eyelid and allow it to sit for a moment. This will soften the crust on their eyes. After a moment, begin to wipe gently to take the crust off of their eyes.
If their eyes are very crusty or crusted shut, you may need to repeat this process. You can also use a towel with warm water to help soften the gunk.
If your vet has prescribed or recommended eye wipes or supplements to use for cleaning your pet's eyes, follow their advice and use those products. You should use materials specific to your dog and its needs.
How Do You Deodorize A Shih Tzu's Eyes?
As you already know, the pus caused by dry eye in Shih Tzus can emit a foul odor.
To prevent this smell, you need to stop the cause of the odor. To prevent dry eye in dogs you need to:
Regularly clean the affected area
Take your pet to the doctor if they need prescription ointment or medication
Monitor the condition to ensure it doesn't worsen
If the condition worsens from dry eye, a bacterial infection can start in their eyes and cause the smell to worsen.
How To Wash A Shih Tzu Face So That Eyes Will Not Smell?
Dogs need regular bathing, but if you have neglected to properly wash their face, this could make the smell worse.
Some dogs enjoy bathing, while others may give you a hard time. Don't be discouraged if washing their face is a struggle at first. It will become easier as your pet adjusts to this new routine cleaning.
To clean their face you'll need a warm, wet towel or wet wipe. Don't clean your pet's face with paper products because the wet paper can begin to fall apart while cleaning them. Gently rub the towel over the coat and around their mouth to clean their face. Be sure not to be too rough with your strokes as this may irritate your pet's face.
If there are pieces of dirt or food stuck in your dog's coat, you can use a small amount of dog shampoo to help loosen the grime. If you use shampoo on your dog's face, although it's not needed, make sure not to get it in their eyes.
To clean their eyes, follow the previously mentioned instructions.
How To Get Rid Of Shih Tzu Smelly Eyes [Long Term]?
Foul-smelling dry eye is not something you want your dog to have to deal with. It's painful for them, and it isn't pleasant to look at or smell.
The first step to the treatment of KCS is to take your pet to a veterinarian. Through examination, testing, and observation of your dog's past medical history, they will diagnose your dog with dry eye.
For most dogs suffering from KCS, they will need treatment for the remainder of their life. Your Shih Tzu's veterinarian may prescribe them a topical tear stimulant. The tear stimulant will allow your dog's tear ducts to properly lubricate their eyes once again and control the resultant symptoms of dry eye.
Every dog is different, meaning some may be responsive to their prescribed tear stimulant while it may not affect others. In this case, your vet may recommend tearing replacement therapy until the tear stimulant begins to work or in replacement of tear stimulants. Tear replacement lubricates your dog's eyes as tears would.
The discharge causing the smell from your dog's eyes is most likely caused by a bacterial infection. To treat this an antibiotic ointment will need to be prescribed. This will probably need to be applied for 2 weeks.
If your dog has no response to any treatment, surgery may be necessary. This procedure isn't always successful and your pet would still need constant treatment after recovery.
Terrible Smelling Eyes On My Shih Tzu, Should I Take Him To The Vet?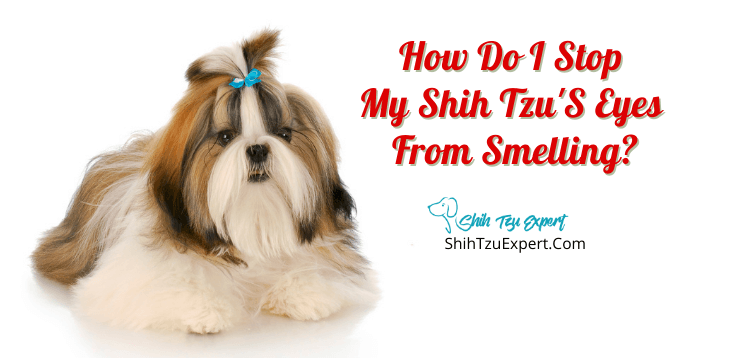 If you notice that your Shih Tzu has consistently foul-smelling eyes or any consistent eye irritation, you need to take them to the vet.
Shih Tzus, along with older small dog breeds, are highly susceptible to dry eye.
If your dog has KCS and it goes untreated, the symptom could worsen. A bacterial infection could occur as well as blindness or loss of an eye. Not only could this severely damage their eye and sight, but dry eye is also extremely painful for your pet. Since your dog isn't able to communicate with words, you need to pay attention to signs of irritation and take the necessary measures to make sure they're comfortable and healthy.
Do Tears And Tear Stains Cause Stinky Eyes In Shih Tzu?
Tear stains are caused by the overproduction of tears. These tears pool in the fur under their eyes and mix with the bacteria in that area. This can cause a foul-smelling odor.
If regular cleaning of the area doesn't get rid of the smell or the tear stains causing them, you may need to take your dog to the vet. It may be a bacterial infection in their tear ducts. There are special solutions and wipes for this issue that can help solve the problem.
My Shih Tzu Eyes Tearing And Smelling
If your Shih Tzus eyes are tearing instead of being dry, and have tear stains crusting under their eye, this is an issue. If the problem isn't resolved by regular cleaning of the area, it needs to be addressed by a medical professional. Tear staining is a common problem in many dog breeds.
Smelly Eye Discharge From My Shih Tzu?
Smelly eye discharge is a result of KCS or dry eye. This is a common medical issue in the Shih Tzu breed. If you notice that your dog has smelly discharge coming from their eyes, you need to take them to the vet. Without treatment, KCS can worsen and cause permanent damage and discomfort for your pet.
Other common symptoms of KCS are:
Eye Twitching
Dry or dull-looking eyes
Ulcers of the cornea
Redness of the whites of the eys
Your dog may be exhibiting one or more of these symptoms which is cause enough to worry. You may be wondering if you need to take them to the vet, but your dog seems uncomfortable or in pain, it's time to take them to see a medical professional. Consistent symptoms such as these are not something that should be overlooked or brushed over.
Is It Normal For My Shih Tzu To Have Smelly Eyes?
Smelly eyes are a result of Keratoconjunctivitis Sicca, also known as dry eye. This is a common thing for Shih Tzus, but it shouldn't be considered normal. Dry eye not only causes extreme pain for your dog, but it can also be extremely harmful and result in blindness or the loss of an eye.
Many other small dog breeds are prone to KCS, and with it, the pain and complications are associated. If you own any of these other dog breeds, pay attention if they exhibit any of the signs of KCS:
Lhasa-Apso
English Bulldog
Pekinese
Yorkshire Terrier
Miniature Poodle
Schnauzer
Chinese Crested Dog
Cocker Spaniel
References
https://www.ufaw.org.uk/dogs/shih-tzu-keratoconjunctivitis-sicca
https://vcahospitals.com/know-your-pet/keratoconjunctivitis-sicca-kcs-or-dry-eye-in-dogs