Of course, you love your Shih Tzu, but you are struggling to stop them from stinking, especially the face!
This step-by-step guide will help you through simple ways on how to identify the offending areas and to keep your pet healthy and smelling amazing.
How to stop your Shih Tzu's Face from Smelling
There are several reasons why your Shih Tzu's face may be smelling. Some of the main reasons include food getting stuck in your pet's beard, excess eye gunk collected in the tear glands, or a skin infection. There are several simple steps to get rid of those problems and the odor coming off of your dog's face.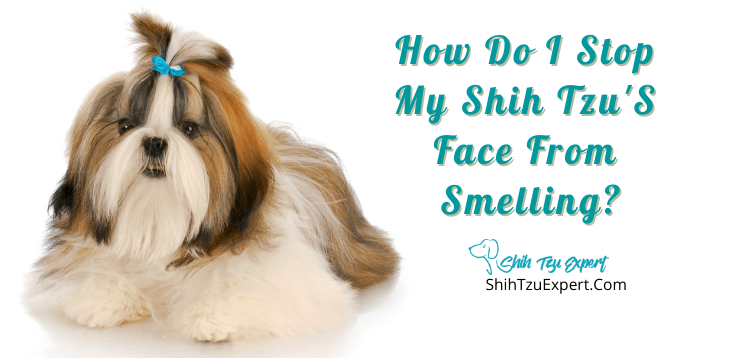 How To Get Rid Of Shih Tzu Smelly Face?
If your Shih Tzu's face is producing a strong order, this is not normal and a sign that something is wrong. Don't worry though! We're here to help walk you through the steps of getting your little love bug clean in no time. 
For food stuck in your Shih Tzu's beard, we recommend you gently wipe down their face after each meal with a damp towel or washcloth. This will prevent the food from building up and causing odors down the line.
You can use pet deodorizing soaps and shampoos, which we describe in greater detail below.
For the excess eye gunk, we recommend trying your best to keep the area dry. You can use scent-free baby wipes to wash the area once a day. If this persists, we recommend seeing your vet as it may be an allergy problem.
We describe the causes and cures for irritated Shih Tzu eyes below.
You can determine if your pup has a skin infection by looking closely at their skin to see if it's red and irritated. If so, the best thing you can do is go to your vet to get them medicated creams to relieve the area.
Do Tears Cause Stinky Face In Shih Tzu?
What are "tears" and how do they cause your Shih Tzu's face to smell? 
Tears are a common occurrence in small dogs due to their large eyes that are easily irritated. You can tell if your dog is experiencing brown staining under their eyes that smells, those are tears, and they can cause a smell that is similar to bad breath.
Follow the instructions below to see how to clean Shih Tzu's eyes to prevent the problem from happening in the first place. 
If your Shih Tzu already has tear stains, you can use special eye wipes, to clean and deodorize the area.
How Do You Clean A Shih Tzu Puppy's Face?
If you are planning on washing your Shih Tzu puppy's face, it's important to remember to be gentle, don't miss any spots, and only use a clean damp towel or sponge.
It's important to remember: you don't need to wait for bath time to wash your pup's face! Washing your pup's face throughout the week should become a regular practice if you want to prevent odors from occurring. 
No matter when you decide to give your Shih Tzu's face a wipe down, make sure to apply enough pressure to remove all of the gunk, without hurting them. If your pup is flinching or pulling away from you, this may mean you need to pull back on the amount of pressure you're applying. 
If you feel the only way you can remove the gunk is by applying a lot of pressure, we recommend adding some puppy-safe soap and warm water to the routine.
Shih Tzu puppies usually need to be washed more than full-grown Shih Tzu's, so be mindful of that when you first get your pup. Adult Shih Tzu's need a full bath about every three weeks and puppies need them at least every one to two.
If you are just washing their face and not their whole body, warm water should do the trick. This is not always the case. Make sure whatever soap you do use – if you choose to use some – is puppy safe. 
Do not use shampoo for humans! This can be incredibly harmful to your pup and cause burning and discomfort if it gets into their eyes.
Take the damp cloth and wipe down the affected areas. Add warm water and soap whenever needed. 
Don't forget to clean around your pup's eyes! We recommend using a damp cotton ball around your Shih Tzu's eyes to remain gentle but to avoid excess gunk from forming.
How Do You Deodorize A Shih Tzu's Face?
If you do decide to use soap when washing your Shih Tzu's face, or you're giving them a full body bath, there are special deodorizing soaps specifically for Shih Tzu's we recommend. 
Remember: It is not normal for your dog to constantly smell, but these soaps are great for normal baths and to prevent excess smells from happening in the first place.
Popular pet supplies websites like Chewy, Petco, and Petsmart sell these products. Just search "Shih Tzu deodorizing shampoo" or talk to a sales associate. 
Every bottle is a little bit different, so make sure you follow our above instructions on the gentle application as well as the instructions on each bottle for how to best wash your pup using this type of shampoo.
What Is The Best Dog Deodorizing Spray That Is Safe To Use On A Shih Tzu's Face?
Not only can you buy deodorizing shampoo for your pup – you can also buy deodorizing spray! 
There are many different options for you to choose from on what deodorizing spray to buy for your pet Shih Tzu. The best way to tell if a spray is right for you and your pet is to read the ingredients on the back.
Just like human shampoos and deodorants, the ingredient list is the first place a shopper should look before purchasing one of these products. Since you will be spraying this product on your dog – specifically on their face – the best spray we can recommend is anything with the least amount of ingredients on the back label!
Organic, all-natural, and clean products are the safest for your pet. If you spray something on your dog, they are likely to lick some of it off themselves during their self-cleaning process. 
One deodorizing spray we recommend can be purchased on Chewy, and it's called the CHI Deodorizing Spray. This spray is safe to use on dogs over 8 weeks of age and contains no parabens.
Another spray we recommend can be purchased from Petco and is called the Earthbath Vanilla & Almond 3-in-1 Deodorizing Dog Spritz. This spray can be used on dogs over 6 weeks old, has organic ingredients, and can even detangle your pup's coat.
Burt's Bees also has a deodorizing spray you can buy on Chewy. This is a 99.7% natural deodorizing spray free of colorants.
Why does my Shih Tzu's Face Smell Like Cheese?
If your Shih Tzu smells anything relating to cheese, this is the sign of either a skin or a yeast condition. 
Dogs with skin folds are prone to yeast infections. The Shih Tzu is unfortunately one of those dogs. 
If you notice your little pup itching more than usual, has hair loss, an unusual cheese odor, or other symptoms, bring your dog to the vet to have them test them for a yeast infection.
Why does my Shih Tzu's Face Smell Sour?
It is not totally uncommon for your dog to smell sour, so if this happens, don't be too nervous.
A sour-smelling dog can be caused by a UTI, a yeast infection, anal gland issues, or simply from your pup rolling in something rotten.
If you give your pup a bath and they still smell sour, a vet can run the proper tests to let you know what is exactly wrong with your pup. All of the above issues are easily fixable, so don't worry!
Musty Beard on Shih Tzus
If your Shih Tzu has a musty smelling beard, that means there is an excess amount of moisture collected on their face. Since dogs don't sweat, this is most likely old food, mud, water, or other types of moisture stuck to their face.
It's important to keep your pup's face dry after they eat, but also after they drink water.
When a dog drinks from their bowl, they bend down, and dogs with long hair like a Shih Tzu will get much of their facial hair wet. We recommend keeping a dry towel near their water bowl where you can easily grab it and dry them after they drink. 
It's hard to keep track of every time your dog drinks water, but as long as you keep their face as dry as possible, you can avoid some of that musty smell. 
We also recommend you dry their face after they come inside when it is raining or snowing out. 
Shih Tzu's are known for being cuddly, indoor lap dogs, so keeping them clean from the outside is not a difficult task, and is an effective way to prevent unnecessary smells.
Do Excessive Wrinkles Cause Stinky Face In Shih Tzu?
The short answer: yes! Dogs with wrinkly faces are more prone to infections and strong odors. This is because food and other dander can get caught in their facial wrinkles.
Shih Tzu's are not the only dogs who have wrinkly faces! Bloodhounds, Great Danes, and pugs are just three of the dozens of dog breeds that also have wrinkly faces.
To prevent these wrinkles from stinking, use a baby wipe or damp cloth and clean the wrinkles on a regular basis – not just after mealtime. Dogs can get dirty throughout the day, so making sure we keep our pets glistening is a sure way to stop them from smelling. 
You can also purchase all-natural skin balms to rub into your dog's wrinkles. This will prevent smells, but can also soothe your dog's skin since wrinkly faces are known to cause irritation and itching. 
Why does my Shih Tzu's Face Smell Even After a Bath?
If you are washing your Shih Tzu the appropriate amount of times each week, and are still noticing an order, this means a more serious problem is probably occurring. 
If you are not using one of the above deodorizing shampoos or sprays, we recommend trying that first. If there is still a smell, the issue can be more serious, and we recommend you take your pet to the vet.
Shih Tzu Puppy's Face Smells Bad?
If your Shih Tzu puppy smells bad – don't fret. Shih Tzu puppies need to be bathed more often than older Shih Tzus.
Puppies are naturally curious and messy creatures. They get into a lot more messes than older dogs and need to have those messes cleaned more than older dogs!
If you follow all of the cleaning tips we provided in this article on your puppy, he should be smelling fresh in no time. Remember, the more you clean him, the less he will smell.
Old Shih Tzu Face Smells Bad?
The older your dog, the more common it is for them to smell.
Older dogs are prone to bacterial infections, specifically in their mouths. They are also more prone to diseases and infections that will cause them to stink.
If your dog smells bad even after several baths, it's important to check in with your vet. If you have a younger dog, make sure to practice good hygiene on them soon. This will prevent stinking later on. 
Terrible Smelling Face On My Shih Tzu, Should I Take Him To The Vet?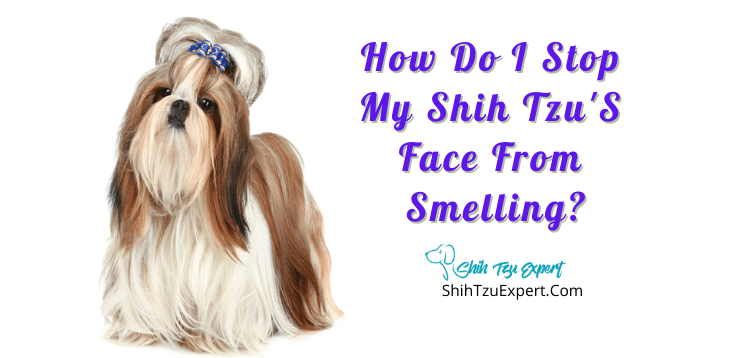 It is important to remember that because strong, continuous body orders on Shih Tzus are not normal. If you cannot get your Shih Tzu to stop smelling, it may be time to take them to your vet. 
Some smells coming off of your Shih Tzu may be quick fixes, but some more serious underlying conditions may be the cause of the scent. Only a vet will be able to properly diagnose these conditions and give your pet the proper care to get your pup back to its healthy, glowing self.
Some examples of possible diseases your pet could have to include seborrhea or Cushing's Disease, allergies, an anal gland problem, an ear or eye infection, tooth decay, or periodontal disease.
If you believe your dog has any of those above diseases, the best thing for them is to bring them to the vet. Even if your Shih Tzu smells bad and you can't figure out why your vet is the best person to solve the problem for you!
To sum it all up
Having a pet Shih Tzu is such a joy! They are incredibly lovable lap dogs with a heart of gold. It is our job as Shih Tzu parents to make sure they stay healthy and comfortable all day long. 
You can use the above tips and tricks to maintain your pups' overall hygienic health and to prevent them from being stinky. If they already smell, the above tips can help stop that stink in its tracks.
It's important to remember that your veterinarian is the most qualified person to diagnose your dog and get them the best care needed. 
If you have any concerns about the health of your furry friend, make sure to contact your vet immediately. They will guide you in the right direction to get your pup healthy and happy again, and smelling like roses!
References
https://wagwalking.com/behavior/why-do-shih-tzu-dogs-stink