Some people expect Shih Tzu to be a 100% non shedding dog, that does not cause allergies in humans.But they forget to consider critical things like the life stage (Puppy, Adult, Senior), the seasons (Spring, Fall) or pregnancy!
Avoiding these facts can cause inconveniences to both you and your dog.
Let's go over what you should consider about how much Shih Tzu sheds.
How Much Do Shih Tzus Shed?
Despite their reputation as a non shedding, 100% hypoallergenic dog breed, Shih Tzus do shed! They shed very little compared to other breeds. Younger pups shed more than Adults. Adults shed more than Seniors. Shedding is heaviest in spring and especially during the fall. Female Shih Tzus shed heavily after giving birth.
How Much Do Shih Tzus Shed Daily?
Shih Tzus do shed some of their furs daily. However, they shed minimally when compared to other breeds. You will see much more shedding from your Shih Tzu canine during the fall and the spring seasons. If you have a minor allergy to dog fur or you merely want to avoid too much shedding from your dog, then the Shih Tzu may be the breed for you.
Shih Tzu Shedding Levels For All Life Stages
When a puppy is born, he or she is born with all of the hair follicles needed for the rest of his or her life. Newborn puppies are born with an inner layer coat of hair. As they get older, they will grow an outer layer of hair. The longer hairs will grow in the already present hair follicles as the puppy gets older.
Below, we will outline shedding in Shih Tzu puppies, the cycle of shedding in older dogs, what happens in female dogs during pregnancy, and how much elderly Shih Tzu dogs shed.
How Much Do Shih Tzu Puppies Shed?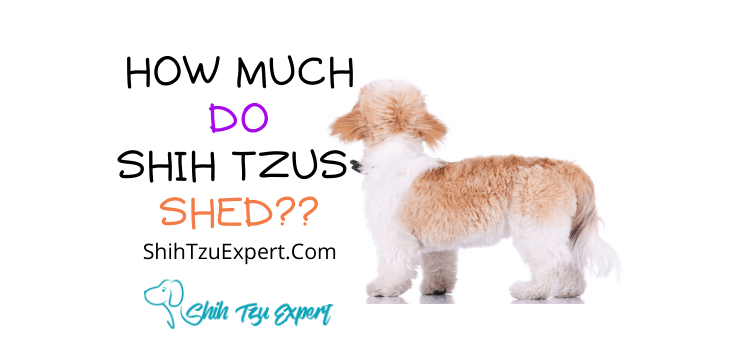 Since Shih Tzu puppies are born only with an inner layer coat of hair, they have much shorter and thinner coats than adult Shih Tzu dogs. Shedding only occurs when they are transforming into grown adult dogs.
Usually, puppies spend their days growing their hair instead of shedding. They shed only when their coat of hair is changing into an adult coat.
When and for How Long Do Shih Tzus Shed Their Puppy Coats?
This shedding stage may occur between four months of age to nine or ten months for a Shih Tzu pup. They will shed their puppy coats for six or seven months. By the time they are 12 months old, they are fully grown adults whose coats go through the standard, adult shedding stages.
Do Younger Shih Tzus Shed More Than Adults?
The most shedding occurs in young Shih Tzu dogs as compared to older adult dogs. This is because the biggest increase in hair volume happens when Shih Tzu dogs move through the developmental phase from a puppy to an adult dog.
Nonetheless, these dogs do not shed too much and are considered hypoallergenic breeds.
How Much Do Shih Tzu Seniors Shed?
Shih Tzu senior dogs do not shed as much as puppies transforming into young adult dogs. However, if an older dog is shedding too much and losing its hair, he or she may have a medical condition tied to this hair loss.
Make sure to speak to your veterinarian about excessive shedding. Usually, senior dogs shed more depending on the season, much like younger adult dogs.
How Much Does a Shih Tzu Shed During Pregnancy Shedding?
Toward the end of pregnancy and when giving birth, Shih Tzu dogs undergo hormonal changes that can impact their fur coat and the amount of shedding they experience afterward. It is typical for female Shih Tzu dogs to have significant shedding of their coat after giving birth to a puppy litter.
This stage is called "blowing the coat," according to allshihtzhu.com. How much shedding occurs will vary among each dog. The most important thing to remember is that the dog's coat will grow back.
Why Does It Happen?
Female dogs, in general, shed plenty during pregnancy and even more after giving birth. It is believed that pregnancy hormones cause this excess in shedding. However, the temperature may be another reason.
Pregnancy and carrying multiples can be difficult for a dog, so being hydrated and staying cool is essential. To stay cool, the body may increase fur shedding. Less fur means the dog can stay cooler, especially in the summer months.
How Much Do Shih Tzu Mixed Breeds Shed?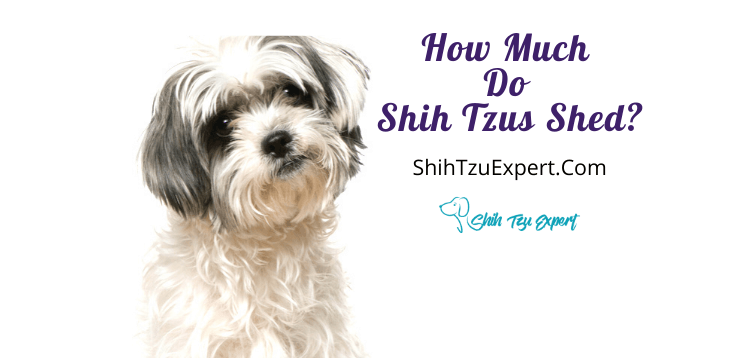 There are a variety of different Shih Tzu mixed breeds, with some shedding more than others. The type of Shih Tzu mixed breeds available include:
Shih Tzu Terrier Mix
Shih Tzu Poodle Mix
Shih Tzu Jack Russell Mix
Maltese Shih Tzu Mix
Bichon Shih Tzu Mix
Shih Tzu Lhasa Apso Mix
Yorkie Shih Tzu Mix
Shih Tzu Havanese Mix
Shih Tzu Pomeranian Mix
Shih Tzu Chihuahua Mix
French Bulldog And Shih Tzu Mix
Imperial Shih Tzu
A moderate amount of grooming is expected for mixed breeds. Some may only need daily brushing, while others will need regular appointments with a dog groomer. There are also multiple hypoallergenic mixed breeds you can choose from that do not shed much.
For example, if you pick a Shih Tzu Terrier dog, you will need to brush and comb his or her coat daily. You'll need to give him or her weekly baths too.
If you don't want to manage daily brushing, you can also choose to take your mixed breed to a groomer every six to eight weeks to keep the hair short. If the hair is short, then you'll only need to brush the coat once a week or so.
I Need Help! Why Does My Shih Tzu Shed So Much?
There are multiple reasons why your Shih Tzu may be shedding too much. It may be due to the season, as these dogs are more likely to shed plenty in the spring and fall.
It is also possible that your dog has a medical condition that is leading to excessive hair loss. Speak with your vet to find out whether your dog may have a health concern leading to excessive shedding.
How Much Shedding Is Normal vs. Excessive for a Shih Tzu?
Normal shedding for a Shih Tzu dog involves only about 10 percent to 15 percent of the fur coat being in the falling off stage known as the Catagen Phase.
This type of shedding means that your dog likely does not have any medical issues related to hair loss. Any shedding that goes significantly beyond 15 percent of the coat is excessive and abnormal for a Shih Tzu dog.
Is This Hair Loss? Do I Need To See A Vet?
If your dog is a Shih Tzu breed and is losing hair at an alarming amount with an extremely heavy shed, he or she may have one of several different types of health conditions. This is especially true if their fur coat is incredibly thin and has bald patches in certain areas.
If your Shih Tzu has significant hair loss, you should bring your dog to a veterinarian to find out what type of medical condition he or she may have. Your dog likely needs veterinarian treatment.
How Much Does a Vet Cost?
Ordinarily, routine veterinary care for a dog will cost anywhere from $200 to $400 per year. However, any other accidents, injuries, or health conditions will cost extra, which might be significantly high depending on the issue. Essentially, vet costs range greatly depending on the health issue of your canine.
Does the Amount They Shed Change With the Shedding Season?
You will see that shedding with any dog is more common in the spring and the fall. In the spring, the shedding occurs to make the dog's coat lighter so that the canine can stay cooler in the summer.
The coat also changes in the fall and dogs shed more to prepare for the coming winter.
What Part of Shih Tzu's Double Coat Sheds More?
Since puppies are born with only the inner layer of the double coat, they shed more of the inner layer as their one-layered coat transitions to an adult dog's double coat. Otherwise, adult dogs do not have a specific section of the double coat shed more than the other.
Does What Shih Tzus Eat Affect How Much They Shed?
A low-quality diet could make your dog more likely to shed his or her coat. As such, it is essential to provide your dog with a protein-based diet with high-quality vegetables and fruits. Vitamin-based diets filled with nutrients will keep your canine's fur strong and hardy.
Do Health Issues Affect How Much Shih Tzus Shed?
Health conditions can impact how much Shih Tzus shed. Excessive shedding may occur due to skin issues, a vitamin deficiency in your dog's diet, or endocrine disease. Take your dog to the veterinarian if you notice any extra shedding.
Do Flea Infestations Affect the Amount Shih Tzus Shed?
Flea infestations can impact the amount of shedding among Shih Tzus. Flea infestations will irritate your dog's skin, making him or her itch and scratch. With the skin becoming more irritated and sensitive, your dog's hair may start falling out.
Ask your veterinarian how to take care of a dog who has a flea infestation and how to prevent future flea problems.
Does Hair Style Affect the Level of Shedding?
The amount of hair volume that is shed greatly depends on the dog's hairstyle. If your dog has very short hair, there will be a much lower volume of hair shedding.
This guide should have provided you the information you need to learn exactly how much Shih Tzu dogs shed.
References
http://www.allshihtzu.com/shih-tzu-shedding
https://wagwalking.com/wellness/how-to-prevent-dog-shedding-through-diet