The birth process is not pretty by any means in terms of mess and process. It is our natural instinct to want to clean up our dog right after giving birth.
She is covered in blood and afterbirth goo, and that would be the sensible thing to do.
However, that is not what is best for you Shih Tzu!
Can Shih Tzu Take A Bath After Giving Birth
A Shih Tzu can take a bath after 2 – 5 days of giving birth naturally, 7 days incase of a C-section. Never fully submerge her in water!. The way you bathe, and when you do it are very important factors. Bathing could be a major stressor for her.
She needs you to understand and be patient with her throughout this time. She may be scared as well!
Rest assured your new mom dog is more concerned about her puppies right after she gives birth to them, than being clean. Bathing right after she has her puppies could be very dangerous for not only her, but her puppies as well.
It could be dangerous physically and mentally. There are tips and tricks, however, to help keep your momma dog clean and healthy for her new cute puppies.
Should You Bathe A Shih Tzu Soon After Giving Birth Naturally? Is It Essential?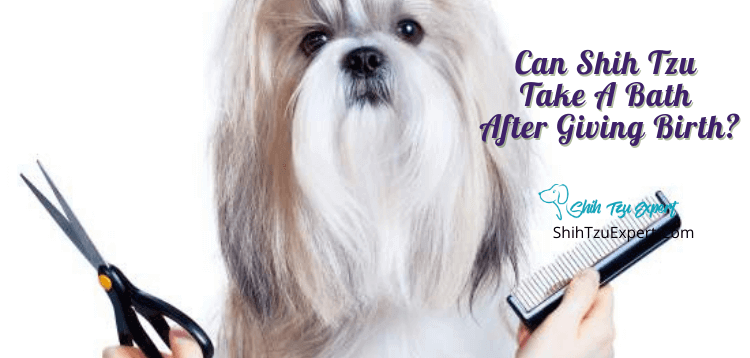 It is not essential to bathe your furry friend right after birth. The new mom is not going to want to leave her puppies for long at all, especially in the first week. Yes, I know this sounds absolutely disgusting, but there are steps you can take after she gives birth to help her feel clean. It is highly suggested to use wipes to clean her up.
Immediately change her bedding after birth.
Check the area to see if it needs cleaning.
Gently wipe her down with a non-scented cleansing wipe. Key word there is gently.
Make sure the momma dog and puppies have plenty of blankets to keep warm.
Also, prepping the expecting dog before birth is greatly beneficial to keep clean up after simpler than giving her a bath right away. Pre birth prep includes trimming or shaving the area around the exit site. This will prevent afterbirth getting stuck and matted to her fur.
When Is The Best Time To Bathe A Shih Tzu Who Gave Birth Naturally?
Mom dogs do not want to be away from her puppies for long, especially right after birth. It is highly suggested to wait at the very minimum of three days. Mom dogs' instinct is to be with her puppies and care for them just as it is with new human mommies.
If it is necessary to give Momma dog a bath, make sure it is when she is not nursing her newborn puppies. Also, if she seems anxious or scared while you are giving her a bath, it is best to stop and take her back to her puppies. The best time to give her a bath is going to be in the late evening when her puppies are resting.
Is It Safe To Bathe A Female Shih Tzu Soon After Giving Birth By C-Section? Is It Essential?
It is not safe to bathe a new Shih Tzu mom after a C-Section, and it is not essential. It is actually very dangerous. If her surgical site gets anything into it, this can cause infections. While she is in the C-Section the veterinary technicians will clean her up for you.
It can take several hours for the anesthesia to wear off, therefore, trying to bathe her right away is not a good idea. She literally just had surgery, and she is going to be very sore for at least a week if not longer. She is going to want to be with her puppies when her medicine she was given starts to wear off.
She is going to need you to gently check on her surgical site. If it looks dirty gently clean it off with a cleansing wipe. Softly rub the area with a cleansing wipe while talking to her in a calm and soothing voice. This will relax her. She does look at you as her very best friend. You will comfort her this time.
When Can I Bathe My Shih Tzu Dog After C-Section?
One week after your Shih Tzus' C-Section, if it is necessary, you could try to give her a bath. Other than that, you should wait, if possible, to give her a bath. This will allow time for her to heal and time to bond with her newborn puppies.
The surgical team will clean her up after birth so she should be good and clean when she first gets home. She will experience some leakage from her surgery site. This can be wiped with a cleansing wipe.
Remember to be gentle, she did just have surgery. She is going to be very sore for up to two weeks after her surgery. If you try to give her a bath too soon it could really cause her a lot of pain.
If it is necessary, however, make sure she has had her pain medicine beforehand. Let her pain medicine start working before trying to give her a bath. I would suggest two people to bathe her after her C-Section.
That way it is easier on all participants. The extra person will allow for her to be held while giving her a bath.
If her wound has not healed be sure you do not submerge her completely. Just be very gentle!
If she seems like she is in pain it is probably best to get her out of the bath and proceed by cleaning her the best you can with cleansing wipes.
How Soon Can I Bathe My Dog After She Gives Birth?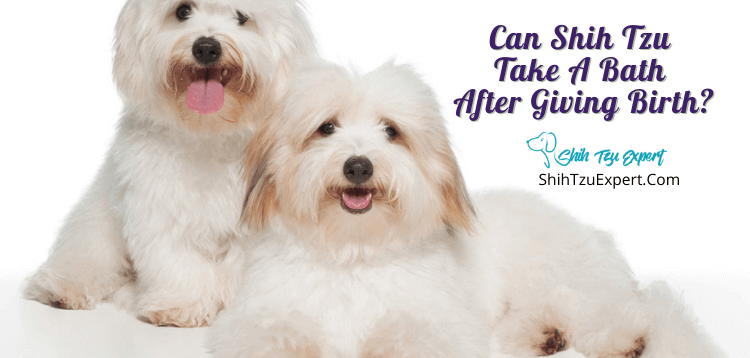 After your dog gives birth, it is suggested to wait at the very least 3 days to give her a bath. She needs to be in her nesting area as much as possible within the first week, after all her puppies need her. She has just been through a very hard moment by having her puppies naturally.
The birth process alone takes a lot out of the momma dog. She also is going through so many emotions. She is probably scared, and in pain. Giving her a bath too soon can result in physical and mental harm. She must be around her puppies to bond properly with them.
Giving her a bath can harm this process because you are essentially washing the mothers scent off her. They need her during this time. Because newborn puppies cannot maintain their body temperature right after birth and up to two weeks, they need mom's body heat to keep them warm and alive.
They also need to feel her presence. She is their source of nutrition, warmth, and love. If it is necessary to give your new Shih Tzu mom a bath be sure to cover the puppies up and be sure they are not nursing.
Can Shih Tzu Take A Bath After Giving Birth in the winter?
It is still recommended to wait 3 to 5 days, but in the winter make sure to keep her, as well as her puppies stay warm. Her puppies will not be able to maintain their own body heat for at the very minimum a week. Also, you do not want her to get too cold.
She needs to be kept warm to make sure her milk keeps flowing in. During birth, she lost a lot of blood. It is only natural. Blood helps the body stay warm as well. If you give her a bath and she gets too cold, she could experience hypothermia. Hypothermia is a condition where her body temperature is way too low. This would be a major problem for her and her newborn puppies.
What Are The Risks
There are several risks giving her a bath in the winter right after birth. As mentioned above, she could experience hypothermia. Also, her newborn puppies could pass away from being too cold. They need their mom to stay warm.
Mom dog could also experience complications with producing her milk if she gets too cold and her body goes into shock. The mom dog and puppies may not bond correctly if a bath is given too soon.
This may cause the mother to not want to take care of the puppies, and this could lead to death of the precious puppies.
What Are The Benefits
There are benefits to bathing a momma dog, just not too soon afterwards. She will be clean, and this will lessen the likelihood of infection around the area. The puppies will not suck on anything that could cause them harm if you bath their mother in non-fragranced soaps.
She values you to be her protector and the person that takes care of her. Giving her a bath will make the bond between the two of you stronger. She will know that no matter what you will be there for her. She will also know she can trust you with her puppies, if it is not too early.
Can A Shih Tzu Bathe At Night After Giving Birth?
A Shih Tzu can bathe at night after giving birth, but it needs to be at very minimal 3 to 5 days after birth. Also, make sure her puppies are wrapped in a blanket while you do so. It could also be very beneficial to close the bathroom door.
This may relax your dog's mind about her puppies. Perhaps the saying "out of sight, out of mind" plays here.
Should A Shih Tzu Bathe In Hot, Warm, Lukewarm, Or Cold Water After Giving Birth?
After giving birth a Shih Tzu should be bathed in lukewarm water. This will avoid giving them a bath that is too cold or too warm. Remember some dogs do not like to take baths. Bath time for us is very relaxing, and it is calming to most people. To a dog this is not always the case.
Lukewarm water will not have any adverse effects that could trigger your dog mom to want to jump straight out of the bath. She needs the bath to be as enjoyable as possible. This will relax her, and it also may set her up to like baths in the future.
If you bathe your dog in water that is too hot, it could scald her. This could be very painful for her. Let's be honest, she has just gone through some of the most painful times in her life. She does not need any more pain added to her already sore and tired body.
If you bathe her in too cold water this could cause her to have hypothermia. She has lost a lot of blood and blood keeps our systems warm. Too cold of water can be very harmful to her. Also, if you get your new dog mom too cold, how will she possibly be able to keep her puppies warm when she is back with them if she cannot even keep herself warm.
This could cause the death of not only the puppies, but of Momma dog as well. Just remember lukewarm water is going to be the best.
This is true not for just this first bath after she has given birth, but this holds true for every bath for your furry friend.
What Is The Best Shampoo To Use On A Shih Tzu After Giving Birth? [What Are The Ingredients To Avoid]
You want to avoid any fragrant soaps. Fragrant soaps have many chemicals in them. They can be very harmful to an open area. Remember your dog just gave birth. She has an opening all the way into her body.
These chemicals can get into her bloodstream and poison her from the inside. The soap should be mild as well. Non mild soaps can be harmful as well. Make sure it is a dog shampoo. Do not use regular shampoo while bathing her.
Using regular shampoo can cause her as much harm as using fragranced dog shampoos. Using fragranced soaps can also cause harm to the newborn puppies.
For example, when they are nursing, they can get some of the fragranced chemicals in their mouth and make them sick. Their immune systems are not very strong at this point. They will also be laying up against their mother for warmth.
They could possibly have an adverse reaction to the chemical of the fragranced soap.
What Grooming Products Should Be Avoided When Bathing A Shih Tzu After Giving Birth.
It is very important that you do not completely submerge her in water while giving her a bath. As stated above, she has an opening right to her insides. Also, do not use a rag to scrub her. A rag is rough. It literally is for scrubbing her.
She is going to be very sore. Use your hands instead. Take your fingers and gently rub around the birth sight to remove any of the afterbirth on her. This will ensure it does not hurt her or damage her open skin by using the rag.
When Should Not Bathe A Shih Tzu After Giving Birth
First and foremost, do not bathe the Shih Tzu immediately after birth. Her body is weak, and she will want to be with her puppies. Also, do not bathe her when it is extremely cold, unless precautions are taken.
When her puppies are nursing do not bathe her until they are completely done. If you pull her from her puppies while she is nursing this can mess up her milk supply. This could be a very dangerous situation because the puppies need their moms' milk to survive.
She should not be put in the bath when she is anxious. This could cause aggressive behavior from her. She is not going to mean anything by it, but she is simply going through a lot with the birth of her puppies.
Try to bathe her after the puppies have a full stomach and wrap them in a blanket. They will probably sleep, and she will not have to listen to them cry. Try to make it as easy as possible to leave her precious puppies for a few moments to take a bath.
Also, try to make the bath as quick as possible. Be sure to dry her completely off so the puppies do not get chilled by the wetness of the water. If she had to have a C-Section absolutely do not submerge her in water. This can be very dangerous.