We may earn commission from qualifying purchases at no extra cost to you.
Learn more

Can You Wash a Dog Bed?
When it comes to caring for our dogs, owners want to do the best they can to provide their pups with the safest and healthiest home possible. Unfortunately, one of the most important ways of achieving this is often overlooked – our dog's bed.
Despite being neglected, this is one spot that dogs spend much of their time and should be considered a top priority of care by owners. Unfortunately, until the smell of them begins to overtake a home, they remain neglected. It is so important, however, to take care of your dog's bed before the smell makes it a noticeable problem. Not only can you clean a dog bed, but you should on a regular basis.
If your dog's bed is infested with germs, your dog will carry those germs around with them everywhere they go. Every person in the household is likely to come in contact with your dog every single day, which means they come in secondhand contact with the dog's bed. Just like how you wash your sheets and make sure your mattress is fresh and clean, your dog's bed should be shown the same amount of care. Keeping it clean is vital for everyone's health.
If they are not properly maintained, they will create odors and harbor potential diseases. Not only is keeping the bed clean good for your dog – it promotes greater hygiene which benefits you, your family, and all those who live in your house. To understand just how important it is to maintain a clean dog bed, we will look at the potential dangers of neglecting to do so.
How Dirty Are Dog Beds?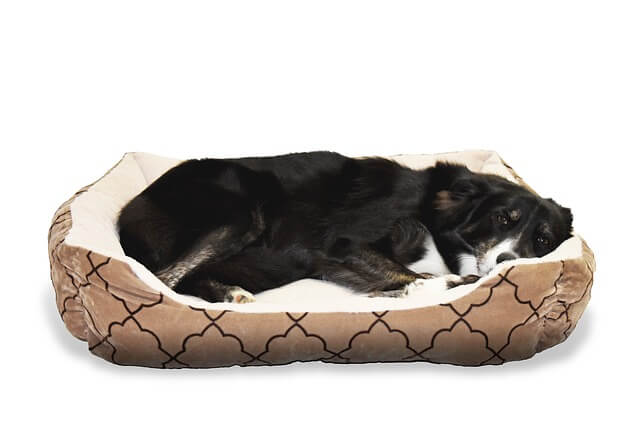 Your dog bed may not appear to be dirty on the outside, however it is still potentially harboring a multitude of unseen germs and bacteria. Every single thing that your dog comes in contact with will eventually end up on its bed – and the longer you wait to clean it, the more these germs will populate and spread.
According to The International Scientific Forum on Home Hygiene (IFH), domestic animals are likely to carry many organisms, including ones that are parasitic, viral, fungal, and bacterial, that are all potentially disease-causing. Even though your pet may not seem ill or affected by these, dangerous infections may be transferred from your pet to you.
These infectious organisms can be passed through their fur, saliva, urine, or other discharges that are likely to end up in your home. Nowhere do these germs breed more than in your dog's bed.
Disease-causing organisms can survive in your dog's bed for as long as 12 months. Since this is where they sleep and spend and so much of their time, the bed becomes a breeding ground of everything they bring in from outside. They are very likely to come in contact with many types of bacteria, feces, fungus, and insects that will quickly find a home in their bed.
Dogs can not help but be adventurous – and as owners, we never discourage them from frolicking on daily walks – but this puts them at an increased risk of carrying unwanted bacteria. Your dog is likely to go on undisturbed by these bacteria and its potential diseases; however, once it comes into contact with their bed, it stays there until the bed is cleaned.
It is not only important to keep the bed clean for the safety of your dog, but also for the safety of those in your house who are young, old, or immunocompromised and can be severely affected by the pathogens that are potentially hiding within your dog bed.
Common Diseases that Dog Beds Could Hold
There are a few diseases that are commonly found in dog beds when not routinely cleaned that also have the potential to affect humans. The first one of these is Tapeworm. Tapeworm occurs when your dog eats infected fleas. It is most common in children and therefore is so important to routinely clean your dog's bed, especially if you have children in the house.
The next one is Campylobacter. This infection comes from bad food or infected feces. Your dog may show no sign of having this; however, it does have the potential to cause diarrhea and stomach pain in humans and can be life threatening for those who are immunocompromised.
Next is the common disease known as Rabies. Although this is rare, it affects humans when they get an infected dog bit. While treatable, it can become deadly if not taken care of immediately. Symptoms are often seen too late and can include behavioral change, headache, fever, and paralysis.
Lastly is Roundworm. Roundworm, similar to tapeworm, is caused by eating the roundworm eggs. Most common in children, it may lead to eye inflammation and potentially cause blindness. Again, it so important to keep your dog bed clean. Not only will it protect your dog from these harmful diseases, it will also keep you and your family safe from contracting these diseases as well.
How Often Should You Wash Your Dog Bed?
You should keep a routine schedule when it comes to washing your dog bed. Waiting until your dog bed begins to smell will only result in it being harder to clean. In addition to this, it is unhealthy for your dog. The International Scientific Forum on Home Hygiene recommends washing your dog bed at least once a week. You do not necessarily need to wash the entire cushion every week, but the cover at least should be washed every week to maintain good hygiene. The entire bed, cushion included, should be deep cleaned monthly or a few times a year.
Deciding how often you should wash your dog bed depends on a few factors. One of these factors is the activities that your dog takes part in. For example, if your dog has been rolling in around in another animal's feces which has then been transferred onto their bed, wash it immediately or as soon as possible.
Another factor that plays a strong role in how often you should wash your dog bed is allergies. If your dog, you, or your family have allergies, then you should definitely consider increasing the amount you wash it to avoid allergens irritating you or your dog. Lastly, a factor you should consider is how much your dog sheds. The more your dog sheds, the more often you should vacuum and wash their bed.
The general rule of thumb is that you should wash your dog's bed once a week, and possibly twice a week if one or more of the factors previously mentioned are present. When it comes to washing your dog's bed, the use of common sense will typically help you decide what to do. If the bed smells or if your dog got it dirtier than usual, you should wash it. Both you and your dog will enjoy the freshly cleaned bed. Not only that, but the more you wash it, the more likely you are to prevent bacteria from entering and circulating around your home.
How to Wash Your Dog's Bed
Before doing anything else, it is extremely important to first read the washing instructions on the tag. The manufacturer's recommendations will tell you the best and most effective way to wash your specific dog bed. The method will be different depending on what your bed is filled with or whether or not it has a removable cover. Checking the instructions is especially important if your dog bed does not have a removable cover.
Ideally, your dog bed and cover will be machine washable. However, as you know, many dogs are larger and require beds that simply will not fit into a standard washing machine. More often than not, the cover may be removed and put in the washer no matter the size, but when it comes to larger cushions and beds without removable covers, there are definitely alternative options to getting your dog's bed squeaky clean.
How to Clean a Removable Dog Bed Cover
Let's start simple – how to clean a removable dog bed cover. This is typically a straightforward, one step process – but there are a few helpful tips you will want to keep in mind. To wash a removable cover, simply separate it from the dog bed and put it in your washing machine. Front load washing machines work best for this. You will want to wash it by itself – separate from any other laundry – to ensure that nothing being cleaned off the dog bed cover transfers onto your own linens or clothes. Be sure to wash it on a large load setting with the highest temperature possible.
The hot water will kill any eggs or insects that are imbedded in the cover. It is very important that you use a pet-safe laundry detergent. This will guarantee that you do not irritate your dog's skin with harsh detergents or chemicals. Removable fabric covers are easy to clean and therefore can be washed frequently. However, just putting it in the washer will not effectively remove set-in stains. If there are deep stains, be sure to spray the cover with a stain remover before throwing it in the washer.
How to Clean a Dog Bed Without a Removable Cover
When you have a dog bed that does not have a removable cover, the cleaning process will be slightly more tedious. If the dog bed is small enough, you can put it in your washing machine. Be sure to put it on the delicate cycle. Make sure the water is hot, but not so hot that it will melt a foam interior. Again, be sure to first read the manufacturers instructions to know the best method for cleaning. After washing, you can partially dry your dog bed in the dryer on a low heat setting.
Then, allow the bed to air dry completely. If your dog bed is too large for your washing machine, you may take it to a laundromat, which will have larger washers and dryers for you to clean the bed with. Now, if the bed is still too large, or if you would just prefer to take the hand-washing route, you have the option to do that as well. Use your bathtub to hand wash your larger dog beds.
Basically, you will fill the tub with hot water and pet safe detergent, put your dog bed in the tub, and allow it to soak in the water and detergent. Every part of the bed should soak in the hot water for at least 60 seconds, after which you will rinse it and hang to dry. These are just the basics, but in order to thoroughly clean your dog bed, be sure to follow the in-depth step-by-step instructions to cleaning your dog bed to get the best results.
Step-by-Step Process
Step One: Vacuum and Remove Loose Dirt
The very first step to thoroughly cleaning your dog bed is making sure you rid it off all the loose dirt and debris. If your dog bed has a cover, the very first thing you should do is take the cover off and shake out all the hair and dirt. Then, vacuum the bed to remove hair, dander, dirt, and other debris from the bed.
Along with removing these particles, vacuuming will also remove unhatched eggs and insects that are stuck to the outside of the bed. Be sure to focus especially on the corners of the bed where hair, eggs, and dirt accumulate.
Along with the corners, focus on the sleeping area where your dog's body has the most concentration. For the best results, use a vacuum hose with an attachment on the end. This will allow you to focus on the crevices of the cushion that harbor many of the dirt and hair particles.
In addition to this, using a vacuum with hypoallergenic filters will be extremely helpful, especially if you or anyone in your household has allergies. These filters will prevent any allergen molecules from floating into the air and circulating through the rest of your home while you vacuum. Do not forget to vacuum the cover as well after shaking it out. Vacuuming your dog bed is also a great way to keep it cleaner longer in between thorough washes.
After you're done vacuuming, use a lint roller to gather up any extra hair or dander that is still on the bed. Dog hair always sticks to wet fabric, so it is vital that all of the hair is removed from the bed before adding any liquid or washing the bed.
Step Two: Spot Clean Stains
Spot cleaning and treating stains is a very important step. Be sure to do this before washing your dog bed, because removing the stains will be much harder after washing and drying. Spot treating should be done for stains caused by mud, urine, feces, or vomit. To remove these stains, be sure to use a cleaner that does not contain bleach or chlorine. Cleaners free of these two products that will successfully remove stains can be found at most of the pet supply stores.
One well-recommended product is
The Rocco & Roxie Professional Strength Stain & Odor Eliminator
This product can be used on most surfaces and will not damage your dog bed like harsh chemicals would. Another highly recommended product is #Nature's Miracle Stain and Odor Remover.
This is an enzyme cleaner, and therefore works in a similar way to other enzymatic cleaners. These cleaners break down stains and remove them successfully. The best part is, it can be used around pets and will not negatively affect them like other harmful chemicals would.
For specific stain removal, we will look at the top three stains and how to naturally remove them. First is mud. For mud stains, first wipe away any excess that is on the bed with a damp towel or cloth. After wiping away all the mud, vacuum the area to loosen and lift imbedded dirt. For stains caused by urine, if you are able to catch it immediately, blot the area with a towel to absorb as much as you can.
Then, using a spray bottle, spray a mixture of 2 cups warm water, 2 cups vinegar, and 4 tablespoons baking soda. However, if you did not catch it immediately and the stain has set in, spray it with the same solution, but this time sprinkle baking soda on top of the stain. Let it sit with the solution and baking soda for 5 to 10 minutes. Then, blot it again to absorb the liquid and wipe the stain clean.
For stains caused by vomit, mix 2 cups warm water, 1 tablespoon liquid dish soap, ½ cup vinegar, and 1 tablespoon salt. Using a sponge, blot this mixture onto the stain and then wipe the stain clean. If the stain is still present, sprinkle baking soda on top of the stain and blot a mixture of hydrogen peroxide and dish soap onto the baking soda covered stain. After treating all stains, be sure to rinse the dog bed several times to thoroughly clean off all solutions and stain removers. Squeeze the water out of the bed before moving onto the next step.
Step Three: Soak in Warm Water
If the manufacturers instructions allow for it (and if your dog bed is able to fit) you may now put your dog bed into the washing machine to be cleaned. Like we mentioned before, wash it in the hottest setting possible without damaging the interior of the bed. If it has been a long time since you last washed the dog bed, you may want to run it through the washing machine twice.
Again, an extra-large washer at a laundromat is always a good option if you find your dog bed to be a little too large for your washer at home. If neither of these options are suitable, you will need to wash your dog bed by hand. First, fill your bathtub with the hottest water possible – it is recommended that you wash your dog bed in water that is 140 degrees Fahrenheit.
Hot water will kill any insects or eggs that are embedded within the dog bed. Next, pour a small amount of detergent into the water. Be sure to use a detergent that is pet safe. Then, add ¼ cup of white vinegar or apple cider vinegar. Vinegar is a very effective, natural way to get rid of odors. It is way cheaper than commercial deodorizing products and you most likely have some handy around the house. Best of all, it's extremely safe for your pets.
When the hot water is ready and the mixture has been put in and dispersed throughout the water, place the bed into the tub. Be sure to submerge the bed completely, making sure water covers every part at some point. Let the bed soak in this for 15 minutes.
Step Four: Rinse Thoroughly
Next, you will need to completely rinse away the dirty water from the bed after soaking. When the bed has completely finished soaking in the cleaning mixture, drain all of the water out from the bathtub. Then, squeeze all of the water out that has soaked into the filling of the bed.
Rinse of the entire bed thoroughly with warm water, making sure you get every corner, especially if it is a very large bed. Squeeze out as much water from the bed as you are able. Repeat this process over and over again until there are no more soap bubbles forming in the water when you squeeze the cushion. It is very important to get all of the soap out of the bed before returning it to your dog for their own safety.
Step Five: Wring and Dry
If you were able to fit your dog bed into the washing machine, you may also choose to put it in your dryer. If you dry it this way, be sure it is on a low heat setting so that the bed and cover do not shrink. Tumble dry the dog bed for 20 minutes, then air fluff using a pet-safe dryer sheet.
This will reduce the amount of static while drying the bed. The air fluffing will also assist in separating any leftover fur from the bed. If you hand washed your dog bed, let the bed air dry outside. If possible, try to wash it on a nice day; the sun will allow for a much quicker and efficient dry time.
Make sure you flip the bed over several times to ensure it dries evenly. This will also help it to dry completely, thus avoiding the development of mold growing in the foam. If you cannot dry the bed outside, you may also put it near an indoor heater to dry. While this is effective, be sure to keep it a safe distance from the heater and to not leave it unattended as it could potentially catch fire up against a hot surface. Hanging the bed is also an effective way to dry it. By hanging it in a well-ventilated area, you will avoid mildew and mold from growing in an overly damp bed.
How Do You Get the Smell Out of a Dog Bed?
Sometimes, no matter how thoroughly you clean a dog bed, the bad odor somehow still remains. The best way to avoid this is by ensuring your dog stays clean – give your pup regular baths, especially when they have gotten dirty or wet. A good way to do this is by using dry dog shampoo on them once a week to make sure they stay smelling fresh in between baths.
However, over time, no matter how clean your dog is, their bed is still going to develop a smell. Pet odors tend to linger and can be very difficult to get out of cloth items such as blankets, cushions, and especially beds. There is, however, a dependable do-it-yourself recipe to help eliminate even the most potent smells from your dog bed. Put your dog's blanket, comforter, or bed cover into the washing machine.
Start the cycle with warm water and add your pet-safe detergent like a normal load. Then, add ½ cup of Arm & Hammer Super Washing Soda. Do not confuse this with baking soda – you want to get washing soda. Then add ¼ cup of hydrogen peroxide. Lastly, fill the softener dispenser with ½ cup of white vinegar or apple cider vinegar. If your washing machine does not have a softener dispenser, just add the vinegar in during the last rinse cycle.
Vinegar is a natural deodorizer and will cut through the odor that has been lingering on your pet's linens. Using these ingredients mixed altogether, you will finally have your pet's blankets and bed smelling just like new again!
How to Clean a Dog Bed with Fleas
If you find out your dog has fleas, the first thing you should do after taking care of them is clean their bed. Their bed will likely be infested or contain flea larvae that you will want to get rid of immediately to avoid further infestation. To remove the fleas, first take the bed cover off (if it is removable) and shake it out.
You can use a stick or other object to loosen the dirt and debris from the cover – the fleas will also loosen and fall off. Next, vacuum the bedding – this will remove more of the fleas that linger on your dog's bed. Do not forget to empty the vacuum bag immediately afterwards in order to completely dispose of any fleas that it sucked up, This will guarantee that they will not continue to spread around your home after you've cleaned the bed.
After this, soak the bedding in a tub of boiling water for at least 5 minutes. This will guarantee that you kill all of the eggs and larvae that are burrowed within the foam of the bed. Afterwards, squeeze all of the water out and let the bed dry. After drying, check all over the bed for fleas. If you find any burrowed inside the bed foam or hidden within creases, remove them immediately.
They were most likely killed in the boiling water, but repeat the process if any were found afterwards. Lastly, be sure to treat your dog for fleas to prevent another infestation. For a routine maintenance, if your dog bed is small enough, you can put it in the dryer for 10 minutes on high heat. This will kill any fleas or eggs that are in the bed if you want to ensure that it is not infested.
What to Wash a Dog Bed With
Choosing what to wash your dog bed with is very important because it will ultimately be in contact with your dog. If you are using a detergent, always read the label and check its ingredients to make sure it is safe for pets. If your dog chews or licks their bed they will likely ingest any cleaner that was used. Because of this, harsh cleaners can be a danger to your bed, but they can also irritate your dog's skin if they are sensitive to certain chemicals.
For these reasons, the soap or detergent you use should never contain toxic or harsh chemicals. There are a few chemicals you should always avoid when choosing a soap or detergent that is pet safe. The ones to watch out for include chlorine, bleach, petroleum distillates, nonylphenol ethoxylates (NPE), diethanolamine, formaldehyde, isopropyl alcohol, phthalates, phenols, perchloroethylene, and fragrances.
There are a few very effective natural solutions that you can use when it comes to cleaning your pet's bed. A very popular one is white vinegar or apple cider vinegar. Vinegar is a great natural deodorizer and it is very safe for your dog. It is also one of the cheapest options for cleaning and is most likely already present in your house. Add water to make a vinegar solution; take ¼ cup of your choice of vinegar and a small amount of pet-safe detergent and add it to the water you are washing your dog bed or bedding in. If your dog's bed is particularly smelly, up the amount to ½ cups of vinegar. For the best results, soak the bed in this solution for 15 to 30 minutes.
Another great alternative and safe cleaner for your pet's bed is baking soda. This is another product that you very likely have in your home already. It is great for absorbing odors. It is also strong enough to cut through grime, so if your bed has built on dirt or soaked in stains, baking soda is your best bet to get them out. When baking soda is used dry, is able to soak up many different odors.
To use it dry, sprinkle the baking soda on your dog's bed and allow it to sit for at least 30 minutes. Afterwards, just dust off the baking soda and vacuum up any excess powder. To use baking soda as a paste, mix it with equal parts water and salt until it is the consistency of a spreadable paste. Then, using the paste, scrub off all debris and dirt from the bed. Lastly, a very natural and effective cleaner that is safe for your pet is lemon juice. This is a great alternative if you do not like the smell of vinegar. Lemon juice serves as a great all-purpose cleaner.
It contains natural enzymes that are able to break down oils and organic matters from the bed. To make a solution, take 3 cups of boiling water and pour into a spray bottle. Then, add 2 tablespoons of baking soda and 2 tablespoons of fresh and pure lemon juice. Shake the bottle until everything is dissolved and mixed together. Use this as a cleaning spray for your dog bed, bedding, or cover! Whenever possible, it is best to use these natural solutions for the safety and health of your dog. The more gentle and natural your cleaner is, the less likely it is to irritate your dog.
How to Keep Your Dog Bed Clean
Once your dog bed is clean, most of the fight is to try to keep it clean. Dogs get into a lot of different things, and it can often be hard to maintain both them and their bed. There is no quick way to clean a dog bed, but these tips will help with keeping it clean so that you do not have to wash it as often or as thoroughly. A very simple solution is putting a comforter or blanket over the bed.
This will help with keeping the bed itself cleaner, and to freshen it up simply throw the blanket into the washing machine. Similarly, if the bed is small enough, you can enclose the foam or cushion in a large plastic bag, garbage bag, or liner to protect it from getting dirty. Pillowcases also work as effective coverings if the bed will fit.
To keep your dog bed clean in between washes, be sure to vacuum it regularly. This will maintain the amount of dog hair, dirt, and dander that is on the bed. Remember – the dirtier your dog bed is, the harder it is to clean. Regularly collecting the hair and dirt will result in the bed being easier to wash when the time comes.
Another way to keep it clean longer is by wiping it down occasionally. Use 8 parts water and 1 part apple cider vinegar to create an effective cleaner to wipe down the outside with. Vinegar can also be used to create a deodorizing spray. Use this to spray your dog's bed regularly to maintain odor. Another way to keep odor at bay in between washing is to use a baking soda solution.
Mix a teaspoon of baking soda with warm water and add a few drops of tea tree oil as a natural disinfectant and natural fragrance. Put this mixture into a spray bottle and mist the bed once daily. The last tip for keeping your dog bed clean between washings is to place it in direct sunlight at least one time a week. This will help kill bacteria and get rid of stale odors lingering on the bed. The easiest way to ultimately keep your dog bed clean is to keep your dog clean. Bathing them regularly will result in a cleaner bed and the less frequent need for washing it.