Are Shih Tzus Stinky?
Whilst Shih Tzus are a lovely breed of dog, one of the problems many owners have with them is they can get a bit stinky from time to time. But why is this such a problem with this particular breed of dog?
Why Do Shih Tzus Stink?
Shih Tzus have long hair and like all dogs, it is important they are regularly groomed and take frequent visits to the vets to be checked for any health problems as ignoring both these issues can cause your Shih Tzu to stink.
Why Does My Shih Tzu Have A Stinky Face?
As Shih Tzus have long hair on their faces, this means they can easily accumulate food and water on their face; as well as tear stains due to them having sensitive eyes. The longer these stains are left on their face, the stinkier their face gets.
How To Get Rid Of Shih Tzu Smelly Face?
It is very easy to get rid of your Shih Tzus stinky face. Just make sure to keep the hair on their face short and to wipe their eyes to reduce the risk of staining. If you do this regularly, your Shih Tzu will have a clean and fresh-smelling face with no trace of stinkiness.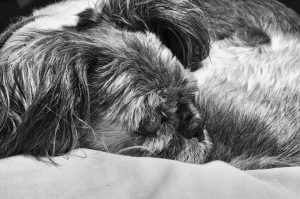 Why Does My Shih Tzu Smell Like Vomit?
One of the causes of your Shih Tzu smelling of vomit may be down to their food. If you feed your pooch food mixed with water, this may cause bacteria to gather in the hair on your dog's face and is what leads to the vomit smell.
Why Does My Shih Tzu Smell Like Corn Chips?
As your Shih Tzu mostly sweats from their feet, this can mix with a bacteria called 'Protea' or 'Pseudomonas'. When the two combined mix together, this causes your Shih Tzu to smell like yeast, which may be why you mistake the smell as corn chips.
Why Does My Shih Tzu Smell Like Fish?
The smell of fish from your Shih Tzu more than likely comes from their anal glands. These are also known as anal sacs, which have sweat glands and it is from these sweat glands that the smell of fish may come from. This is due to secretions the sweat glands produce to give a scent marker to your Shih Tzu, which to us, smells of fish.
My Shih Tzu Smells Like Pee
There are many reasons why your Shih Tzu may smell like pee. It may be due to incontinence, which can be due to their age, weak bladder control, infection, an injury, or a genetic abnormality. This can cause your Shih Tzu's pee to go on them, causing the pee smell.
Another reason can be down to splash back when your Shih Tzu is peeing, which is more likely in dogs with long hair; so make sure to keep up your dog's grooming regime to reduce this risk. Many dogs, including Shih Tzus, have a habit of rolling in pee, which may be another cause of your Shih Tzu's pee smell.
The final reason your Shih Tzu smells of pee could be down to a kidney problem, which can cause their fur, skin and breath to smell of pee. If you believe this is the case, it may be best to take your furry friend to the vet so they can check them over and give them treatment.
My Shih Tzu Smells Like Yeast
As well as your Shih Tzu smelling of corn chips (which replicates the smell of yeast) due to a combination of sweat and bacteria, the smell of yeast can also be due to a yeast infection.
Shih Tzus are one of many dog breeds that are more likely to develop a yeast infection, which not only causes a distinctive yeast odor in your canine pal, but also causes itchy and irritated skin. This will more than likely develop on the skin or in the ears, which will cause some discomfort and may also be a sign of another issue; which is why if your dog smells of yeast you should take them to their vet as soon as possible.
Shih Tzu Stinky Eyes
As Shih Tzus are more prone to their eyes weeping or eye discharge, this is what causes stinky eyes as the build up collects in the dog's hair and skin and causes bacteria to grow and multiply, resulting in a bad smelling odor. It is therefore important to keep up with the grooming of your Shih Tzu and to regularly wipe away the discharge from their eyes so as to prevent the odor from worsening.
Shih Tzu Stinky Ears
If your Shih Tzu has stinky ears, this may be because of the warm and moist environment inside their ears. Due to this environment, this means it is much easier for bacteria to grow and multiply, which can cause infections.
This environment is also the perfect breeding ground for ear mites and if your Shih Tzu also has a large amount of ear wax and hair in their ears, a combination of each of these is what causes the smelly ears in the first place and is why it is important to clean your Shih Tzus' ears out regularly.
Shih Tzu Stinky Breath/Mouth
There can be a number of different reasons that may cause your Shih Tzu to have bad breath. Bad breath can be caused by the type of dog food you are feeding your Shih Tzu. For example, if you are feeding your dog dry dog food, if they eat the bits of the dog food at the bottom of the bag, which are often more of a dust-like texture, when this mixes with your dog's saliva it forms a thick substance in the mouth and if it remains there over a long period of time, will cause your dog to have bad breath.
Your dog may also have a buildup of plaque in their mouth, which can cause smelly breath, infection and decay, and gingivitis.
Alternatively, if your Shih Tzu is still a puppy, they may be starting to go through the teething stage. If this is the case, your puppy may have bad breath because the teeth are coming through the gums, possibly causing there to be some blood and when this blood mixes with saliva, it can cause bad breath.
To fix this, make sure to have your vet examine your pet's teeth and begin a proper oral hygiene routine, as your Shih Tzu's teeth need looking after just as much as ours do.
Shih Tzu Smelly Feet
If your Shih Tzu has smelly feet, this may well be down to dirt getting stuck in their paws after they have been taken for a walk, especially if they have wandered off somewhere where they shouldn't have. In this case, you should either wipe or wash your pet's paws after every walk to ensure they are clean.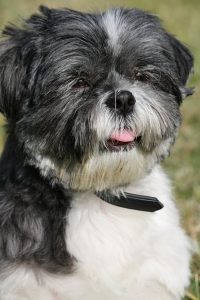 However, another reason for smelly feet could be down to a yeast, bacteria, or fungus infection in the paws and in this case they should be taken to the vet and may need to be treated with a cream or medication.
Shih Tzu Smelly Skin
Odorous skin is one of the symptoms of dry skin in a Shih Tzu. Dry skin can be caused by issues such as allergies, skin dermatitis, parasites, and possibly some autoimmune disorders.
However, the smell may not be as serious as that and may be caused by a dry climate, bathing your dog too much, living in a cold and dry environment, using the wrong type of shampoo, or a poor diet.
The smelly/dry skin problem may not persist as it may just be due to one of the less serious conditions, which can be fixed by simply making changes to the products used on your Shih Tzu. Despite this, if you believe it may be due to one of the more serious conditions, you should take your pet to the vet, who will be able to treat and advise you on the problem.
Shih Tzu Smelly Urine
If your Shih Tzu has smelly urine, this can be a sign of infection. If you begin to notice your Shih Tzu's urine starting to smell, it is important you take them to the vet straight away to check for any signs of infection.
This smell could also be due to concentrated urine and the yellower your dog's pee is, the more concentrated it is (and the smellier it is, too). In this case, it may mean your dog is dehydrated, so it may just be a case of encouraging them to drink more water. However, if the problem persists, you should contact your vet immediately.
Shih Tzu Smelly Farts
The reason why your Shih Tzu has smelly farts can be due to the food they eat. Once they have eaten, there will be bacteria in their digestive system which breaks down their food, which subsequently causes hydrogen sulfide gas to be released and can become trapped, therefore resulting in your dog's farts.
As Shih Tzus tend to swallow a lot of air whilst they are eating and drinking, this causes gas to form in their digestive system and the only way for it to get out is for your dog to fart.
Farting is completely normal for your Shih Tzu, but if you feel that their farts are particularly smelly, you may want to take them to the vet to check for any health issues. It may be as simple as changing the food your Shih Tzu eats, but there may be something more serious going on, which is why it's always best to get this checked out by a professional.
Do Shih Tzu Puppies Smell?
In general, your Shih Tzu puppy shouldn't smell. However, there may be some factors that are causing your puppy to smell bad.
For example, if you do not regularly brush your Shih Tzu puppy's teeth, this can cause them to have bad breath and consequently smell bad; so it is important to brush them regularly in order to avoid this.
Other reasons why your Shih Tzu puppy may smell can be due to infected anal glands, diseased gums and/or teeth, or an ear infection.
All of these can be easily treated, so it's best not to panic as they can be treated through methods such as bathing them or having a word with your vet to see if there is anything they would recommend to get rid of the smell depending on it's cause.
Do Shih Tzus Smell Bad As They Get Older?
Just like Shih Tzu puppies, an older Shih Tzu shouldn't smell. Despite this, there can still be some reasons why an older Shih Tzu may smell, which aren't necessarily related to their age.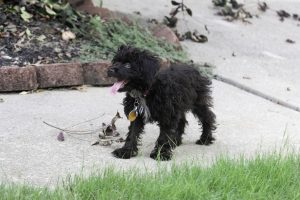 One of these issues is bad breath, which can affect older Shih Tzus more than puppies as they can easily lose teeth and are more likely to have gum issues. As well as dental issues causing this bad breath, if your dog has kidney disease, this can also cause bad breath and is more likely to occur in your older Shih Tzu.
Not only this, but as grooming is particularly important in Shih Tzus due to their long hair, if your pet develops arthritis or a mobility condition, which is more likely to occur as they get older, this means they may struggle more in grooming themselves. Therefore, it is important for you to give your pooch regular baths as this can get rid of any odors that may have occurred as a result of their lack of grooming.
Do Shih Tzu Mixed Breeds Smell?
Do Shih Tzu Poodle Mix (Shihpoo) Smell?
If you have a Shihpoo, they may be prone to smelling badly. However, this can be easily avoided as long as you regularly clean them. If they do smell bad, in a Shihpoo this will more than likely be due to an ear infection, which can be treated by using an ear cleaning solution.
Shih Tzu Bichon Frise Mix
A Shih Tzu Bichon Frise Mix may not be that likely to smell bad, however, this doesn't mean that they are exempt from being smelly. You can avoid your dog being stinky by keeping their hair short to reduce the risk of food sticking to their face, brushing their teeth two to three times a week to prevent bad breath, and bathe them once a month to ensure they're smelling extra clean.
How Do I Stop My Shih Tzu From Smelling?
One way to ensure your Shih Tzu no longer smells is by bathing them. Make sure you brush them thoroughly before putting them in the tub. The tub should be filled with warm water and you should be using a dog shampoo that does not get rid of essential oils or that dries their skin out.
Shih Tzus often need to be bathed once every six weeks, but if you find your pooch needs cleaning in between washes, it is perfectly okay to do so. You should also be brushing their coat every two to three days at the least, but preferably every day, to ensure it doesn't get matted. It also helps to brush your dog's teeth to ensure you are eliminating any signs of bad breath they may have.
How Can I Keep My Shih Tzu Smelling Good?
Even though Shih Tzus should only have a bath once every few weeks, it is still important to use other methods of grooming them to keep them smelling clean and fresh.
One way is by using pet wipes, particularly after a walk where they may have got various bits and pieces in their fur, as these will get rid of those bits and should clean the fur enough without the need for a bath.
Alternatively, you could use a dry shampoo which will not only clean the fur, but will also help your dog to smell clean and fresh.
References:
https://www.petmd.com/dog/general-health/what-your-pets-urine-says-about-their-health