We love our furry friends. But we don't always love the way they can make things smell. Not to worry! We've got the answer to keep your home and your linens smelling fresh and clean.
How To Get The Dog Smells (Body Order, Urine, Feces, Vomit, Food) Out Of Blankets?
Read on to find out the best and most convenient ways to wash the smell out of your dog's favorite blankets! You will find standard and natural remedies and some you may not have known existed…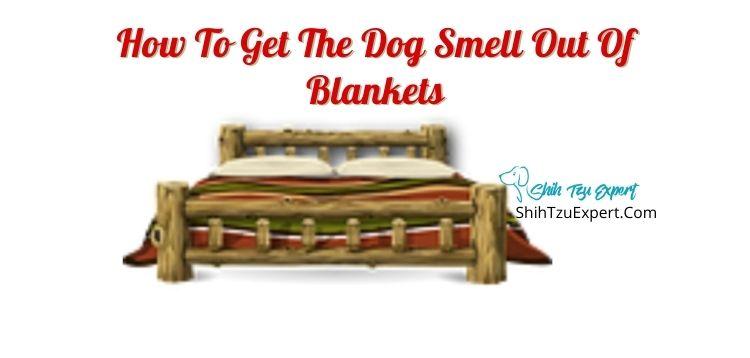 What Is The Toughest Dog Smell To Remove From Blankets?
Urine can be the most difficult dog smell to remove from a blanket. The urine can soak into the fibers of the blanket and leave a longer-lasting odor. Though it may be one of the toughest smells to get out, it is not impossible.
What Is The Easiest Dog Smell To Remove From Blankets?
Though no dog smell discussed in this article is a pleasant one, body odor is most likely the easiest dog smell to remove from blankets.
What Are The Hardest Blankets To Clean?
Throw blankets may be the hardest to clean. Simply because it is not ideal to put it in the washing machine. Many are dry clean only. So take Cincinatti.com's advice and always read the tag.
What Are The Easiest Blankets To Clean?
Cotton blankets can be some of the easiest to wash. You can even put them directly in your washing machine with other cotton clothing.
How To Get The Dog Smells Out Of Blankets?
Here are a few methods to get the dog smell out of blankets:
Vinegar
Vinegar is usually used in combination with baking soda. You first apply the vinegar to the stain and then the baking soda. The reaction of this mixture causes bubbling. Once the spot is arid, cover it with cloth or plastic. You can leave it like this for a couple of days, according to health.veterinarians.org. After this, remove the covering and rinse with water. If there is any fluid you can wipe it off.
Baking Soda
Baking soda is usually used along with vinegar to clean stains. Please refer to the section on vinegar for how directions on how to clean with these two natural products.
Hydrogen Peroxide
Hydrogen peroxide is another alternative option to detergent. Health.veterinarians.org recommends a mixture that can help remove stains:
Take 2 teaspoons of warm water and mix with 4 tablespoons of hydrogen peroxide in a spray bottle. Next, add a few teaspoons of liquid dish soap to the mixture.
Apply the mixture to the stain and reapply if warranted. Gently wipe the spot with a dry cloth and remove any excess water.
Enzymatic Cleaner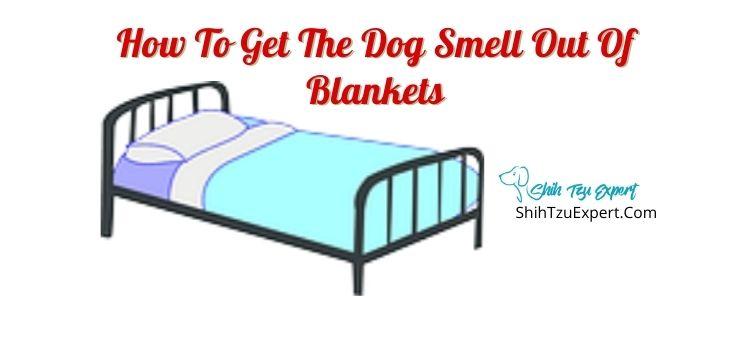 Enzyme cleaners, according to mindbodygreen.com, contain bacteria that are beneficial and release enzymes. These enzymes break down those molecules found in 'organic matter' such as urine.
These types of cleaners can be used on many different stains, but it seems to be used a lot by pet owners.
Borax
Borax is a cleaning product that is often used in a process called laundry stripping. Essentially, this is a deep cleaning method for your laundry and linens (especially towels).
You can find recipes for the laundry stripping mixture online, but the Better Homes and Gardens website details the whole process-including how to make the mixture,
Oxiclean
If you've only discovered the stain after it's dry or it is especially tough to get out, you can use OxiClean to treat it. You can leave the blanket in a bathtub or other container filled with water and OxiClean overnight. The next day, you can wash it in the washing machine. The stain should most likely be gone after going through the soak and wash.
Deodorizing Spray
As we discuss in this article, an alternative to washing blankets is to use a deodorizing spray like Febreze. The method of usage is also the most simplistic. All you have to do is spray the blanket with the deodorizing spray and let it dry. While this doesn't give as deep a clean as washing, it can be effective for blankets that aren't stained but don't smell fresh.
Just make sure whatever product you get is pet safe.
Dog Shampoo
While you can't use dog shampoo to directly clean your dog's blankets, it can still help. Bathing your dog regularly and washing his paws after being outside can help to prevent dirtying his blankets.
Is Laundry Detergent Toxic To Dogs?
Some laundry detergents can be toxic to dogs, just like fabric softeners (mentioned below). If you can get a laundry detergent that is safe and non-toxic to pets, then you should be safe using it.
Is Fabric Softener Bad For Dogs?
It's a good idea to skip the fabric softener. Fabric softeners can negatively affect a dog and cause allergic reactions. It can even be toxic for dogs.
What Are The Best Way To Remove Dog Smell From Blankets Naturally?
The best natural methods for removing dog smells from blankets seem to be a mix of vinegar and baking soda, or a combination of hydrogen peroxide, water, and dish soap.
Is It Safe To Use Chemicals To Remove Dog Smell?
It is best to avoid using chemicals to remove the dog smell from blankets. This is because most chemicals can cause allergic reactions or even toxicity poisoning in dogs. Unless you know for certain that a chemical is deemed pet safe, you're better off trying natural solutions or putting the blanket through the washing machine.
Should I Buy New Cheap Blankets Regularly (Throw Away The Old)?
While you can buy cheap blankets regularly and throw away the old ones, it may not be cost-effective. Financially speaking, it would be a better idea to invest in non-toxic pet detergent or more natural cleaning products. Some are mentioned in this article and you may even already have them in your home.
How To Get Dog Smell Out Of:
Fleece Blankets?
Treat any stains with a small amount of laundry detergent and blot with a washcloth. After letting it sit for a few minutes, wash the blanket in the machine with gentle detergent and fabric softener on a cold water cycle. It is advised by qualitylogoproducts.com not to put fleece blankets in the dryer. The heat can damage them.
Weighted Blankets?
Some weighted blankets can be too heavy/unsafe for washing machines. If you have checked the packaging or instructions and it is washing machine safe, then proceed. Like fleece blankets, use a cold water cycle but no fabric softener. If you discover your weighted blanket is not machine washable, then you can 'spot-clean' it with some of the natural remedies we discussed in this article.
Wool Blankets?
Somewhat surprisingly, wool blankets are some of the easiest to clean. Qualitylogoprodcuts.com suggests setting the machine to wash the blanket on a cold and gentle cycle. However, the trick is to stop the rinse cycle about 1 minute in to prevent stretching. Air-dry the wool blanket.
Lightweight Blankets?
Like the others, lightweight blankets should go into the machine by themselves on a gentle cycle. However, lightweight blankets require a warm cycle rather than a cold one. Add the detergent and fabric softener, then once the cycle is done, dry the blanket.
How To Get Smell Out Of Blankets Without Washing?
There are various methods to get the smell out of blankets discussed in this article. Some of these methods include; using deodorizing sprays, enzymatic cleaners, and simply laying the blanket out in the sun to air out and 'sanitize'.
How To Get Dog Urine Smell Out Of Blankets?
While you can put the blanket through the washing machine, you can also try enzymatic cleaners. These cleaners can break down the bacteria in stains such as urine.
A list of enzymatic cleaners can be found through a quick online search.
How To Get Dog Vomit Smell Out Of Blankets?
Baking soda is a good way to get rid of the dog vomit smell. Lifemaideasy.com suggests sprinkling a 'generous' amount on the stain/blanket. This will allow for the stain and smell to absorb. Once everything is absorbed, you can vacuum up the remaining residue.
Is It Okay To Wash Dog Blankets In Washing Machine?
It is okay to wash dog blankets in the washing machine. It is most likely one of the most effective ways of removing the smell.
Can You Wash Dog Blankets/Bedding At The Laundromat?
Yes, you can wash dog blankets and/or bedding at the laundromat. Just follow the washing instructions for each type of blanket.
How Do You Get Dog Smell Out Of Blankets In Washing Machine?
Fill your washing machine with the dog blanket(s) and prepare the load as you would for any other laundry. Make sure to use pet-safe detergent.
Then you simply set the washing machine and run the load.
How To Clean The Washing Machine After Washing Dog Blankets?
Baking soda isn't only beneficial in cleaning the smell from dog blankets. It can also be used to clean the smell out of your washing machine. Just mix baking soda, vinegar, and water and put it in your machine's detergent container. Then run the washer on a high-temperature cycle.
How Long Does A Dog's Scent Last On A Blanket?
According to the site Outdoor Dog Fun, the time a dog's sent can last anywhere from 5 to 14 days. Experts say that this is the case because viable scents can differ by breed and environmental factors.
How Do You Get Dog Smell Out Of Blankets Without Washing Them?
While washing dog blankets is the best option there are alternatives. If the smell on the blanket isn't very strong, you can use Febreze or simply air out the blanket by hanging it outside.
How Often Should You Wash Your Comforter If You Have Dogs?
The Sleep Foundation recommends washing your comforter 3-4 times a week if you have a dog or other pets. This rule of thumb can also go for other bedding.
Does Febreze Get Rid Of Dog Smell?
Febreeze does not get rid of the smell of dogs on a blanket entirely. While it does help to alleviate the odor and remove some of the germs, it primarily just masks the scent. This can be a good temporary solution.
However, the best plan would be to wash the dog blankets to get rid of the smell.
What Is The Best Detergent To Wash Dog Bedding?
Zendenpets.com lists the best detergents for dog bedding as Seventh Generation, Ecos, and Tide Simply Clean and Fresh.
How Often Should You Change Your Sheets With Dogs?
According to quickzip.com, if you let your furry friend sleep in your bed with you, it is best to change your sheets every 3 to 4 days.
Do Dogs Like Clean Blankets & Bedding?
According to fivebarkingdogs.com, dogs do like clean bedding. However, they don't mind if the bedding isn't freshly clean either. They like when bedding and/or clothing smells like you.
How Long Should You Keep Puppy Blankets?
There is nothing wrong with keeping a puppy blanket for as long as the dog prefers to use it. As long as the blanket is washed regularly and kept in good condition, it can be kept for a long period.
Should I Soak The Blanket Overnight?
If you are washing the blanket with an OxiClean mixture then you are encouraged to soak the blanket overnight.
Use Professional Cleaners
You can rent professional cleaning tools and use them to clean your dog's blanket. Another option is to take the blankets to the dry cleaner.
Use An Ozone Machine To Remove Smell From The Air
Ozone Machines can clean the air in your home and even remove mildew. These machines remove bacteria-casing odors and allergens. This will prevent these bacteria from getting on items in your house-including your dog's blanket.
How To Dry To Remove The Smell From A Dog's Blanket:
Drying In The Sun
After you wash your dog's blankets you can opt to dry them in the sun. Hanging them out to dry over a railing or on a clothesline should do the trick. Another option is to simply lay them outside (via railing or clothesline) without washing them previously. According to thedaybed.com, this allows the sun to 'sanitize' the blanket and have the blankets air out.
While this might not work on heavy-duty stains, it can be useful if the blankets are only a little dirty and need to be freshened up.
Add Perfumed Drying Sheets
It is not a good idea to use perfumed drying sheets when washing your dog's blankets. These dryer sheets can contain chemicals that can be toxic to the dog. So skip this step when you run the blankets through the drying cycle.
How To Prevent The Dog's Blanket From Smelling?
You can't keep your dog's blanket from ever smelling. Accidents happen and sometimes you may be too busy to wash them. Trying to stick to a regular washing schedule for the blankets, regularly bathing your dog, and keeping a deodorizing spray on hand will help to prevent the blanket from smelling.
Wash The Blanket Regularly
Washing your dog's blanket regularly will benefit both you and your dog. Not only will your dog's blanket be smelling fresh, but it will also keep away germs. Keeping your blankets clean will keep you and your pet healthy.
Use A Bed Cover For The Dog's Bed
Another option that you can look into is a washable cover for your dog's bed. You can choose something that matches your style and that is comfortable for your pet. But you can also choose a cover that is easily removable and washable.
Most washable bed covers for dogs are made of materials in which many things will not immediately stain.
Bathe The Dog At Least 2 Times A Month
Bathing your dog at least two times a month can greatly help to keep his blankets clean. If your dog likes to spend a lot of time outside, you may want to increase the frequency of baths.
How To Stop My Dog Urinating On Blankets?
To stop your dog from urinating on the bed, you must make sure that he is house-trained. This means that he knows to only go to the bathroom outside. Usually, you train your dog to do this as a puppy, but if they were never taught, they can still be trained. The American Kennel Club suggests the usage of baby gates or a crate to separate your dog from areas where he tends to urinate in the house.
As you reintroduce your dog to the area, supervise him. The AKC recommends that if you see him going to urinate on a blanket or elsewhere in the house, do not yell. Calmly stop him and lead him to the correct area for him to urinate.
What Causes The Smell In Body Order, Urine, Feces, Vomit, Food?
There are organic molecules in organic matter such as body odor, urine, feces, vomit, and food. These molecules give off their scent and each scent can affect people differently. There are also health conditions in both dogs and humans that can make an already unpleasant scent more offensive.
Resources
https://health.veterinarians.org/top-10-pet-odor-stain-removers
https://medlineplus.gov/genetics/condition/trimethylaminuria/