Dogs and horses both make wonderful pets, however, if you are planning to introduce one to the other, you may have questions. This advice covers the questions you may have, ensuring the safety and happiness of both of your animals.
How To Introduce Your Dog To A Horse?
While it can be challenging to introduce your horse to your dog, it can be done safely. Both animals can be a danger to the other if feeling threatened, but progressive exposure can lead to a healthy, happy relationship between your pets.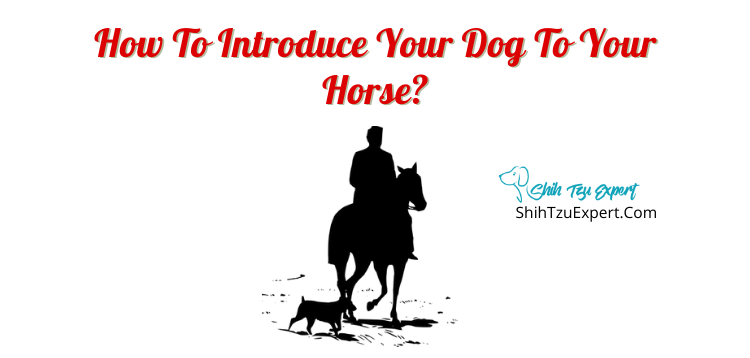 How Well Do Dogs And Horses Get Along?
In general, dogs and horses get along well. While much is dependent on personality, dogs and horses have a long history of working together through history on cattle ranches and foxhunts.
Can A Dog And A Horse Be Friends (BFF)?
Both dogs and horses as a breed are companion animals. Dogs are pack animals, and horses are herd animals. They are largely social and form strong bonds with humans and animals alike.
A dog-horse best friend relationship may look like the dog approaching the horse excitedly, the horse leaning its head down to nuzzle the dog, rubbing noses, and the dog licking excitedly.
How To Introduce Your Dog To Your Horse [Step By Step]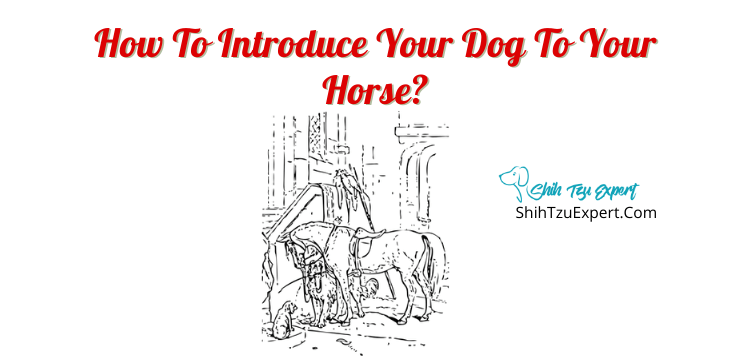 Before you begin the introduction process, prep your dog by training them not to nip or chase. You can practice this gradually, beginning in a private place and continuing the training in a public place with more distractions when your dog is ready.
The first step to introduce your dog to your horse is to simply get your dog comfortable in the horse's presence. If your dog is typically skittish or easily spooked, begin by bringing your leashed dog near the horse, preferably in a corral or fenced area, without pointing out the horse's presence. Allow the dog to notice without alarming either animal. Repeat this process for a few days.
Next, bring the dog closer to the horse as part of a daily routine, for example, the feeding routine. Take your leashed dog along with you to feed the horse without encouraging interaction. Simply allow the animals to be in each other's presence and observe their actions. Are the animals exhibiting signs of curiosity and interest? If so, allow them to satisfy their curiosity by nuzzling, sniffing, etc. Do they appear tense, stressed or apprehensive? Remove them from the situation. Follow the animals' lead.
As the animals get more and more familiar with each other, begin to allow more contact for extended periods of time. Reward generously with treats and/or physical affection when they behave well with each other. If either animal shows signs of becoming overly excited, frightened, stressed, or aggressive, split up the animals immediately. Try again the next day with less contact until both the dog and the horse show only signs of being comfortable again.
With time, allow the dog off the leash in the horse's presence. Before this point the dog should have mastered basic obedience commands to sit, stay, and come. Pay close attention to both animals' behavior, and respond immediately to any negative feedback. Return to interactions with leash for as long as necessary.
When allowing the dog to interact with the horse unleashed it is a good idea to let them spend time together on neutral ground where neither feels territorial. A round pen is a great option, as it contains both of the animals so that neither can bolt, but allows them space to back away as well.
With very obedient dogs, you can try an off-leash approach from the beginning if you would like. The dog should be a master of basic obedience commands, even while excited.
Do Dogs Get Jealous Of Horses?
Jealousy is a complex emotion requiring recognition of perceived threats to a relationship. While there aren't any studies done specifically on dogs and horses, the University of California performed an experiment in which dog owners played with a stuffed dog that walked and made sounds to see if the dog exhibited jealous behavior. The dogs showed many jealous signs–pushing the object or the owner, and getting in between the object and owner–when the owners played with the realistic dog.Many dog owners will also testify that the arrival of a new baby to the family evokes jealousy and attention seeking from the dog.
Dogs are one of the few animals with the self-awareness to be able to compare themselves and their attention to others, likely due to their long history of domestication and coevolution with humans. While there are personality factors at play, it is likely that your dog may experience some jealousy of your horse if it feels that the horse is drawing away your attention.
Why Do Some Dogs And Horses Don't Get Along At All?
Whether or not your dog and horse get along is dependent on their personalities. You likely already know if you have a skittish or confident horse or an aggressive or timid dog. The personalities of both animals affect their relationship to one another.
A common conflict is that horses often see dogs as a threat. Dogs are typically more playful and curious, and are likely to approach the horse first. A horse is evolutionarily a prey animal, while dogs are a predatory animal. Instinctually they may not feel comfortable with one another.
Dogs that like to chase, are confrontational, or are overly energetic might never get along with horses, especially if your horse is skittish.
How Can I Safely Determine How My Dog Will React To My New Horse?
Your first step in determining how your dog will react to your horse is to analyze its personality. Consider your dog's temperament–if your dog is inherently calm, timid, cautious, and gentle when approaching other new dogs or people, it's likely it will approach your horse the same way. If your dog is regularly aggressive, energetic, or prone to chase and jump on new dogs and/or people, again, you can assume a similar approach.
Be aware however, that a horse may be a totally new creature to your dog and is much bigger than a human or dog, which may change your dog's reaction entirely. Because of this, it is impossible to be sure how your dog will react. Follow a slow and steady approach as explained above, and be attentive in watching for warning signs that a dog is not comfortable.
Keep in mind that some dog breeds, like Pit Bulls and Rottweilers, are bred to be aggressive and are statistically much more likely to attack large animals than others. This is still very dependent on personality, so follow your instinct, and proceed with caution as necessary.
Do Dogs Eat Horses?
While dogs do not see horses as a source of food, they can be known to attack or bite if they perceive the horse as a threat. Remember that behavior can change day to day. Dogs may play peacefully with a horse one day and show aggression and chase the horse the next. The horse could also become territorial and provoke an attack of self-defense from the dog. No matter how comfortable your animals are with each other, it's always safest to supervise.
How To Keep My Dog From Biting My Horse?
The best way to keep your dog from biting your horse is to watch for warning signs. These signs may include:
-Appearing anxious, nervous, or scared
-Cowering, whimpering, tail between legs, trying to escape
-Chasing
-Nipping, growling, barking
-Eyes wide, pupils dilated
-Ears back
-Hair raised on back
-Pacing/panting
Make sure your dog is well-trained to follow your commands once off the leash so you can easily step in when the situation escalates.
Why Did My Dog Attack My Horse?
Dogs are descendents of a predatory species. They have a level of instinct they'll be driven to follow when in a new or unknown situation which could lead to an attack. Otherwise docile dogs may see a large horse as a threat, stimulating a fight or flight response. Because of their predatory background, they commonly choose to fight.
How Can I Train My Dog To Not Attack Horses?
Getting your dog comfortable in a horse's presence is key. The more time they spend around a horse from a distance in a non-threatening environment, the less likely they are to react in fear when they are close to a horse or when the horse makes an unexpected movement or sound.
You can also teach your dog to maintain a respectful, calm mannerism around others in general. Most dogs learn behaviors with humans and other dogs. Personality can not be entirely taught, but it can be shaped.
When your dog is around your horse, reward generously when it behaves properly with the horse. Employ whatever negative feedback you have used in training previously, such as speaking sternly and reprimanding when the dog behaves poorly. When it shows signs of aggression, put it on a leash and take it away.
My Dog Bit My Horse What Should I Do?
If your dog bites your horse, first ensure you get your horse the proper medical care. A small flesh wound can often be treated at home, but if you have any questions or concerns at all, consult with your local vet. Remove your dog from the situation immediately, and give it the proper negative feedback.
Know that there are many legal regulations on dog behavior when it endangers other people or animals, so look up your local laws as needed.
If it is important to you to train the dog to abide safely with your horse, you may begin the training process over with much more caution. However, after such an incident, it's possible that the dog and horse may never get along safely and you may need to always keep the dog on a leash around horses.
Can You Raise A Horse With A Dog?
Dog and horse relationships are ideal when raised together. Introducing the animals from a young age can greatly expand the chances that they get along with each other for a lifetime.
It is important to keep in mind that puppies are more at risk around horses. They have yet to develop regulated social skills, and are more likely to nip and behave erratically which could spook the horse. Being stepped on or kicked may be fatal to a puppy, even if unintentional. But early exposure will make both animals much more comfortable in each other's presence and decrease their uneasiness.
Are Horses Harmful To Dogs?
Horses are not likely to provoke an attack out of the blue, however a scare from a dog can elicit a fight or flight response. Regardless of whether it chooses fight or flight, its stepping and kicking can be harmful or even fatal to a dog. Do all in your power to avoid such an encounter.
What Dog Breeds Are Good With Horses?
Dog breeds that are good with horses include dogs that are not large and rowdy, nor small and nervous. They are calm, gentle, eager to please, and don't bark much. Some breeds that get along exceptionally well with horses are:
-Golden Retriever
-Australian Shepherd
-Dalmatian
-Australian Cattle Dog
-Corgi
What Dog Breeds Are Not Good With Horses?
Dogs that are not good with horses are those that are often chasing dogs, bikes, people and livestock. Any dog that is hard to train in general will be difficult to train in proper horse behavior. Above all, dogs that are aggressive and prone to attack are not good around horses. The two most common breeds prone to attack horses are:
-Pit Bulls
-Rottweilers
Are Horses Scared Of Dogs?
A horse is inherently a prey animal. While some horses may be more confident than others, when introduced improperly a dog is likely to be seen as a predator. This will lead the horse to become panicked and flee.
Why Is My Dog Is Obsessed With My Horse?
Dogs are companion animals and likely to seek out relationships, but beyond that, many dogs are bred for herding and hunting. Herding dogs are bred to herd livestock. They may feel an instinctual drive toward your horse. Hunting dogs are bred to stalk and chase. They may also be driven to find and follow your horse.
Why Is My Dog Whining At My Horse?
Your dog may be whining at your horse in search of attention, or in play. It can also, however, be a sign that your dog is feeling scared or threatened. If it is whining, it's best to remove the dog from the situation for a short time until you can better determine how it is feeling.
Do Horses Live Well Together With Dogs?
Once properly introduced, horses and dogs can get along very well. There is a long history of dogs and horses working together on farms and on hunts with little to no problems. Overall both species are very agreeable to humans and animals alike.
Are Horses Scared Of Dogs Barking?
Barking can be a startling trigger to a horse's fight or flight instincts. It may signal to the horse that the dog is a predator. Especially if your horse hasn't heard dogs barking before, spend a lot of time supervising in order to gauge their reactions.
Will The Horse Attack The Dog?
A horse will often choose to flee before attacking, but if provoked or acting in self-defense, a horse will attack. Due to sheer size, a horse can inflict a lot of damage on a dog, even as an overall docile creature.
How To Get My Horse To Love My Dog?
The best way to facilitate a loving relationship between horse and dog is to let it happen naturally. Don't try to force the relationship. Let the animals lead with their curiosity, and let them spend as much time together as possible so long as they both continue to have positive responses to each other.
[What Should I Do] My Dog Is Eating Horse Poop?
As pet owners know, dogs often eat things they shouldn't, including horse poop. Most dogs will be fine after consumption of a small amount, but horse poop often contains worming treatments that can be toxic to dogs. Certain breeds are at higher risk, including Collies, Shetland sheepdogs, Australian Shepherds, Old English Sheepdogs, long-haired whippets, and Merle Pomeranians.
If your dog eats horse manure, watch closely for any symptoms of toxicity–dilated pupils, balance issues, lethargy, disorientation, vomiting, drooling and seizures. Bring them to a vet immediately upon any signs of symptoms.
Begin training your dog early to not eat horse poop. Always keep a close eye out, especially if your dog is an at-risk breed.
[What Should I Do] My Horse Is Eating Dog Poop?
A foal eating their own manure is a normal phase of development until about 3 months of age. Eating dog poop, however, is considered abnormal behavior. Do your best to keep your dog from pooping in the horse's area, and give the horse some form of negative feedback to train. Follow up with your vet as needed.
Do Horses Make Good Pets?
Horses make great pets because they become a companion, as well as a form of sport or transportation. Consider your own ability to spend the time and money necessary to care for it, as well as deal with different horse temperaments.
How Much Room Does A Horse Need?
A horse needs from one to two acres to meet their nutritional needs from foraging the pasture. One to two acres is also optimal for movement. If you are meeting most of its food needs, the horse needs a minimum of one tenth of an acre.
Is It Expensive To Raise Horses?
The initial cost of a horse can range from between $100 and $10,000. The minimum cost of a horse including hay, mineral supplements, salt blocks, farrier, dewormer, dentistry and vaccinations is $1830 a year. This does not include the costs of higher quality food or supplements, additional vaccinations, illness/injury, or costs associated with the land, such as property, property taxes, insurance, property maintenance, etc.
Do Horses Learn Their Names?
Horses learn to respond to their names, however, they learn to respond to the specific sound and tone of your voice rather than the word itself. This is why you may notice your horse responding to new nicknames as well.
Can A Horse Get A Dog Pregnant?
A horse cannot get a dog pregnant.
Can A Dog Get A Horse Pregnant?
A dog cannot get a horse pregnant.
Why Is My Dog Petrified Of The Horse's Beak?
Dogs can become afraid of something unfamiliar, and as the horse's snout is what moves the most to interact, it may appear to be the threatening part of the animal.
References
How Horses Get Along With Other Species
https://wagwalking.com/sense/can-dogs-live-with-horses