When traveling on vacation, leaving your Shih Tzu behind can be difficult, whether you are leaving them with a pet sitter, a pet hotel, or boarding them in some kennel. It's always crucial that you properly care for your Shih Tzu when they are left alone with a pet sitter or in a kennel. Here is a couple of tips to prepare your dog for your departure.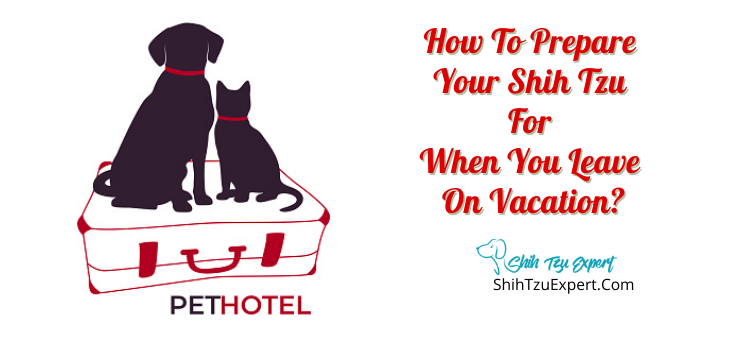 Decide where to leave your dog.
When preparing for your departure, ask yourself if I should leave my dog with a pet sitter or board them in some kennel; the question depends on several factors, like how long you will be away? Also, where are you traveling to (local nearby?), and who is the pet sitter/kennel with which you will be leaving your dog. In asking these questions, you are already halfway to finding the best option for your Shih Tzu.
If you board your Shih Tzu in a kennel, then there will probably be room for you to spend time with them all day before you leave. However, if your dog is boarded at home, it's always best to get the pet sitter familiar with your dog and their routine, so they know how to care for them when you leave.
Spend Some Extra Time Together
Before you leave on your vacation, spend some extra time with your dog to make them feel comfortable. For example, toss the ball for them or play a game of tug-of-war. You need to make sure they are happy and know who they will be spending their time with when you leave on vacation.
Meet the dog sitter or staff at the kennel with your dog.
Ensure that your dog sitter or boarding staff is familiar with the needs of your Shih Tzu. For example, it may be a good idea to bring out some treats and let your dog sniff the person so they can get comfortable with each other before you leave on vacation.
Ensure that your dog's sitting staff are familiar with the feeding schedule, potty schedule, any other daily routines if there are any specific needs for your dog while away on vacation, ensure that your sitter knows this information to keep your dog safe and happy while away.
Reduce Separation Anxiety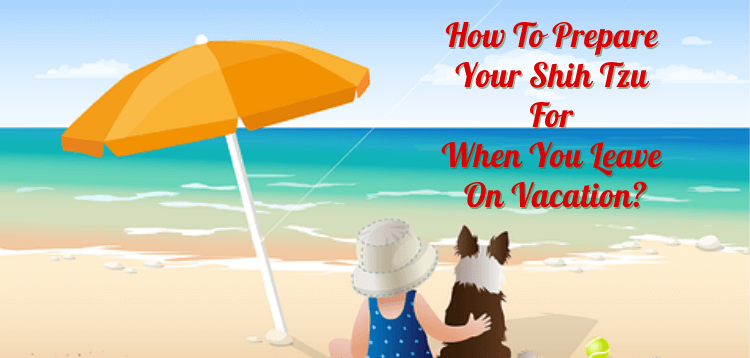 Separation anxiety can occur while you are away. Many things can cause a dog to suffer from separation anxiety, such as being left alone for the first time, changes in daily routine, or even sudden changes in where they sleep. To reduce separation anxiety, make sure that your dog gets enough exercise before you leave on vacation and try to keep their regular schedule as much as possible until you arrive back home.
Buy some calming toys.
If your Shih Tzu suffers from separation anxiety or there is a chance of becoming anxious, make sure you buy some calming toys before you leave for vacation. There are many great products on the market to help reduce separation anxiety naturally in dogs.
Buy your dog a cozy bed.
A comfy bed will make your dog feel at home and help reduce any fear of the unknown. A cozy bed will also give them a safe place to retreat when they don't want to be bothered by other dogs or strangers.
A few more things before leaving…
Never try to bribe or reward your dog with treats when you come home if they have suffered from separation anxiety while you were gone. This can associate being alone with negative feelings, which can increase their fear of being left alone.
Remember to have fun on your vacation, and remember to take care of your dog first and foremost!