We may earn commission from qualifying purchases at no extra cost to you.
Learn more
Quick Summary
If you are looking for a Quick and Easy but a very Effective Long term solution that does not cost a fortune, then The Furbo Dog Camera is our recommendation.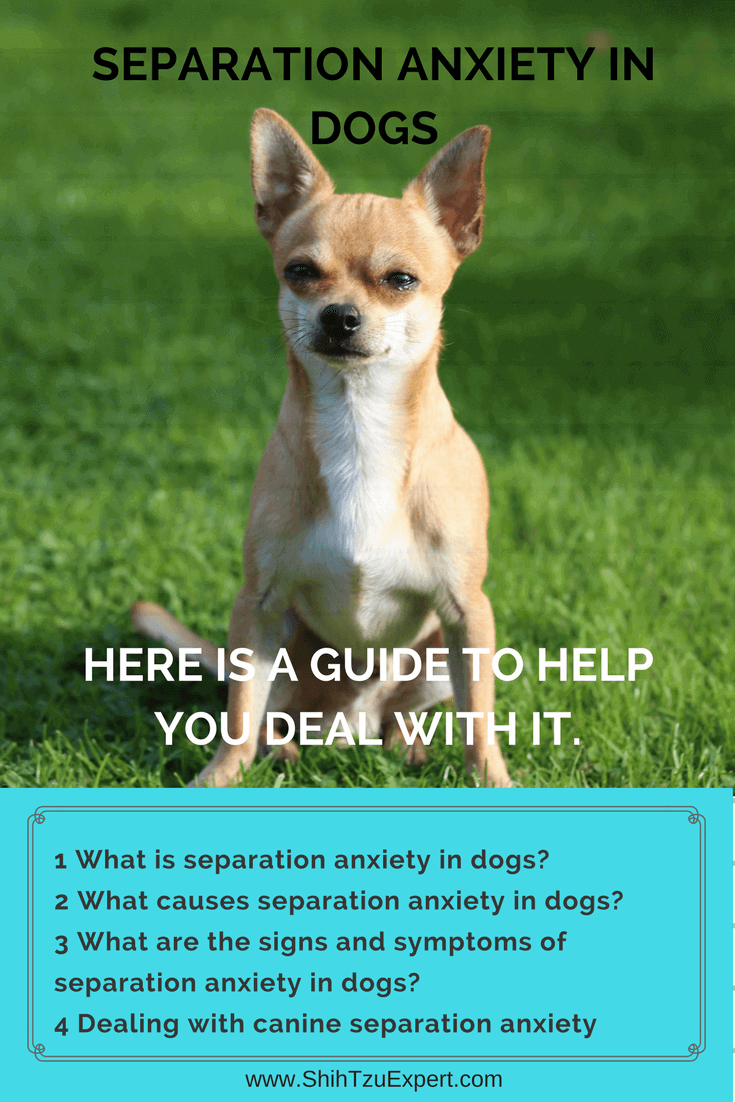 Saying good-bye to your dog for a few minutes or six hours should be non-eventful, but for some dogs, a distressing panic sets in.  It is heartbreaking for both owner and pet, and there are various reasons for it.  Let's look at what leads up to separation anxiety in dogs, and what can be done about it.
What is separation anxiety in dogs?
Separation anxiety is defined as a panic or distress a dog undergoes when his owner leaves, whether for a few minutes or a few hours.  Certain annoying  or harmful behaviors occur as a result of this distress, such as barking loudly, digging in the yard and chewing just about anything.  Left untreated, separation anxiety in your dog could lead to property damage and more important, self-injury.
It is important to be able to tell the difference between true distress in your dog, and simulated separation anxiety — behavior which is actually learned because they know they can get a desired result from you, their guardian.  That desired result is constant attention, even if your dog is being punished for that behavior.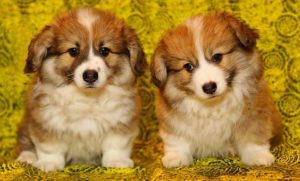 Bad behavior in your absence doesn't necessarily mean separation anxiety.  Your dog might be alarmed by an unusual noise while you are gone.  He may be full of energy from not getting enough exercise, and finds joy in tearing apart a pillow.  Your dog may pee in the house if he has been left too long without going outside.  If the bad behavior doesn't happen all the time, chances are it is not separation anxiety.
Do we actually participate in our dogs' separation anxiety?  Cesar's Way explains that if we give our dogs a lot of attention when we leave, and then again when we come home, we are actually provoking anxiety.  We are telling our dogs that it is good to be distressed when we leave, because they will get attention.
Another way in which we unknowingly create stressful situations for our dogs is not to provide enough exercise or mental stimulation for them.  Just as we create a routine of well-being for ourselves and family members, we need to create a routine for our dogs.
What causes separation anxiety in dogs?
All dogs have an instinctual pack mentality.  When they become part of our families, we are their pack, and it is essential to them to be connected to us.  Through good training, we can alleviate their fears of losing the pack.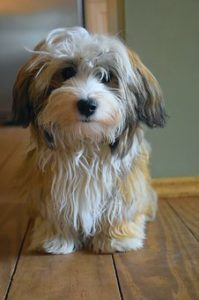 Separation anxiety is also related to a dog's perception of time.  Our world is based on events while a dog's world is based on environmental changes; they link sounds, smells, and other physical sensations to time.  If dogs cannot relate a new event to a familiar sensation, such as your voice, touch and smell, it causes them fear and stress.  So if we abruptly leave without having created first a comforting routine for our dogs, they are going to experience separation anxiety.
Since dogs are incredibly sensitive to scent, they can tell that the longer we are gone, the less our scent lingers, and that causes distress.
What are the signs and symptoms of separation anxiety in dogs?
Separation anxiety usually occurs within the first 40 minutes that you are gone.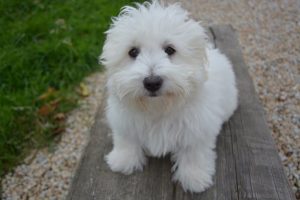 There is a period of disruptive or destructive behavior, anywhere from not eating to biting paws.  Your distressed dog might howl and bark all the time you are gone. He might pee in the house or even defecate. He could scratch walls and chew on furniture or himself. Or he could try to escape. These are all signs that further training is necessary, but the more important matter is that there is distress.
There are additional instincts which are distinctively stronger in some breeds than others, and these instincts can show up in destructive ways when dogs suffer from separation anxiety.  Dogs who are bred to guard their owners become aggressive, while terriers instinctively dig.  Dogs bred to hunt, like pointers, will carry items other than their toys around the house.  Dogs bred to guard will become aggressive and noisy.  In addition, there are many dog breeds, especially small lap dog breeds, who are bred as companion dogs and are particularly sensitive to any absence from their owners.
Dealing with canine separation anxiety
First, figure out if the behavior is caused only by separation anxiety.  There could be medical reasons for their behavior.  For example, when a dog urinates or defecates suddenly in your presence, this may be a medical problem; a dog will pee or
poo in private
if the cause is separation anxiety.  A dog wants to please his owner.
There is a critical role we can play at the moment our dogs show separation anxiety:  NEVER punish your dog.  His reaction is not trained; it is distress.  Punishment could intensify this distress. At the same time, DO NOT overwhelm your dog with affection. What should we do?   Act calmly, and deflect the stress of the moment by having your dog properly sit, and then reward him for that behavior.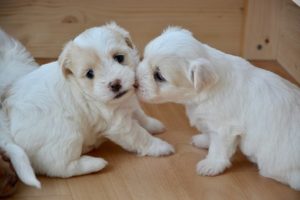 With the incredible variety of dog breeds available, there is a dog to suit your lifestyle with regard to leaving the home.  If your dog is experiencing some mild separation anxiety, there are some easy remedies: some dog breeds like the Poodle and Miniature Schnauzer are intelligent and inquisitive, so they need to have lots of mental stimulation while you are gone.  Physically active dogs like the Jack Russell Terrier or Beagle are best left alone when they are tired out from lots of exercise. Hunting dogs like the game of finding small portions of kibble hidden around the house or yard.
But what can you do when the separation anxiety is more dramatic?
How to treat separation anxiety in dogs
Getting rid of separation anxiety in dogs involves more than just training.  Psychology plays a major role.
One of the keys to alleviating separation anxiety in dogs is to create a pleasurable experience for the dog at the same time you are about to leave, and teach them to be comfortable with and even enjoy the time left alone.
Dog treats are high on the list of effective mood changers, especially those that take a long time to eat (Pets.webmed.com).  There are rubber toys that can be stuffed with doggy edible food like a frozen banana or kibble,  to give your dog a mental exercise as well as a reward.
There are specially certified animal behaviorists who go beyond normal training to treat conditions of separation anxiety through "desensitization and counter conditioning."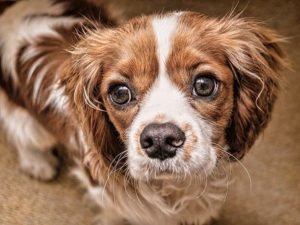 There are several step-by-step short training programs available to prepare your dog for a peaceful period of time at home without you.  They generally include the following:
Make your "departing signals" a common activity.   Does your dog whine or pace when you are grabbing your purse or getting your keys?   These little activities signal to your dog that you are leaving.  The more these activities are done outside of the context of departing, the less importance your dog will place on them and the more relaxed he will be.  Do these activities often, even when you are not leaving, and they will no longer become signals of fear and anticipation to your dog.
Start acclimating your dog with very short absences of a few minutes. Start with leaving the room and teaching your dog to stay. While leaving the room, use your pre-departure clues.  Be calm and reward only good behavior.
Progress to leaving the house through the back door for 15 to 20 minutes, then the front door.  At this point, introduce a food/toy reward.  At this point you might even hop in the car and drive around the block.  Gradually increase your length of departure.
When you have slowly built up to absences of about 90 minutes with no separation anxiety, you are most likely able to leave for four to eight hours.
Be sure there is time enough between your "leaving" exercises to get your dog nice and calm.   Likewise, be sure you are calm when leaving so that there is no cue from you that the departure experience is going to be stressful.
Do separation exercises a few times each day, and optimally at the times you would normally leave the house.  Frequent training with rewarding will be perceived by your dog as positive attention.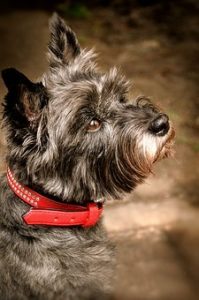 During the training period, there can be no other opportunities for your dog to experience separation anxiety, so that he can learn how to comfort himself.  That means you will need to bring your dog to work with you or on errands, or have someone sit with the dog while you are gone.
A crate can be a place of safety and security for dogs.  In fact, many dog trainers feel that a crate is essential to a well-behaved dog. However, some dogs take well to it, and others do not. See how your dog does while being crated in the home while you are there.  Signs of distress mean you should not use a crate to confine your dog while gone.  Your dog can be confined to a room with baby gate as an alternative.
What happens in cases of severe separation anxiety in dogs?
Veterinarians can prescribe medication such as fluoxetine for separation anxiety, but this is only a short-term solution.  Medication must be used along with training for long-term results that provide comfort to your dog.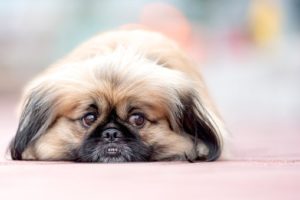 Puppy separation anxiety
By the time you receive him, your puppy will have already gone through one major separation anxiety experience — leaving their litter.   And our first instinct is to cuddle, nurture and protect our puppies, and keep them by our sides.  But crucial to your puppy's well-being and extended confidence into adulthood is training from the very first days of joining your family.  It takes a lot of patience, and separation anxiety is one of the main reasons people turn their puppies in to a shelter or rescue organization.
Puppies can be socialized while at the same time trained to stay at home without separation anxiety.  This is a little more involved and you may want to consult a dog trainer.
Crate training is a great way to provide a safe sanctuary for your puppy, while you are at home and away.
Puppies are full of energy, and getting them tired out before you leave them is beneficial.  The American Kennel Club recommends mental exercise games for your puppy as well as a key to building self-control and confidence.  This will help minimize separation anxiety.
Separation anxiety in older dogs
Shelter dogs may be more susceptible to separation anxiety.  It's hard to know whether they were relinquished because of separation anxiety or whether they have just been separated from their loving owners due to illness, death or other life event, causing psychological distress.  Regardless, many shelter dogs need to go through a period of separation training, and this is something very important to keep in mind when adopting an adult dog.  Establish a daily routine.  Slow, patient training wins their trust.
Separation anxiety in pet owners
Not only are we pet owners in anguish over their dogs' separation anxiety, we experience it ourselves! There are several ways owners can get through the day without too much separation anxiety:
Set up a dog cam;
Keep photos of your pup on your laptop wallpaper and cell phone;
Watch videos of your pup; or
Skype your pet!
Because we love our dogs, and our dogs love us, some separation pangs are inevitable.  When leaving our dogs for minutes or hours causes true separation anxiety, it needs to be addressed for the comfort and safety of your dog above all else.  A confident, secure dog allows for an overall wonderful canine companion experience, home and away.
Dealing with Canine separation anxiety
Of the many things we have tried,
The Furbo Dog Camera
is a revolutionary item that provides an outlet for puppy parents who can't stand to be away from their fur-babies and sets itself apart as a solution for the destructiveness of pet separation anxiety. The camera has a sensor made specifically for dogs that will alert the owner's smart phone that they are barking. Once you get the notification, you can start a two-way chat with your pup to calm them down and reassure them that they are alright. No more coming home to panicky puppies and terrified fur-babies who have destroyed your house because they miss you and want you to come home.
And to ensure that you can keep an eye on them, even when you're not there, the camera comes with night-vision livestream and dog recognition technology that will not only let you know when your fur-baby is doing a particular thing, but also lets you catch a dog selfie. Now you don't have to go forever without seeing your pup. This is great for people who might have to spend a long time away from their animals, due to deployments, vacations, or job travel. And one of the coolest features of this camera is its ability to send treats to your pet. So, you can have the full interactive experience with your dog, even while being far away. You can be there, whenever and from wherever, comfort your pup and ensure that they know that they are safe and loved, the solution for separation anxiety for you and your pet.