Congratulations – You've got a new puppy! Owning a pet comes with a lot of rewards and a lot of responsibilities. One of the most important tasks when it comes to a new puppy is neutering them. Male dogs that have been left intact are at a higher risk for a wide range of health problems, including infections, testicular cancer, and prostate cancer. With the proper aftercare, your puppy can go on to live a happy, carefree life.
Is It Okay To Bathe My Puppy After Neutering?
You must wait at least ten days after surgery to bathe your dog. If you feel he needs to be cleaned, you can use a wet washcloth and gentle dog shampoo, or waterless bath wipes. Make sure the incision site and any stitches or sutures are kept clean and dry. Keep an eye out for any signs of infection, and restrict any physical activities for ten to fourteen days afterwards.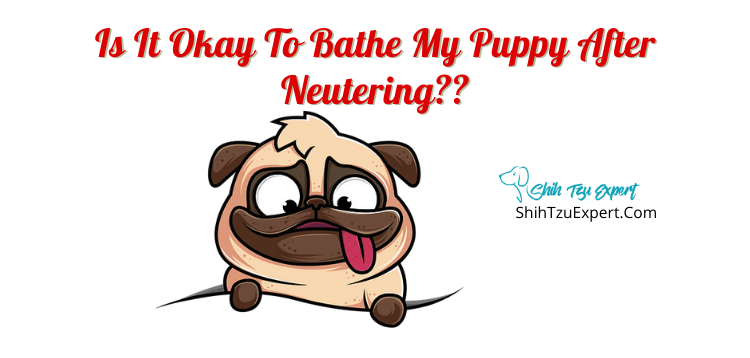 How Long After Being Neutered Can A Dog Have A Bath?
Most veterinarians recommend waiting at least ten days after the neuter surgery to give your puppy a bath, to minimize risk of infection.
Can I Bathe My Puppy Soon After Neutering?
It's recommended that you wait ten days after neuter surgery to bathe your puppy.
Can I Bathe My Dog A Week After Neutering?
No. The recommendation is that you don't bathe your dog for the first ten days after surgery. Soaps and dirty water could possibly enter the incision site and cause infection.
Should I Bathe My Dogs 14 Days After Spaying?
Your veterinarian will recommend you wait 14 days after a spay surgery to reduce the risk of bacteria entering the wound. After the 14th day, you can submerge your dog and bathe with soap and water as usual.
Why Can't I Bathe My Dog Immediately After Spaying Or Neutering?
It's very important to keep the dog's incision and stitches as clean and dry as possible after a spay or neuter surgery. Bathing before the recommended "dry period" could cause the wound to reopen. Soaps or dirty water could enter the wound and introduce bacteria, causing a potentially serious infection.
Can I Bathe My Dog After Stitches Have Been Removed?
Yes. After your dog's stitches are removed, you can submerge the dog in water and bathe with soap and water like you normally would.
How Long After Spaying/Neutering Can My Dog Go Swimming?
As long as your dog's incision has healed properly and any stitches have been removed, you can take your dog swimming ten days post op. If your dog's incision has healed but there are still stitches present, the stitches could soak up any water your dog is submerged in, including pool water and lake or ocean water, and introduce it into the surgery site. This carries a great risk for bacterial infections.
How To Clean My Dog Immediately After Surgery?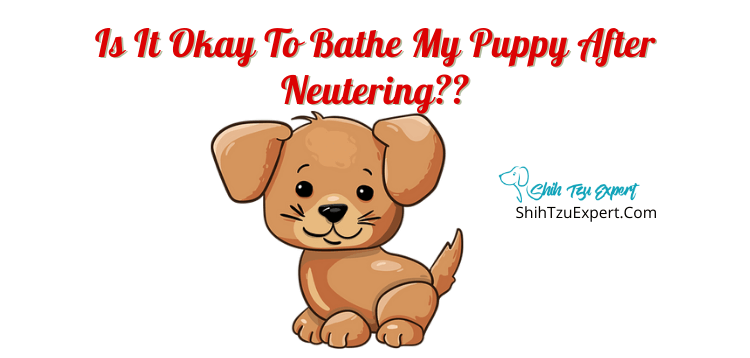 The most important thing to remember is to keep your dog's incision site dry. This is going to speed up the recovery process and ensure that there's no risk of infection. If you do need to clean areas on your dog that aren't near the incision, use a warm washcloth or cotton balls and some mild dog shampoo to spot clean. You can also use waterless bath wipes.
How To Bathe A Dog After Neutering?
If it's after the recommended timeframe, you can bathe your dog as normal. Use warm water and preferably a fragrance-free dog shampoo. Wash your dog like normal, but take care you don't scrub around the incision site. Some shampoo in your hand and gently washing the site is enough.
How Long After A Dog Is Neutered Can He Go For A Walk?
You can take him on a short walk 24 hours after surgery. After ten days, you can work your way back up to your dog's regular activity levels, by starting with calm, short walks and gradually building up to higher levels of activity.
How Long After Being Neutered Can A Dog Play?
For the first ten days after being neutered, restrict your dog's activity. This means no rambunctious play like chasing toys or running around the house. Also try to prevent your dog from jumping up on the sofa or other furniture. After ten days, if the incision has healed properly, your dog will be back to normal.
Can I Bathe My Dog After Neutering (Will It Affect The Surgical Glue)?
No. If you bathe your dog within the initial ten day period, the soap and water may wash away the surgical glue, if that's what your vet used. This may cause the incision to open and potentially cause infection.
Can I Give My Dog A Bath If He Has Stitches?
No. Once the stitches have either dissolved or been removed by your veterinarian, you are free to bathe your dog like usual. If you bathe your dog with fresh stitches, the stitches could soak up dirty water and soap and possibly cause an infection.
How Do I Clean My Dog After Neutering?
Most dogs are fine to wait the initial ten days after neutering before having a bath. If you do need to spot clean areas, use a warm washcloth and some mild soap, always avoiding the incision site.
Should I Groom My Dog Before Neutering?
If you feel like your dog will need to be groomed within ten days after the neutering surgery, you may choose to have him groomed before the procedure. If your dog has mud or dirt caked near the genitals, or your dog has matted fur, it's a good idea to visit your groomer before surgery.
My Dog Smells After Neutering?
If you notice a smell coming from your dog after being neutered, you should check the incision site for signs of infection. If the incision is healing well and your dog still smells, you can spot clean trouble areas using a warm, wet washcloth and gentle dog shampoo.
What Can You Not Do After Your Dog Gets Neutered?
Limit your dog's physical activity as much as you can during the first 10-14 days. If your home has stairs, carry your dog up and down them. Keep him away from other dogs, even ones in your home, to avoid any roughhousing and hard play.
How To Clean The Dog Without Giving Them A Shower/Bath?
You can use waterless bath wipes if you feel you need to clean your dog after surgery. Bath wipes can eliminate dirt and stinky smells without having to submerge your pet in water. Make sure you choose a fragrance-free option and avoid the incision site.
Should I Clean The Incision Site?
Most of the time, you won't need to clean the incision site. It's common sometimes for a little pus and liquid to ooze from the site, and if you notice that you can use a Q-Tip with a drop or two of hydrogen peroxide to wipe away any liquid. Let it air dry.
What Are The Signs That A Spay/Neuter Incision Having Problems Like Infections?
With proper care, infection is rare but can still occur. If you notice redness around the incision or a foul-smelling discharge oozing from it, immediately take your dog to the vet. If there's no visible signs of infection but your pet is acting lethargic, not drinking water or eating and not eliminating, you still need to contact your vet.
How To Help The Dog Heal Faster?
Proper care is all that's needed to help your dog heal from neuter surgery. "Baby" your dog as much as possible, including carrying him up and down stairs and helping him get in and out of his bed. If you allow your dog on your furniture, pick him up and put him on the furniture so he doesn't have to jump up. Offer plenty of fresh water and make sure you're still taking him on short walks. Most importantly, keep the incision site clean and dry.
References
https://www.petmd.com/dog/care/spay-and-neutering-dogs-101-everything-you-need-know
https://www.theveterinarynurse.com/review/article/an-update-on-the-risks-and-benefits-of-neutering-in-dogs