Hitting your dog by accident will leave you feeling guilty and wondering how to regain their trust. You might also be worried about their health and if you hurt them.
Below we are going to discuss this in more detail and hopefully help you with some questions you might have.
I Accidentally Hit My Dog
Dogs are resilient and strong animals, they are playful and get excited easily so they are bound to get under your feet or get hit by a door sometimes. A small bump probably isn't too much of a concern; most dogs will shake it off and carry on as if nothing happened.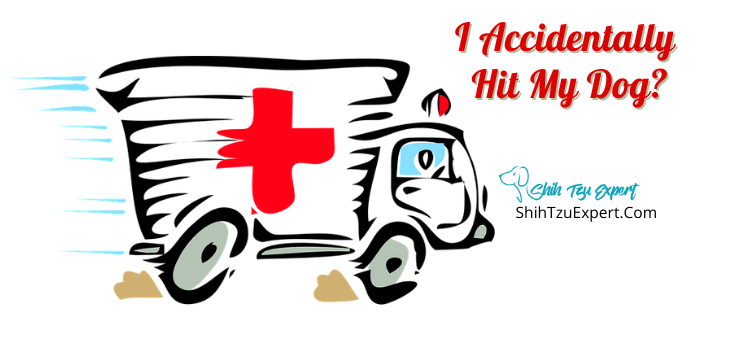 What Is The Worst Place To Accidentally Hit A Dog?
Hitting your dog on the head is probably one of the worst places to hit them. Just like humans and other animals, getting hit on the head can lead to concussion or serious injury.
If it wasn't a hard knock your pup should be just fine but if they are behaving strangely, you should take them to a vet to be checked out.
I Accidentally Hit My Dog In The Head With My Phone/Elbow
Dog's skulls are thicker than humans so if it was a soft bump your dog should be fine. If you hit him really hard you should make sure that he didn't get injured.
Injuries to the head can be serious so you want to keep an eye on him and make sure that he is behaving like he always does. Watch out for any bleeding, swelling or tenderness.
I Accidentally Hit My Dog In The Nose/Face
A dog's muzzle is extremely sensitive so hitting him on the nose may cause a lot of pain.
It isn't necessarily a cause for concern, but you want to make sure that he is breathing well and that there is no bleeding.
I Accidentally Hit My Dog In The Eye
If you didn't hit him hard, your pup should be fine. If you accidently hit him with a toy or sharp object you will have to keep a close eye on him.
If he is squinting or his eye is swollen, red or tearing up you will have to take him to a vet. Make sure to put a cone on him if you have one, this will prevent him from scratching his eye and causing more harm.
I Accidentally Hit My Dog With The Door
This can happen to all of us and probably has. You get distracted, open the door and hear a thud followed by a yelp.
If your dog doesn't act strange after the bump he most likely didn't even get hurt but if he's behaviour is abnormal, it may be time to take a trip to the vet.
I Accidentally Hit My Dog With A Ball
Usually balls aren't that hard and shouldn't cause any damage. It has probably happened to most dogs.
They get so excited at play time. You can't control the bounce of the ball and unless you have superhuman strength you probably didn't throw it hard enough to do any real damage. If you pooch continues to play and shows no symptom of pain you don't have anything to worry about.
Accidentally Kicked My Dog In The Stomach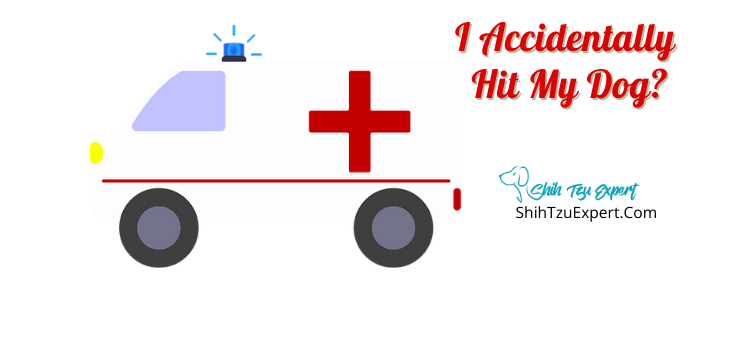 Sometimes dogs get very excited and dance around us, jumping and barking. It is easy to kick them by accident if they run in front of you. I am sure you didn't mean to kick him but you should be more careful as a dog's stomach is very sensitive.
If it is night time, make sure to always put a light on and know where your pup is to avoid kicking him or stepping on him by accident.
What Should I Do If I Accidentally Hit My Dog?
If you hit your dog hard and in a sensitive area, you should make sure that he or she is okay before doing anything else. Check for swelling, redness, bleeding or any unusual behaviour.
If it was a soft bump and no damage was done your dog might not think much of it. Dogs bump each other all the time while playing and if you hit him or her while playing they might just carry on as normal.
You should probably apologize by giving them some extra cuddles and treats. They will appreciate it and it will help you feel better about what happened.
Does My Dog Know I Hurt Her By Accident?
Dogs are very sensitive to our emotions. They are able to tell when we are sad and when we are happy. Your dog should also be able to tell if you hurt her by accident or on purpose by your behaviour.
If you yell at your dog for being in the way, she might think that you are angry and that you hurt her on purpose but if you continue on as normal or apologize and show you are sorry, your pup will most likely be able to understand that it was an accident.
How Can I Gain Back My Dog's Trust After Accidentally Hitting, Kicking, Stepping On It?
Spend time with your dog but don't force him to do things, just sit with him and let him come to you. When he approaches you, be gentle and reward him with treats.
Stay positive and don't get angry with your dog. Play his favourite game with him and show him lots of affection.
Do Dogs Hold Grudges After Being Hurt?
Dogs are definitely able to feel a wide array of emotions. They are happy at playtime and scared when going to the vet. They can remember and associate certain behaviours or places with things that have happened to them in the past.
If you are a loving pet owner and treat your dog right you don't have anything to worry about. Your dog knows you and if you hurt it by accident it has the intellectual capacity to understand that it was not on purpose.
I Accidentally Hurt My Dog And Now It Hates Me [What Should I Do]?
It is highly unlikely that your dog hates you. Dogs are forgiving creatures but if you hurt them they might become scared of you. Most of the time dogs are able to understand that you hurt them by accident but not all the time. This is called classical conditioning.
Make sure to take the time to rebuild your dog's trust. Don't expect him or her to just forget and carry on as normal. If they are scared you are going to have to show your dog that you can be trusted again.
How To Explain To The Dog That I Hit By Accident?
Your dog might not be able to understand all your words but it can pick up on your emotions. If you hurt it by accident, simply apologize and give them some extra love and attention for a few minutes.
How To Avoid Accidentally Hitting The Dog?
There are many things you can do to avoid hurting your pooch by accident. Here is a list of easy but helpful tips.
Make sure that all toys you give your dog is pet friendly and don't have sharp edges.
Don't be too rough when playing.
It might be tricky but try to know where your pet is at all times so you don't bump them with a door or kick them by accident.
Switch the lights on when walking around at night.
Put a bell on their collar, this will help you to keep track of where they are.
Teach them to sleep in their own bed and try to get them used to going to bed at the same time as you.
Control their excitement by making sure they get a lot of exercise and play time.
Is It More Dangerous To Accidentally Hit A Puppy That A Grownup Dog?
Yes, a puppy's body is still growing, meaning their body is not fully developed yet. Their bodies are not as strong as an adult dog's and they can get hurt if you hit them too hard, even if it is by accident.
You should be extra careful to never bump your puppy on the head as they have a soft spot in their skulls just like human babies.
How Dangerous Is It For A Dog To Get Hit In The Head?
It can be extremely dangerous to hit your dog on their head. A little bump from a soft toy probably won't cause any harm but a hard hit can cause serious injuries and even death.
How Can I My Dog Recover? Will It Ever Recover?
Your dog's recovery depends on the severity of the injury it sustained. Small scratches and bumps usually heal up without any issues.
A broken bone or strained muscle can take much longer to heal and your pooch will need your help with the recovery process.
When it comes to head injuries or internal injuries, recovery might not be guaranteed.
Make sure to get your pet to a vet immediately if you think it might have a serious head injury or internal bleeding. The faster you pup gets help the better their chances of survival.
Does Accidentally Hitting A Dog In The Head Cause Brain Damage?
This will depend on how hard you hit your dog. A soft little bump probably won't do any harm and your dog should be fine.
If you let something heavy fall on its head or you hit him with severe force on the head it could lead to brain injuries.
How Do I Know If My Dog Has A Head Injury?
The obvious signs would be a bump and bruises but sometimes warning signs might be a bit trickier to see.
If you suspect that your dog might have a head injury, watch out for things like lethargy, seizures, bleeding from the ears or nose and pupil dilation.
Various Types Of Head Injuries On Dogs?
Diffuse Axonal
If your dog has been violently shaken or rotated it can result in a diffuse axonal injury which is extremely serious and can be fatal. The brain's nerve tissues tear and this can cause severe brain injuries and your dog can go into a coma.
The possibility of recovering is there but it is slim and even then your dog might need a lot of rehabilitation therapy.
Coup-Contrecoup
Another serious brain injury is coup-contrecoup. This will happen if your dog's head is hit so hard that it's brain moves and hits the other side of its skull.
There will be a contusion at the original place of injury and on the inside where your dog's brain hit his skull on the opposite side.
Contusion
If your poor pooch hits his head extremely hard it can cause a contusion which is basically bleeding or swelling on the brain. This kind of injury can damage the nerves of the brain or the brain can press against the skull from the swelling.
If the injury is severe it can cause brain damage and even be fatal.
Concussion
A concussion is probably the most common head injury in dogs. It is treatable and will only cause permanent damage if it is severe or not treated in time.
This kind of injury can happen from any hard bump to your dog's head and should be taken seriously.
What Is The Best First Aid To Give At Home For Concussion?
If you think your dog has a concussion you should take him to the vet but there are a few things you can do to help your pooch.
You do not want your dog to go into shock so cover them with a blanket to help with blood circulation.
You should also keep your dog's head elevated and take off it's collar. If your pooch stops breathing you should perform cpr.
When Should I Take The Dog To The Vet?
If your dog is behaving strangely or got hurt you should take him or her to the vet. There are a lot of symptoms or behaviours that you can look out for to help you figure out if your dog might be ill or suffering from an injury.
Obvious signs are open wounds, vomiting, bleeding from the mouth, nose or eyes, difficulty breathing and extreme shaking and whining.
There are some symptoms that aren't so easy to recognize. Keep an eye on their eating and drinking habits, their coat, lethargy and cloudy eyes.
As a pet owner it is your responsibility to care of your pup and sometimes they do get hurt. Look out for any symptoms of injuries and always take them to the vet immediately if you think something might be wrong with them.
References
https://www.wagwalking.com