There Are No Benefits To Slapping Our Dogs, Only Consequences
Negative reinforcement is in the past. As dog owners, we have a duty of care to our animal companions, or else we run the risk of instilling fear and mistrust.
If we want to develop healthy, lasting relationships with our pets, we need to change our behaviours, not theirs.
I Slapped My Dog!
Practicing physical violence against any defenseless animal is cruel and misguided, and there are many reasons why you shouldn't do so with your dog. To develop a happy and healthy working relationship, it is always better to lead with positive reinforcement, and avoid abusive methods, to get the behaviors you want in your pet.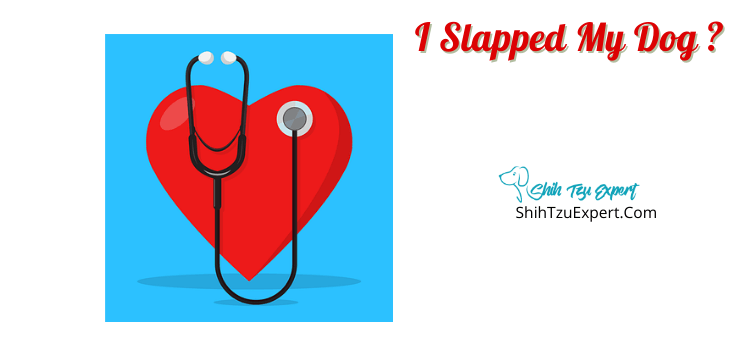 Is It Ever Okay To Slap My Dog?
Studies have shown us that there are little to no benefits for slapping our animals. This type of technique, termed "positive punishment", has been publicized for over a decade by animal trainers such as Cesar Milan as a means of discipline. Since shows like "Dog Whisperer" aired iit has been found that such techniques are outdated as well as cruel towards the animal in your care. Unfortunately, many trainers today still follow this practice, and the fact that results appear misleadingly instantaneous can make smacking your animal a more appealing strategy.
I Smacked My Dog Last Night, Was I In The Wrong ?
Yes, you would have been in the wrong for resorting to violence in order to control your pet. More and more evidence is coming to light that physical harm as a training method is cruel to the animal, who looks to you for guidance and security.
Will My Dog Ever Forgive Me For Slapping Him?
The concept of forgiveness is very human, and it's unlikely that your dog will forgive a slap as much as they might forget the circumstances. Abused dogs may still get excited over new "friends" they meet at the park, because they do not apply their experience with violence to every new human they encounter. What they do remember are circumstances, so if they've come to associate you and your home with violent action then you will have to put in the work of helping your dog associate you with brighter, happier memories that don't involve slapping or hitting.
Is It Ok To Slap My Dog Again If He Has Already Forgiven Me?
This is absolutely not okay, under any circumstances. Your dog trusts you with their health and safety, and even if they have since come back to you for pets and cuddles, there is no guarantee that they have not sustained psychological damage. Physical harm is animal abuse.
Why Do I Lose My Temper And Slap My Dog [How Can I Change]?
Hitting an animal usually signifies a loss of control in the dog owner, not the dog. It's occurred because of a failure to communicate what behaviours are ok and what are not. In order to stop losing your temper with your pet, you need to work to reestablish control in a manner that is healthy for the both of you. In the immediate term this may mean separating yourself from the dog in time out so you can regain your calm. Long term may require being proactive and taking training classes from a reputable trainer.
I Slapped My Dog And He Peed [Will He Ever Be Ok]?
Peeing is a fear response, known as submissive urination, which is usually found in either very young animals or very anxious ones. While the former is a behaviour that dogs grow out of as they age, if your dog is peeing because of fear then it is important to address the situations in which they pee. Make sure to do so in a gentle manner.
My Dog Is Scared Of Me Because I Slapped Him?
This is an understandable response; your dog has learned that you are a source of pain, and will therefore exhibit fear responses in reaction to your presence. While you cannot expect a dog to possess the complex reasoning skills to know why you've hurt them, they are certainly possessed of the survival skills to know you may bring them more pain at any moment.
I Slapped My Poor Puppy For Biting Me?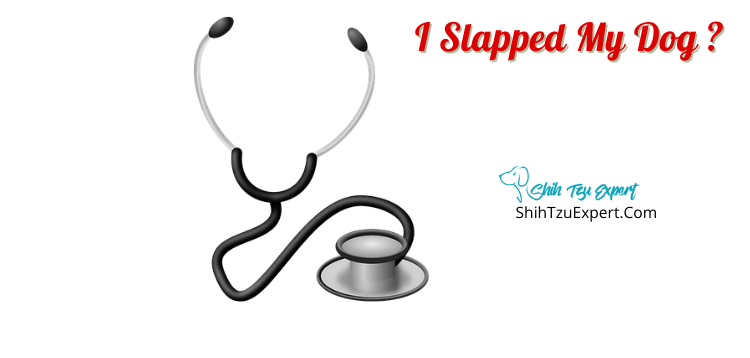 The sunshine and rainbows of puppy ownership tend to gloss over the frustrations of a young animal learning to socialize, and it can be tough navigating the endless yapping and chewing when all you hope for is a cute little cuddly companion. Your puppy is young, not unlike a human baby in that they are looking to their elders for guidance. It is your responsibility as their caregiver to teach them social cues without resorting to violence or harm.
I Slapped My Dog And Now He Growls At Me?
In a perfect world, humans and dogs would share a common language and communication would be easy. Failing that, it's important to recognize that your animal uses mainly nonverbal cues to convey their feelings. Your dog has, understandably, now come to associate your presence with physical harm. In order to protect himself he is communicating that you keep your distance. Most animals warn others away with hissing and growling. This is in advance of their next step if their personal space isn't being respected, which is to bite or scratch. Your dog is simply reacting as instinctively as he knows how.
Is Slapping Your Dog Abuse?
Yes, physical violence towards an animal is animal abuse. There are no exceptions.
Do Dogs Like When You Slap Them?
Nobody, animal or human, likes to be struck in anger. Do you like being hit when you have done something wrong? This is never a good solution to a frustration you might have, be it with chewing or peeing in the house, or other unruly behavior. There are better ways, which will be outlined below, to teach your pup.
How Do I Say Sorry To My Dog?
Dogs don't process feelings of guilt or shame in the same way that humans do, much like babies. Any apologies given to a dog are usually more for the peace of mind of their owner. What can be done, however, and is something we do fairly reactively, is shower a dog in physical affection. Speak their language, if you will. The best way to show your dog you are truly sorry is to cease negative or harmful physical behaviour towards it.
How Do You Discipline A Dog That Won't Listen?
Positive reinforcement is the training method that most reliable and certified trainers will champion as being rewarding and effective. The trick is in showing your dog that good behaviour is rewarded with treats and affection, because then they will endeavour to display such behaviour all the time. Every time the dog displays good behavior, such as peeing outside or walking calmly on a leash, you reward them lavishly, associating it with positive reward. Where most people fail is not realizing that this is a process that takes time. Your dog will not always succeed in walking beside you on a leash, or in not barking at passing motorcars. In those moments, you must not react to that behavior; be patient, and when your dog stops their barking or falls back in line you reward them and praise them generously. They will soon start associating their good actions with good rewards. It may not be a technique that works for you overnight, but it is better to take extra care in having a happy and well-trained dog, than to have a submissive animal who lives in fear of you.
How Long Will My Dog Be Scared Of Me?
Dogs have very short-term memories, and exist mostly in the present moment. What you will have to combat is the pattern-recognition they may have formed in response to your behavior. If your dog has learned to associate you with the pain of a raised hand, then it will take work to positively condition them to associate that same hand with affection and safety. In short, your dog will be scared of you until you take steps to correct your own behavior.
Does It Hurt When I Slap My Dog?
Every living animal feels pain, even if they can't verbally communicate it like we can. Dogs have thinner skin than we do, so a slap from a hand or devices like prong collars that feel mildly uncomfortable to us are harmful to your pet. Additionally, like most animals with a high survival drive, your dog may have even learned to hide its pain from you to protect itself from further harm. They are, however, still in pain.
My Hand Hurts After Slapping The Dog!
It should! Don't do it! There is no sympathy to be found for the pain gained in inflicting pain. Don't do it again.
Is Hitting Your Dog For Bad Behavior Illegal?
According to organizations like the Animal Welfare Institute, animal abuse constitutes any behavior with deliberate intention to harm, injure, or kill. This includes neglectful behaviour such as depriving animals of food and water, and it does include physical violence such as kicking, hitting and beating. Not only is it morally wrong, but if someone were to see you doing it you could be charged with animal cruelty.
What Happens When A Dog Is Physically Punished/Abused?
One of the biggest things is that, simply, it hurts. Dogs have a nervous system like any mammal and can feel pain just like we humans do. Because of that pain, the dog will go through behavioural changes and become aggressive, possessive, or anxious. They develop an insecurity towards their own actions, especially in your presence.
For How Long Do Dogs Remember Bad Experiences?
Memory doesn't work the same way for dogs as it does for humans. Your dog is a loveable but simple animal, and while they can reason they cannot pair it with memory the way we can. To them they don't know that you have hit them because they peed on your carpet; they will only assume that peeing in front of you leads to pain, and start peeing elsewhere in your house. What your dog will remember is the context and situation of those bad experiences, and will continue to react to them until they are stopped. This may include the room in which the situation occurs, or unfortunately the human who has induced that painful situation.
What Is The Best Way To Discipline My Dog Without Resorting To Physical Violence?
We rarely acknowledge the power of our voice, and the power of body language. Dogs utilize body language abundantly in their conversations with other animals, and that includes us. If you're having trouble with your dog learning a desirable behaviour, instead of resorting to violence you can do a number of things. Using your voice, sharpening it in tone, to get your dog's attention and redirecting their focus from there can work wonders. Other things that are disciplinary but not harmful include putting your dog on time out, removing them from the source of stimulation and avoiding giving any attention to them. What you're hoping to achieve is redirection of their attention away from the negative behaviour they're displaying and onto a positive behaviour for which they will receive lavish attention.
How Should I Discipline My Dog When I Am Angry/Frustrated?
We all experience times in life that make us angry, or frustrated. This is a very human quality, but what we need to remember is that our dogs look to us for safety and affection, and do not have the capacity to understand that our anger is complex. If you lash out, they will only see and recall your physical action against their bodies. It's important to practice patience so that in those moments of frustration you can compartmentalize, deal calmly with the behaviour at hand without needlessly making your dog suffer. It is perfectly ok to take time away from your dog afterwards, possibly in the form of giving them time out in their crate while you clean up their mess. Use that time to calm down and reflect on what caused the unwanted behaviour. Then when you're ready to redirect and solve the issue, you will be in a happier mindset. Additionally, do not take it personally if you return to your pet to find them happy-go-lucky and completely unaware of their prior behaviour; they simply do not have the memory we do and to them the incident never happened.
My Dog Is Terrified Of Me Because I Hit Him, What Can I Do To Fix This?
You are going to have to work to reassociate positivity and affection with your presence. Unless you are guilty of repeatedly harming your dog, a big belly rub and cuddles will do the trick, or perhaps their favorite bone or toy. If you are guilty of repeat violence, then you will have to practice calm, gentle, and loving behaviour with your dog, going at their pace to reestablish a healthy relationship. If they cower from you, respect the boundaries they're setting and carefully reintroduce positive behavior into your relationship again.
Works Cited
Horwitz, Debra and Gary Landsberg. "Why Punishment Should Be Avoided". VCA, Mars Inc, https://vcahospitals.com/know-your-pet/why-punishment-should-be-avoided
"Prong Collar Myths and Facts". What's Wrong With the Prong, SFSPCA, 2021, https://www.sfspca.org/behavior-training/prong/myths/
"Submissive urination: Why your dog might do this–and how to make them stop". The Humane Society of the United States, https://www.humanesociety.org/resources/dog-submissive-urination-solutions