We may earn commission from qualifying purchases at no extra cost to you.
Learn more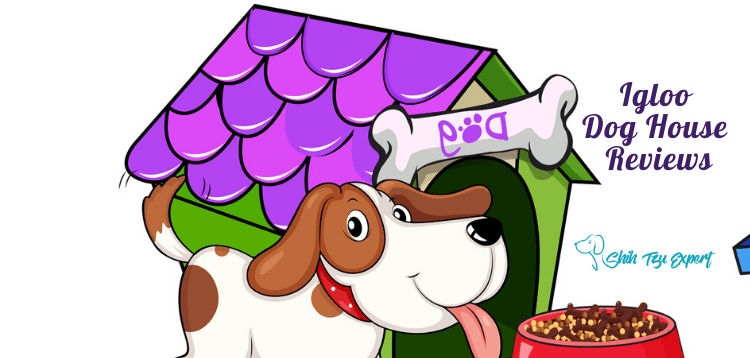 Have you ever considered buying a dog house, but don't know where to start, or if your dog would even use it? Well, this is the article for you! We will cover four of our favorite products. Dog Houses are a perfect outdoor or indoor home for your pet to adapt as their perfect hideaway and place of comfort.
This doghouse is a highly rated igloo, complete with commodities that keep it
extremely versatile
and make it a great buy for someone looking for an igloo style dog house. Made with Microban, it acts as a fortress against the forces of bacteria and mold that will destroy an ordinary doghouse. It also contains structured foam, which is an insulated plastic, making it easy to clean when your pet has an accident. Its construction is very durable because of this, and will help your pet stay
warm in the winter
and cold in the summer. The roof contains ventilation that will help circulate the air and keep the home safe and comfortable for the dog or cat. It is very easy to put together, coming in two pieces that will snap in place. There are three different options for size: medium, large, and extra-large.
The medium will fit a smaller dog, such as a yorkie or dachshund
, while the large and
extra-large continue to fit pets bigger in size
. The dome-shaped top of the igloo is weather resistant, providing a fortress against the storms and forces that could bring erosion and damage against the house.
Pros:
-Strong ventilation
-Weather resistant
-Durable
-Protection against bacteria
-Sizes to choose from
-Easy construction
Cons:
-Can be difficult to move
-Bulky Construction
How do you decide if this is the right dog house for your dog?
If you have an outside dog who needs a place to sleep, this is a perfect place to keep them. It will shelter them from strong weather conditions, while also keeping them warm and protected. Even cats can use it! You want to make sure you get the right size, as the dog house shouldn't be too big, but just a little bigger than the animal so they can be cozy and curl up inside their new home.
What some people also don't realize is that having their dogs sleep in the same bed with them may negatively affect both the dog and themselves. Dogs can carry bugs which will get in the bed, and it sets them up with a routine that may not always be there. It will be beneficial to start your dog early on by having a bed of their own that they can sleep in, which allows them to have their own space to go to when they need it.
This cat bed is a highly reviewed product, in part, because of its soft walls and flooring that make the interior very appealing to small cats. Not only is this a cat bed, but also can be used for small dogs. It's available in one color: brown, and comes in one size: 14" x 14" x 14." This is a machine washable product, and has a non-slip rubberized flooring, which prevents the pets from slipping once they are laying inside the bed. This is meant for the indoors, and is the perfect size to place inside any room in the house. It is easily transportable, and we have found that many cats and
dogs love to spend the majority of their time in this home because of the comfort level included in the bed
. If you are looking for a place for your pet to lounge, this is the product for you.
Pros:
-Comfortable
-Machine washable
-Easily Transportable
-Non-slip flooring
Cons:
-Currently unavailable on Amazon
How does this product compare to the first igloo dog house?
Igloo dog houses come with a background in Canadian Inuit tribes, with some dogs finding comfort in the Igloo design. Cats do not have such connections to an igloo, and may find more comfort in the cat cave bed. This is a smaller item that is more suitable for keeping inside the house. They are also made up of different materials: the first igloo made with Microban and structured foam, while the second with a rubberized bottom and soft walls and flooring. The first structure is more durable and harder to transport, while the second structure is more comfortable and easier to transport. They are both easy to put together and are machine washable. The cat bed does not have the antimicrobial protections in place, as it is not prepared to be outside. The difference between the two really depends on both the animal, and whether it is going to be kept inside or outside. Many reviews show that cats in particular are found lounging inside their cat beds for lengths at a time, proving that this can form a comfortable home in solitude for pets who would benefit from their own space. If you have a cat or small dog and are looking for an inside bed, this is the perfect product for you to take a look at buying.
This particular cat house contains a rounded hood, perfect for diverting weather away from the entrance, and a carpeted floor to help keep warmth inside the house. It has a non-porous plastic surface, and measures 26" x 25.3" x 18.5". This is also an easy to assemble product, great for people who don't want to spend time putting a cat bed together. It comes in a white color, and is easy to transport. Normally kept outside in a backyard, it won't take up much space, and is build to protect the cat. This also could be used for a small dog. The carpeted floor will be comfortable to the small pet, and they can curl up inside and count on the rounded hood to keep out rain and snow. The igloo build is perfect to protect against storms. Now, during strong storms, pets should be taken inside to keep them safe. This also applies to extremely hot and cold weather. The insulation on the cat house works well, but should not be counted on in extreme cases. If you are looking for a durable product for a cat or small dog, constructed as an igloo, this is a great product to consider.
Pros:
-Easy assembly
-Weather resistant build
-Non-porous plastic surface
-Carpeted flooring
Cons:
-Not extremely comfortable
How does this compare to the two other igloos?
Because this is built as an igloo, it is comparable to the first igloo we looked at. They also are from the same company. The real contrast lies in that this second one is built for cats, and is smaller and cheaper in price. While this product is not as durable as the first one, it still contains the same rounded hood put in place to keep the weather diverted from the animal inside. It also tries to add warmth with the flooring, keeping the house circulated to the correct temperature. Compared to the second house, it is quite different, given the second one is an indoor home, while this is for the outdoors. The Milliard bed has soft walls and flooring, while this one has carpet, but does not quite reach the level of comfort that was acquired with the cat cave bed. The igloo structure design works well to sustain outdoor conditions and keep the pet sheltered. Depending on whether you want an indoor or outdoor home for your cat will help determine which product you should buy. They both are excellent products which your pet will enjoy, just differentiating depending on the circumstances the home will be placed in.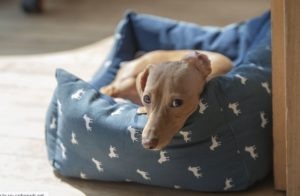 This fourth bed we looked at proves to be the most versatile, with 8 different sizes and 11 colors to choose from. This bed is also waterproof and contains a skid free base. It contains 100% poly fill to create the maximum comfort possible. It is machine washable, while also providing high quality. This boasts a very comfortable bed for either small cats or dogs. The different sizes show one of its greatest strengths: it can fit different animals, and you can choose how big you would like for it to be. Because this product is waterproof and contains a skid-free base, it can be placed outside, or can be inside. Again, this shows the versatility of the product. Because of its small size, it will fit indoors easily, but because of the materials it is made of, it will also be durable against the weather elements existing outside. You can choose different shapes depending on the size as well, and this is the cheapest of the products that have been looked at.
Pros:
-Comfortable
-High Quality
-Machine Washable
-Easy to Assemble
-Easily Transportable
-Cheap
Cons:
-Not very durable
-Not big enough for most dogs
How does this compare to the first three products?
This compares most easily to the second product, as far as design and structure go. It has soft walls and flooring, making for a very comfortable design for the small cat or dog. It does not have an igloo design, making it less durable and not structurally prepared for weather elements. While it could be placed outside in good weather, it would not be good to depend upon the structure during extremely hot or cold weather, or rain and storms. The structure definitely reflects that this is an inside pet home. It's easy to assemble and transport, making this a great small pet home to buy if you are looking for easy and comfortable.
Wear and Tear
If your cat likes to scratch up their things, this may not be the cat bed for you, as its durability may not stand the test. As the Igloo is made up of stronger materials to resist weather, this bed is not built to withstand too much wear and tear. However, if your cat or dog does not chew or tear too much, this will be a good choice. If you have a small pet and are looking for comfort, we've found this is a great option to go with. You have your pick for which size and color you want, making it customizable and versatile.
After these reviews, how do I know which one is the perfect fit for my pet?
The answer to this question will really depend upon your pet, and if you are looking for an outdoor or indoor dog home. The structure of the home plays a large role in how it will be sustained in either extreme weather conditions, or in the comfort of your home. The company Petmate makes igloo structures that are prepared to withstand stronger weather forces and invasive bacteria. As we mentioned earlier, please do not forget to bring your dog indoors during unsafe weather conditions. Just because these homes are built to stand up against harsh weather does not mean they will completely protect the dog. Since the igloo is left outside, it must be strong enough to not be damaged by these forces that will relentlessly continue to pursue outdoor structures. Because they are built this way, they are not built with comfort as the number one trait. While they do offer ventilation and a nice flooring, they are not as comfortable as the two other homes that were looked at. The two other beds were meant for cats, and as such, are built with comfort as the higher motivator.
You also need to take into account the size of the animal, and if they will fit comfortably in the home you are choosing for them. The main theme among the beds we reviewed shows that there is an aptitude for smaller cats and dogs. The first igloo structure looked at did have larger sizes, but still leaned towards the small side. If you have a large dog, these may not be the right beds for you. Take into account that you want their home to only be a little bigger than the animal is, so that they will be comfortable and cozy in their new home.
Can I leave my dog outside during the winter?
This factor depends on the dog breed. While some breeds are more equipped to do well during the winter because of their fur and size, smaller dog breeds will not fare well because they do not carry enough body fat. As such, be careful about leaving your dog outside in extremely cold temperatures if they are smaller and do not have enough fur. They may not have the capability to withstand the weather, whereas other dogs may be built to stay outside during harsh winters. This also depends upon the dog house you have for them, as the Petmate igloo designs are constructed with harsh weather in mind. They have the dome shape to prevent the weather from coming inside, and contain ventilation to keep the air circulating and allow the temperature to remain warm in the winter and cool in the summer. Use good judgement when deciding whether your pet will spend the majority of the winter outside or not. You should keep in mind that if your dog is an outside dog and is already accustomed to being out during more extreme weather, they may be fine to endure long winters outside, if their size and breed is equipped for it.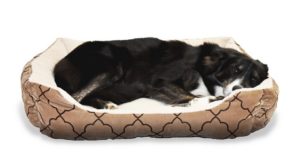 What specifically should I be looking for when I purchase a dog bed?
Size
One of the first things you want to consider when looking at dog beds is if you have the right size for your dog. One of the first signs that the bed will be uncomfortable is if it is too big or too small. A bed that is too big will make it hard for the pet to get comfortable, while a bed too small will also ensure that the pet will not go in there, as they will not fit. Make sure you look at the size of the bed before purchasing.
Construction
Depending on whether you want an indoor or outdoor dog bed will help you decide what kind of construction you are looking for. Outdoor dog beds make sure to be equipped to withstand temperature and bacteria, while indoor beds are not prepared to face these forces. This means that if you buy an indoor bed but place it outside, it may not hold up against the weather as long as you would like. If you buy an outdoor bed to place inside, the likelihood is that it will be larger in size and harder to transport. This could make it difficult to find a space inside to keep the igloo style dog bed. As such, keep this information in mind when determining which style dog bed you will like, and how the construction will fare depending on the place that it will be kept. This makes all the difference in how long the bed will last, and if your pet will be able to continue using it.
Comfort
A big question you will want to ask before buying the dog bed is: will my pet actually like this bed? Will they use it if I buy it for them? You don't want to waste your money on a product that your pet may not actually use. While the Igloo style beds are not designed completely for comfort, the cat beds are. They feature soft walls and flooring to keep your cat interested in spending the whole day curled up inside their new home. The comfort level will range high on the list for making them want to stay inside their new bed for the majority of the day.
Clean
Dogs can definitely make big messes from time to time, including their tendencies to scratch and chew their toys and beds. All of the beds we looked at are machine washable, which is a great way to ensure that the bed will be kept clean. The Petmate brand dog homes also included antibacterial precautions to ensure that bacteria do not have the chance to invade the pet home. This is more important when these homes are placed outside, as you never know what may be living around the area. As mentioned earlier, some dogs like to chew and scratch their belongings, bringing us to:
Durability
The Petmate brands have shown that they are very durable, meant to face outdoor elements; they will fare well against dogs who have a tendency to chew and scratch up their toys. Since you will most likely be looking for a long-term home for your pet, it is very important to choose a home that is very durable, staying intact through weather and a dog's playtime. The cat beds may not be as durable, showing that if a cat likes to scratch a lot, they could possibly destroy their home within a matter of time. This is only because they are not built with durability as the number one factor. However, they are still high-quality beds and should be looked at if you have a pet that will not rip up their bed.
Transportable
You may not be looking for a bed that's transportable, and if that's the case, the first Petmate bed is for you. One of the only cons is that it is bulky and not the easiest to move around. If you are only planning on transporting it to your backyard and leaving it there, this will be perfect for you. If you think you may want it inside and outside, it will not be easy to move back and forth. The cat beds, however, are small and lightweight, making them very easy to move around, good to carry from room to room, or move from outside to inside. The Petmate cat igloo is also small and not too heavy, meaning that it will not be too difficult to move from place to place. The only bed out of the four we reviewed that will be hard to move is the first Petmate igloo, as it is larger, resulting in a bulky item that may need more than one person to help move it.
Easy to Find
All of the products reviewed are available online. Choices
Only two of the four options included choices which enabled you to customize the bed you were looking at. The first Petmate bed included three different sizes to choose from, making it nice for people with larger dogs to have the ability to choose from these three sizes. The last bed looked at also contained the ability to pick size, shape, and color, giving the most customizable options when it comes to picking the right dog or cat bed for your pet. Since all animals are different, it really helps to be given a choice in what kind of bed you are purchasing for your pet.
Conclusion
As we've reviewed four beds on Amazon and looked at the features most desirable in making a purchase, hopefully it allowed you to see the differences in structure, size, color, and makeup. The igloo style beds are formed with durability in mind, so if this is the feature you are most looking for, the Petmate igloo bed is the way to go. If you have a cat and are looking for comfort, you will want to take a look at the cat bed with the soft walls and flooring. It is small, transportable, and easy to assemble. The cat igloo is perfect for someone wanting to keep their cat bed outside, as it is durable and can withstand weather forces, while still having carpeted flooring and making for a comfortable bed for the cat or small dog. The fourth bed is very versatile and allows you the choice of shape, color, and size. All four of the beds reviewed have great qualities and traits associated with them, but depend upon the dog or cat you have, their breed, if you would like the bed kept inside or outside, and the features you are on the lookout for.