If you're finding that your dog will only drink water out of your hand, then don't worry. You're not alone. There are many reasons why dogs might have strange behavior when it comes to drinking their water. We'll go over some of these reasons and what you can do about it in this article.
My Dog Will Only Drink Water From My Hand?
There are many reasons that your dog might be picky about where it gets its water from, whether that's your hand or the hose. Making sure that they have clean water and a clean bowl are the first steps, but there could also be health reasons why your dog might not want to drink. Keeping your dog hydrated is very important, so make sure you are taking whatever steps you need to in order to keep your dog happy and healthy.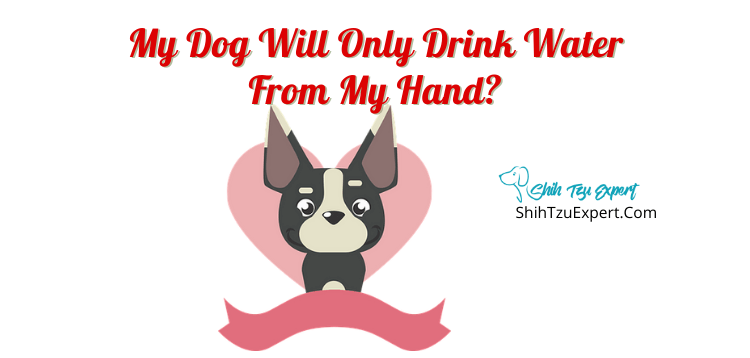 Recently Spayed Dog Will Only Drink Water from My Hand?
One of the reasons your dog might be weird about drinking their water is if they just went through a major surgery.
Surgeries like spaying and neutering require the dog to be fully sedated, and anesthesia does have some side effects.
Some of these side effects can include their appetite and ability to keep water down. In the hours after your dog's surgery, they probably won't want to eat or drink very much, and that's totally normal! Let them rest and recover, and try to encourage them to eat at least six hours after the surgery.
If after awhile they are still not wanting to drink from their bowl it's probably because they are still a little disoriented.
However, they may be willing to drink water from your hands because they trust you and want to please you. Dogs really just want to make us happy, and if we're offering them water straight from our hands they will see it as a sign that drinking the water is important to us.
As the effects of the anesthesia wear off, your dog should go back to drinking from their bowl like normal.
Dog Won't Drink Water Unless I'm Holding the Bowl?
Dogs experience the world differently than we do.
They rely on humans for their care – to provide them with food, water, shelter, and affection.
Some dogs are naturally confident, not afraid of new things or experiences. These are the dogs that will run headfirst into the bushes just to see what they can find.
Other dogs are not as confident moving through the world. They'll be more skittish, and less likely to want to go to new places or try new activities.
If you don't have a very confident dog, then even something as simple as a water bowl can be a scary experience.
But because our dogs know that they can rely on us to take care of them, they will trust that whatever we offer them will be safe. Which is why they might only drink water out of their bowl if you are holding it. They know you wouldn't give them something that could hurt them.
You can work on building your dog's confidence through praise and rewarding them whenever they approach their water bowl or drink from it.
Why Won't My Dog Drink Water Out of His Bowl?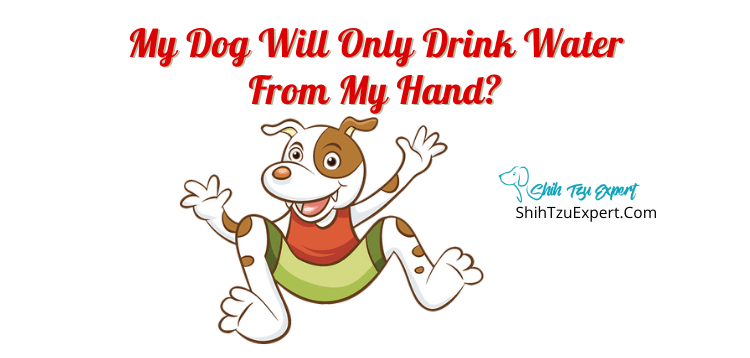 If your dog is refusing to drink out of his water bowl, there are a few things to look for to try to figure out why.
Is the water bowl clean? Your dog should have fresh water every day, and the bowl should be cleaned with soap and water every day to prevent mold buildup.
What type of bowl are you using? Your dog may not like the material of the bowl he has. There are many different kinds of bowls you can use, so if your dog isn't drinking out of his maybe try switching to a new bowl material.
Where is your dog's water bowl placed? Your dog may not like the location of the bowl for some reason. Try moving it to a new spot in the house or the yard and see if that makes your dog want to drink from it more.
How to Trick Your Dog into Drinking Water?
So, your dog is simply refusing to drink the water that you offer them?
There are a couple of different things you can try to make the water more enticing for them, hopefully making them want to drink it!
Place multiple bowls of water out for your dog. If they have more access to water then they might be more inclined to drink it.
Try adding some chicken broth or bone broth to your dog's water. This will make it smell like a tasty treat and be different from what they normally get. Because a dog's sense of smell is so much stronger than a human's you don't need to add a lot of broth. Just a little, to make their water more appetizing.
Make playing with water a game. Get the hose out and splash and spray your dog. Some dogs love playing with water, and will try biting it. Some dogs will even drink directly from the hose!
My Dog Won't Drink Water but Will Eat?
If your dog is willing to eat but won't drink water, you might want to check on their health.
The most common reason a dog will eat but not drink is because they have an infection – usually a bladder infection or a urinary infection.
Make sure you check their health regularly and see a vet if any concerns come up.
Other reasons your dog might not want to drink is because they have a negative association with their water bowl. It might seem silly but depending on your dog's past it could happen.
They also could be stressed. Watch how your dog is acting throughout the rest of the day to see if there's anything in their environment that could be causing them stress.
Dog Eating Wet Food but Not Drinking Water?
The good news is that if your dog is still eating their wet food then they are still getting some hydration into their system.
When dogs refuse to drink water it's usually because there's an underlying concern for them surrounding the water itself.
They could be sick, they could be stressed, or they could not like the type of bowl they have or even the type of water you're putting in the bowl.
Until you figure out what the reason for your dog refusing to drink is, giving them wet food is a great idea to keep them hydrated and healthy.
Dog Having Trouble Drinking Water?
If you notice that your dog seems to be physically having trouble drinking water it might be time for a visit to the vet.
But before you go to the vet, there are a couple of things you can look for.
Check their gums and teeth to make sure there's nothing wrong with their mouth. If their mouth is hurting, then swallowing the water would be painful and they'd avoid it.
Are they sick? Different illnesses can cause problems with drinking water.
Is their water bowl at the right height for them? With some dogs, especially older dogs, it can be painful or difficult for them to bend down to drink water directly on the ground. Try elevating their bowl to their shoulder height and see if that makes it easier.
Dog Will Eat Ice but Not Drink Water?
Not all dogs will want to eat ice, but for the ones that do it's a good option for staying hydrated.
Ice is just frozen water, so you can rest assured that your dog is still staying hydrated by eating ice.
If your dog does love to eat ice, try putting some ice cubes in their water bowl to get them to drink water as well as eat it.
Dog Not Drinking Water After Being Put on Antibiotics?
Antibiotics will be prescribed to your dog to fight off an infection, so if your dog is on them there's a pretty good chance there's a lot going on in their little body.
Illness and antibiotic treatment can affect the way things taste to your dog. This means that what they normally wouldn't have a problem with might not sound as good while they're getting over their sickness.
If your dog is sick they can also lose an interest in eating or drinking until they feel better.
The best course of action would be to supplement their water intake with wet food and make sure they get the full course of antibiotic treatment.
You want your dog to feel better, and when they do they should go back to eating and drinking like normal.
How To Get a Sick Dog to Drink Water?
If you have tried everything to get your sick dog to drink water – bone broth, ice cubes, wet food – and none of it has worked, then it might be time for the last resort.
A turkey baster.
You're going to use it just like you would when basting a turkey.
Slurp up some water, hold your dog's head, and stick the end of the baster in their mouth. Try to get the water as close to the back of their throat as you can.
Their instincts will force them to swallow the water so that they don't feel like they're drowning.
The chances are if your dog is so sick that you need to hydrate them with a turkey baster they aren't going to struggle against you too much. They should just swallow the water calmly.
Dog Not Drinking Water but Peeing?
A little known fact about urine is that it doesn't just happen because we've ingested liquids.
The same is true for your dog!
Even if your dog is not drinking water, they will still need to pee.
Peeing is how the body gets rid of excess minerals, vitamins, hormones, and other things that the body can't process. And it does this without needing liquid, however drinking water helps the process along.
How Do You Hydrate a Dog That Won't Drink?
Let's look at a comprehensive list of all the ways you can try to get your dog to drink water.
Wet food. Find a brand and flavor of wet food that your dog likes and try adding even more water to it to increase the amount of hydration they are getting from it.
Add broth to their water. Chicken, beef, turkey, bone – any kind of broth will do as long as you know that your dog likes it. Remember that it doesn't take much broth added to their water for them to be able to smell it and want to drink.
Add ice cubes to their water bowl. Not only does this cool the water down, which might be what your dog is looking for, but it gives them something to do when their head is in the bowl. By making it entertaining for them you might find that your dog is more inclined to drink water.
Use a turkey baster. If all else fails, use a turkey baster to put the water manually into their mouth.
Also check out the type of bowl they have, where the bowl is placed, and make sure it's a comfortable height for your dog.
Remember to check your dog for signs of sickness or anything health related that might be causing their aversion to water.
If your dog goes more than two days without drinking any water, then you need to go to the vet. They will be able to put them on an IV to hydrate them and also find the underlying reason for your dog not wanting to drink their water.
References
Your Dog Won't Drink Water? Top 5 Reasons Why & What You Can Do
https://www.thehonestkitchen.com/blog/7-facts-about-water-and-your-dog/