We may earn commission from qualifying purchases at no extra cost to you.
Learn more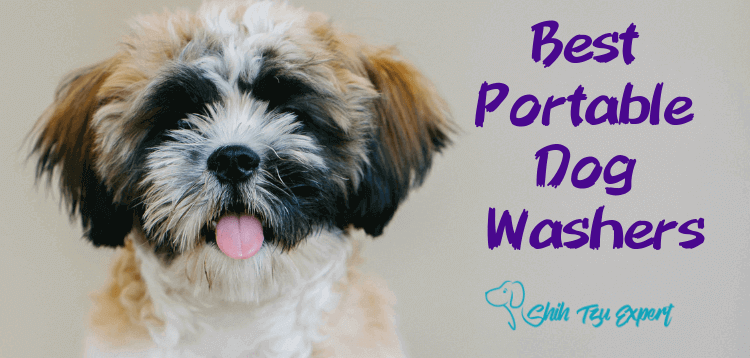 Every dog owner knows what a hassle it can be to give your dog a bath. A pup that will happily swim in a pool or lake acts like he's being tortured in your bathtub. Once you get him in there, it's a fight to get him to stay – and he regularly shakes his coat, drenching you and the room in dirty dog water. You rinse, scrub, and rinse again, trying to protect your dog's sensitive eyes and ears from water and shampoo.
Reviews of Best portable dog washers
Fortunately for you, dear reader, we've reviewed multiple portable dog washers to help you find the right product for your pup, no matter how big or fluffy she is.
This portable dog washer sounds like a gadget from Star Trek or the Jetsons – creative, beneficial, and envy-inspiring, but entirely fictional. The premise of this appliance is almost identical to that of a carpet cleaner. You put water in one compartment and shampoo in another.
After plugging in and turning on the unit, you draw the nozzle slowly over your dog. Water and shampoo are released and immediately sucked back into the machine. A convenient grate over the vacuum portion keeps dog hair from clogging the vent as dirty water is pulled off your pup.
Another bonus is water usage – or rather, the lack thereof. The BarkBath uses a fraction of the water that it takes to clean a dog in your bathtub or with your garden hose. And since most of the water is vacuumed off your dog, she won't drip dog-scented water all over your house. The fact that you can use the BarkBath in practically any room makes it an excellent option for people in apartments.
Unfortunately, the same features that make BarkBath so remarkable also limit it. The BarkBath's unique vacuum design only works with Bissell-brand shampoo. Like a high-efficiency washing machine for clothes, the BarkBath needs shampoo to be a specific consistency to function correctly. Other shampoos risk clogging the device entirely. If you're in love with the scent of different doggy shampoo, take note.
Similarly, the vacuum function doesn't endear the BarkBath to every dog. Some dogs love to be groomed, and as a result, they actually look forward to being bathed with the BarkBath. Nervous dogs, however, don't appreciate the noise it makes. Since it's basically a vacuum cleaner, the BarkBath sounds like…well, a vacuum cleaner.
If your dog is easily stressed or runs when you vacuum your house, the BarkBath probably isn't the best choice for you. Bissell does include a guide to helping your nervous pup adjust to the loud noise, and some users have mentioned that their anxious dogs grew to love being cleaned with the BarkBath, so take your own puppy into account when making your decision.
PROS:
Requires very little water
Can be used inside
Suitable for humans or dogs with mobility issues
CONS:
Not the best option for nervous dogs
Only works with Bissell-brand shampoo
This particular device isn't specifically designed for dogs only. As the name implies, the Aqua2Go Multipurpose Portable Spray Washer is a multipurpose tool for all your portable cleaning needs. It's a convenient camping shower, surfboard cleaner, mountain bike de-mudder, and yes, a dog washer.
The washer consists of a 4.5-gallon water tank, a rechargeable battery, a 19-foot hose, and several attachments. First and foremost, you get an adjustable spray nozzle. You can control the focused flow of water from a gentle 40 psi to a fur-flipping 130 psi, depending on which parts of your dog you're cleaning (and how much they smell like poop or skunk). Secondly, you can choose the included brush to simultaneously scrub and soak your dog. Any canine who appreciates a proper brushing will love this attachment. Finally,  there's a broader shower head for more coverage and a gentler spray.
Since the Portable Spray Washer has its own water tank, you can control the temperature of the water precisely to your liking. Many dogs don't appreciate hot baths the way humans do, but cold water straight from a garden hose isn't fun, either. Just leave the washer full until you're ready to use it, or top it off in your kitchen sink with lukewarm water.
The reservoir also means that you don't need a garden hose or a bathtub to clean your dog. Between the tank and the rechargeable battery, the Portable Spray Washer can go anywhere you take your dog. No need to worry about mud or sand on long hikes, lakeside walks, or beach adventures – now you can clean your dog at your car, campsite, or boat. You can also use it to wash your dog on an elevated surface in your backyard, like a table or bench. This makes it a flexible option for dogs with mobility issues.
Obviously, since the Portable Spray Washer is drenching your dog with water, it's not practical in every room of your house. It's meant to be used outside, though of course, you could use it in your bathtub or sink if you don't have a showerhead hose. With its 19-foot hose, it's still a reasonably good option for humans with some mobility issues. The 4.5-gallon tank should be enough to wash most dogs, but if you're boondocking in the wild, bring some extra water just in case. And be sure to charge the battery before your camping trip – it takes two hours to reach full capacity.
PROS:
Battery-powered
Lengthy hose
Interchangeable nozzles
CONS:
Best for outdoor use
Takes two hours to charge
As previously mentioned, dogs don't always appreciate cold water straight from your garden hose. (Would you? Cold showers are the stuff of nightmares.) But garden hoses are such a convenient option for dogs who prefer to be bathed outside and for any humans and pups on the go. The solution? Heat your hose water. The Marey GA5PORT Portable Propane Gas Tankless Water Heater is exactly what it sounds like – a portable heater that warms your hose water as you use it.
The Marey GA5PORT Portable Propane Gas Tankless Water Heater includes a heater, a shower head on a hose, and a propane hose to connect with a propane tank. Both the shower head and the heater are adjustable, so you can control the speed and temperature of the water. It's as easy as using your own shower at home, but dogs with anxiety issues will appreciate being outside during bathtime, rather than trapped in your bathroom. Similarly, senior pups and dogs with mobility issues will find it easier to stand or sit in the great outdoors for their showers.
Since the GA5PORT runs on propane, no electricity is required to use this heater. As a result, you can use the GA5PORT anywhere you have access to an outdoor hose: the beach, the dock, your backyard, or a campsite with hookups. The heater doesn't activate until you run water through it to minimize propane usage. And no water tank means the GA5PORT is lighter and easy to carry than dog washers with integrated water reservoirs.
If you and your dog spend weekends hiking, biking, or boating away from home, the GA5PORT is a solid choice. However, the GA5PORT isn't the right choice for every dog owner. If you have an apartment or a house with no backyard to speak of, you probably don't want a portable dog washer that requires a garden hose. Remote camping locations with no hose access also won't work for the GA5PORT. And humans with mobility issues might prefer an indoor option. Your particular lifestyle will dictate whether the GA5PORT is the dog washer for you.
PROS:
Good for anxious dogs who don't like bathtubs
Suitable for dogs with mobility issues
CONS:
Needs to be used outside
Not the best option for humans with mobility issues
If you received Pure Clean's Portable Camping Shower in the mail, you'd probably think the shipper had made a mistake. There's only a shower head on a hose in this box! Where's the water tank? Where is the fancy gadget?
Here's the secret: The shower head is the fancy gadget. Drop the opposite end of the hose into any water source, then press a single button on the shower head. Voila! Water is pumped up the tubing and out the shower head onto your muddy dog.
The end of the hose is the real powerhouse of Pure Clean's Portable Camping Shower. It consists of a pump and a rechargeable battery in a marine-grade waterproof casing. At full charge, the pump works for a full 50 minutes. And the small design makes the shower almost embarrassingly easy to transport – just throw it in your backpack, and you're ready for a day at the lake.
The simple shower head design and compact pump mean nervous dogs can quickly adjust to Pure Clean's Portable Camping Shower – no loud noises or vacuum brushes here. A 6-foot hose gives you enough maneuverability to clean your dog conveniently, so your senior pup can comfortably sit or stand in your backyard without needing to brace herself on the slippery floor of your bathtub.
The small size does come with a few drawbacks. The pump design works well at a lake or river when you need to wash sand and mud off your dog. But you would need to bring your own water if you plan to camp, hike, or adventure away from a water source. Since you can't connect Pure Clean's Portable Camping Shower to a hose, you would need a bucket or tub in your backyard, as well. Humans with mobility issues can decide if this option works for them, or if they should look at other dog washers.
The shower's 50-minute battery life is more than sufficient for one dog – but maybe not two or three. Multi-dog households might want to consider a dog washer with longer battery life or the ability to hook up to a hose.
PROS:
Extremely small
Easy to use – "just add water"
Suitable for anxious dogs
CONS:
Need to provide own source of water
Not the best option for multi-dog households
Similiar to Pure Clean's shower head, the SmarterFresh Pet Faucet Sprayer Set seems to be just a shower head and a 6-foot hose. This dog washer, however, attaches to your bathroom or kitchen sink (depending on the size of your dog and where you decide to clean her) with a diverter. Turn your sink on, and you have a steady flow of water at your chosen temperature.
For pet parents who want or need to clean their pet indoors, the SmarterFresh Pet Faucet Sprayer Set is a great choice. Many bathrooms and kitchens don't have handheld shower heads, so this dog washer gives you the benefits of a flexible hose and shower head at any sink in your house. Water from a shower head is also quieter than water gushing straight from the faucet, so if you need to groom a nervous dog indoors, the SmarterFresh Pet Faucet Sprayer Set eliminates one anxiety trigger.
With the sprayer hooked up in your sink, it might seem like your faucet would lose all other functionality. However, there's a simple lever on the diverter that attaches the hose to your faucet. Flip the lever and water flows out of your tap as usual, letting you wash your hands, fill a glass of water, or whatever else you need to do. If you love using the sprayer, you could make it a permanent fixture in your kitchen if you were so inclined.
Since the SmarterFresh Pet Faucet Sprayer Set needs a faucet to function, it's best used inside, though you could easily use it outside or at a barn if you had a sink there. Some dogs with anxiety might do better with the shower head than with the roaring water of your tub, but you couldn't really use the sprayer set outside if your dog doesn't like bathtubs. Humans with mobility issues might find that this dog washer makes it easier to clean their small dog in a sink – or they might want to choose a dog washer that doesn't require them to stand while using it. Personal preference is king here.
PROS:
Easy to add to any sink
Still lets your faucet function normally
CONS:
Not best for outside use
Limited to areas with a faucet
The Wondurdog All-In-One Quality Dog Shower Kit sounds like a superhero-sponsored dog washer. This kit also connects to your bathroom or kitchen sink to provide a steady stream of warm water for your pup. The head, however, isn't your typical shower head. Instead, it's a scrubby rubber brush that you can wear on your hand.
The brush has soft, full rubber teeth that gently scrub your dog's skin as you brush her, giving her a deeper clean. There's a rubber splash shield around the rim of the brush to keep rebounding water to a minimum. And the shower head itself is built with an on-off switch on the side so you can start and stop water flow right on the head itself, meaning you don't have to turn away from your mischevious dog for a second. The 8-foot hose means even large dogs and large bathrooms are no match for the Wondurdog All-In-One Quality Dog Shower Kit.
Some dogs love being groomed, and the addition of a soft massage brush to bathtime might make bathing their new favorite activity. Pet parents in apartments will find the Wondurdog All-In-One Quality Dog Shower Kit is a great addition to small bathrooms or kitchen sinks that don't already have handheld shower heads – your dog's bathtime will be faster and more convenient. Anxious dogs might benefit from the brush – warm, gentle petting can soothe a worried dog. You know your dog best, so you can decide if he would appreciate this addition to his grooming routine.
Like the SmarterFresh Pet Faucet Sprayer Set, this kit needs a faucet to function. That means it's best used indoors in your bathroom, kitchen, or mudroom sink. Humans with mobility issues might find that the range of motion required to use the scrubbing brush is too taxing if used in a bathtub. It might still work for pet parents who can stand for some time at a kitchen sink to wash their small dog. If standing or scrubbing is an issue for you, consider choosing a different portable dog washer.
PROS:
Easily add a shower hose to any sink in your house
Good for anxious dogs
CONS:
Not best for outside use
Not best for humans with mobility issues
At last, the worst is over! You attempt to towel your pup dry before he wriggles free, still flinging dog-scented water everywhere. As he bounds off to get dirty again, you're left to mop up the puddles with soggy towels, swearing that next time a groomer will do your dirty work for you.
But getting your dog bathed at the groomer is no picnic, either. You corral Fido into the car and drive to the groomer. After leaving your pup in capable hands, you drive home. Several hours later, you have to repeat the whole process: Car, drive, groomer, drive, home.
But this time, you leave a considerable amount of money with your groomer – sometimes $100.00 or more, depending on Fido's breed. This, of course, means baths are few and far between, so your pup is in desperate need of shampoo long before he sees the groomer.
A modern solution
There doesn't seem to be an easy answer to the dog-grooming dilemma. "But it's the 21st century!" you protest. "I can watch movies on my phone. I can have nachos delivered to my house. Why can't I give my dog a decent bath without emptying my bank account?"
Your desperate cries into the void have been answered. Though many pet parents might find this surprising, there are a variety of tools on the market specifically designed to address this very issue and save you time, money, and frustration. Say hello to your new ride-or-die, the portable dog washer.
What is a portable dog washer?
At first blush, "portable dog washer" sounds like a complex canine washing machine, reserved for professional groomers or tech enthusiasts. But that's not the case – portable dog washers are designed for Everyman (and Everydog). They're built for less water, less mess, and fewer difficulties than your average doggy bath. And of course, almost anything is cheaper than taking your dog to the groomer regularly.
Dogs that would benefit from a portable washer
You might be unconvinced that you need a product to simplify your dog's hygiene. Maybe your dog loves baths and makes the whole grooming process easy for you. Perhaps she steps willingly into the bathtub and never shakes her coat while covered in dirty water. If that is the case, whisper a fervent prayer of thanks to the canine gods, you fortunate among pet parents!
On the other hand, you might find yourself in the ranks of regular humans with regular dogs who look askance at a bottle of shampoo and flee when they see bath towels. If so, a portable dog washer can make the process of bathing simpler for both you and your dog, and maybe keep "bath" from being a four-letter swear word in your household.
Active dogs who need to bathe frequently are good candidates for a portable dog washer. Maybe your dog works (and rolls in mud) on a farm, or lives in the country with daily access to puddles, poop, and skunks. Even habitual adventures in your local dog park are likely to leave your dog a bit odiferous. A portable dog washer streamlines bathtime to take the headache out of multiple weekly baths.
Traveling dogs also benefit from portable dog washers. Your dog doesn't have to vacation in Thailand to be considered a traveler. Weekend hikes, lake excursions, and the occasional trip to the beach are more than enough travel to leave a pup sandy and smelly. Fortunately, the "portable" feature of a portable dog washer makes it a convenient solution for washing your dog when the two of you are on the road.
Nervous dogs are well served by a portable dog washer, too. Some dogs grow anxious in the confines of a bathroom or are fearful of being picked up and placed in a bathtub against their will. However, many dogs feel calmer if they are bathed outside. Portable dog washers give you a wide range of options that can accommodate any size dog in your own backyard, where your pup finds the familiarity of nature more soothing than the close confines of tile and grout.
Surprisingly, portable dog washers are an excellent choice for extra hairy dogs. The word "portable" might not inspire images of a device that can handle the endless fluff of your fur baby. But in this case, the concern is less about your pup and more about you – and your house.
Stringy lengths of wet dog hair tend to wreak havoc on shower drains, just like too much human hair. During long dog bathing sessions, your back and arms get cramped – if not injured – from stooping over your dog as she stands at floor-level in the bathtub. And the amount of time you spend collecting wet fur off your shower curtain, towels, walls, and floor might tempt you to shave your poor dog. A portable dog washer gives you the flexibility to wash your dog outside, away from your plumbing and your short bathtub.
Types of dog washers
"My interest is piqued," you admit. "How does a portable dog washer work?" You can find a wide selection of portable dog washers, each of which takes a slightly different approach to the issue of bathtime.
There are entire doggy bathing units that recreate the bathtub grooming experience without the indoor hassle or mess. Some are elevated to ease the strain on your back, while others are designed to let your dog walk in of her own volition. The tubs are sturdy enough to hold even big, feisty dogs securely and safely. Additional features mark the unit as specifically dog-friendly: textured floor mats to keep your dog from slipping, helpful shampoo bottle holders, and built-in driers. A stand-alone tub also lets you scrub and rinse your dog from any angle.
Handheld cleaning devices are available in multiple forms. Many doggy shower heads are made to attach to your garden hose, controlling the shape and strength of the water you aim at your dog. Some are even adjustable, giving you a full jet for speedy rinsing and a narrow stream for smaller areas like heads and paws. There are also handheld devices that direct water from a scrubbing brush worn on your hand, so you can simultaneously scrub and rinse your pup.
Another variety of portable dog cleaner is a sort of vacuum-washer hybrid. You fill the device with water and shampoo, then run the hose head slowly over your dog as if you were vacuuming him. The washer simultaneously squirts out soapy water and sucks it back up. By the end of the process, you've used significantly less water than you would on a traditional dog bath, and your dog is merely damp instead of dripping wet.
Are portable dog washers effective?
"That's extremely fascinating and informative," you say. "But do any of those machines actually work? Is a handheld scrubbing brush going to clean my dog better than my current method of scouring him in the tub? Is it even going to clean him at all?"
You are quite astute. These are essential questions to ask before making a purchase.
The easy answer is "yes." Some pet parents find a portable dog washer to be a vast improvement since the devices address common grooming issues. Some portable dog washers are better for large dogs; some are better for dogs with mobility issues.
Others are less stressful for anxious dogs, and still others are better for pet parents with apartments, small yards, or limited mobility. The tricky part is deciding which portable dog washer is right for you – if you choose a portable dog washer that isn't a good fit for your nervous Husky rescue, you might feel more frustrated than relieved.
Conclusion
With so many portable dog washers on the market, you're bound to find one that meets the needs of you and your furry companion, whether the two of you go boating, hike, or watch Netflix together on the weekends. Go forth with your new-found knowledge and conquer the grooming world!