We may earn commission from qualifying purchases at no extra cost to you.
Learn more
These pretty crossbreeds walk the line between playfully energetic and relaxed cuddle bunnies. A friendly and loyal Papastzu is a fantastic emotional support animal, and their sweet demeanor extends to little kids, other pets, and new visitors. Easy to train, low-maintenance, and requiring little exercise, these bubbly pups will make a fluffy and loveable addition to your home!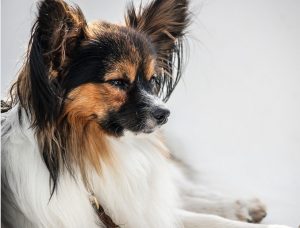 A History Lesson
To develop a better understanding of any mixed-breed dog, you have to start with its parents. The Shih Tzu is an ancient breed that has been a companion animal since the 1600s.
These pups can be traced back to China, where noblemen and emperors would adopt them as a status symbol. They even created government programs to breed them more efficiently!
Those breeding programs halted suddenly in the early 1900s during the Communist Revolution. The breed miraculously recovered when American soldiers took some home in the 1940s and 1950s. The breed's name is an homage to the dog's Chinese origins: "Shih Tzu" is Mandarin for "little lion."
The Papillon has royal roots as well, though they were popular in Europe. Papillons date as far back as the Renaissance era when nobles would insist on including them in their portraits.
Back in those days, they were called Phalenes, "moth" in French, due to the shape of their droopy ears. Over hundreds of years, the dog evolved to have large, erect ears extending past their heads. Their long hair fans out to the point where the ears almost look like wings. The name changed accordingly: "Papillon" means "butterfly" in French.
Compared to its parents, the Papastzu is a relatively new breed. They started getting popular in the 1990s and early 2000s when several celebrities adopted these easy-going dogs.
They're often called "designer dogs," because they're the mix of two different purebreds and intended just to be companion animals. They've been bred to be the ultimate adorable lap dog without the health issues prevalent in pure Shih Tzus and Papillons. Still, some organizations, like the American Kennel Club, refuse to recognize the Papastzu because it's a mixed breed.
The Basics
The average lifespan of a Papastzu is 12 – 15 years, but they'll stay quite small throughout their lives. A 6-month-old puppy might be as little as 7 inches tall and 7 pounds.
Once these pups reach adulthood, they'll grow to about 9 inches tall and 10 pounds. Even the biggest Papastzus weigh only 16 pounds.
A Papatzu's coat is a little shorter than a Shih Tzu's, and it's densely packed, making these canines look more silky than shaggy. They can be brown, black, or white, but they're often a combination of those colors, resulting in spots and beauty marks.
Some small dogs can be challenging to identify, but you can't miss this pooch's prominent ears and curled tail, both of which they get from their Papillon parent.
Health and Care
Mixed breed dogs often have fewer health problems than their purebred brethren, but you should be mindful of the health problems common in each of its parent breeds.
Shih Tzus often have joint problems, whereas Papillons are prone to dental disease. Ask your vet to include vision and dental exams at your appointment. Neither of the parent breeds have strict dietary restrictions, but your vet will let you know if they need supplements of any kind.
Unless you intend to breed your pooch, it's always a good idea to spay or neuter your pet. Sterilizing your animal prevents many health problems, such as testicular and breast cancer, as well as providing you behavioral benefits.
Pet overpopulation is a significant problem throughout the country. If you don't want to care for a litter of five or more puppies, spaying and neutering are the only methods of prevention.
Get The Tools Before The Pup
These glamorous pets need to be groomed, but it's easy to do at home. We'll talk more about how to groom later, but you'll need to get these supplies from your local pet store before bringing your Papastzu home.
Cordless clippers with adjustable blades
A pin hairbrush
Canine nail scissors
Dye-free shampoo for thick coats
Meat-flavored dog toothpaste
Getting high-quality grooming supplies is the surest way to keep your Papastzu's long fur looking healthy.
Don't use your beauty tools on your pet! They can hurt your pup, and a squirmy, frightened dog is difficult to groom.
Another pet store pro tip: small dogs often prefer harnesses to collars. They're comfortable and relaxed on the throat, and they make it harder for your wriggly pup to escape.
Papastzus tend to be more laid back than many toy dogs, so they're well suited for over-the-head harnesses. They're easier to put on, so you'll be able to get to the park without any hassle.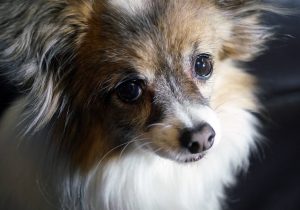 Grooming 101
Papastzus also need some home maintenance to be in tip-top shape. It takes some effort to be this cute!
They get their gorgeous coat from the Shih Tzu in their pedigree, but these hybrids are much easier to maintain than their parents.
Brushing your dog every day will keep that fur shiny and soft, regardless of length. Use a gentle pin brush from the pet store, so you don't do any damage.
Expert groomers recommend using a technique called line brushing with long-haired dogs. It involves picking apart your dog's fur and thoroughly combing to the root of the hair. This method eliminates even the knots closest to the skin and disperses natural oils throughout the coat.
While you're giving your friend the spa treatment, make sure you brush in the same direction of your pup's fur to get that winning coat.
Your long-haired Papastzu has fur everywhere, including in between their toes. This hair traps the dirt from the park and brings it right into your kitchen. You can use dog clippers to trim the tufts of fur from the bottom of your pup's paws to cut down on messes after walks.
Papastzus will sometimes have a double coat, meaning that they have an additional layer of fur for insulation. This hair can cause your dog's hair to get matted with the changing of the seasons. If this happens, take them to a groomer you trust. The best groomers will de-shed the undercoat instead of shaving your pooch.
Owners often think that shaving the fur helps dogs regulate their temperature in the summer, but this is a common misconception. Long-haired dogs evolved so that their double coat protects them from the elements.
That shaggy fur keeps your Papastzu cool during the summer and cozy during the winter. A shaved dog is at higher risk for sunburn, animal bites, and small injuries. Don't be afraid to tell your groomer to forego shaving your furry friend!
Puppies can be squirmy, but it's worth it to start daily grooming early. Those wiggles will subside, and grooming will become a time that both you and your pup can enjoy!
The Downside of Fur: Shedding
Papastzus are not hypoallergenic dogs, so you should expect some shedding throughout the year. They may be small, but that fur can grow in quickly!
The best way to combat shedding is with daily brushing, especially in the spring and summer months, with a de-shedding tool. This rake allows you to catch all the loose hairs that would've fallen onto your carpet.
If your pet's shedding is still out of hand, it might be due to a lack of nutrients. Take a look at the label on your kibble. Does it include Omega 3 fatty acids? If not, consider switching dog foods to one that promotes a healthy coat.
Pet stores also sell Omega 3 supplements for people who are serious about cutting down on shedding. Get the mini chews to accommodate that tiny mouth!
If you're having a hard time getting a dog to take a pill, never underestimate the power of peanut butter! Slather the meds in the stuff, put it in your dog's food dish, and even the pickiest pups will eat it happily.
Profuse shedding can also be a sign of dehydration. Make sure your Papastzu has plenty of water to keep that coat healthy.
If the problem isn't fixed by supplements, hydration, or extra brushing, you can always talk to your vet about other reasons your dog may be shedding. Many families also use furniture covers that can be easily washed to protect their sofas and chairs from fur.
Who Should Get A Papastzu
These devoted dogs prefer cuddling over exertion: their calm demeanor and manageable size make them perfect for seniors and people in small quarters. A daily walk for 15 – 30 minutes should be enough to tire your Papastzu out, which makes it a great dog breed for busy families.
These dogs love attention, so they won't squirm away when you want to snuggle. Their friendliness makes them perfect emotional support animals. The Papastzu is also quite smart and easy to train for first-time dog owners!
Papastzus love to play, but sometimes they forget how small they are. Your teacup dog might boss around a gentle giant, like a Newfoundland. Keep an eye on them in the dog park or on walks! Not all dogs are as friendly as these guys.
Temperament and Personality
The Papastzu's temperament is usually a perfect mix of its parent breeds.
Papillons are known for their agility, both physically and mentally. Their intelligence, coupled with their abundance of energy, makes them particularly popular at dog shows and competitions. Papillons need a great deal of exercise, and they'll often get cases of the zoomies.
Shih Tzus, on the other hand, are famously lazy dogs. Their calm demeanor has been considered regal by many, and these pups love the attention. They're loyal dogs who love to snuggle and meet new people. A Shih Tzu is always happiest in your lap.
The Papastzu, then, has the brains of a Papillon with the friendliness of a Shih Tzu. The two breeds' drastically different energy levels even out in this hybrid, striking a happy medium between alert and playful. These dogs don't require very much exercise besides a short daily walk, and they're lower maintenance than their parents.
Even though both of its parents are quite vocal, the Papastzu isn't as likely to yip as other toy breeds. They are incredibly social, though, and they're prone to loneliness if left unattended. They're good at adapting to significant changes in lifestyle such as moving or new schedules and are docile enough for visitors and kids.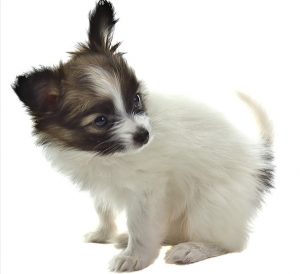 How Do I Get One?
Are you sold on getting a Papastzu yet? If so, you're not alone! Tons of people across the nation are buying up these low-maintenance pups.
Finding specific crossbreeds can be tricky. Getting a puppy from a good breeder can cost you anywhere from $150 to $650. Before paying that price, remember that even designer dogs need rescuing! Pop into your local animal rescue or visit their website to search for those telltale ears of a Papillon. You might be able to save a nearby dog in need.
The only way you can be positive about a dog's breeding is to buy straight from the breeder, but
Papastzus may not be popular enough for their own rescue group, but most Papillon and Shih Tzu rescues also dabble in partial or mixed breeds.
If you're based in America, the Papillon Rescue Haven is a group of volunteers devoted to getting Papillon and Papillon mixes into foster homes. Their site has a feed of available dogs that you can foster for a small adoption fee. You can apply to adopt or foster on their website!
In Georgia, a similar site called Pap911 allows pet parents, breeders, and shelters to post their Papillon pups available for adoption. The organization updates its listings frequently: if you don't see a Papastzu immediately, try again in a few days.
On the other side of the coin, Shih Tzus are a little more widely known than Papillons, so there are quite a few rescue organizations. Shih Tzu Rescue features adoptable crossbreeds very often. This site takes online applications and includes a breakdown of exactly what to expect from the adoption process.
Another, albeit more cheekily named, rescue organization is STFBR, which stands for Shih Tzu and Fur Babies Rescue. While this site doesn't apply exclusively to Shih Tzus, they specialize in toy dogs, mainly for companionship and emotional support.
Within a few weeks of watching these rescue sites, you're sure to see a Papastzu that catches your eye. Be quick to apply for adoption when you see a pup you like! Papastzus are popular, so they don't stay on those sites for long.
As you search for your new furry friend, consider getting an older dog. Many adult and senior dogs hang around no-kill shelters and rescues all their life, waiting for someone like you to come by. They'll be calmer, more likely to be trained, and appreciative of a stable home.
A final place to search for needy Papastzus is Puppy Finder. This website allows you to search for homeless dogs by breed. If no Papastzus come up, look for Papillons and Shih Tzus individually, too. They may be filed under a parent breed by mistake!
The only way to be sure of your pup's pedigree, though, is to buy from a responsible breeder. Visit them before you buy to discuss the kind of dog you want to add to your family. Seeing the breeder in their element gives you a chance to tour the facility and verify that the puppies are being treated ethically.
Puppy mills are an ugly truth in the designer dog business. Responsible breeders care about who's taking their puppy home. If your breeder seems to brush you off, they probably don't have a bond with their puppies, and you should buy at your own risk.
The best breeders will be able to show you documentation on the parents' pedigrees. Ideally, your Papastzu will have two purebred parents: a Papillon and a Shih Tzu.
However, designer dog breeds are becoming more popular, so you may see some intergenerational breeding. That would mean your dog would have at least one Papastzu parent. Genetics don't always work in a straight line, so leave your pup some wiggle room.
If you want a "pure" Papastzu but don't like that price tag, remember that these dogs require money to maintain. Toy breeds can eat through $30 worth of food in a month easily, and that doesn't include treats!
Add the cost of special grooming tools and accessories, say $100. A once-monthly trip to the groomer can cost around $60 to $100 each time. Papastzus are an investment, but they make up the cost by being magnificent support animals, relaxed pets, and very, very cute.
Training and Exercising your Papastzu
Papillons are notoriously intelligent, so your Papastzu is likely a smart cookie and trains well. Even so, training a dog is hard work, regardless of their intellect. As long as you can stay patient with your furry friend, they'll catch on and be potty trained in no time.
The best way to ensure efficient training in your dog is to start as soon as you bring them home. The first step is to build a relationship with your dog that includes boundaries.
It's tempting to cut your new dog some slack. A simple way to establish boundaries is to have your dog sit before their meals. This easy trick connects obedience with a reward in your dog's head.
Positive reinforcement is key to easy training. Many experts recommend clicker training, which associates a noise with a treat for good behavior.
What's In A Name?
Choose one of these adorable unisex dog names on your new Papastzu!
Bear
Pip
Lulu
Toto
Button
Pumpkin
Poppy
Lille
Rocky
Hercules
Tiger
Hunter
Sasha
Casper
Clover
Buddy
Moose
Rocket
Sunny
Digby
Ace
Summary
The Papastzu is a wonderful choice for first-time dog owners and veterans alike. Owners brag about their Papastzus' loyalty, energy, trainability, and low-maintenance requirements. Consider rescuing your newest furry friend through a rescue organization!
Comparable Breeds
Not sure if you want a Papastzu? Check out these dogs with a similar size and maintenance level:
Boston Terrier Shih Tzu mix
Silky Terrier
Papillon
Shih Tzu
Chihuahua Patterdale Terrier Mix