Shih Tzu dogs need bathing regularly to care for their long, double coated, ever-growing hair.
But what about when they are in heat? What if their menstruation cycle comes when they are scheduled for a bath?
Can Shih Tzu Take A Bath When In Heat/During Menstruation?
It's a misconception that dogs cannot be bathed when in heat! As long as you take proper precautions and make sure your dog is comfortable, you can bathe her while she is in heat or during her menstruation cycle. Some experts even recommend you bathe your dog more often while in heat. The best place to do it is usually inside your tub unless your dog is more comfortable elsewhere.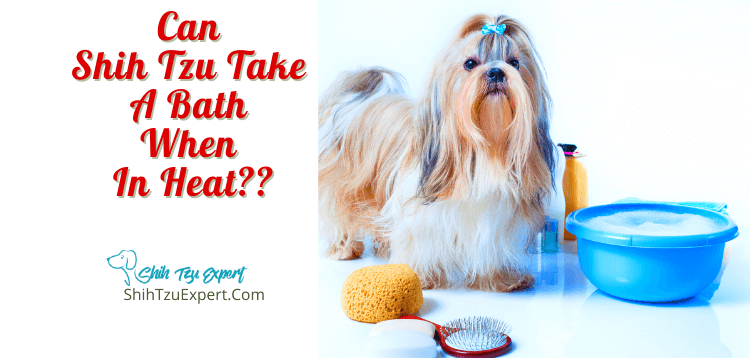 Should You Bathe A Shih Tzu During Menstruation? Is It Essential?
It is often recommended you wash your dog more often when she is in heat or her cycle starts. This is for several reasons:
To clean the dog of discharge and other mess.
To help relieve menstrual cramps.
To soothe her and make her feel better.
Is It Safe To Bathe A Shih Tzu During Menstruation?
It is perfectly safe to bathe a Shih Tzu during her menstruation cycle.
You should take caution in the type of shampoo you use. Some contain dangerous chemicals that cause harm rather than good.
Another thing to be careful of is your personal safety. Some female Shih Tzu can be irritable and even aggressive during their cycles. Just be careful as you bathe her to make sure she is comfortable and do not force her to hold still.
Each Shih Tzu is different! Some may become slightly aggressive due to fear during their menstruation. Always be aware of your dog's body language and happiness when you bathe her.
Can Shih Tzu Take A Bath When In Heat/During Menstruation During The Winter?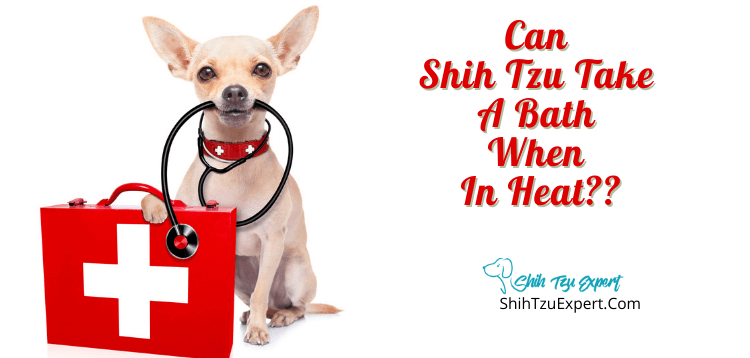 Depending on where you live, baths should always be different in the winter, especially if it is much colder than in the summer. Make sure the house is warm and the water is at the right temperature.
As long as you remember these tips, bathing your dog in winter when she is in heat is just as essential as it is during the summer.
Keep the water lukewarm or warm.
Make sure she is comfortable. Don't rush her or force her.
Try to warm up her towel beforehand.
When Should A Shih Tzu Bathe When In Heat?
There isn't really a specific time when you should bathe your Shih Tzu after the cycle has begun. Sometimes it can be difficult to tell which stage she is at. This is especially true for calmer dogs.
Any bathing during this time will benefit your dog, even if she hasn't bled yet.
Most people bathe their Shih Tzus when the discharge begins, that way they can clean the mess and keep the dog comfortable.
What Are The Risks?
The only risks to washing your Shih Tzu when she is in heat are her behavior and her sensitive areas.
If you are not gentle with your washing and drying, you could cause pain to the dog's genital areas. This could result in her losing her trust in you.
Another risk is her behavior. If she is especially moody during her cycle, she may be tough to bathe and tempt you to force it or go too quickly.
As long as you find ways to prevent these risks as much as possible, bathing should not be dangerous at all.
What Are The Benefits?
Bathing a Shih Tzu in heat can be extremely beneficial to their overall health.
It can:
Keep their coat free of stains and odor, which benefits both them and you.
Prevent diseases like Vaginitis.
Keep her dry and healthy, making her feel better all around.
Help her relax and enjoy being with you.
Keep in mind bathing also reduces the risk of staining your furniture or carpets! Discharge during a dog's menstrual cycle can be malodorous and the stains are hard to fight.
Can A Shih Tzu Bathe At Night When In Heat?
It is perfectly acceptable to bathe your dog at night.
Make sure you bathe her a couple times at night before her cycle to make sure she isn't extra hyped-up or nervous.
Some dogs might relax better during the night since the house will be quiet and they know it is time to settle down.
If your dog is normally active during night hours, it is probably better to bathe them at a time when they are more calm and relaxed.
Should A Shih Tzu Bathe In Hot, Warm, Lukewarm, Or Cold Water When In Heat?
Always make sure to bathe your dog in warm water when in heat.
Experts say the best practice is to bathe her in lukewarm, room-temperature water, to avoid any temperature shocks to the body.
When she has adjusted to lukewarm water, warming it up can be extremely comforting and might relieve any pain she might be feeling.
Never bathe your dog in hot or cold water!
What Is The Best Shampoo To Use On A Shih Tzu When In Heat? [What Are The Ingredients To Avoid]
The best shampoo you can use on a Shih Tzu in heat is a gentle shampoo. Never use human shampoo on a dog.
If you usually use a harsher shampoo, consider going natural.
Natural shampoos can be better for the general health of your dog and are much more gentle, being perfect for when your dog is starting her cycle.
To make sure it is truly natural, always watch out for these ingredients.
Preservatives like parabens can be destructive to your dog's health and even cause cancerous growths.
Phthalates can be disguised as 'fragrances' on your dog shampoo bottle. These can cause problems with hormonal balance in your Shih Tzu.
While some say mineral oils are nourishing, they can actually be damaging for the dog's skin. They are often made from crude, harmful oils.
Sulfates can cause carcinogen skin problems, similar to the effect preservatives have. Avoid any dog shampoo that lists sulfates.
Artificial dyes are used in many dog products. These dyes contain an entire host of other ingredients that are harmful to your dog.
What Grooming Products Should Be Avoided When Bathing A Shih Tzu When In Heat
There are a few tools you should always avoid when bathing your Shih Tzu in heat.
Never clip their fur when they are in heat unless it is badly matted. This reduces their natural insulation and might increase their discomfort.
Never use scented products. These cause irritation to the dog's skin.
Always make sure to use the right brush for your Shih Tzu's fur. Don't use a slicker brush or a bristle brush.
When Should You Not Bathe A Shih Tzu In Heat/During Menstruation?
When your dog hates baths, it is probably wise to find another way to clean them while in heat. You can use doggy wipes to clean their discharge and keep to a regular brushing schedule.
If the water in your home is not suitable for bathing them, then take them elsewhere or stick to wipes and brushing. Hard, mineral water can damage their silken coats.
One effective way to keep your dogs clean when you cannot bathe them during menstruation is to use dry shampoo. Combine this with doggy wipes and brushing and your dog will still remain clean. Make sure not to use dry shampoo too often or the hair might dry out.
Your Shih Tzu's health matters. Make sure to bathe her if you can while she is in heat. Use the proper tools and unscented, gentle shampoo, and always make sure she is comfortable.
No matter what, give your dog lots of snuggles and loving care during this time. It can be uncomfortable, and you might be the only option to reduce the bad experience.
References:
https://animals.mom.com/how-to-groom-a-female-dog-in-heat-12414676.html
https://wagwalking.com/grooming/bathe-a-dog-in-heat