We may earn commission from qualifying purchases at no extra cost to you.
Learn more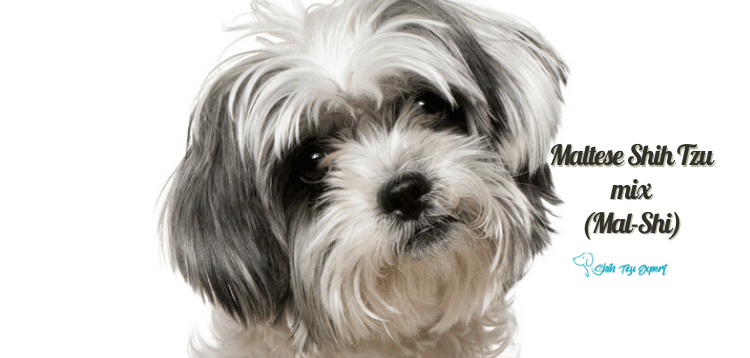 Maltese Shih Tzu mixes, also known as Mal-Shi, are growing increasingly in popularity. This is for good reason! These mixes are friendly, small, high-energy dogs. They are great companions for any owner– whether you're by yourself or looking for a family dog, a Mal-Shi will surely fit your needs.
In this article, we will be going over everything you need to know about Mal-Shis, whether you're a new owner, thinking about welcoming a mal-shi into your home, or just looking for general information– this article is great for you. We'll start with general information, from the history of both the Maltese and Shih-Tzu breeds, Pedigree information, life expectancy, height, weight, size, and coats. Then we will move on to Health and Care, Essential Products, Temperament and personality, grooming, training, dietary requirements, popular names, and finally, how to find and adopt one.
After reading all of this information you should be able to determine whether or not a Mal-Shi is the right dog for you, or you and your family.

What Is this breed?All you need to know About this breed
History and the Origins of this mixed breed
The first thing to know about Mal-Shis is their history. This includes the history of the Maltese breed as well as the history of the Shih-Tzu breed, as both sides are extremely important to a Mal-Shis' behavior and past.
Once we've gone over each of the histories of the two breeds used to create the wonder that is the Mal-Shi, we can discuss the history and origins of the Mal-Shi itself. By understanding the complex history of each of these breeds, you can begin to understand their nature, behavior, meaning, symbolism, and impact.
History of the Maltese
The Maltese breed is an ancient breed originally found in Italy. They are usually about 7-10 inches tall, with the males usually being larger. They normally weigh around 6-9 pounds. They have single coats that are typically long, silky, and dense. They are white dogs that can sometimes be light tan or have hits of lemon markings. They can sometimes be referred to as the Bichon Maltais, and are registered with the AKC and the UKC.
The Maltese was one of the many bichon dogs that were found in the Mediterranean area for thousands of years. While no one is sure the exact origin of the Maltese, it is clear that they developed on the island of Malta, which is an island off the southern coast of Italy. It's possible that the dogs were brought to the area by Phoenicians, who colonized the island in 1000BCE.
They have been used to barter for food, to help protect food rations from rodents, used as companions, and as comforters. The Maltese breed was favored by women, who sometimes carried them along in their sleeves.
In the mid 19th century, the Maltese had established itself as a pet dog in Great Britain and was actually one of the first breeds to be exhibited at dog shows in the United Kingdom. The Maltese finally blessed the United States with their presence around the same time, and even today remains a very popular show dog and companion.
History of the Shih-Tzu
Shih-Tzus are actually very interesting dogs in regard to their history. Despite how small and less than intimidating they may be, Shih-Tzus have proved to be long-lived dogs. They have been around for a very long time. Some think that shih-tzus originated with Dowager Empress Tzu Hsi, however, there have been shih-tzu bones and other types of proof found to prove that shih-tzus date back to ancient times. There are even tapestries and artworks of them dating back 2000 years.In fact, they are one of the fourteen oldest dog breeds. They have quite an impressive history.
Shih-Tzus originate from breeds such as Lhasa Apso, Pugs, and t
he Pekingese
. They are from China and Tibet. The Shih-Tzu was first bred to look like "handsome lions' that are shown in early chinese artwork. This is why Shih-tzu translates to "lion dog". They were thought to have been originally bred by Tibetan monks who wanted to give temple dogs to China. Shih-tzus were beloved for their lion-like features, as it was believed that Buddha rode back to earth on the back of a lion.
Shih-tzus often only belonged to royalty during the Ming and Manchu dynasties. They were strictly regarded as royal property. Infact, anyone caught owning one outside of the palace would even be sentenced to death. They were sometimes held in the robes of women or placed at the foot of beds in order to generate heat.
The first shih-tzus were brought to Europe in 1930. Later in the 30s, the breed came to America. Despite their intriguing history, shih-tzus were not recognized as an official breed until decades later. This is due to emperors and only high-status families having shih-tzus as lap dogs, but never sharing them with the rest of the world. We're glad they finally did! In 1969, the American Kennel Club recognized it as an official breed and placed it in the toy category. They became incredibly popular in the 60s, and have only grown in popularity since.
History of the Mal-Shi
The Mal-Shi, or Maltese-Shih-Tzu mix, is still a fairly new breed. Only developed in the 1990s, the Mal-Shi is designed to be a great companion, hypoallergenic, and low shedding.
This makes the Mal-Shi an excellent family dog as it is less aggravating against allergies, it is less of a mess, and they are extremely friendly lap dogs. It has been found that Mal-Shis, or Maltese-Shih-Tzus, originated in Australia.
In Australia, the Mal-Shi has become one of the most popular mixed breed dogs in many decades. Despite its popularity in Australia, the breed is growing in other places around the world as well, mostly around particular places in North America.
The adorable, friendly breed of the Mal-Shi leaves no room for doubt– these dogs are the perfect companions for everyone. They're irresistible! They are impossible not to love. They are practically destined for world-wide popularity.
Pedigree and Kennel Club Association
The Mal-Shi is not a pure breed itself, but it does have two purebred parents. The Mal-Shi is part maltese and part shih-tzu, both purebred dogs with rich history.
Because the Mal-Shi is considered a hybrid breed, it is not recognized by the American Kennel Club. Mal-Shis are, however, recognized by the American Canine Hybrid Club (ACHC), the Designer Dogs Kennel Club (DDKC), and Dog Registry of America, Inc.
Average Life Expectancy
The average lifespan of a Mal-Shi is around 14-16 years. This makes them a great family dog as they are around for a long time. This means that you have all the more time to bond and love your dog– they can and will become an integral part of your family.
Their long lifespan is a wonderful thing for both you and them, but it does mean that the welcoming of a Mal-Shi into your home means that you have a huge commitment to make. This dog will become part of your family and you must be ready to care for and love them unconditionally and for a long period of time.
The stages of a Mal-Shi's life, just as all dogs, include three different stages. The first stage is as a puppy, which only lasts about half a year.
The next stage of life is the adult, the longest stage. Finally, your Mal-Shi will enter its final years as a senior.
Each stage of life will bring new, unique, and wonderful experiences with your Mal-Shi. No matter their stage in life, they will be undoubtedly loyal to you.
Just make sure you are prepared to care for them in each stage of their life and be just as loyal and affectionate as they are to you to them. They will require constant love and attention, but will not hesitate to reciprocate it to you and the rest of your family.
Weight/Size of a Maltese Shih-Tzu
The weight and size of Maltese Shih-Tzu mixes are, of course, dependent upon their breed parents- Maltese and Shih-Tzus. Maltese dogs are typically 6.6-8.8 pounds regardless of gender, but dependent on age. Male Maltese dogs are usually 8-10 inches tall, and female maltese dogs are around 8-9 inches tall. Again, of course puppies will be smaller than adult dogs. Their weight may also increase or decrease as they enter their senior stage of life.
Shih-Tzus, on the other hand, weigh anywhere between nine and sixteen pounds, depending again on age and gender. As for height, Shih-Tzus are typically eight to eleven inches in height.
Taking into account the information from both breed parents, it makes sense that Mal-Shis on average will weigh about six to twelve pounds. They will also in most instances reach a standing height of ten inches. Again, all of this fluctuates depending on the gender and mostly age of the Mal-Shi.
How To Recognize a Mal-Shi
Continuing on with the basic information, it is important to know how to recognize a Mal-Shi if you are considering bringing one into your home. They can be hard to distinguish between other shih-tzu mixes, but can be differentiated the more you become familiar with them.
To start some reference, here are some photos of Mal-Shis at various stages (puppy, adult, senior) in their life. This may help you get a general picture of what Mal-Shis look like if you have never met one in real life or are unsure about what their appearance is.
Mal-Shi Puppy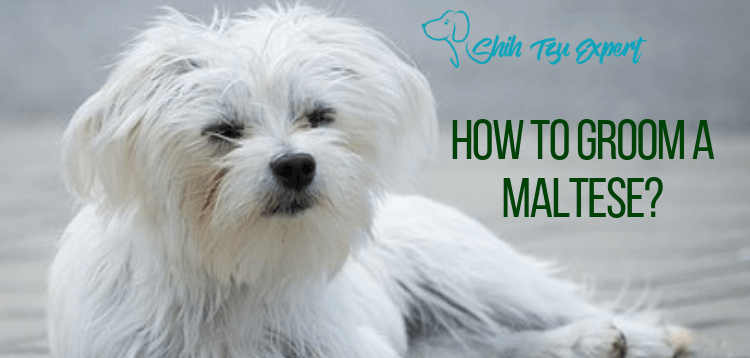 Mal-Shi Adult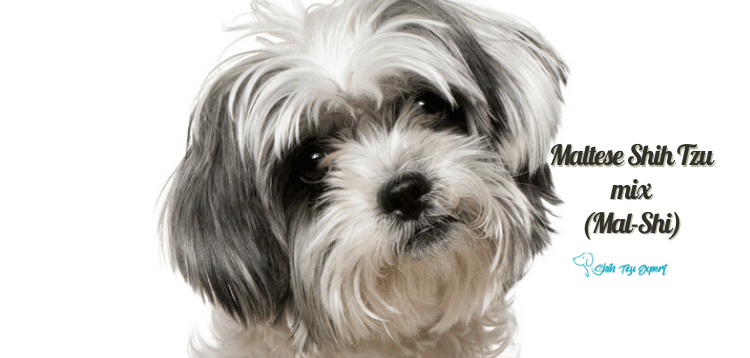 Mal-Shi Senior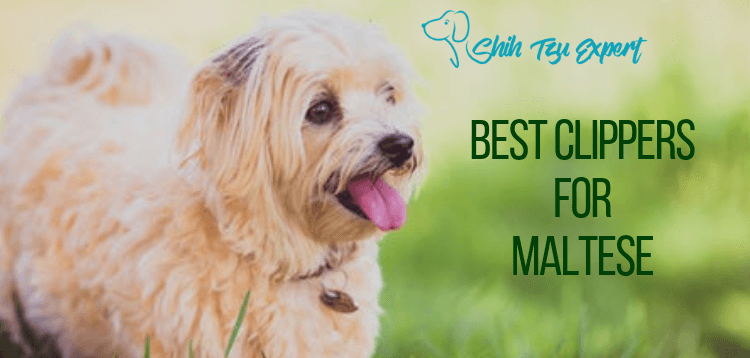 As you can see, Mal-Shis are definitely smaller dogs, which makes them excellent lap dogs. They are typically hues of brown, black, and white. They also resemble their shih-tzu side strongly in their face, while the coat is more of a mix between their shih-tzu side and maltese side.
Mal-Shis may have a double or single coat depending on which of their breed parents (shih-tzu or maltese). A double coat refers to a dog that has an additional layer of their coat under the surface-level coat.
Single coats just do not have that second layer. Whether Mal-Shis are single or double coated is dependent on which parent they take after more.
Maltese dogs have a single coat, while Shih-Tzus have a double coat. Therefore, if your Mal-Shi takes after its Maltese side strongly it will most likely be a single coat. Moreover, if your Mal-Shi takes after its Shih-Tzu side strongly, it will most likely be double coated.
Mal Shi Health and Care
Now that we have gone over the very basic information about Mal-Shis including their origin and history, Pedigree, recognition, life expectancy, weight, and size, we can move on. The next most important thing to understand as a Maltese Shih-Tzu owner is how to care for them as well as their medical histories and facts.
What You Need to Know about Health
The most important things to know about the health of a Mal-Shi is their history, most common medical problems, how to care for them, if they should be neutered, and their teeth and muzzle health problems. By knowing this information, you will be able to prepare for and better understand your Mal-Shis struggles, needs, and future health problems.
Common Health Problems
The most common health problems for Mal-Shis include Patellar Luxation, Shaker Syndrome, and Respiratory problems. Patellar Luxation is when your Mal-Shi's knee dislocates or moves out of place. This is common in small breeds, so it makes sense that it would affect a Mal-Shi.
This condition is most prominent or likely in the puppy stage of their life, between four and six months old. Shaker Syndrome is when a smaller dog experiences full-body tremors. These can onset randomly, or can be due to stress.
This condition is likely in Maltese breeds, which makes it common in their mixed breeds as well, of course including Mal-Shis. This most often occurs or begins around one to two years of age.
Mal-Shis, like a lot of smaller dog breeds, have a lot of health problems involving their respiratory system. This is because their muzzles are triangular shaped which does not help them when it comes to breathing, and they can become overheated very easily. By knowing these most common health problems you can not only prepare but help prevent some of these. Knowing what to expect can help you keep an eye on your Mal-Shi.

How to Care for your Pup?
Now that you know the most common health problems that your Mal-Shi may face, how do you move forward? How do you make sure you are caring for them in the best and most effective way possible? We're here to guide you.
The first thing to know that regular vet visits are vital. They are not optional. You need to make sure your Mal-Shi is seeing a professional regularly to ensure they are getting the treatment they need (if they need it). Even if your check-up ends up being for "nothing" if your dog is completely healthy, it is still well worth the visit. You need to make sure that your dog is up to date with medicine, shots, and overall care. This is ultimately the most important thing when it comes to care.
Regarding day to day care, you need to be sure to be grooming your dog regularly, ensuring they meet their exercise requirements, and feeding them properly. They need exercise daily, do be sure to play with them and walk them regularly. Be careful not to overexert them, however, as they are small dogs and cannot handle the amount of activity larger breeds can.
These dogs do not shed a lot as they are hypoallergenic, but they should be regularly groomed in terms of brushing and clipping.
Make sure that your dog is being fed at least twice a day, but no more than three times a day. This is important to their diet and eating habits. Make sure to establish good habits early on, or your dog will beg for extra food forever.
Should You Spay/Neuter a Mal-Shi
Yes! The answer has been agreed upon: yes, it is best to spay/neuter your Mal-Shi. The debate comes when it begins to be discussed when your Mal-Shi should be neutered. Many think that you should neuter your Mal-Shi between the ages of four and nine months, but others think you should spay them before their first heat, which is as young as five months. However, some disagree and believe that could increase a risk for mammary tumours. Take into account your puppy's health and state before you neuter them as well as your vet's recommendation.
Overall, the most important thing that you need to do daily when it comes to Mal-Shis is love them. These dogs crave constant love and affection. They love to be played with and cuddled, and will definitely bother you and let you know if they are not receiving the affection they are craving.
Essential Products and Grooming Accessories
Once you're aware of your dog's basic health needs for the long run, we need to talk about day to day care. Caring for a dog is a huge responsibility. It requires time, patience, effort, and the right materials.
When you begin research into accessories and products, the results can be overwhelming. There seems to be a product needed for every facet of your dog's life– sleeping, eating, grooming, walking, training.
The purpose of this section is to outline some of the products you need, and to offer some recommendations of those products that will be the best for your Mal-Shi specifically. By purchasing these products, you can be sure you are providing the best care for your Mal-Shi.
Best Grooming Clippers
Grooming clippers
are essential for Mal-Shis, especially considering how long their coat can grow. When purchasing clippers, it is important to consider what kind of cut you want to do, and where you will be grooming your Mal-Shi.
Good grooming clippers
will be versatile, durable, and powerful. You should be able to grow comfortable with them and use them with confidence to give your Mal-Shi a clean cut.
Some aspects of clippers to pay attention to is type and number of blades, cord vs cordless, speed, strength, and price range. For Mal-Shis
Some of our top picks for Grooming clippers include the Wahl Bravura Cordless Clipper, the Andis UltraEdge AGC Super 2-Speed, and the Oster A5 Turbo.
The Wahl Bravura Cordless Clipper is great for grooming at home. The cordless style makes it possible for you to groom your dog without getting tangled, and it has a speed of 5500SPM.It is also easily adjustable, but does come with a pretty high price.
The Andis UltraEdge AGC Super 2-Speed is great especially for when you might have been slacking on grooming for a while and need to cut through extra long or matted fur. This clipper is very high quality and has a variety of blades that come along with it, but it is corded and is also pretty expensive.
The Oster A5 Turbo is the best option if you're looking for something cheaper. It is still powerful enough for your Mal-Shi, but is a little less professional and less demanding in terms of money.
Brushes for Mal-Shis
Mal-Shis mostly have to be brushed for their own pleasure, but it is good to brush them once in a while anyway to avoid matting. There are about six types of basic brushes. These include slicker brushes, comb, shedding brushes, pin brushes, undercoat rakes, and bristle brushes.
To buy the best type of brush for your Mal-Shi you must consider their age, size, and sensitivity. You know your pet best, and know what kind of brush they will enjoy. That being said, there are some top picks we have to share with you.
Firstly, there is the Hertzko Self-Cleaning Dog & Cat Slicker Brush. This brush is excellent for your Mal-Shi because it has curved bristles to go through any matted or tangled fur. In addition, the bristles are retractable which makes it easy to clean after use.
The second choice has to be the Paws & Pals Dog And Cat Deshedding Tool. This brush removes loose fur and dander. This is good for your Mal-Shi because while they are hypoallergenic and don't shed as much, they will still produce dander that can trigger allergies. This brush has just a single row of fine, stainless steel teeth.
Finally, the Pat Your Pet Two-Sided Undercoat Rake is great for those double coated Mal-Shis. This brush has two rows of wide teeth and is durable due to its metal teeth.
Nail Clippers
When purchasing nail clippers, you want to be extra careful. You will want to groom your Mal-Shis nails so they don't accidentally hurt you or themselves, and they are able to keep their nails clean. You want nail clippers that will be gentle with your Mal-Shi because they most likely won't like their nails being clipped the first few times.
Some of the best options for nail clippers for Mal-Shis are Poodle Pet Stainless Steel Dog Nail Scissors, the Andis Pet Tool, and the Resco Chrome Original Dog Trimmer.
Shampoo
Washing your Mal-Shi regularly is essential. This is for both their health benefit and the benefit of you and those who live in your home. You and your dog will be happier when they are clean. Bathing them regularly can improve their health and prevent things like fleas.
The type of shampoo you are using is important because Mal-Shis can grow hair long, but their skin can also be sensitive. Because of this, you'll want a shampoo that can remove the oil and dirt from your dog, but also takes care of their skin.
Some of the best shampoos that can accomplish this for your Mal-Shi are the 4-Legger Organic, Hyper-Allergenic, Lemongrass and Aloe
Dog Shampoo
, Filthy Friends Organic Lemongrass Pet Shampoo, Earthbath Oatmeal and Aloe Dog and Cat Shampoo, TropiClean Luxury 2 in 1 Papaya and Coconut Pet Shampoo and Conditioner, and the Isle of Dogs Silky Coating Shampoo for Dogs.
Grooming Tubs, Tables, and Harnesses
If you are Grooming your dog at home, you might want to consider purchasing a grooming table or tub. This makes it easier to groom during the colder months when you can't necessarily take them outdoors but you still want to avoid a huge mess. Harnesses are also vital in terms of walks and exercise, as Mal-Shis are extremely hyperactive and will run after any person or animal they see.
You don't need a huge tub or table for your mal-shi because they are so small, but make sure they have enough room to stretch out and move without falling over the edge. Some of the best
tables and tubs for grooming
are the Booster Bath Elevated Pet Bathing System, the Pet Grooming Table by Lumibee, and Pet Wash with Splash Guard by Home Pet Spa.
As for Harnesses, you'll want a harness that fits your dog well, is adjustable, and is durable. Some of the best harnesses for small dogs, especially Mal-Shis, are the Frisco Small Breed Soft Vest Dog Harness, Kurgo Go-Tech Adventure Dog Harness with Seat Belt Loop, the Harness Lead Dog Harness, and PetSafe Easy Walk Dog Harness.
Leashes, Collars, and Vests
Finally, some of the most essential items for your Mal-Shi are leashes, collars, and vests. These are essential for walks and exercise, as Mal-Shis are typically hyperactive dogs and will most likely run after dogs, people, and other animals if they are in sight. You will need a strong leash, a durable collar, and good harness or vest.
A good collar depends on your dog
. If you want them to wear it all the time, make sure the material is comfortable and fits well. If you only want them to wear it out, you might be able to get away with something of lower quality in terms of comfort, but go for something stronger in durability.
Leashes are also important. You need a strong leash, and maybe one that has an adjustable length. Some of the best brands of leashes include Flexi, Max and Neo, and Collar Direct.
FAQs
Now that we've gone over the basic information for your Mal-Shi and their health, let's answer some of the most frequently asked questions by owners of Mal-Shis or owners considering bringing a Mal-Shi into their homes. These are mostly about the temperament and compatibility of Mal-Shis, which we will go into with a little more detail later but will answer these questions briefly.
Adaptability: Are they good with other pets/family members? Are they good family dogs?
Yes! Mal-Shis are excellent family dogs. They are very friendly, and require a lot of affection. They are lap dogs, and while they are demanding in terms of playtime, once that is over they are content to lay beside you or on you. They love to cuddle, they are kind, and they love to be petted. They take a while to get used to other dogs or pets, but they would eventually be okay with them after being exposed to other dogs or pets for a period of time.

What are some Qualities of Mal-Shis?
Some of the qualities of these Mal-Shis that make them such great companions include loyalty, devotion, affection, they are petite, they can be calm, they crave constant love and attention, they are funny, they are proud, majestic, fun and friendly.
Are you a good match for Mal-Shis? Are you good enough to be a parent for this breed?
To be a good match for these Mal-Shis, you need to be prepared for a long term commitment. You must be ready to provide them with unconditional love and affection. They will become an integral part of your family, more than just a pet. If you can accept this and devote yourself to your Mal-Shi, you will be an excellent owner. As long as you have the funds to care for them financially, all you really need to properly care for them is love. Be willing to love them with your entire heart, because I promise they will steal it.
You don't need too much of a large space for a Mal-Shi. They are small dogs and are content in small spaces. You might want a little extra room for playing, but other than that, they are relatively low-maintenance dogs.
Whether you are living on your own, or with a family, you can still be a good match for a Mal-Shi. Your Mal-Shi will love you and anyone who comes into your house, they are absolutely people dogs. They love to be loved and to give love.
Pros and Cons of Getting a Mal-Shi
If you are still somewhat on the fence about getting a Mal-Shi and bringing them into your home, there is nothing a good pros and cons list can't help with.
Pros: Mal Shis are family friendly, hypoallergenic, loyal, long living, small dogs.
Cons: Mal Shis can be very hyperactive, they require a lot of grooming, and if not exposed early enough, may have trouble getting used to other pets and people.
Temperament and Personality
The temperament and personality of a Mal-Shi is nothing but friendly. These dogs naturally love people, children, and families. They are extremely affectionate, and were even bred to be warm and companionable. They are very bold and outgoing, and will make friends with every person, child, and animal they come across. They are good-natured, which makes them excellent service dogs as well. They will become very attached to you and your family, and need constant companionship.
They can be very hyperactive at points, and if you are walking them you will want to make sure you have a good leash. They will want to make friends with every dog and person they pass, so you'll need to have a good grip on them. They can also have very severe separation anxiety, so be sure to never leave them alone for too long.
The Basics of Grooming
In terms of grooming, Mal-Shis can be a bit high maintenance. They are worth it, of course, but you must be aware of this as a Mal-Shi owner. Grooming involves the trimming and shampooing of your Mal-Shis coat and their nails. To do this well, a few different things must be considered. You need to know if they are single or double coated, take into account their coat texture, as well as how much they shed.
The Coat
To go over this again, the coat of your Mal-Shi will either be double coated or single coated. A double coated Mal-Shi will have an undercoat, while single coated Mal-Shis do not. If your Mal-Shi has more of their Shih-Tzus qualities, they will most likely be double coated. However, if they lean more towards their Maltese side, they will have a single coat. Either way, their coats produce oils and collect dirt that needs to be washed regularly.
How to Groom their Coat
There are several things to consider when grooming your Mal-Shi's coat. You must consider what kind of cut you want, their age, and the state of their coat before trimming. When grooming your Mal-Shi, you must focus on detangling. Mal-Shi coats are prone to matting and tangling, especially on their neck and belly. Make sure to focus on these areas. It is also important to have a good quality set of clippers for this reason.
Age is also an important factor. Mal-Shis are easiest to groom as puppies because the texture of their coat at that point is soft and easier to trim through. As they age, grooming will get harder in terms of cutting through their coats, but easier in terms of holding them still.
Be very patient with your Mal-Shi when grooming them, especially the first few times. They most likely will not enjoy the process and will be very nervous,so be sure to be patient. Give them a lot of praise, and have some treats ready. Once they're cut and groomed, they will be happy and excited by the process itself may be difficult.
Are they HypoAllergenic?
Yes, Mal-Shis are bred to be hypoallergenic! They do not shed as much, which can help with allergies. However, they still produce dander that can affect allergies so be sure to consider that as well. The lack of shedding does make them even better family dogs however, it makes their clean up a lot less demanding. It also helps if you brush and groom them regularly.
Tips for Finding a Mal-Shi
Now that you have processed and considered all the information that has been given to you about Mal-Shis, hopefully you are on board with bringing a new dog into your home! Mal-Shis are excellent pets, and if you have made it this far, you will not regret it. The next step is to find out how to actually find a Mal-Shi. There are a few different avenues you can consider. Rescue shelters, rescue groups, and
breeders
are all available across the world.
Rescue Groups
There are rescue groups across multiple countries. If you live in the US, UK, Australia, Canada, or Asia–there's a place you can go to find your very own Malshi.Rescue groups are groups that rescue dogs from unwelcoming or abusive homes and care for them until they are able to find new homes for them. There are often an overwhelming amount of dogs for them to care for, so rescuing dogs is always a great way to help them out.
Some rescue groups in the US that you can find a Mal-Shi in are the American Maltese Rescue Association, the California Maltese Rescue, Southern Comfort, and Maltese Maniac. There are even groups on Facebook to look at! Find the closest rescue group near you.
In the  UK, there are also great rescue shelters. Dogs Trust, Wood Green, All Dogs Matter, and Barking Mad Rescue are all great choices.
In Australia, 4 Paws Rescue, Wheatbelt Dog Rescue, Acacia Strays, and 4Lyfe rescue are all great rescue groups to look into.
In Canada, some of their best rescue groups include The Animal Guardian Society, Greater Moncton SPCA, and The Underground Railroad Canada.
Finally, in Asia, there are several different rescue groups to consider. Some good ones to start your research with are Wuhan Small Animal Protection Association, Vietnam Animal aid and Rescue, The Man That Rescues Dogs Sanctuary, and SPCA Penang.
It is also typically easy to find breeders in your area, but be sure that the breeder you choose is trustworthy and that you ask a lot of questions. Don't be afraid to ask about their qualifications.
Price, of course, is always going to be a factor. The average cost of Mal-Shi is between $300-$1500, depending on the breeder. The average yearly cost for caring for your Mal-Shi including grooming, feeding, and medical needs, is just over $1,000.
Training and Exercising Your Mal-Shi
Training and exercising your Mal-Shi is essential. Training your Mal-Shi will both strengthen your bond with your dog and ensure that they have some sort of security and expected behavior in your house. Exercise is also very important to any dog's lifestyle, but due to the size of a Mal-Shi you have to be careful to not overexert them. By doing the proper research, training your Mal-Shi and making sure they meet the right exercise requirement should be a generally stressless experience.
There are a lot different types of training for your Mal-Shi. There is training them socially, house breaking, and training them to follow basic commands.
You will want to start training your Mal-Shi very young, because the longer you wait the harder it will be to train them. Start by introducing them to people outside of your immediate family during their first year of life. Maybe even enroll them in puppy kindergarten to get them better acquainted with other dogs.
In terms of house breaking, you also want to start this fairly soon. Decide early on whether you want to train them to go outside or inside. Because Mal-Shis are so small, you can train them to go inside if you so choose. However, if you do choose to train them outside, be sure to pick a spot in the yard that is easy to get to with no obstacles in the way. You will need to take your puppy out very frequently in the beginning until they learn when to wait and when to go. Never punish them for accidents, only praise them for going outside.
Exercise is also extremely important. Mal-Shis aren't very demanding when it comes to exercise. They don't need as much as larger breeds, or they could overexert themselves. However, they can't just lay around the house all day. They need regular exercise, too. Regular walks and playing should easily fulfill their exercise requirement. Mal-Shis love walking–they love being outside, being active, and of course, seeing other people and dogs. As long as you have the right leash and harness, these walks should go smoothly and be enjoyable for both you and your puppy!
Food and Dietary Needs for Your Mal-Shi
Mal-Shis are
hungry little dogs
, and will eat anything you give them. This is why you need to be careful about what you give them. You will want to feed them at least twice a day, but not more than three times. Generally, your Mal-Shi should be consuming about forty-five calories per pound of body weight. They need regular food, as their breeder parent, the Maltese breed, is susceptible to low blood sugar.
There are a few different routes you can take when it comes to feeding your Mal-Shi. There is dry food, canned food, and a natural diet. Deciding which is the best for you and your Malshi depends on your own lifestyle as well as their needs.
For dry food, you will want to be sure to select a premium dog food. Generic brands often contain additives or fillers that are not good for your dog. Organic and premium brands are the best wait to ensure your Mal-Shi is getting the nutrition they need.The best thing to do is to ask advice. You can either ask your veterinarian for dry food recommendations, or if you got your Mal-Shi from a breeder, ask them what they have been feeding your Mal-Shi. Consistency is key, and it is best if they have already chosen a good brand to continue with that brand. When feeding your dog dry food, leave it in a bowl for them to eat whenever they decide to. Just make sure it is accessible. If they are a new puppy, be sure to get puppy food. If they are older, look for adult kibble instead.
Canned food is also an option. Similarly to the dry food option, be careful when choosing what brand to purchase from. You will still need to make sure that whatever food you are giving your dog is complete and healthy for them. Asking for recommendations also can't hurt. If you are feeding your dog canned food, it is likely you are feeding them on a schedule. If you are feeding them at certain times in the day, be sure to leave out dry food for them to snack on throughout the day as well.
The last option is a natural diet. This would involve you preparing your dog's meals daily. It would take a lot of work, but if you have the time, money, and are willing, it can be great for the health of your Mal-shi. You will need to do more research and listen to your veterinarian about their needs, but the basics of a natural diet would involve raw chicken necks, cooked beef or chicken, cottage cheese and vitamin supplements. This natural diet is largely meat-based, but you also want to incorporate vegetables into their diet. There should also be a small portion of fruits and nuts to maintain balance. When preparing your pet's meals, make sure you are cleaning their food thoroughly before serving.
Most Popular Names
Now that you've done all the research, it's time to have some fun! One of the best parts of bringing a new dog into your home is deciding their name. It could be personality or appearance based, or just a name you like. If you're struggling with where to start, we can give you some ideas to start that brainstorming! Here is a list of some of the most possible Mal-Shi names.
Fifi
Zoe
Twiggy
Foxy
Betty
Sammy
Katie
Sweetie
Bunny
Princess
Penny
Missy
Maggie
Molly
Lady
Vicki
Cupid
Brenda
Minnie
Lovely
Flora
Max
Buddy
Bonbon
Chico
Riley
Oscar
Dash
Zues
Pip
Squirt
If you've made it to the end of this article, you're now an expert in all things Mal-Shi! Whether this was meant to guide you to decide whether or not you want to bring a Mal-Shi home, or you're a new owner looking for information, congratulations! Your experience as a Mal-Shi owner will be nothing but fun, silly, and loving. Now, stop staring at your screen and go give them some love!