We always want to give the best possible care to our dogs, including keeping them fresh and fluffy for cuddles and pets. We've done the research and can help you determine the details of what you'll need — night or day, winter and summer.
Is It Okay To Bathe My Dog At Night?
It is, as long as the pet is entirely dry after the bath!. This can prevent excessive drying of the skin, matting, tangling, and possible infections. Bathing your pets in the morning should be your goal, unless your schedule encourages otherwise. Always be sure that you have everything that you need in reach when you begin the groom, so that there's no chance the dog leaves without being properly accommodated in each step.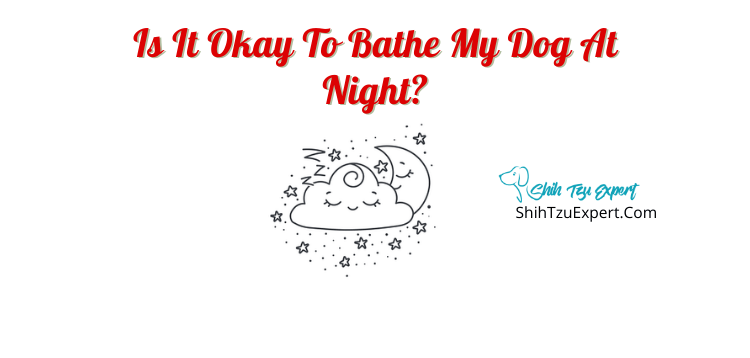 Is It Okay To Bathe My Dog At Night During Winter Vs Summer?
As long as the dog is fully dried at the end of the bath, then this should be just fine. Preferably, the dog will be bathed and towel-dried inside and can be let outside after this is done. A low temperature hair dryer can also be used to finish drying the dog, but allowing them outside with water still on their coat can have some very negative consequences.
What Is The Best Time To Bathe A Dog?
Most of the time, the best answer is in the morning.
Bathing a dog in the evening before they lay down on their bed can result in additional tangling of the fur if they were not fully dried after the bath. It could also lead to skin irritation or hypothermia if the dog is an outdoor pet.
Taking the time to wash the dog in the morning is more beneficial as it gives them the chance to spend the whole day drying off. Ideally, you will have attempted to dry them to the best of your ability, but it is especially difficult to do so with animals that have thicker coats. Most dogs enjoy spending part of the afternoon sunbathing and this is the perfect time for them to fully dry and remove any excess moisture (just be aware of the dog rolling in the dirt during this time, too).
Remember to avoid bathing a pet right before a walk or exercise. If you walk them in the morning, schedule their bathtime for right after. Being wet while exercising can cause skin irritations, or if it's windy it can encourage tangling of the hair. If it's cold outside, not being fully dried can contribute to hypothermia or making the dog more susceptible to minor colds.
Can I Bathe My Puppy At Night?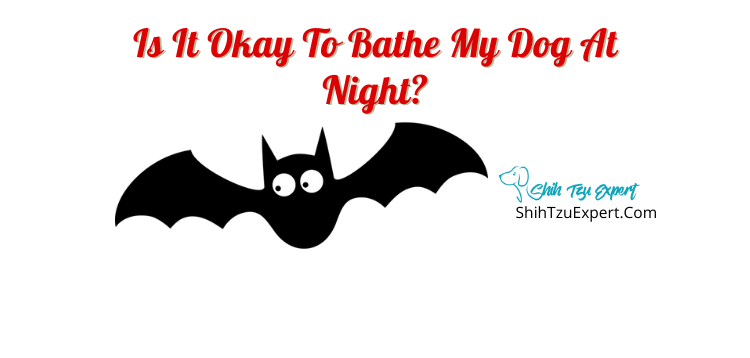 Any time you choose to bathe a puppy at night, they need to be fully dried before going to bed or being let outside again. It is not a bad time to be washed, but the consequences of not completing the groom entirely need to be addressed.
Take into consideration the length of the animal's hair or fur when allocating time to dry. If it is a short-haired breed such as a chihuahua or pointer, they will not take as long to dry versus a husky or other long-haired dog. Be knowledgeable about the breed you have and also note if they are double-coated (like a german shepherd). It is encouraged to get those kinds of pets professionally groomed, as using a blow-dryer is more effective at reducing matting as well as getting rid of excess hair.
If your pet is okay with a blow-dryer, ONLY ever set yours at a low temperature and at least eighteen inches away from the skin. Dogs' skin is more susceptible to being over-dried and using high heat on them could easily cause burns.
Lastly, the puppy must be over eight weeks of age to receive a bath. Until that point, pups must rely on their mother for cleaning and after that a very gentle puppy-specific shampoo should be used.
Can I Bathe My Senior Dog At Night?
Yes, as long as they are no longer wet before it is time to sleep or be turned out for the night. As pets get older their skin (like humans) becomes thinner and is more susceptible to infection or irritation.
Before the bathing, make sure to have a non-slip mat under where the dog will be standing to avoid any falls. Check with your vet for any medical conditions that your pet may have that would affect the type of shampoo or how often they should be washed.
Just like with puppies, consider the length of the hair when determining how long it will take to dry. Begin with towelling the dog to remove any dripping water, and replace the towels when needed. You are welcome to use a blow-dryer if your pup is not afraid of it, but be wary of the temperature. It should only ever be at cool or medium, and held at least eighteen inches from the pets' body. As aforementioned, the skin on senior pets can be more sensitive, so be gentle and don't rush to chafe their bodies with towels or too much heat.
How Late Can You Bathe A Dog?
There is no specific time for this, as long as the grooming is completed in full before they lay down or exercise. A dog should not still be wet before these activities to avoid any complications, especially if they are long-haired or are double-coated.
After thoroughly brushing then washing the pet, have multiple towels at the ready to accommodate the process. Once a towel is damp, you should not continue to use it for drying, and it should be swapped out until the dog is completely dry. If your pet is comfortable having a low-heat dryer on them, this is also acceptable to complete the grooming.
Can I Bathe My Dog Anytime?
Most vets recommend bathing a dog as often as every other week to as little as every three months. A few different components need to be taken into account, such as hair length/thickness, activity level, time spent outdoors, and allergies/skin conditions.
On pets with light-colored fur that is very short in length, it's pretty easy to determine when it's time for a bath, especially if they went for a roll in the dirt. Be wary about dogs with longer coats, especially if they are not brushed out regularly. Their fur can hide the lack of cleanliness of their skin, and if they're matted or tangling, then looks can be deceiving when pushing their fur back to check it out.
If a dog is incredibly active outdoors, then baths should be more routine. They spend much more time out in the elements and will drag dirt and germs inside your home. Even if they're an outdoor pet, their skin might be more prone to irritations or too much time in the sun can dry their skin or fur out a little bit. Consider finding a pet shampoo that is moisturizing as well to help with this.
Just like humans, dogs sweat — even if it isn't as visible. If they are a very active breed and spend a great amount of time exercising, baths should come more frequently (every other week) to rinse the grime off of their skin.
If your pet has any allergies or skin conditions, talk to your vet about how often they should be bathed. They may need a special shampoo for the condition or have other special needs that have to be considered.
Should I Bathe My Dog Every Night?
Absolutely not. A dog's skin is much more susceptible to being over-dried and has better resistance to the elements. Most vets will recommend washing a dog every other week if they really need it, otherwise most of them can go up to three months without a good bath.
Be sure to check out the section directly above this for some tips to determine how often to wash your pet. Things like type of coat, outdoor activity, and skin conditions can affect how often bathing is needed. If you want to get really specific, you can ask your vet for what they recommend for your breed of dog and their current lifestyle.
If you'd rather not go the DIY route, finding a mobile grooming service that comes right to your door and bathes the dog safely is a wonderful option. They can help determine how often the pet needs groomed, and can get them on a set schedule.
Can Dogs Get Sick After A Bath At Night?
Yes, especially if the wrong type of shampoo is used or they are not fully dried after the grooming.
Dogs need shampoos meant only for them. Using a human shampoo can be too acidic and have damaging effects to their coat or skin. It can even encourage infections in the eyes and ears if it isn't properly washed out.
If a pet isn't fully dry and runs outside into the chilly winter night they run the risk of hypothermia. Cold water lowers their body temperature and this will get even worse if it isn't a super warm summer night.
What To Do If Your Dog Is Sick After Bathing At Night?
Call your vet. Talk to them about your dog's symptoms and let them determine whether or not they need veterinary treatment. If it's a small cold, the dog may be able to wait it out, especially if they are young and healthy, but if it's a senior pet they might not be as likely to get through it.
Most skin infections also need to be treated by a vet, especially if they are more severe. When bathing your canine, always be sure to check for signs of irritation or cuts that may have been there before. If you're unsure if your shampoo will be okay with your dog's skin type, test it on a small portion of their leg before continuing with the groom.
What Is The Best Time To Bathe My Dog?
The best time to bathe your dog would be in the morning, long before they have any significant amounts of exercise. This gives them the chance to be fully dry before an evening walk or before they lay down for a nap, ensuring that they are completely dry.
If you're ever in doubt, consider checking out a grooming service. Whether you choose a drop-off or a mobile bus, the professionals can help you determine how often to bathe your pet and can absolutely ensure that your pet is well cared for. They will have extra tools to make sure everything is taken care of.
How Often Should I Bathe My Dog?
Depending on how dirty they get, you can bathe them as often as every other week or as little as every three months. If a dog has rolled in the mud, then they should be bathed ASAP to prevent matting. Allowing the mud to dry and keeping it there for long can trap bacteria or cause serious irritation to the skin and to the coat.
Can I Bathe My Dog Early Morning?
Yes, in fact, this is the best time recommended by professionals if you are bathing your pet at home. Giving them a wash in the morning and allowing the pet to be fully dried throughout the day is the best way to prevent any negative consequences.
Should I Bathe My Dog Everyday?
Bathing a pet every day will over-dry the skin and may cause some serious damage to their coat. Dogs are more resistant than humans to the outside elements and do not require baths nearly as often.
The minimum amount of time between washes should be two weeks, unless they have done something silly like rolling in mud or swam in unclean water that may have contained bacteria.
If they need to be freshened up, think about checking out dry shampoos for dogs. Relying on the "sniff test" won't be effective, so using the dry shampoo can be a helpful tool along the way.
Can I Bathe My Dog In The Afternoon?
The afternoon is a perfectly acceptable time to wash your dog. It still allows for a few hours before the evening for them to be out in the sun and ensure that they are fully dried before evening and it becomes too cold for them to effectively dry.
Fully lather the shampoo for at least four minutes to effectively clean your pet, instead of allowing the soap to "soak in". Rinse thoroughly to prevent the shampoo from coating the skin. Please do your best to ensure that the canine is 100% dry before it gets chilly or they are allowed to exercise.
Bathing in the evening is fine, especially as the dog should have completed all of their exercises for the day and will remain fresh and clean for the evening until their next bout of zoomies.
References
https://www.petmd.com/dog/slideshows/7-common-bath-time-mistakes-pet-owners-make#slide-3
https://www.caninejournal.com/how-often-to-bathe-a-dog/