Having more than one pet can be rewarding yet exhausting, and it's easy enough to double up on most tasks — play time, meals, daily rest. Exercising our dogs is simple enough, but deciding whether or not to take them out into the world together can be a little daunting.
Should I Walk My Dogs Separately?
Unless there are time constraints or you've put the effort in to ensure the safety of everyone involved, walking your pets separately is typically the most beneficial for the animal. Your canine will get an individualized bonding experience with you and safety levels will be much higher as you can focus on the individual.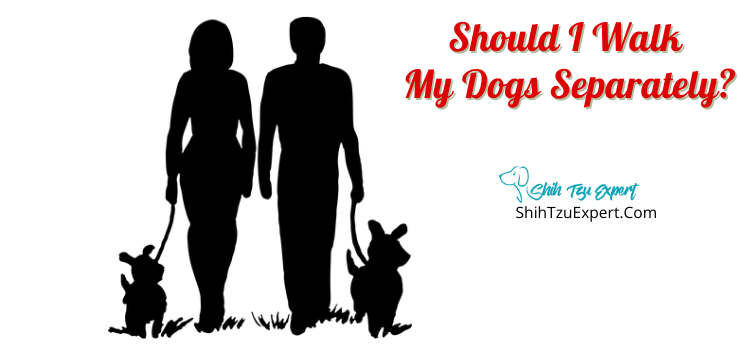 Pros and Cons of Walking Dogs Separately
Depending upon your ultimate goal, there can be many benefits to walking your dogs separately. A variety of factors should be taken into consideration, and below is a short list for you to browse.
Pros:

Cons:

Individualized bonding time
Won't learn bad behavior from the other
Better time to leash train
Reduced distractions
Safety based on maximum supervision
Less likely to be injured

Double/triple/etc. the time spent on walks
Lack of exposure to good learned behaviors
Lessened socialization
Reduced play
Lack of enrichment
There's a saying along the lines of "three leashes and four hands". Consider having another person with you to handle any surprises, whether they solely walk the dog with the worst behavior or you double-leash the canine, with each person holding one leash. It's double the attention and an easy transition if another of the animals has an issue.
Is It Better To Walk Dogs Separately or Together?
The answer to this question lies primarily on the dogs' behaviors when they are outside the seclusion of their home.
If the pets are properly leash trained or are (at the very least) non-reactive to each other, then walking two or more dogs together can absolutely be a suitable option. Pack walking encourages socialization and manners in regards to other pets. They become more enriched and less distracted if they are constantly exposed to another one's behaviors.
On the other hand, pets pick up bad habits from one another. If one dog is reactive and pulling, the others may begin to copy the inappropriate actions and now you've ended up being dragged down the road instead of leisurely exercising as intended.
Walking your pets separately can also promote safety. There is no need to be mindful of multiple personalities and how they interact, as well as more focus can be given to the needs of the animal.
Continuing through the rest of the information provided below will give you a more in-depth and appropriate answer for your particular situation.
Should You Walk One Dog At A Time?
As aforementioned, the attitudes of the animals plays a major role in this dilemma. As long as they are companionable and are not incredibly reactive to each other or their surroundings, walking multiple dogs at the same time should not be an issue.
Aside from their behaviors, consider the age of the dog as well as breed.
The older they are, the more likely long walks will be too much for their body to handle. Slow, short walks would be favorable.
Younger pets may lack patience or attentiveness, potentially causing injury or annoyance to the elder dog.
Different breeds require more or less activity in their day and this should be accounted for.
High energy breeds such as heelers, german shepherds, huskies, etc. need multiple hours of strenuous exercise every day and using a dog run in addition to their daily walk may be in their best interest.
Lower energy dogs like basset hounds, cavaliers, and pugs would do well with shorter intervals of exercise. These breeds also tend to have shorter legs, and what may take you or a larger breed mere steps to traverse, could take the smaller animal much more energy.
If both dogs are leveled in their energy expenditure needs as well as your ability to provide this for them in a safe environment, then the animals would likely enjoy a small adventure together.
How To Walk a Large and Small Dog (or Puppy) Together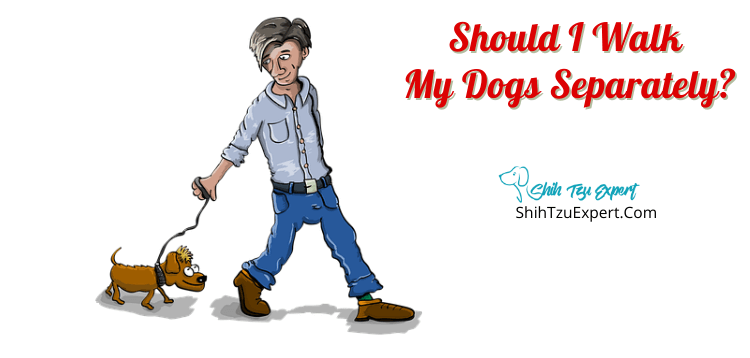 One of the first things to consider in this case is the equipment necessary. Harnesses may be a favorable option as it will reduce the dogs' abilities to slip out of a slack-lined collar, even when it becomes tangled. Depending on the actual height difference, a coupler lead may also be used.
Larger dogs have a longer stride and walking slow enough for their tiny counterparts may be uncomfortable for them. Whereas small dogs will exert a lot more energy to accommodate for their lack in stride. That being said, your equipment requirements may change owing to the size differences in your pets.
If the size difference is incredible, the larger animal should be clipped onto a longer leash, one maybe eight to ten feet whereas the little one should be on a six foot lead. This'll allow more space and wandering for both animals and will less likely result in injury.
What To Do When Dogs Won't Walk Together
The cause of the issue needs to be addressed. Consider consulting a trainer to help pinpoint the problem, or walk them separately until you reach the conclusion yourself.
Neither pet wants the other one dragging them into a bush to sniff around or to stop abruptly at the sight of a rabbit. If both can be individually trained to walk on a loose leash without reactivity to their surroundings then you can proceed with walking them together.
It is typically recommended that when this situation occurs that the walk also be shortened to start, then gradually increase the length/time being sure to immediately address any problems along the way.
If I Have Only Two Dogs Should I Walk Them Together Or Separately?
As long as the dogs can share the time together successfully, walking them together should be totally fine. But what does a "successful" walk mean?
First, both dogs need to have no massively negative behaviors when leashed. One dog who is incredibly reactive towards others or is charging down the sidewalk and halting abruptly at minor distractions can reduce the enjoyment of the owner as well as the other pet. Animals learn behaviors through observation and positive rewards, and will quickly pick up those bad habits as demonstrated by their partner.
Second, the canines should be properly leash-trained as well as ready to heel at command. Being dragged down the sidewalk by a great dane who saw a rabbit isn't exactly enjoyable to you, nor will it be to your other dog. They should both understand how to walk on a slack leash and listen to your command if they need to pause, whether for a bathroom break or to avoid a distraction.
When both pets can play and work together appropriately as mentioned, then they are ready to be walked together. Otherwise, separate walks or having one person per pet would be a better accommodation.
How Do I Get My Two Dogs, Who Walk Well Separately, To Walk Together?
It needs to be established as to whether a coupler leash or two separate leads are more suitable (based on size, energy level, etc.) and acclimate them to whatever the ultimate choice is by walking them around your home together.
Once the pets are comfortable, take them on small walks starting around ten minutes. As you slowly increase the length of the walks, ensure that they will respond to your heel commands appropriately and encourage them to walk in such a way that does not tangle the leashes together, depending on what leads you have chosen.
The heel occurs when the dog is paused and focused on you, with their shoulder aligned to your body. It should be activated by a click or a word and rewarded to encourage the behavior. When the canine is in the correct position, mark with a treat and use positive praise. If the pet is too far forward, consider turning the other direction and calling their name, bringing them in alignment with yourself and marking the behavior again.
If this method is not working out, consult a trainer for a better idea on what the problem may be.
Is It Safe To Walk 2 Dogs On 1 Leash?
The short answer: absolutely!
But keep in mind that the pets must heed your commands in order for this to be accomplished. Without obedience or respect for the other, they could end up tangled together resulting in injury or confusion.
Remember to accommodate for size as well as exercise needs. Leashing two breeds such as a great dane and a chihuahua together may not be practical owing to the stride length and energy differences.
Using leads such as a coupler allow you as the owner to control the pace and some even allow for height adjustments. Consider a harness along with the coupler, as this will reduce the chances of entanglement, especially in the legs.
What Is The Best Leash For Walking Two Dogs At Once?
Taking into account the different topics that we have discussed above will determine the best equipment for you. Remember that differences in height or weight, breed, energy level, and age need to be considered before choosing your leash.
Personally, I prefer to use a coupler leash such as this one:
Vastar Double Dog Walker, Adjustable Heavy Duty Dog Leash For Pets. It allows adjustments for any height differences, can hold significant amounts of weight, as well as reduces tangling and works well with my preferred harness.
For separate or individual leashes, something along these lines would be beneficial: Lifetime Leash. It comes in a few different sizes and colors, and the length can be adjusted easily depending on your needs.
How Can I Safely Take Two Dogs On A Walk Without Being Pulled In Multiple Directions?
Train. Your. Dogs.
Both animals should be accustomed to walking on a slack leash and should heel when commanded. But how to begin?
Start with walking them separately to reduce distractions while you train. As the dog begins to pull on the lead, stop. Do not yank them back or yell. Allow the animal to realize that being on a loose leash is the only way for the adventure to continue.
As they begin to learn this new way of walking, praise them. Dogs respond well to rewards such as praise or small treats as they progress.
Without another animal immediately present, they are less likely to be distracted and can tune in to your command. There's no longer a chance of learning inappropriate behaviors from the other as well as no risk of entanglement — significantly reducing injury.
Take your time in considering all the information that you've been presented with. There are many factors that can decide whether or not pack walking is more beneficial for your fur babies. The final decision should promote exercise in a safe environment and a positive experience for everyone involved.
Sources:
http://www.vetstreet.com/our-pet-experts/how-do-i-walk-two-dogs-at-once