We may earn commission from qualifying purchases at no extra cost to you.
Learn more
The Affen-Tzu is the term commonly given to the hybrid mix of the Affenpinscher and the Shih-Tzu. This is a lesser known and underestimated hybrid. The two breeds have similar structures and coats, making for a predictable outcome in the puppies as far as appearances go. However, the temperaments and traits of these two breeds are vastly different, making it important for would be owners to assess the individual dog or puppy they would buy or adopt. While proponents of purebred dogs often discourage the purposeful breeding of mixed breed puppies, the reality is that people have been domesticating dogs in this way for centuries. Humans have always bred dogs in order to meet their own specific needs. The modern mix is no different. Today's buyer often has very different requirements in a pet than did ancient peoples. While most dogs were bred for work in the past, today's owners largely buy dogs for the sole purpose of companionship. This has led to some struggles for today's dog owner. For example, more people live in small apartments today than in years past. Dogs which were bred for hunting or herding rarely do well in apartment dwelling because they were not bred for such a lifestyle. This conundrum has led to breeders seeking to meet the needs and desires of the modern buyer through a variation of hybrid mixes. The unfortunate truth is that some hybrid mixes fare better than others. It is by this trial and error, however, that the modern breeder and buyer can determine and promote the traits and characteristics that are desirable in a dog for today's owner.
History
In order to grasp the nature of the hybrid mix of the Affenpinscher and Shih-Tzu, it is important to understand the history of each specific breed. Understanding the reasons for which a breed was originally developed gives insight into the traits and characteristics of the breed. Knowledge of the history of each individual breed will then allow you to assess possible combinations of the mixed breed. This is especially important when the hybrid has not been around long enough, or is not populous enough to gather data on the traits, temperaments, and personalities of the hybrid.
The Shih-Tzu was bred in China, and it remains one of the only breeds which was specifically bred for companionship. This is the reason the Shih-Tzu remains a popular breed in the modern world.  Most ancient breeds were bred for one type of work or another. Few were meant to be merely companions. Because of the purposes for which the Shih-Tzu was bred, it has highly desirable characteristics for the modern dog owner. This breed is so ancient that its origins are even disputed. Most believe it originated from a cross of the Lhasa Apso and
Pekingese
, although there is some dispute as to whether or not those breeds have been around longer than the Shih-Tzu. Although the breed itself is ancient, it was not recognized by the American Kennel Club until 1969. Since then, the breed has remained wildly popular not only among Americans but across the world.
The Affenpinscher breed is another ancient breed that dates back to around 1600. Some breeds that have since derived from the Affenpinscher include schnauzers and brussels griffon, among others. This breed was originally domesticated for the purposes of pest control. It was widely used to keep rodents at bay. Because it was bred for a job to do, it's ancestors today can often get bored and need regular training and exercise.
Physical Traits
Both the Shih-Tzu and the Affenpinscher  are commonly considered hypoallergenic, meaning they either do not shed or shed considerably less than other breeds and have less pet dander. The mix between the two breeds would make an excellent pet for those with severe allergies who cannot tolerate dogs with moderate to high dander. The mix also makes a great indoor pet for an owner who does not want to have to clean up a lot of fur around the house.
Both the Affenpinscher and the Shih-Tzu have a life-span of around 10-15 years.
The Affenpinscher has a wiry coat, while the Shih-Tzu has a silky or curly coat. Mixing these two breeds often means that they will produce a litter where some puppies have a wiry coat and others have a softer coat.
Health
When looking at mixed breed hybrid dogs that have not been around for very long, it's very important to study the health of each breed.
The Shih-Tzu has a few known health problems. They can tend to get eye infections, and puppy buyers should be aware of how to prevent and treat eye infections. The Shih-Tzu should also have genetic testing done before being bred, so when a buyer is looking at puppies from a breeder, he or she should always ask about health and genetic testing. In the genetic testing, the test for Progressive Retinol Atrophy, usually referred to as PRA, is very important as breeding dogs who carry this gene can produce blind puppies.
Another health concern in both the Shih-Tzus and the Affenpinscher is hip and patellar dysplasia. If buying a puppy from a breeder, the buyer should always ask if the dam and sire have their hips and elbows certified. Usually this is done through the Orthopedic Foundation for Animals (OFA). OFA will give a dog's hip x-rays a score of excellent, good, or fair if the dog does not have hip dysplasia. It's preferable to buy a puppy from a sire and dam with good or excellent hip scores, but it is also okay to buy from a breeding pair if one has a score of fair, so long as the other parent has a score of good or excellent. A buyer should never purchase a puppy if either parent has a score of low to moderate dysplasia. The patellas are simply scored as "normal" or "dysplastic" and it is very important in both the Shih-Tzu and the Affenpinscher breed that both the sire and the dam have a score of "normal". This makes it especially important to look into health testing of the parents of an Affen-Tzu, as the same health issues tend to run in both breeds.
The Shih-Tzu parent should also be tested for Degenerative Myelopathy, AKA DM. This disease causes the degeneration of the spinal cord and can cause a lot of pain in the victims. This disease does not typically run in the Affenpinscher breed, making it less likely for an Affen-Tzu puppy to contract the disease. The same is true for Prekallikrein Deficiency: PD. This disease is a rare blood clotting disorder that tends to affect Shih-Tzus. Although the Affenpinscher is not particularly prone to the two previously mentioned diseases, it is still important for buyers to ask about testing of these diseases particularly in the Shih-Tzu parent of the litter.
When looking to adopt through a shelter or rescue, it is often impossible for the shelter or rescue to know the complete health background of the puppy. Most responsible, ethical breeders who health test will also require that one of their puppies be brought back to them before being surrendered to a shelter or rescue. Therefore, it is safe to assume that many of the dogs and puppies that end up in shelters did not originate in the homes of ethical breeders who had the puppies' best interest in mind. Many of the dogs that can be found in shelters came from puppy mills. This does not necessarily mean that the dog will have health problems, but it does mean that the parents of the dog were probably not genetically tested and likely did not have hip and elbow screenings. Therefore, it is very important for those looking to adopt to prepare for possible health issues to arise and to be financially and emotionally prepared to face such issues.
Temperament
The Affenpinscher is fun loving and playful. It loves its family and can be very protective of them. It has a moderate to high energy level, and needs love, attention, and exercise. The Shih-Tzu also loves to be around its family, but has a calmer demeanor than the Affenpinscher. In fact, the Sih-Tzu has often been referred to as a "couch potato" breed. The Affenpinscher, on the other hand, was bred to have the stamina to chase and catch rats and other rodents, so it's energy level is quite a bit higher than the Shih-Tzu. For this reason, when a buyer is looking to purchase a puppy, it is important to look for a breeder who does temperament testing. One of the most popular forms of temperament testing is the Volhard's Puppy Aptitude Test. This test is used for people who are looking for therapy or service animals. The puppies are tested in a variety of areas including, whether they are more docile or energetic. If looking to adopt from a rescue or shelter, the buyer should spend a significant amount of time with the dog to assess the energy level and decide whether or not the dog is a good match for the owner's lifestyle.
One of the most important aspects of temperament to consider is whether the dog will be good with children. Most dogs can be trained to do well with kids so long as they are exposed to them early in life, treated gently by the children, and trained not to nip. However, some breeds of dogs have an overall reputation of being better with children than others. In the case of the Affen-Tzu, the breed has not been around long enough to determine their friendliness with children. The Shih-Tzu, however, has a really good reputation for being a good choice for families with small children. The Affenpinscher, on the other hand, does not have a reputation of being particularly good with kids.  Buyers should keep this in mind when evaluated temperament testing results in an Affen-Tzu litter. Those looking to rescue or adopt should very carefully introduce children to their potential new dog and allow sufficient time to evaluate whether or not the dog would do well in a home with children.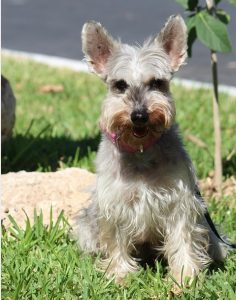 When decided whether or not to adopt or purchase an Affen-Tzu, it is also important for owners to think about how often they will be home. Dogs that are more independent will require less interaction. The Shih-Tzu is known for needing a lot of love an attention. Even though they are a calm breed, they love to be around their family. They do not do well being left alone for long periods of time. The Affenpinscher, on the other hand, is quite a bit more independent and does not tend to be as affected by being on their own during the day. When purchasing a mix, temperament testing can give the potential owner an indication of whether the puppy is more independent like the Affenpinscher parent or more in need of constant attention and affection like the Shih-Tzu parent. When adopting from a rescue, spending some time around the dog can give the owners and indication of whether or not that particular dog will need to have his family home a lot or if he will be okay in a family where people are away from home often.
Finding an Affen-Tzu
Since this is a lesser known breed, locating one may take some time and research. When looking to rescue, a would be owner could start with contacting a few Shih-Tzu rescues as well as Affenpinscher rescues to ask about available dogs and see whether one of these hybrid mixes is available. If looking to purchase a puppy from a breeder, it will be necessary to research local breeders and avoid puppy mills and puppy brokers. More rare breeds may require travel to access a puppy. Puppy buyers should be aware of all the health issues that tend to affect each breed and ask about the appropriate health testing.
Care
Every dog breed requires love, attention, exercise, and vet care. But breeds that don't shed their fur need regular grooming as well. Both the Affenpinscher and the Shih-Tzu have hair as opposed to fur, and they don't shed their coats. The Affen-Tzu, therefore, will require monthly grooming. New owners generally expect vet and food bills for their new family member, but for those who have never owned a non-shedding dog, the grooming bill can often come as a surprise. Grooming prices vary widely by location, but for a small dog such as the Affen-Tzu, owners should expect to budget anywhere from $50 to $70 per month to cover grooming costs.
Final Decision
Puppy buyers and adopters should consider all of these factors when looking into the Affen-Tzu as a potential new family member. It is of utmost importance than any dog have the fewest number of homes possible, as moving from home to home can cause undue trauma and stress in the dog. Anyone looking to adopt this breed should make sure that they have a compatible family dynamic and lifestyle to suit this breed. Purchasing or adopting a puppy or dog is a long term commitment, and one that should last the duration of the dog's lifetime. It is in the best interest of the dog and the owner for all of these factors to be considered to ensure that adding an Affen-Tzu to the family is the right decision.