Shih Tzu dogs are known to be pretty and adorable. But there are several different breeds. How do you know if yours is a true purebred?
Whether you want to breed from good lines or just brag that you have a purebred Shih Tzu, read these tips to find out if your dog is purebred.
How do you know if your Shih Tzu is Purebred?
By following these steps and becoming more familiar with the breed, it will be relatively easy to figure out the classification of your Shih Tzu. You may even discover some interesting tidbits about its lineage or breed!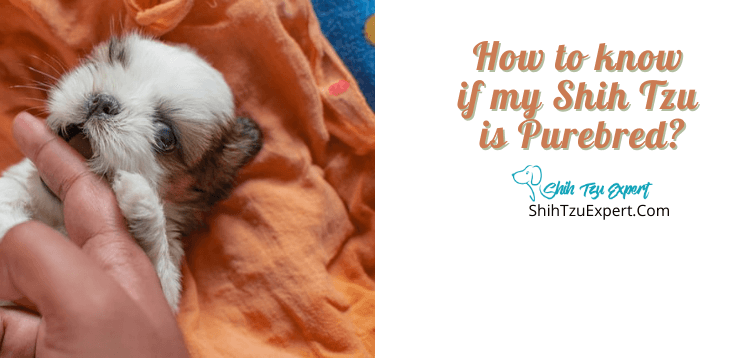 How To Check If My Shih Tzu Is Purebred?
There are three main ways you can figure out if your Shih Tzu is purebred.
You can rely on the dog's characteristics.
You can take your dog to the vet for a test.
You can check pedigree papers.
If you're good at telling similar dogs apart, you can tell your Shih Tzu is purebred simply by looking at its characteristics and temperament.
DNA tests are a great way to find out more about the history of your dog's family tree as well as whether or not it is purebred.
The easiest way to tell if your dog is purebred is to check its pedigree papers. If you bought a puppy from a breeder, you should have received its pedigree papers. If you bought from a friend, you most likely were not given papers.
Can My Vet Do A DNA Test Check Whether My Shih Tzu Is Purebred?
While you can easily take your dog in and get a DNA test, make sure you remember that DNA tests are designed to discover the parents and lineage of the dog and how well the dog matches the genetics of its breed, not necessarily if it is purebred or not.
DNA tests are also a good way to find out if your dog is at risk for certain health issues.
The process for taking a DNA test is quite simple and usually done with a blood sample.
Is My Dog A Purebred Shih Tzu?
The best way to find out if your dog is a Purebred Shih Tzu is to test him by the looks and characteristics we mention below.
The more proven way to find out the lineage is to check the pedigree papers you may have gotten or take your dog to the vet to get a DNA test.
How To Identify A Purebred Shih Tzu Without A DNA Test [Shih Tzu Purebred Characteristics]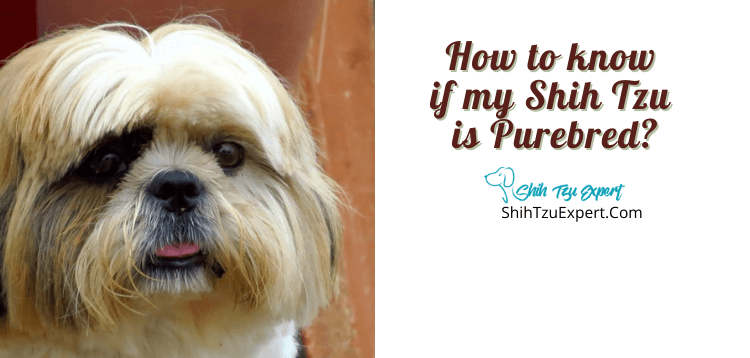 The best way to identify a purebred without using a DNA test is to familiarize yourself with the specific characteristics of the breed.
Body
Size
There are two main sizes of Shih Tzu. There are the "Normal" Shih Tzu's and the "Imperial" Shih Tzu's, which are a smaller version. It is difficult to tell the difference unless they are placed side by side. Both varieties, however, weigh between 9 and 16 pounds and range from 8-11 inches tall.
Curved Tail
Shih Tzu dogs, like many small breeds, have tails that curl over their backs. These tails are tall and tend to have a lot of fur.
Ears
The Shih Tzu's ears are large and heavily coated as well, resting at the sides of the dog's head. These are 'floppy' ears instead of stiff ears that stick up, like a German Shepherd.
Eyes
Shih Tzu have large, expressive eyes. The eyes are usually very dark, except for the rare blue-eyed dogs. The eyes are round and set a good distance apart.
Nose
Shih Tzu are among the 'Smooshed Face' breeds, having "squashed" noses and wide nostrils. The color tends to be black but is possible to be liver or blue-colored if those colors appear elsewhere on the dog.
Tongue
The Shih Tzu dog's tongue is comically long and pink and often hangs out continually. Many Shih Tzu dogs have a mild condition of a harmless condition called "Hanging Tongue Syndrome."
Coat
Puppy Cut
Not all owners decide to give their pet a puppy cut, but it is a good way to identify a Shih Tzu. It is most common during the warm months and is characterized by short, rounded fur and paws, giving it a puppy appearance.
Color
Shih Tzu's coat can be any color, so do not base your identification solely on color. Some colors are rarer than others, but all colors are accepted as a part of the Shih Tzu breed characteristics.
Most Shih Tzu have two colors, usually mostly white with another color. However, tri-colored and solid Shih Tzu are seen as well.
Double Coats
Shih Tzu have double coats, meaning their coats have double layers. Whether the fur is cut long and flowing for a show or short and dense for a puppy cut, you can tell how thick the fur is.
Temperament
Shih Tzu have distinct personalities that always tell them apart from other small breeds.
Playfulness is a key trait. Shih Tzu are outgoing and excitable, making great companions for playful children. Their high energy levels contribute to this
Because of their high energy, these dogs need a way to release, usually by regular exercise and playtimes. Many times, Shih Tzu use their energy as a way to seek attention.
Shih Tzu are also affectionate when they trust their owners. They love spending time with people and can even be friendly around strangers. This is another reason they make great companions for children.
Despite what you may think, these little dogs have big brains. They learn quickly and are sometimes a little too smart for their own good. They can be trained for many different tricks and commands.
The main downfall of the Shih Tzu personality is their stubbornness. Despite being incredibly intelligent, these dogs can be difficult to train. The best way to avoid this is to train them as young as possible and socialize them with well-behaved dogs.
Comparing Shih Tzu To Other Shih Tzu Looking Breeds
How Can You Tell If A Puppy Is A Shih Tzu Or A Lhasa Apso?
Because Shih Tzu was partially descended from Lhasa Apso, some people have trouble telling them apart.
Both dogs are small breeds, although Lhasa Apso tend to be larger, ranging from 10-11 inches. Both dogs have thick, long coats, but Lhasa Apsos have only a few colors, whereas a Shih Tzu can be any color. Lhasa Apso's are typically gold, black, white, red, or a mixture of these colors.
How Can You Tell If A Puppy Is A Shih Tzu Or A Havanese?
Havanese and Shih Tzu are quite similar in appearance. They both sport long coats, but unlike a Shih Tzu, a Havanese has a more matted look to its coat. Havanese also tend to be much easier to train.
How Can You Tell If A Puppy Is A Shih Tzu Or A Maltese?
A Shih Tzu is also mistaken for a Maltese. The main difference between the breeds is that the Maltese breed is noticeably smaller. They also are seen mainly in white, while Shih Tzu have a wider range of color. Maltese have a single coat, but this is not as noticeable unless you are up close.
How Can You Tell If A Puppy Is A Shih Tzu Or A Pekingese?
Both of these breeds are oriental and have lots in common. Both can be seen in just about any color, however, the Shih Tzu has a thicker coat. Pekingese are also slightly smaller than Shih Tzu.
How Can You Tell If A Puppy Is A Shih Tzu Or A Yorkies?
The Yorkshire Terrier is smaller than the Shih Tzu, despite being somewhat similar. The most noticeable difference is the ears. Yorkies have ears that stand up, while Shih Tzu's ears are floppy. Both are affectionate, but Yorkies are a little tenser when meeting new people.
Can You Tell If A Puppy Is A Shih Tzu Or A Pomeranian?
Shih Tzu and Pomeranians are both toy breeds, however, their coats differ. Pomeranians have puffy coats while Shih Tzu has a long, flowing coat. Both breeds are excitable and energetic, although Shih Tzu are more open to people than Pomeranians.
What Size Dog Is A Purebred Shih Tzu?
Shih Tzu are classified in the group of dogs called "Toy Breeds." They weigh between nine and sixteen pounds and have a height of no more than eleven inches. Like other toy breeds, Shih Tzu mature quickly and reach their full adult age at approximately ten months old.
How Much Is A Purebred Shih Tzu?
Unless you buy or adopt your Shih Tzu from a friend or a second-hand source, chances are you will pay a hefty price for your purebred.
You should expect to pay around $1200. This price is prone to rise if you're looking for specifics like color, gender, or breeding.
Don't forget to consider the annual cost of owning a dog as well.
Is My Shih Tzu Not Purebred?
There is a good chance your Shih Tzu isn't purebred. The dog is a relatively new breed that originated from a cross between the Tibetan Spaniel and the Lhasa Apso. There are not many registered as purebred, which is why you have to be really precise when discovering your dog's lineage!
How Many Different Shih Tzu Breeds Are There?
There are eight types of Shih Tzu you should know about. Some are classified by color and some by size or specific breeding.
The American's attributes include a small check, high legs, a square head, and wide eyes. This breed is classified because of having all the right qualifications for the breed. It is also the healthiest of the breeds.
This breed differs slightly from the American in appearance. They have a wider stance with front legs that bend back further and a round head with a broad chest.
This breed is often mistaken or passed off as purebred, but it is technically not. They are smaller and lighter than other breeds and tend to have physical defects or problems because the runt of a Shih Tzu litter is chosen to create the Imperial breed.
The miniature size of this breed earned itself the name. Beyond the size, there are few differences between the Imperial breed and this one. The Teacup dogs are bred to stay small, and prone to health concerns because of this. They tend to be genetically manipulated, although this information is rarely given to the buyers.
This is a breed characterized by its rarity. Blue-eyed Shih Tzu is rarely seen but does exist. In order for the dogs to have blue eyes, they must have liver or blue-colored pigment in the skin. This lighter color is considered a genetic fault but is still widely sought out.
The rarest color of Shih Tzu is black, with solid black being the rarest. Some black Shih Tzu coats are offset by some white, creating a stunning effect. Often, the sun will turn black fur into a more rustic color during the summer. These dogs always have black noses, paw pads, eye rims, and lips, as well as dark eyes.
Brown Shih Tzus are also referred to as chocolate. Solid brown is usually liver-colored, but that is nominated by pigmentation more than coat color. The skin that is visible is usually liver-colored on a brown Shih Tzu, and the dog often matures as a lighter or darker color.
Considered one of the most beautiful coat colors, this coat is characterized by a base color with streaks of several other colors running through it. This creates a beautiful, toned effect. It can be difficult to know if your dog should be classified as Brindle because it varies so widely. Sometimes, a dog can have just one part of the coat be brindled.
References:
https://www.dogbreedinfo.com/shihtzu.htm
https://www.wikihow.com/Identify-a-Shih-Tzu