We may earn commission from qualifying purchases at no extra cost to you.
Learn more
Yorkshire Terrier dogs are small dogs with medium long length fur. Also known shortly as Yorkie dogs, they are feisty and full of personality that is popular for city dwellers. Their small stature makes them popular walking, and traveling companions for many owners.
Their fur is very silky with a slightly long length, and they are excellent adventuring dogs. They like running around parks, walkways, on playgrounds, and camp trails. Yorkies are so energetic because they were part of the terrier breed of dogs, which were originally bred to hunt vermin.
They are also very loyal dogs, and like to be close to their owners.
Yorkie dogs need a lot of attention, and are prone to being territorial and suspicious of strangers. It is important to train and socialize with your Yorkie when you first get them because leaving them alone can give them anxiety and destructive behaviors.
Because of these reasons, Yorkie dogs need to be walked fairly often and lead an active life. So if you own a little Yorkshire Terrier dog, you would probably need to buy a harness for your little pet. You'll need to take him out for walks to give him some exercise, as well as to let him relieve himself.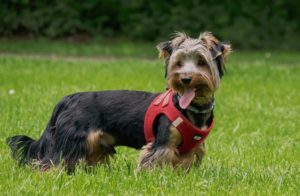 Harnesses are more popular than a collar for pet walks because it allows you better control of your pet, while safer for your pet by not putting too much pressure on his neck. This will prevent injury to his trachea and windpipe.
The best Yorkie Harness takes into consideration his size, strengths, and his shape. It also should provide him a lot of comfort.
This article will tell you about some of the most popular types of harnesses available for your Yorkie terrier, discussing what you should look for in a harness, and some popular materials used for harnesses.
Necessary Features for Yorkies Harnesses
Yorkie dogs are very small dogs, usually 7 to 10 lbs at most. Despite their small size, they are surprisingly energetic and need harnesses to keep up with their activity levels. Many styles of harnesses can be a bit big for your Yorkie dog, so definitely take measurements of your doggie and check the sizing charts of your chosen harness before buying. Many harnesses have adjustable straps, but even this may not be enough for the size of your dog, so choose your harnesses carefully. Some harnesses may be big in one area and fit another area. If the harness is too big anywhere your dog can easily slip out during walks.
Choose harnesses of a good material, that will be comfortable for your dog and not restrict his movements. Choose hypoallergenic materials if your dog has sensitive skins, and using polyester mesh for wicking and keeping your dog from over sweating, and padding in the lining for soft comfort. Also keep in mind that Yorkie dogs have a slightly long fur coat, so choose soft materials for harnesses so his fur won't get caught and snagged into the harness.
It's likely that you would want to take your Yorkie on road trips, even short ones, so a harness with seat belt features is a good idea. Some harnesses will come with a seat belt clip, or a different apparatus for attaching to the seat belt.
If you like nighttime walks, then a harness with reflective material sewn in is a good choice. It's a nice extra feature on some harnesses that isn't a very expensive feature.
You should also choose harnesses with a water resistant material, or weather-proof layer, and be sewn in a durable way so your harness can last for a while.
Many soft mesh harnesses are popular for small Yorkie dogs because they are available in extra small sizes. They usually come in a big variety of colors, for the fashion forward dog owners. The soft material is usually better for your Yorkies to not let their fur tangle in it, and it will provide more comfort and not rub too much on your Yorkie.
The step-in harnesses are also a good choice for a Yorkie Harness if available in a good size for your dog. These are usually constructed with multiple straps designs, and are made in grosgrain ribbons or nylon. Depending on the model, these harnesses come in a variety of colors, so you can choose a fashion forward style and color for your pet. These are usually simple in design and can be inexpensive for your pet.
Dog harnesses are also available in hemp or leather materials. They make more of a fashion statement than the other styles, but are less common too. They are nice styles for smaller dogs, and the leather material is easy to clean.
Why Harnesses Instead of Collars
Harnesses for your Yorkie dog are much more comfortable training tools than a collar would be. They provide better control over dogs that like to pull and run around too much during walks.
The pressures that collars place on the windpipe of dogs that like to pull and lunges on the leash can lead to neck injuries and a host of health problems. Harnesses are usually designed with parts that wrap around the chest and front legs of dogs, spreading pressures out over areas that are less sensitive and minimize pressures on the neck.
Let's take a look at your Yorkie's neck anatomy so to better understand the injuries that can occur on your doggie using a dog collar. Behind your Yorkie's vocal cords, the throat has two different sections. His trachea, also known as the windpipe is located at the front of his neck. This tube is connected to his lungs, allowing him to breathe. The trachea is surrounded by rings of soft cartilage. Behind the trachea is another tube called the esophagus. This tube connects to his stomach and is the pathway for food for your Yorkie.
The kind of injuries that are caused by collars are usually applied to the trachea. Because the trachea is located more to the front of your Yorkie's neck, injuries would occur in this area because this is the point of direct pressure for Yorkies that pull a lot. The trachea is not protected by bones, but by soft cartilage instead so can result in serious injuries such as tracheal collapse, or coughing seizures.
The risks for injuries for Yorkies are pretty bad because of their small size and they lack muscular supports in the neck area. Injuries to your Yorkie's trachea can be extremely painful for your doggie, and may require surgery to fix. Sometimes the dog might never completely recover from collar related injuries.
That is why harnesses are a better choice for training and walking your dog compared to collars. They provide much more comforts because many have paddings and mesh material for proper wicking to allow your dog to not sweat so much. Because of their design, harnesses spread pressures from the leash more evenly throughout the chest and front leg areas of your Yorkie, which are less sensitive areas than his neck.
Popular Styles of Yorkie Harnesses
We'll show you some of the common types of Yorkie harnesses available on the market. Most of these styles come in a variety of colors, for the fashion conscious owner and Yorkie pair.
Strap harnesses – one of the most common types of harnesses available, simply because of its relatively simple design. Your Yorkie can step through the front of the harness, then you will buckle through the back. These are lightweight and easy to adjust.
They are usually a combination of several different straps, with adjustable points, and fast release plastic buckles. The adjustable points are good features for small dogs like the Yorkie.
The straps can be made of different materials, but nylon webbing is usually the material of choice for these strap harnesses, as it is durable, easy to clean, weather resistant, and relatively lightweight.
Vest harnesses – these are usually made for smaller dogs, such as a Yorkshire Terry. Usually made from soft nylon or polyester fabric, they wrap around the dog's back and chest and secure with Velcro, or a buckle. They offer a lot more comfort for your pet and are lightweight.
These vest harnesses are usually padded with sponge padding, to give your dog a cushioned feel. They come in a myriad of colors and style, even some will come with bling for the fashionable Yorkie!
They come with a D ring on the back of the vest harness for attaching the leash or any other kinds of training accessories.
This design allows your dog a lot of freedom of movement while on the leash, without sustaining too many injuries to his neck.
Harness leads – these are made with strong nylon or polyester ropes with metal or rubber stops that allows the lead to wrap around your dog's body. These are more sturdy and less likely to allow your dog to escape, when properly fastened.
Car harnesses – So there are car harnesses for dogs so they won't run around your car too much while on the road. This provides more safety to your pet in the case of an accident happening. These usually have clips, or attachment to be secured to a seat belt. These are good if you go on road trips often with your pet.
These harnesses are usually a strap harness, or a padded vest harness design that comes with an extra car seat belt clip or tether that can be attached to the back D ring usually meant for the leash on the back of the harness.
Additional Collars
Even if you buy harnesses with cushioning for the comfort of your Yorkie and to be used with a leash, it is still a good idea to have a collar on your dog as well. Make sure your collar has an ID tag with your dog's name and your contact information in case he runs off.
Installing a microchip on your dog is another good feature to have so he can be traced if he ran away and got lost.
Many pet owners usually do lose their pet once in a while, and microchips or even a name tag can help return your pet to you.

Finding the Right Fit for Your Yorkie Harnesses
It is important to buy a harness that fits your Yorkie correctly.
A loose harness can rub on your dog's skin, creating sore patches. If the harness is loose around the neck, your Yorkie can be strangled if he gets caught in brambles or other protrusions when out running around. Your Yorkie can also escape easily through a loose harness during walks and outings with you.
A harness that is too tight can also do the opposite and create discomfort by creating sores and patches that are painful for him, while restricting his movements while on walks.
You need to take measurements for your Yorkie in the appropriate places before placing an order for the harness.
Extra small sizes are usually good fit for your Yorkie, but it is still best to take the correct measurements before buying the harness.
Take a flexible clothing tape measure and start around the chest of your Yorkie. Then wrap the tape measure around his back and to your starting point again.
The other measuring point is your Yorkie's neck. Wrap the tape measure around the thickest area where his shoulders join his neck and this will be the neck measurement.
It is recommended to give an extra inch to the neck measurement for a good fit that won't be too tight or too loose.
Many harness manufacturers provide sizing charts in inches or metrics for their harnesses, as well as pictures on where to take measurements for their sizing charts if the design of the harness is a little bit oddly shaped.
Some harnesses make sizing charts according to the weight of the pet. If you have troubles weighing your pet, then weigh yourself first, then pick up your Yorkie and measure both of you together. The difference between the two measurements will be the weight of your Yorkie.
We have compiled a list of popular dog Harnesses that we would recommend for your Yorkie. They are usually durable, and come in a large variety of colors and sizes. Below will be a list of reviews for these harnesses.
Rabbitgoo Dog Harness no-pull pet harness outdoor adjustable pet vest 3M reflective Oxford Material Vest.
This harness comes in a variety of colors and sizes, and is a good choice if you are indecisive about the specific harness that you want. This is a good harness for small dog breeds such as the Yorkshire Terrier due to their size range. This harness is a vest harness that features adjustable straps, and fast release buckles to easily take off your dog. It features a No-Pull design with a front ring to attach a leash to train your dog to not pull so much. It is made with durable Nylon Oxford and and padded Soft Cushion to provide comfort for your dog's skin. It also has reflective strips for nighttime walks for your dog.
Colors: Baby Blue, Bright Pumpkin, Cherry Pink, Classic Black, Lemon Yellow, Light Gray, Navy Blue, Passion Red, Vibrant Lime
Sizes:
S – Neck: 13.8″ – 19.3″ Chest: 15.7″ – 27.6″
M – Neck: 14.8″ – 19.7″ Chest: 19.1″ – 29.3″
L – Neck: 16.1″ – 23.2″ Chest: 20.5″ – 36″
XL – Neck: 19.3″ – 30.7″ Chest: 20.3″ – 39.6″
Key features:
Is a padded vest
No-pull design by attaching the leash to a front clip
Padded air mesh
Durable weather proof material
Sturdy top handle
Reflective threads for night walks
2 neck straps and 2 chest straps to fit your dog into the body harness
Comes in a variety of colors and 4 sizes
Overall Features: This harness is a good harness that will last for years to come, and will provide added comforts for your dog. It is designed with a padded vest, providing a lot of comfort for your pet. There is the no pull feature, which is a front ring that allows you to attach the leash onto your dog. It will redirect your dog's forward motion when he tries to lunge, so discourages pulling on the leash for you. The 2 neck straps and 2 chest straps are good for adjusting the harness to fit your dog perfectly. The harness also has reflective lights sewn into the vest, making it the right accessory for night walks.
Pro:
Padded vest
Reflective threads
Adjustable neck and chest straps
No pull ring feature to help your dog not pull
Cons:
If your dog is in between sizes, it can be a bit hard to fit your dog exactly to his shape. If he has smaller necks.
Straps have to be adjusted before putting on the dog. Can become difficult to do this once on the dog.
Julius-K9 IDC powerharness
This harness comes in a large range of colors, and a large range of sizes. Manufactured in Europe from German made materials, this harness features interchangeable hooks and loops, with chest straps. The edges of the harness are reflective as well as the chest strap, making it a good harness for nighttime walks and adventures. This harness is very durable and sturdily built, with buckles that are designed to last through the frosty winters. It has breathable and skin friendly inner lining. This harness is designed for all types of dogs, from smaller breeds such as Yorkies to large hunting dog breeds. You can buy attachments to hold treats and other equipment, as well as a flashlight holder attachment. This harness comes with a large range of colors as well.
Colors: Aquamarine, Dark Green, Black, Blue, Bordeaux, Camouflage, Neon Green, Pink, Purple, Red, Silver, Ameri-Canis, Anthracite, Copper Orange, Dark Pink, Petrol Green, Pink with Flowers
Sizes:
Mini, 1, 2, 3, 4, 0, Baby 1, Baby 2, Mini-Mini
This manufacturer has a size chart based on weight of the pet. Take measurements in the chest of your pet, then the weight and look for the corresponding size on the size chart.
Key Features:
Reflective edges and reflective chest strap
Breathable, skin friendly inner lining; anti-allergenic OEKO-TEX material
Heavy duty buckles that works in winter
Side bag attachments
Flashlight holder
Water repellent cover
Overall Features: This is a European made harness from German patented materials. The anti-allergenic OEKO-TEX material is meant to not give your pet any allergic reaction, while giving him smooth comforts. The heavy duty buckles on the harness have been tested to withstand frosty winters. The harness also features reflective edges and chest strap, making it a good vest for nighttime visibility. This harness also comes with side bag attachments, with 3L or 4L options for their sizes from 0 to 4. A smaller Universal side bag is available as well. These can bags can be used to carry treats, vaccination documents, to your cell phone. A Flashlight holder attachment is also available as well. This is a sturdy, water resistant cover harness that is good for hunting dogs, security dogs, as well as homeowner dogs.
Pros:
Reflective edges and chest buckle
Breathable hypoallergenic materials
Adjustable front and belly straps
Heavy duty buckles
Side attachments and flashlight holder
Cons:
No pull features: not good for dogs that pull on leash
The padding can be a bit heavy and too warm for hot weather
Pawaboo Dog Safety Vest Harness, Pet Car Harness Vehicle Seat Belt with Adjustable Strap and Buckle Clip/Carabiner, Easy Control for Driving Traveling Safety for Small Medium Dogs Cats
This dog harness is specifically designed for your doggie to enjoy car rides. There are a few car models listed that the buckle designs are not compatible with, so check your car model before purchasing this buckle with the intention of using this for car security. While listed as a vest harness, this harness is closer to a strap harness with many straps and a padded front chest plate. This harness is another harness recommended for small dogs such as the Yorkie due to its small size ranges. It has fast release buckles on two side straps for easy removal and back D ring to attach a leash to your dog.
Colors: Black, Red, Lake Blue, Purple, Blue, Blue Grid, Blue Marble, Purple Marble
Sizes:
S – Neck: 8.27″ – 10.63″ Chest: 15.35″ -17.72″
M – Neck: 10.24″ – 14.57″ Chest: 16.93″ – 20.47″
L – Neck: 13.39″ – 18.90″ Chest: 19.25″ – 24.41″
XL – Neck: 17.32″ – 23.62″ Chest: 25.2″ – 32.28″
Key Features:
Seat belt lead clip for buckling in car seats
Fast release buckles on 2 sides, to make it easy to take off your dog
Detachable seat belt clip so you can attach a leash for walks
Polyester fabric with a sponge padded chest plate
Overall Features: This is a simple dog harness with car safety features in mind. The harness features a front padded chest pad, and straps coming on the sides of the harness. There is a metal ring at the back of the neck for clipping the leash onto the harness. The fast release buckles on the side straps help it being easy to take off, and then pull the neck straps off of your dog's head. The seat belt feature is a strap with a seat belt clip that can be attached to the neck D-ring for the leash. The harness is made from Oxford fabric, or 100% polyester, and a sponge padded chest cover. It is a lightweight harness, with a fairly simple design to not burden your pet, and a car seat belt feature to enjoy road trips with your pet. The downside is that the seat belt buckle is not compatible with all car models. Car models that won't work with the seat belt clip will be listed below:
Kia Soul, Kia Forte, Lexus RX 350, 1992 Chevy Caprice Station Wagon, 1993 Ford F-150, 1994 Ford Explorer, 2001 Avalon, 2012 Ford Focus, 2013 Honda Pilot, 2013 Honda Odyssey, 2014 Honda CRV, 2008 Honda Element, ATV Ranger, Chevrolet Spark
For these car models, there is a second method to car seat belt safety for your dog. Just loop the clip through a loop with the car seat belt, then clip into the safety buckle.
Pros:
Made specifically with a buckle to faster dog to car, but Detachable so you can attach leash
Two side buckles make it easy to take off
Simple design, with straps so to not overheat your dog
Cons:
Straps can be chewed through by dogs
Seat belt clasp does not work for all car models, so check your car model before purchasing
For small to medium sized dogs, not for large dogs

EcoBark Classic Dog Harness Soft Gentle No Pull & No Choke Dog Harnesses Double Padded Halter Ultra Cushioned Walking Breathable Mesh Dog Vest for Puppies XS Small Medium Large Dogs in 10 Colors
This harness is great for the environmentally conscious dog owners. Made from recycled water bottles, the materials of this harness is also hypoallergenic for dogs with sensitive skin. It also has a no choke, no pull designs. Because of its range in small sizing, this harness is recommended for many small dog breeds, such as the Yorkshire Terrier. This vest harness has mesh lining, and soft padding to ensure comfort and more safety and pressure distribution for your pet.
Colors: Black, Pink, Orange, Blue Nautical, Purple, Red, Yellow
Sizes:
XS – Neck: 7.5″ Chest: 9″ – 13″ Weight: 4 – 6 lbs
S – Neck: 9.8″ Chest: 12″ – 18″ Weight: 6 – 10 lbs
M – Neck: 12.5″ Chest: 19″ – 29″ Weight: 10 – 17 lbs
L – Neck: 14″ Chest: 19″ – 29″ Weight: 18 – 27 lbs
XL – Neck: 15.7″ Chest: 21″ – 32″ Weight: 28 – 47 lbs
XXL – Neck: 19" Chest: 26" – 39" Weight: 48 – 65 lbs
Key Features:
Made from recycled water bottles; hypoallergenic materials for sensitive skin
No choke and no pull design
Breathable non-toxic mesh
Double reinforced stitching for durable harness
Anti-rub patches to prevent rubbing on your dog's arms
Overall Features: This is an eco friendly harness for dog owners with a green mind. The straps on this harness is made from recycled water bottles, so built with sustainability in mind. This model is close to a vest harness with its broad front band for the neck. It is made with double layered ROSH mesh fabric that is breathable, hypo-allergenic, and durable. There is an anti-rub design with the Custom Stitch Cover to protect dogs from chafing due to the straps rubbing on the dog's neck and legs. The material is meant to be used in all weather with its double mesh design and water resistant. This harness sits higher than other harness models to prevent your dog from escaping. As another safety feature, the harness is designed so not put too much pressure on the dog's trachea. The harness can be put on by slipping through the head, then buckle through the legs and back.
Pros:
Made from recycled plastic bottles (environmentally friendly)
Hypo-allergenic materials to provide comfort for your dog
No pull No Choke design to prevent your dog from running off and slipping out
Double reinforced stitching for durability and sturdy material
Cons:
Some sizing issues that prevent a good fit to certain dog neck sizes
Can be a bit bulky on some dogs
Dog Harnesses – Puppia
This is a simple vest dog harness that is available in a big range of colors and sizes. Very simple design with side straps and and the padded chest and neck area. This harness model is very recommended for Yorkie dogs since this harness goes down to very small sizes. As mentioned before, vest harnesses are more recommended for Yorkies due to their small size, their medium length fur won't get caught too easily in the soft lining of the harness, and the soft material won't rub too much on their sensitive skin. This harness model is also great for fashion forward owners that want the most stylish color for their pet.
Colors: Beige, Black, Brown, Camo, Green, Navy, Orange, Pink, Purple, Red, Royal Blue, Sky Blue, Wine, Yellow
Sizes:
XS – Neck: 7.5″ Chest: 9″ – 12″
S – Neck: 9.5″ Chest: 12″ – 18″
M – Neck: 12.5″ Chest: 16″ – 22″
L – Neck: 14.5″ Chest: 20″ – 29″
XL – Neck: 16.5″ Chest: 22″ – 32″
XXL – Neck: 21″ Chest: 29" – 41"
Key Features:
Made of 100% polyester
Adjustable chest belt and quick-release buckle
Padded neck opening
Machine washable but hand wash recommended
Air-mesh material is water repellent
Double coated D-rings to prevent dirt and water
Overall Features: This is a very simply designed dog harness, and is great for small dogs such as the Yorkshire Terrier. This harness is made from 100% polyester fabric, with adjustable chest belt and quick release plastic buckles. The fabric is mesh material to provide breathability as well as being water repellent. The double coated D rings featured on this harness is meant to withstand humidity and dirt. The padded front area is also very comfortable for your pet as well. This harness is a simple harness for small dogs and cats that do not pull too much on the leash. Even though this harness is machine washable, it is recommended to hand wash this harness.
Pros:
Padded neck opening for comfort
Air-mesh material for breathability and water resistant
Simple design
Chest belt to adjust to dog size and plastic buckle for easy release
Cons:
Does not have no-Pull feature
Some sizing issues with some customers
Chai's Choice Best Outdoor Adventure Dog Harness. 3M Reflective Vest with Two Leash Attachments. Caution – Please Measure Dog Before Ordering! Matching Leash and Collar Available
This is a sturdily designed vest harness that comes in a good range of colors, and comes with  the added choices of purchasing  a matching leash and collar. Although this is a vest harness, the design of this harness gives a lot of open spaces and room, allowing more mobility for your dog and breathability so your dog won't overheat or sweat too much. While there are many very good features on this harness, the size range is meant for medium to larger size dogs. Even the XS size might be a bit big for a Yorkie, but always measure your dog first and check the size chart before buying.
Colors: Black, Chocolate, Fuchsia, Lemon Lime, Orange, Purple, Red, Royal Blue, Teal Blue
Sizes:
XS – Chest: 13″ – 17″
S – Chest: 17″ – 22″
M – Chest: 22″ – 27″
L – Chest: 27″ – 32″
XL – Chest: 32″ – 42″
Key Features:
Outer layer was made of OxFord material and is scratch resistant
Quick release plastic buckles, with mesh fabric lining and soft sponge padding for the belly and chest
Adjustable straps D rings
Nylon webbing with reflective material for nighttime visibility
Handle with seat belt attachment
Overall Features: This is a good outdoors or adventure time harness of durable and comfortable quality for your dog. It is made with Scratch-resistant Oxford material to prevent your dog from scratching or chewing through the harness. The harness is a vest harness designed to not put too much pressure on the neck to prevent neck, spine, or windpipe injuries. This harness is easy to use and easy to take off or put on. It has adjustable points on the straps for custom fitting your dog. It features lightweight buckles that distribute weight evenly through the harness. The material is a mesh lining with sponge paddings for the chest or belly area. This harness is also a reflective harness using Nylon Webbing with 3M reflective materials. Lastly it has two attachment points for the harness, one on the back to attach the leash to the harness, and one ring on the front for front leash attachment.
Pros:
Scratch resistant Oxford materials
Eliminate pressures from dog's neck; made to support handicapped and injured pets
Sturdy handle for looping the seat belt
Nylon webbing and 3M reflective material for nighttime view
Mesh lining and sponge padding at chest for comfort for your pet
Lightweight buckle that disperse stress
Cons:
Does not have No-Pull feature
Sizes are generally for larger dogs, not smaller dogs
Dogs can slip through
The harness material can be a bit stiff

Kurgo Dog Harness | Pet Walking Harness | Car Harness for Dogs | Front D-Ring for No Pull Training | Includes Dog Seat Belt Tether | Tru-Fit Smart Harness | For Small, Medium, & Large Dogs
This harness is more simply designed but carries the most basic features that your dog would need for a casual walk with you. This harness is a good example of a strap harness but with a padded front chest plate to evenly distribute pressure and provide a little more comfort for your dog. This harness model only has 4 colors available, but has 5 points for adjusting to give the right fit for your dog. It comes in a good range of sizes, and the adjustable points are good features to get the perfect fit for your dog. It comes with a 10 inch tether to secure your dog to a car seat belt, a front D ring for No Pull leash training, and a back ring to attach the leash to your dog.
Colors: Black, Blue, Gray, Red
Sizes:
XS – Neck: 9″ – 13″ Chest: 12" – 18″
S – Neck: 12″ – 20″ Chest: 16″ – 22″
M – Neck: 16″ – 25″ Chest: 18″ – 28″
L – Neck: 18″ – 30″ Chest: 24″ – 34″
XL – Neck: 24″ – 35″ Chest: 28″ – 44″
Key Features:
5 adjustable points and have quick release buckles
No-Pull front D ring for leash attachment to train dog not to pull
Back ring for leash attachment
10 inch tether for car seat belt
Lifetime warranty for manufacturer's defects
Overall Features: This harness is meant to provide comfort for your dog and be adjustable. It features 5 adjustable points on the side straps, with quick release buckles to easily take off or put on for your dog. It is a lightweight harness, with a front padded chest plate to provide more comfort for your dog. There is a front No-Pull Training D-ring designed to help you train your dog to not pull. When attaching the front leash onto the harness and your dog starts to pull, the front leash will redirect his motion to train your dog to not pull so much. Training takes time however, so it might take awhile before your dog will stop pulling on the leash so much. This harness also comes with a 10 inch tether strap for securing your dog to the car. It has a clip at the end to attach to your car's seat belt system. The tether can also be used otherwise as a short leash for training. The last feature is a back ring to attach a leash to your dog.
Pros:
No-Pull front ring to train your dog to not pull
5 adjustable points with quick release buckles
Tether to attach to car seat belts – this is better because some seat belt buckles don't work and gets damaged, and tether can be used to train dogs
Cons:
The metal rings can dig into the dogs' neck
Dogs can slip out of this harness
No reflective material