We may earn commission from qualifying purchases at no extra cost to you.
Learn more
The Scottish Terrier Shih Tzu Mix: An Introduction 
The Scottish Terrier Shih Tzu Mix (most commonly known at the Sco-Shi) is a highly intelligent, independent small hybrid who is desperately loyal to its owner. This mixed breed can be a wonderful companion for dog-owners of any age.
This designer dog is a mixed breed of a Scottish Terrier and a Shih Tzu. This is a lesser known mixed breed but are highly regarded by their owners as being an ideal additional to the family. The most important qualities to note are that they may not be the most outgoing dogs, but are loyal, lovable companions. They also may require a good deal of grooming maintenance due their parents being long-haired breeds. However, they require minimal physical exercise and are easy to train.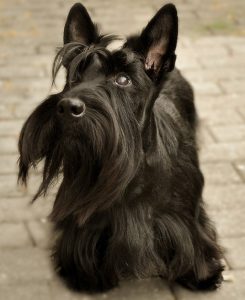 The Basics
History & Origin
The exact date and location of origin of this breed remains unknown. However, it can be speculated that this breed arose during the time when designer dogs were becoming popular. When dogs of different breeds initially cross-mixed, the offspring were referred to as "mutts." However, the concept of mixing purebreds to create hybrid breeds became more appealing to many because the hybrid usually has few to no health issues of purebreds and they are hypoallergenic.
The ancestry of the Sco-Shi is predominately the Scottish Terrier and the Shih Tzu. The Scottish Terrier is known for its historical roots as a hunter and the Shih Tzu is known for being a guard dog. This combination results in a loyal, dedicated Sco-Shi who thrives on utilizing its natural hunting instincts.
Since Sco-Shis are not purebreds, they are not recognized by the American Kennel Club's list of purebreds.  However, they are recognized by other smaller organizations, such as the American Canine Hybrid Club and the Dog Registry of America.
Average Life Expectancy & Size
Sco-Shis can live anywhere between 12 and 15 years, which comes as a relief for dog-owners because they are able to enjoy the companionship of their pups for a long time.
Another unique feature of this breed is their relatively small stature. While their size varies based on their sex and the sizes of their parents, full grown Sco-Shis typically weigh up to 16 pounds and can grow to stand at about 9 inches tall. This small size is ideal for people living in apartments and active seniors.
Appearance
Face: these pups typically have a round face with hazel eyes, and a black button noise. However, these features can vary, depending on genetics.
Coat: Just as head's up for future owners, these dogs tend to have a lot of hair. They may have a "beard" on their faces, long, flappy ears, and excess hair around their eyes. Their coats are typically medium-long in length and can be straight or wiry.
In addition, the coat can vary widely in terms of color.
Sco-Shis are usually black, but can also be gray, brown, or black with white specks.
Stature: Sco-Shis are typically short and compact in build. Their legs are usually short, but solid.
Growth & Development
Sco-Shi puppies are born small yet feisty. They exhibit natural hunting tendencies early on, which may lead to difficulty socializing if not trained properly. However, like puppies of other breeds, they grow rapidly and achieve many physical and social milestones by the time they reach adulthood, which are outlined below:
2 weeks old: At two weeks old, Sco-Shi puppies begin opening their eyes and learning how to walk.
7-8 weeks old: by the time puppies reach the two- month mark, the puppies can be potty trained and start eating solid food. They also begin picking up on social cues, both with other dogs and humans.
10-12 weeks old: At 3 months old, puppies can begin experiencing more intentional and intensive exercise, such as walks. This is also when puppies can receive their first vaccinations.
5 months old: 5 months marks the beginning of adolescence for these puppies. This period is characterized by an increase in exploring their worlds and demonstrating behaviors such as hyperactivity and disobedience. Obedience training typically begins at this age but can be started earlier.
9 months old: at this age, puppies are introduced to adult food and can engage in more rigorous exercise.
14 months+: by the time puppies turn 14 months old, they are considered adults.
Health 
General Health Concerns
As previously explained, one of the appeals of owning a designer dog is that they typically do not inherit the health problems that their purebred parents typically have.
For example, common major health problems in Shih Tzus are allergies, progressive retinal atrophy, and liver problems. Common major health issues of Scottish terriers include Willebrand disease and metabolic/digestive disorders.
Sco-Shis are typically exempt from these major health issues, but they may still occur to varying degrees. Sco-Shis may also develop other conditions that are typical for aging dogs, such as hip dysplasia, bladder stones, and eye problems.
Dental Issues
Generally, smaller dogs tend to experience dental problems more than any other size group. While this is not a major concern for Sco-Shis, it is still recommended to implement good dental hygiene practices regularly. The general rule of thumb is to brush your dog's teeth two or three times per week to prevent plaque build- up. However, if you notice more significant dental concerns in your Sco-Shi, brushing his or her teeth everyday may help. If you have questions or need further guidance, consult your veterinarian.
Nutrition & Diet
Proper nutrition and diet are essential for all dogs to live long, healthy lives. While there are numerous dog food options available, the most preferable are ones that contain the most nutritious ingredients and are free from unnecessary fillers, such as carbohydrates.
When choosing a dog food for your Sco-Shi, premium quality dry kibbles are ideal. These formulas contain an ideal balance of protein, healthy fat, and carbohydrates. Brands such as Blue Buffalo and Taste of the Wild are excellent choices because they create food that contains an excellent balance of protein, carbohydrates, vitamins, minerals, and fatty acids that meet all of your Sco-Shi's nutritional needs.
It is also important to keep in mind that Sco-Shis are not super active dogs. It is recommended to seek a kibble that is designed for low-activity dogs.
Also, it is encouraged to speak with your dog's veterinarian for more specific insight and food recommendations, based on your dog's specific health and nutrition needs.
TIP: It is not recommended to use what is called a "free-feeding" approach with Sco-Shis. Due to their low-activity levels, they are prone to obesity, especially if their food intake is not monitored. Therefore, a healthier feeding method is to use a daily feeding schedule and to only give them the recommended amount of food at a time. The general rule of thumb is no more than 1 cup of food. Some veterinarians may recommend three small meals or one large meal.
It is also important to remember that the type and amount of food that Sco-Shis should eat changes as they age. One suggestion is to speak with your veterinarian for food recommendations and amounts.
TIP: while it is important to be mindful of how much food Sco-Shis eat, they do not need to be deprived of treats! Treats can be provided during training and spontaneously in between meals. However, it is recommended to monitor how many treats are given per day and that the treats are nutritious.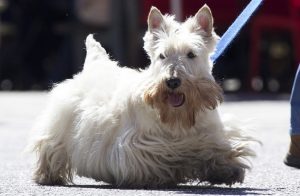 Spaying/Neutering
There is much debate among dog owners regarding spaying and neutering dogs. There is specific disagreement regarding the best age to spay/neuter and the risks and benefits involved.
Numerous studies have been completed over the years in hopes of determining concrete facts regarding whether it is safe to neuter/spay dogs or not. However, there is not sufficient evidence to support nor reject spaying/neutering in Sco-Shis, primarily because they are not as common of a breed as others. If you are trying to decide if you want to spay/neuter your dog, it may be helpful to consider recommendations for the parent breeds, which can be found on the internet and other sources.
It is also recommended to consult with your veterinarian to learn more information and see if spaying/neutering are right for your dog.
Exercise
Like all dogs, Sco-Shis require some degree of exercise to stay healthy. However, they are a low-energy dog and are just fine with one walk per day and some outside time.
A standard length of time for exercise for Sco-Shis that are full grown is about 30 minutes total per day. This can include a variety of different activities such as walks, playing fetch, and outdoor play. In general, it is recommended to aim for about 6 miles of walking per week.
TIP: to enhance social development with other dogs, bringing Sco-Shis to dog parks can be beneficial because they are getting exercise and practicing socially appropriate behaviors with other dogs. However, it is crucial to train your Sco-Shi first because of their tendency to chase wildlife.
Obedience & Potty Training
Obedience and potty training are crucial for dogs of all breeds and must begin when puppies are about 5 months old or younger.
The most common skills learned in obedience training include: socializing appropriately with other dogs and people, potty training, walking on a leash, how to greet humans appropriately, basic commands such as "sit," "stay," and "come."
It can be helpful to enroll your Sco-Shi in a structured obedience school curriculum in addition to reinforcing skills learned in the home. These schools are facilitated by trained instructors that work with both the pupils and owners to learn and strengthen obedience skills.
Sco-Shis can be trained adequately over time. However, while they are smart and learn quickly, they can also display independence and may refuse to listen to commands. As long as you are patient, persistent, and consistent, your Sco-Shi can become well trained.
TIP: Sco-Shis thrive on treats as rewards. Positive reinforcement has shown to be one of the most successful training approaches for dogs, including Sco-Shis. Incorporating these into training as frequently and consistently as possible is highly recommended.
Grooming Daisy Dogs: Overview, How To, & Recommendations
Grooming & Hair Maintenance Requirements
Sco-Shis can be relatively high maintenance when it comes to grooming because they are the offspring of two long-haired parent breeds. The most important aspects of grooming to practice regularly are bathing, combing, brushing, and ear and nail care.
As previously explained, their coats can vary in color and texture, but most are somewhat straight or wire and long. While their coats are medium-long in length, they shed moderately.
To help prevent matting and to keep your Sco-Shi's coat shiny and free from tangles, the standard grooming requirements and frequency of each are:
Brushing: 2-3 times per week.
Bathing: approximately every 3 or 4 months
Haircuts: approximately 3 times per year, depending on how long you prefer your dog's hair to be.
Nail Clipping: twice per month, at minimum.
Ear Care: 2-3 times per week. Since they tend to grow a lot of hair around the ears, it is recommended to use a cotton swab or washcloth to remove dirt that may have built up.
Recommended Grooming Tools
To meet their pet's grooming needs, some dog owners prefer to hire a dog groomer while others prefer to groom their pets themselves. Either method is perfectly appropriate, as long as your pet's hair, skin, and nail needs are met.
Regardless of whether you groom your dog yourself or not, there are some basic grooming tools that are available for purchase to have on hand in case. These include:
Brush
Nail clippers
Hair scissors
Shampoo and Conditioner
Cotton Swabs
Since Sco-Shis have no significant hair and/or skin conditions, most generic grooming products are sufficient.
The most recommended kind of shampoo and conditioner to use on is one that uses natural ingredients that moisturize, soften, and detangle the hair, while also cares for the skin. Natural ingredients such as almond oil and oatmeal are ideal for dogs, and also do not create excess oil in the skin.
If you decide to wash and groom your pup at home, tools such as a grooming tub and harness are suggested. However, these tools are not required, as dogs can be wash perfectly well in a standard bathtub as well!
Temperament & Personality
Personality Traits
As described previously, Sco-Shis make extraordinary companions for any dog-owner due to their size, relaxed personality, and loyal demeanor. They are also generally good with older children.
Sco-Shis are also independent dogs and have no problem being left alone. This is ideal for dog-owners who work and need to leave their pup home alone.
While Sco-Shis are typically sweet and loyal, some personality traits can be stronger than others, depending on the strength of the genes inherited from each parent. Sco-Shis can be stubborn and refuse to listen to commands due to their independent personality. They can also come across as stand-offish to unknown humans and other dogs, especially if not trained appropriately,
Child/Family Friendly
If trained and socialized correctly, Sco-Shis can make excellent family dogs. Even though their parents may not always be good with children, this trait varies depending on the dog. The temperament and personality of a Sco-Shi is usually more ideal for families with older children.
Frequently Asked Questions
Are Sco-Shis good with other pets?
When socialized appropriately, Sco-Shis can interact completely fine are with other dogs and pets. However, they can become territorial or come across as the alpha dog, especially to new dogs.
If you are concerned about how your dog will get along with other animals, both in your home and in the neighborhood, exposing your Sco-Shi to a dog park may be beneficial in practicing appropriate social skills.
TIP: just a reminder: if your Sco-Shi has not be sufficiently trained to be off the leash, it is recommended to keep him or her on a leash because of their tendency to explore.
Can Sco-Shis be support animals?
Sco-Shis may not make the best support animals due to their stubborn and independent personality.
Are Sco-Shis good guard dogs?
Sco-Shis have natural hunting tendencies, are loyal to their owners, and can be territorial. However, they may not make the best guard dogs due to their size. They will definitely alert you to impending danger and activate their hunting senses if needed.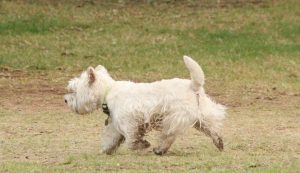 Adopting Sco-Shis: How & Where to Locate Them
If you are interested in bringing a Sco-Shi into your family, you are probably wondering how and where they can be found. Since they are not a well-known breed, you may need to complete more extensive research to find the dog that is right for you, based on where you live.
TIP: it can be challenging to locate a breeder who breeds Sco-Shis from purebred Shih Tzus and Scottish Terriers, as this cross breed is not as common as other hybrids.
However, there are two primary ways of finding the furry friend that is right for you and your family: adopting from a rescue or locating a breeder.
Adopting a Dog from a Rescue or a Shelter
Regardless of which breed you are seeking, adopting a dog from a shelter can have many pros and cons. For example, one positive is that you would be rescuing an innocent animal in desperate need of a loving home. A potential con is the risk of being unaware of the dog's medical and/or possible trauma history that may impact its behavior.
If you decide to adopt from a shelter, there are a few things to keep in mind. First, you can explore rescues by breed. You can also seek out specific non-profit organizations, such as the MSPCA in the US.
Below are some additional rescue groups across different countries:
USA: there are approximately 14,000 animal shelters and rescues across the country. These include local city and town shelters and The Humane Society of American Organization
UK: Last Chance Animal Rescue and Greenleaf Animal Rescue
Australia: RSPCA and Pet Rescue
Canada: Dog Tales Rescue and Sanctuary and SPCA
Asia: Soi Dog Foundation
TIP: It is recommended to seek out more information from each individual rescue regarding the specific requirements of adopting and what their procedures entail.
EXTRA TIP:  one of the most important things to keep in mind when adopting from a shelter is that the dogs currently at these shelters are what is currently available for adoption. There may not be Sco-Shis at rescues or shelters at the time of your visit. You may end up choosing a different breed that is currently available at the shelter, which is excellent! However, if you wish to adopt a Sco-Shi specifically, it is important to keep this in mind and plan accordingly.
Adopting from a Breeder
Similar to rescuing a dog from a shelter, purchasing a Sco-Shi from a breeder also involves several pros and cons. One benefit is that, if the breeder is experienced and cares for the dogs appropriately, the puppy you adopt will most likely be in good health and had been well cared for. However, it is important to choose a breeder wisely, as adopting a puppy from a careless breeder can have devastating impacts. For example, if puppies are not fed properly or receive appropriate medical care, there can be detrimental health and behavior effects as they get older.
How much do Sco-Shi puppies cost to adopt?
Since Sco-Shi puppies are a mix of two purebreds, the cost of purchasing a puppy is typically more expensive than puppies of other breeds.
Generally, the cost of a Sco-Shi puppy can range from anywhere between $500 and $1000.
Average Ongoing Cost
The average annual cost of owning a Sco-Shi can be compared to the cost of owning other breeds, especially since they are relatively low maintenance dogs.
According to a study completed by surveying 1000 dog-owners in the US, the average American spent approximately $126.00 per month on their dog. This includes food, which is estimated to add up to about $30 per month plus treats, and veterinary bills, plus additional miscellaneous expenses.
This average monthly cost would equal about $1512.00 per year. Please note that this is merely an estimated average and may differ depending on the needs of your specific Sco-Shi
Cities with Sco-Shi Puppies for Sale
Sco-Shi puppies can be found for sale through breeders all over the world. The timing of when puppies are available for purchase is based on approximately 8 to 10 weeks after they are born.
Due to this strict timeframe, breeders that have puppies available are constantly changing. In addition, there is limited information available regarding where to locate a breeder of Sco-Shis. However, it is recommended to conduct searches in your area to determine where this breed is available near you.
TIP: it is common for dog-owners to travel to other cities to purchase puppies, depending on where the chosen breeder is located.
Commonly Used Names 
When dog-owners adopt dogs, one of the most exciting moments is when the pups are finally named.
Since Sco-Shis are a unique breed, there is limited data regarding what the most popular names are for both males and females. However, below are the most common names for its parent breeds: Scottish Terrier and Shih Tzu:
Scottish Terrier:
Males: Laddie, Haggis, Loch, Whiskey
Females: Lassie, Nessie, Roxy, Chloe
Shih Tzu:
Males: Gizmo, Max, Bentley, Oreo, Charlie
Females: Bella, Sophie, Chloe, Lucy, Coco
It can be difficult, especially when your Sco-Shi is a puppy, to select a name that matches his or her personality. However, it is encouraged to not stress too much about selecting a name, as your Sco-Shi will learn to respond to any name that you give them.
Other Comparable Breeds
Since the Sco-Shi is a designer breed, there are many other designer breeds that are similar in size, temperament, and personality. For example, a daisy dog (bichon frise, shih tzu, poodle mix) is comparable in size and coat type. In addition, other terrier mixes possess similar personality traits, such as stubbornness and aggression towards potential prey.
Summary
Sco-Shis are a wonderful breed to own as a companion, protector, and furry family member. This breed requires more intensive grooming needs and can be stubborn but can be trained with patience. They are guaranteed to bring joy to your life for many years to come!