Has anyone ever mentioned to you that they recently bought a dog with papers? This article explains what a papered and unpared dog is and why it's important to you when looking for a new pet.
Dog Without Papers
In essence, if your main intent in owning a puppy is to have it complete or to just be a registered purebred, then papers are a must. Make sure you buy your dog from a registered breeder. If this isn't important to you then any dog will be a loving addition to your home.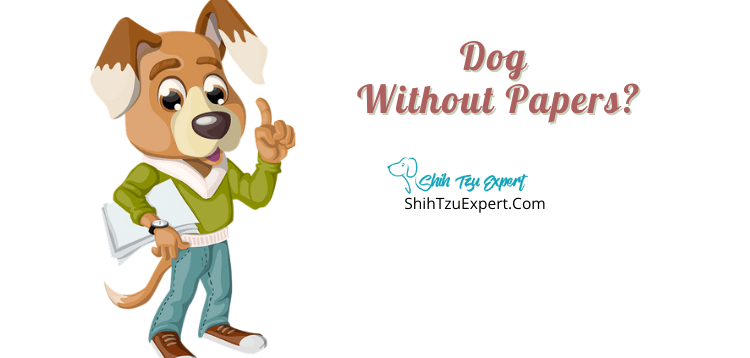 What Does It Mean If A Dog Has No Papers?
If a dog has no papers, it doesn't have registration papers from a verified kennel club, association, or council. These papers verify that the dog is purebred.
Papers verify that your dog is purebred.
What Is An Unregistered Dog?
An unregistered dog is a dog that is not recognized as purebred by a verified council, club, or association.
Can A Dog Go To The Vet Without Papers?
If you take a dog off the street can it visit the vet for vaccinations or other medical procedures? The answer is yes.
Even if you got your dog from a neighbor or a friend and the dog lacked papers, you could still take them to the vet. Papers only register the dog as purebred and track the lineage of the dog.
Is It Ok To Adopt A Dog Without Papers?
If you're looking to buy a dog with no intention of entering the dog into dog shows or competitions, it isn't any worry for them to have papers. Certifications from a kennel club will make no difference in if a dog will be a great addition to your family or not.
I Inherited A Dog Without Papers?
If you inherited a dog without papers you will not be able to get the dog registered.
How Valuable Is A Dog With No Papers?
If your main interest in owning a dog is to enter it in competitions and shows, then you may find less value in a dog without papers.
A dog without papers will carry less monetary value than a dog with papers. Since registered dogs are deemed purebred and can compete in shows, they come with a higher cost.
You won't be able to breed a dog without papers either if you were looking to start a breeding business. This means you won't be able to sell puppies that are registered purebred.
What Are The Most Important "Papers" For A Dog?
For any dog, registered or unregistered, you're going to want any papers regarding medical history and anything on the sale or previous history of the dog.
Do I Need Other Additional Papers When I Buy A Puppy?
These other important papers you're going to want to secure when buying a puppy are:
Bill of Sales: As you're entering into a sales agreement, you want to have a document proving the agreement took place in case any problems arise
Vaccination Records: A list of all the vaccinations your dog has gotten
Medical Records: Records of all previous veterinary visits, records of health conditions and issues
Microchip ID: If applicable, these papers prove ownership and will help you find your dog in case he or she goes missing
Pros & Cons Of Buying A Dog With Papers
If you're buying a puppy intending to breed it, showing it, or enter it into any competitions, then having papers has obvious benefits:
Buyers will want proof that the dog they're buying is purebred and that they can track the lineage. Having a registered dog will enable you to provide this if you plan on breeding the dog.
Papers are required for any dog competing in dog shows to win as a specific breed.
Your dog will not be able to win any titles without registration under a recognized organization.
Having a dog with papers doesn't mean there won't be any problems. Your new puppy could still have genetic diseases or medical problems that its breed is susceptible to. In this event, an already high-priced dog could cost you more money in the future with necessary medical bills and treatments.
Pros & Cons Of Buying A Dog Without Papers
The most obvious con of having a dog without papers is that it can't participate in dog shows or any competitions. If this is not something you plan on entering your pet into in the future, then it shouldn't be a worry.
As for the positives of a dog without papers, it certainly will cost you less money. Purebreds can cost anywhere from hundreds to thousands of dollars depending on the breed and the breeder. A rescue dog or one at an adoption center will usually only cost a very minimal adoption fee.
If you aren't looking for a specific breed of dog, any dog will make a wonderful, loving companion.
#Buying
Is It Illegal To Buy A Dog Without Papers
It isn't illegal to buy a dog without papers!
There is nothing wrong or criminal about buying a mutt. If you don't wish to have your dog participate in anything requiring papers and don't care about the breed of the dog then it's no crime to have no papers.
Buying A Dog Registration Documents [Usa, Uk, Australia, Nz,…]
You can purchase a dog without papers at any local shelter or pound.
Should You Buy A Puppy Without Papers? Is It Ok?
Buying a puppy without papers is okay. The only thing you want to make sure of is that you aren't buying from a puppy mill. The shelter or breeder your puppy is coming from should have good conditions for all of the pets.
Buying An Unregistered Mixed Puppy
If you plan on buying an unregistered mixed puppy you can find many at local animal shelters. These dogs may have had previous owners or no owners. You can find puppies or an older, already trained dog. Many dogs would be suited to different lifestyles and family types.
Stay away from puppy mills when looking for an unregistered dog. Make sure that the place you're buying your new pet from is a responsibly-owned business with good living conditions for the puppy.
Can I Buy A Puppy Without Papers And Then Register/Get Papers Later?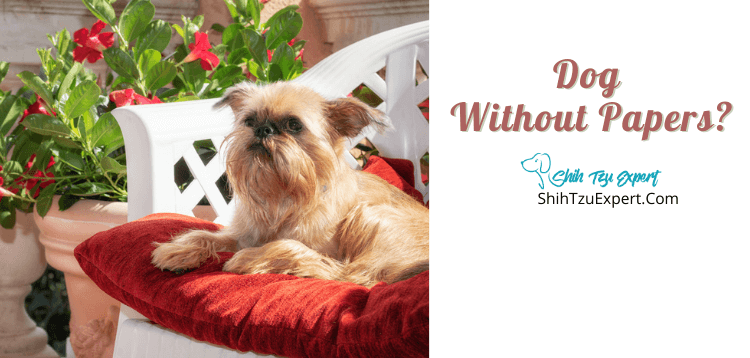 If you buy a puppy that doesn't have papers when you buy them, they can not get papers later.
When a litter is born, your dog must be registered by the breeder so the lineage can be proven as purebred. Without registration upon birth, the puppy won't be able to get papers later.
To register a dog, the name and birth date of the parents and the puppy are required along with the parents' registration. Parents of the puppy must be of the same breed. If these requirements aren't met, the puppy can't be registered.
How Much Should You Pay For A Dog Without Registration Documents?
Depending on where you get your puppy from, it could range from $50 to $250. In many cases, this includes baseline medical procedures such as vaccinations, deworming, flea and tick treatments, etc.
Keep in mind that although the cost of a shelter dog is going to be initially cheaper, all dogs require further payments for veterinary visits and everything else that is needed to keep a dog in good shape. Owning a dog requires continual payment, which is something that should always be considered before taking a pet into your care.
How Much Does A Shih Tzu Cost Without Papers
The price for a Shih Tzu without papers is around $300. This price can drop depending on the location or dog.
How Much Is A Shih Tzu Puppy With Papers
With papers, a Shih Tzu will cost at least $1,000.
How Much Is A Teacup Chihuahua Without Papers?
Without papers, a chihuahua can cost anywhere around $100. A teacup chihuahua with papers will cost $2000.
How Much Do Golden Retriever Puppies Cost Without Papers?
A golden retriever without papers will cost $500.
How Much Is A Golden Retriever Without Papers?
Golden Retrievers with papers will be priced around $4,000.
How Much Is A Dachshund Puppy Without Papers?
A Dachshund without papers will cost $50 to $200.
#Breeding
Is It Illegal To Stud/Breed My Dog Without Papers?
It isn't illegal to breed a dog without papers.
Licensed Breeders Without Papers
Being a licensed breeder is required for anyone exceeding a set amount of litter each year, as this would make them a commercial breeder. The set of how many litters someone can breed a year to require a license is determined by individual states in the U.S.
Breeder Won't Give Paperwork /Wants More $$ For Papers
Buying a puppy from a breeder should be an easy process. If the breeder tries to get more money out of you for anything already included in the sale, you shouldn't proceed with the transaction. The likelihood is that if they're attempting to get more money out of you, there may be more shady business practices behind the scenes.
Your best bet is finding another breeder who has no problem handing over paperwork as they should.
#Selling
Is It Illegal To Sell A Dog Without Papers
It isn't illegal to sell a puppy without papers. This only verifies if it's purebred or not.
Puppies Without Papers For Sale
If you were looking for a pet and didn't care if the dog was a verified purebred or not you should be fine with buying a puppy with no papers. No matter the sale you should always get the bill of sales as proof of purchase.
#Register
What Is The Difference Between Papered And Non-Papered
The main difference is that a dog having papers is one that is recognized as purebred, while one without papers is not a recognized purebred.
What Do You Do If Your Dog Doesn't Have Papers?
Sadly, if your dog doesn't have papers, most registries will not register your dog. In this event, you won't be able to breed purebred litters or have your dog compete for titles in any show or competition.
How Can I Get Papers For My Dog?
If you want papers for your dog, you have to go to the breeder of your puppy's litter and request the papers.
How Important Are AKC Papers For A Puppy?
The AKC is the largest Kennel Club with the most number of breeds. The AKC also has the most events. The AKC will only register puppies with parents belonging to the AKC, so if registration of future litters is important to you, you should register it under the AKC.
How Do I Get Papers For My Puppy In The United States?Uk? Australia?
Your puppy has to be registered by the breeder for your dog to have papers.
How To Register A Dog Without Papers
For most every registry, they will not register a dog without papers. Some clubs even require that the parents themselves be registered within their registry for the dog to be registered.
How To Register A Dog Without Papers American Kennel Club (AKC)
The AKC will not register a dog without papers. The Club will also not register a puppy unless their parents are registered by the AKC.
How To Register A Dog Without Papers American Canine Association (ACA)
You can not register a dog under the ACA if it does not have papers. The International Canine Association (ICA) doesn't require papers and will track your puppy's lineage.
How To Register A Dog Without Papers American Bully Kennel Club (ABKC)
The ABKC will not allow you to single register your dog. It is required that the dog have papers from its breeder.
How To Register A Dog Without Papers United Kennel Club (UKC)
The UKC will not register an unpapered dog as a pedigree. They can register it into their companion dog register or the activity.
How To Register A Dog Without Papers The Kennel Club (KC)
For a dog to be registered into the KC, both parents have to be registered by the KC. If the puppy isn't registered by the breeder and you have papers, it will not be allowed in the KC.
How To Register A Dog Without Papers Continental Kennel Club (CKC)
A dog without papers can be registered into the CKC by using the Non-Purebred Canine Registration Application form.
How To Register A Dog Without Papers Australian National Kennel Council (ANKC)
A dog needs papers to be registered under the ANKC.
What Is Limited Registration?
Limited Registration means that you won't be able to breed your dog. In many cases, your dog will have to be spayed or neutered. Your dog will be a recognized purebred. If you attempt to breed your pet and sell the litter, the litter will not be able to be registered as purebreds.
Alternatives To Papering
If you were looking for an alternative option for papering your pup, you can look into Indefinite Listing Privilege (ILP). This acts as a stand-in for actual papers. By registering your dog with an ILP, he'll be able to compete in most performance events. However, this doesn't mean that he or she will be granted entry to official shows.
If your main concern is breeding your dog, an ILP won't be of any use. In the event the dog has a litter, the puppies won't be able to be papered.
#Purebred?
Can A Dog Be Pedigree Without Papers?
Not every dog is registered at birth. There are pedigree dogs who exist without papers.
How To Register A Purebred Dog Without Papers?
Most registries don't allow dogs without papers to be registered.
How To Know If Your Puppy With Papers Is Really A Purebred?
To make sure that your puppy is purebred, you can bring them to an expert, preferably one specializing in the suspected dog breed. From there you can have your dog examined for what breed it is.
Do Papers Guarantee That A Puppy Is Purebred?
There is no 100% guarantee that a puppy with papers is purebred.
All that's required in registering a purebred is that its parents are registered as purebreds and that they can track the lineage as being purebred. Although this is something that can be tracked, keep in mind that there is always room for error in these records.
How Can You Tell If Your Dog Is Purebred Without Papers?
Through examining a dog's tail, snout, fur, and build you can identify what breed it is through a bit of research. However, without papers, you won't be able to claim that the dog is purebred or verify your suspicion it may be one, without papers at birth.
What Protection Dog Sports Can I Participate In Without Papers [AKC Or Fédération cynologique internationale (FCI)]?
Your dog can compete in AKC protection dog sports under the AKC's Purebred Alternative Listing program. This allows unregistered dogs of breeds that are in the AKC to compete in events.
References:
https://ckcusa.com/registration/canine-registration/non-purebred-registration/
https://www.akc.org/register/information/purebred-alternative-listing-pal/