We may earn commission from qualifying purchases at no extra cost to you.
Learn more

Everything You Need To Know About Shih Tzu
In your time as a dog-enthusiast, you've probably heard of Shih Tzu – or at least seen their foreign-looking name written down. And you might have some questions: How do you pronounce "Shih Tzu?" Where are Shih Tzu initially from? How much do they cost? Is a Shih Tzu the right dog for me? Don't worry – you've come to the right place. Stick around and keep reading, because you'll learn everything you need to know about this popular breed.
Shih Tzu Pronunciation
First off, let's clarify the pronunciation of "Shih Tzu" once and for all. You might have heard people call them "SHIT Zoo," which is how it looks like one should pronounce that complex combination of letters. Looks, however, can be deceiving.
Since these little dogs originate in China (more on that later), they're correctly called "SHEED Zoo." And like the plural words "deer" and "fish" in English, you don't have to say "Shih Tzus" with an S to make it plural. "Shih Tzu" can apply to one dog or a whole pack of them, as in, "A bunch of Shih Tzu just drove past me in a convertible!"
You might still overhear people say "Shih Tzus" with an S, which is pretty colloquially accepted. But now you won't be confused if you hear a Shih Tzu guru leave the S off in conversation.
Shih Tzu History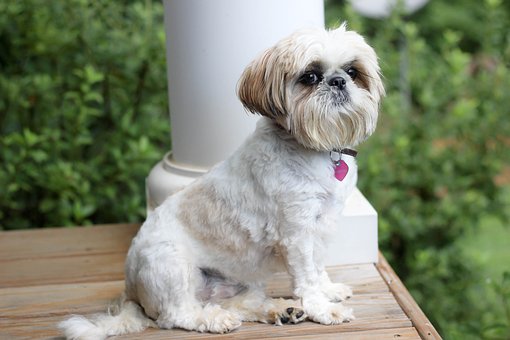 For such a tiny dog, Shih Tzu sure made a significant mark on history. These petite pups are estimated to have been around since 1000 BC, perhaps even earlier. No one knows for sure if they originated in China or Tibet, or from crossbreeding between elite Chinese and Tibetan dogs. What's clear is that Shih Tzu were treasured by ancient Chinese royalty as companions, much like today's 21st-century pets.
The small dogs were so beloved that for centuries, the Chinese refused to sell or trade them to foreigners. They were given royal protective status, and anyone who harmed a Shih Tzu could be severely punished or even executed for their crime. The little dogs were selectively bred in Chinese courts to keep the breed pure and healthy. Shih Tzu appear in paintings and written work from a range of Chinese dynasties, documenting their high status as royal favorites.
Their name, "Shih Tzu," actually means "lion," which seems like a misnomer for such a tiny, loving furball. However, while visiting China, Marco Polo wrote that the Chinese emperor kept a host of little "lion" dogs that were used as friendly partners for the emperor's collection of hunting lions. The miniature dogs kept the lions calm and happy while they lazed on the emperor's estate between hunts. Apparently, even ferocious lions were no match for the cheerful friendliness of the Shi Tzu.
In the 19th century, a few precious Shih Tzu were finally gifted to European visitors who traveled to China. After the breed almost died out during China's communist regime, careful breeding in Europe brought the Shih Tzu back from the brink of extinction.
Shih Tzu Facts
Shih Tzu are toy dogs,
the smallest dog size
that is officially recognized by legitimate dog registries like the American Kennel Club. (You may have heard of "teacup" dogs, but that's a layman's term that hasn't reached official status with the world's major dog registries. We'll get to teacup dogs in a bit.)
At four months old, Shih Tzu puppies tip the scale at only 1 pound each! They quickly reach their adult weight and size between 10 months and 1 year of age when they weigh between 9 and 16 pounds. On average, female Shih Tzu weigh slightly less than males.
As adults, both male and female Shih Tzu stand between 8 and 11 inches high at the shoulder (or "withers," to use the technical dog term).
Shih Tzu have all the external qualities of the stereotypical purse dog – tiny, fluffy, and adorable. So you might expect them to be aloof or inactive. Surprisingly, the opposite is true: Shih Tzu are scrappy little athletes who often compete in agility contests as well as elegant dog shows.
The lifespan of a Shih Tzu ranges from 10 to 16 years, with the average Shih Tzu living to the respectable age of 13. Vets consider a Shih Tzu to be a "senior dog" between the ages of 9 and 10.
Shih Tzu Appearance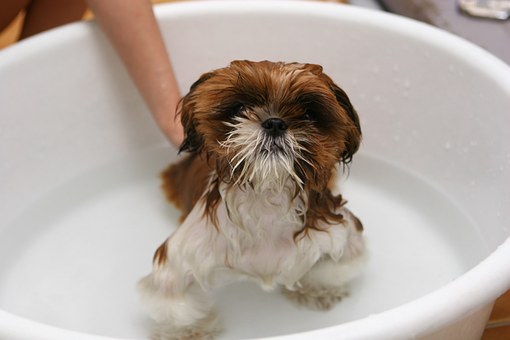 Shih Tzu are renown for the long, sleek coats that they showcase so gracefully in dog shows. You've probably seen a Shih Tzu with a long coat and an accompanying ponytail to keep her bangs out of her eyes. Shih Tzu are also adorable with a "puppy cut" (also called a "teddy bear cut") that keeps their hair cropped short and fluffy, making them look like adorable stuffed animals. The double layers of fur add to the luxuriousness of Shih Tzu coats.
Due to their royal history, Shih Tzu have a distinctly regal appearance, carrying themselves well with their heads up and their curled tails held high. Their eyes are round and bright, and their faces are notably sweet, friendly, and trusting. Purebred Shih Tzu can be any color, and Shih Tzu puppies often change colors as they grow into adults. Some tend to have an underbite or an overbite.
Shih Tzu Temperament
Each individual dog is unique with her own personality, but Shih Tzu are famous for their affection, sweetness, and friendly mannerisms. They are simultaneously outgoing and loyal to, even possessive of, their human family members. Their attentive nature makes them skillful little watchdogs, though they are also quick to befriend both humans and animals. Shih Tzu are especially fond of children, making them an excellent choice for families with young kids. They usually get along with other pets, as well, though they are not always fans of big dogs.
Despite their contest-winning athletic physique, Shih Tzu enjoy cuddling and watching Netflix with their humans. They thrive in small apartments or houses with no backyard to speak of. Although they don't need miles of exercise to keep them in check, Shih Tzu enjoy walks with their loved ones. Perhaps due to their former status as pampered royalty, Shih Tzu also have a stubborn streak. Young Shih Tzu pups need consistent training and socializing to make them well-mannered companions.
Shih Tzu Health Issues
Like any purebred dog, a Shih Tzu will have a selection of health risks throughout his lifetime. Some common Shih Tzu ailments are treatable with medication.
The Shih Tzu's short nose means it's possible that he'll have breathing problems, similar to pugs and other short-snouted canines. Some Shih Tzu have no issues breathing, while others have difficulty breathing or need surgery to fix their airway.
The most common Shih Tzu health issues are eye-related. The dog's trademark large eyes can easily get injured or irritated. Depending on the eye issue, solutions vary from simple to complex. Many dogs get eye irritation from abrasions or allergies, and it's easy to treat them with medicated eyedrops from their vet. Older dogs might develop cataracts, however, which require surgery or result in the dog losing vision in the affected eye.
Some Shih Tzu have back or thyroid problems, but these are health problems that can occur in any breed. Ear infections are relatively common, as well.
Shih Tzu Puppies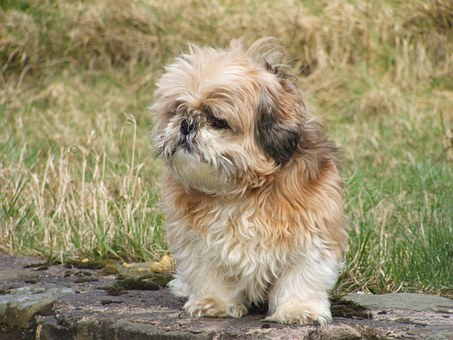 Small dogs grow much faster than large dog breeds, but they have longer life spans than their larger canine relatives. Shih Tzu puppies grow and mature exceptionally quickly, reaching full size and weight in less than a year. At 1 month old, a Shih Tzu pup is a scant 1 pound, a fraction of the size of an adult Shih Tzu. Fast forward 9 months, however, and the puppy has already reached her maximum height. To estimate how big a Shih Tzu puppy will get, multiple her 4-week weight by 10 or her 8-week weight by 5.
Shih Tzu puppies start eating solid food between 4 and 6 weeks old. At this age, they are extremely curious about the world around them and slowly gain confidence and independence as they explore.
At 8 weeks, most puppies are ready for new homes. For the next few months, they vacillate between high energy and sudden naps, endearing themselves to their families with adorable antics. Houses have to be well puppy-proofed at this stage, especially once a dog starts teething. Continued obedience training and frequent socialization ensure that Shih Tzu puppies grow up to be well-mannered members of society.
When they're 6 months old, Shih Tzu should be fully potty trained. This age is also the best time to spay or neuter them. Carefree puppies might start to show signs of separation anxiety around this time.
Shih Tzu Adults
At the ripe old age of 1, a Shih Tzu is considered an adult. She's less hyper, though still active and attentive. She's confident in her routines and her role as a family member.
Adult Shih Tzu are reasonably low-maintenance pets. They aren't infamous chewers, unlike some breeds, though occasionally Shih Tzu relish a good dig or a guilty-pleasure barking spree. They can get obese quickly, so their diet and treats need to be monitored.
Shih Tzu love receiving affection from people and being the center of attention. They especially enjoy learning and performing tricks, since they crave the spotlight.
That fancy fur coat requires a good deal of upkeep. Shih Tzu with long coats need daily brushing and weekly baths to stay healthy and tidy. Many pet parents get their Shih Tzu the more-manageable "puppy cut," which is adorable and (more importantly) low-maintenance.
9 Reasons Why a Shih Tzu Dog is Right for You
If you are still contemplating to get a Shih Tzu puppy or not, here are a few reasons why you should probably go for this furry ball of joy.
You Live in a Small Apartment:For people who live in a small space, adopting a large dog may not really work out great. After all, the dogs need space to play. Large dogs are energetic, which only means they will need a backyard or a large balcony to release their pent-up energy. Toy breeds like Shih Tzu are perfect for small apartment living.
You Cannot Handle Large Breeds: Some owners are not so comfortable to handle large breed dogs. Especially if this is your first dog, better go for a smaller breed that will be easy to handle.
You are Busy: Large dog breeds are great, but for someone who is busy most of the day, they may not be the right pet option. Large breed dogs need you to train them well or else as they grow, you may find it hard to control them because of their overpowering size. The same does not apply for small dogs. Note that this does not mean you do not give your dog some basic training.
Cannot Take the Dog Out Much: Such breeds need a lot of attention and have more energy to burn. You have to take them out more for exercise or else they can get destructive. Toy breeds need little exercise, which they mostly get running around the house, hence perfect for busy owners.
Have Other Pets at Home: Shih Tzu are great dogs to adjust with other pets at home. They are also well behaved around cats hence you can easily adopt one if you have other pets at home.
You are Allergic: They have a hypoallergic coat that hardly shed which means if you suffer from allergies then you can definitely adopt a Shih Tzu without fear of allergies.
You Travel a Lot: For people who love to travel, it becomes tough to move if you have a large dog. They may not be travel friendly. Shih Tzu is small, which makes it easy for owners to take them around on trips.
You Would Love to Have a Cuddle Canine: Obviously, these dogs are super cute ball of fur. They are small in size and look like a teddy whom you would always love to cuddle. If you are looking to get one cuddle canine for yourself, check out Shih Tzu puppies for sale in Ohio.
You Like to Spend Time on Yourself: Dog owners cannot really have some alone time as their best friends love to follow them around. Shih Tzu are independent dogs that do follow you around but will respect your lone time too. They are not as demanding as many other friendly breeds.
The Bottom Line- You Want to be Around a Happy Dog:
Shih Tzus are known to be a lucky dog, hence it is fun to be around them. The temperament may vary from dog to dog, but in general they love to spend time with their owners and you will really enjoy being around this little furry friend of yours.
Getting a Puppy vs. Getting an Adult Dog
If you're hoping to get a dog, you've probably already wondered if you should get a puppy or an adult dog. Both puppies and adult dogs have their own unique pros and cons, so it's worth considering the facts before making your decision.
Like babies of other species, including humans, puppies are hard work. They don't know anything about the world, and they have to be protected from their own ignorance (electrical wires aren't chew toys!). They haven't mastered control of their bladders yet, and the carpet seems as good as your backyard when nature calls. A young puppy might cry if left alone or bark at strangers. You can teach her that strangers can be friendly and that you'll always come back for her after you go, but that takes work, energy, and time. Additionally, you can't predict precisely how a young puppy will act or look in adulthood. A quiet puppy might grow into a vocal adult, and a grey Shih Tzu might turn brown.
However, if you're an experienced dog owner, you might be up for the challenge. You can address a puppy's quirks as he grows up, rather than trying to break an adult dog of well-engrained bad habits. You can make sure that your puppy is well-socialized and friendly to everyone, whereas some adult dogs have been traumatized by their former homes and can't be around children, cats, or other dogs. You can weather the teething phase and the peeing-on-the-carpet phase for 8-10 months, and come out on the other side with an obedient, friendly dog who will be a loving family member for 10+ years.
Adult dogs can come with their own set of issues. Shelter dogs might be afraid of men with beards, or doorbells, or other dogs due to past abuse and trauma. Adult dogs might have indulgent habits, like barking, that you'll have to address consistently to retrain. Some might have no training whatsoever and will need to learn how to sit, stay, and walk nicely on a leash. If you don't know the parentage of your adult dog, you might not know if it's especially susceptible to any health issues due to poor breeding. And depending on the dog's age, you might not get as many years with your adult furry friend as you would with a puppy.
On the other hand, if you're a first-time dog parent, an adult dog is a great option. You don't have to spend months scrubbing pee from your carpet, since adult dogs are usually house-trained. Some adult dogs are well-socialized, too, and quickly adjust to a household with other pets. An adult Shih Tzu won't want to chew your shoes, remote control, or cell phone charging cable since teething is a thing of the past. Additionally, what you see is what you get with adult dogs: Their temperament and coloring are already established.
Ultimately, the choice between a puppy and an adult dog is entirely yours, and there's no wrong answer. Do whatever works for your budget, situation, lifestyle, and personal preference.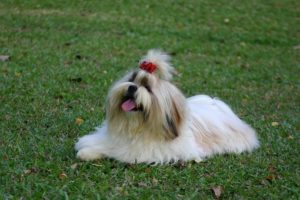 Shih Tzu Price
Shih Tzu are for sale at a wide range of prices: anywhere from $500.00 to $2,500.00, though the average is closer to $1000.00. Factors influencing the price include age and seller (breeder, pet store, acquaintance, etc.).
In addition to buying the dog himself, you'll need to pay for food and water bowls, kibble, a brush, a leash and collar, regular vet visits, toys, a crate, treats for training, obedience classes, regular haircuts, and additional dog accessories that fit your particular lifestyle (travel carrier, hiking vest, life jacket).
Shih Tzu For Sale
There are multiple places to procure a Shih Tzu, whether you're looking for a puppy or an adult dog.
You can start by checking local shelters to see if they have a Shih Tzu looking for a human of her own. Some might even have a puppy or adolescent Shih Tzu available. Often, you can search shelters around the country for specific breeds of dogs – it might be worth taking a road trip if your new best friend is a few hours away.
Some cities have Shih Tzu specific clubs that promote information about the breed and help Shih Tzu find forever homes. There are even breed-specific rescues, so you can search specifically for Shih Tzu rescues and get matched with your dream dog.
Of course, some breeders specialize in Shih Tzu puppies. Occasionally, you can also buy an adult dog from Shih Tzu breeders (more on that in another section).
Shih Tzu Puppies For Sale
Honest, ethical breeders are the best bet for the health of your Shih Tzu. Established dog registries like the American Kennel Club keep a list of reputable breeders who meet certain standards of care and abide by specific rules. You can search this database of breeders online and trust that any puppy you find there was ethically bred and raised.
Remember that Shih Tzu dogs can be any color, and Shih Tzu puppies usually change colors as they grow. Don't pick your puppy based on the color of her coat, since she will probably be a different color in a few months!
When buying from a breeder, you should expect to wait for a litter to be born, and then for your chosen puppy to be weaned before she comes home with you. If a breeder always has puppies available, walk away – you're probably talking to a puppy mill that's subjecting puppies and adult Shih Tzu to pain, fear, and danger.
Dogs of all ages in puppy mills suffer from physical and emotional issues that might manifest after you buy your dog. They live in overcrowded conditions, with no chance to exercise or interact with loving humans. Adult dogs in puppy mills are overbred to the point of exhaustion and often killed when they can't give birth to more pups. Puppies are weaned far too early so their mother can get pregnant again, and they often have anxiety issues as a result. Worst of all, buying from a puppy mill only encourages greedy people to keep hurting dogs for profit.
A reputable Shih Tzu breeder does their best to ensure their puppies grow up with the lowest odds of developing common Shih Tzu health issues. Only healthy dogs are bred to minimize risk, and pups are kept with their birth mom until an age when they are old enough to go home with a new family safely.
Shih Tzu Adults For Adoption
As mentioned earlier, shelters are a great place to start looking for an adult Shih Tzu. You can search online, both locally and nationwide, to find Shih Tzu who need a home. Shi Tzu clubs and rescues are great resources, since they'll either have Shih Tzu ready for adoption or be able to give you tips on where to find some. Search "Shih Tzu club" or "Shih Tzu rescue" online for options – they'll be happy to help you.
Another possibility is buying an adult Shih Tzu from a reputable breeder. Some breeders sell their adult breeding dogs after a length of time, allowing the hard-working dogs to live a well-deserved happy life with a family. (Unlike puppy mills, who kill or abandon their abused adult dogs.) You can ask Shih Tzu breeders to see if they are planning to have an adult Shih Tzu for sale soon.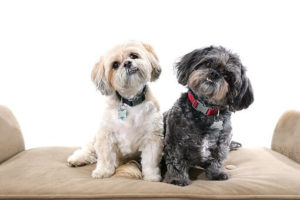 A Warning About Teacup Dogs
As you search for your new best friend, keep an eye out for the term "teacup" used to describe Shih Tzu, and be cautious if someone promises you a "teacup dog" of any breed. As previously mentioned, "teacup" is not an official dog grouping recognized by any significant dog registry, and for a good reason. "Teacup dogs" are sometimes established dog breeds – like Shih Tzu – that have been bred and bred until they are unusually tiny. The result is often
dogs with serious health issues
like incontinence, heart defects, and low blood sugar, which can cause seizures or death.
Since "teacup" is an unspecific, undefined term, a seller might try to trick buyers by advertising their dogs as "teacup dogs." Then the seller lies about the age of the dog – for example, claiming a young puppy is older than her real age, so she appears miniature. Or the seller markets the runt of a litter as a "teacup dog." However, both of those puppies will eventually grow into normal-sized Shih Tzu, regardless of their "teacup" label. Although Shih Tzu are not huge dogs to begin with, the pet parents who buy "teacup dogs" under false pretenses aren't getting what they paid for.
The more pet parents try to buy "teacup dogs," the more sellers are incentivized to lie or sell inbred dogs that suffer their entire lives. Don't be fooled by a seller or breeder who promises you an authentic "teacup dog" to make a quick buck.
Conclusion
If you're looking for a small dog, you can't go wrong with a Shih Tzu – you'll see firsthand why the Shih Tzu was the cherished pet of ancient Chinese nobility. These lovable fluffballs are a fantastic choice for a wide variety of lifestyles. Whether you love camping or Netflix, whether you have cats or kids, whether you live in a studio apartment or have a huge backyard, a Shih Tzu will happily become an active member of your household.