Returning a dog is heartbreaking. Knowing what happens when you do can give you some peace of mind or perhaps make you reconsider.
What Do Breeders Do With Returned Dogs?
Most good breeders will always find a suitable and loving home for any of their pups that get returned, even if it may take a while.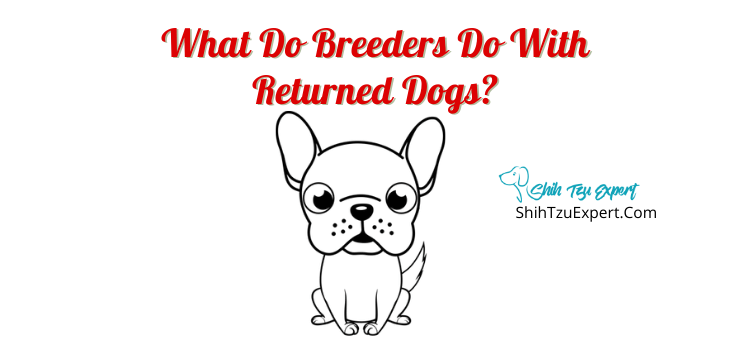 What Is The Law On What Breeders Can Do With A Returned Puppy?
Unfortunately, there aren't any laws that particularly relate to what a breeder can do with returned dogs.
This means that the only laws they really have to abide by in this circumstance are animals abuse laws.
In a majority of the states in America, it is legal to put down a healthy dog if the owner simply does not want them anymore.
However, most breeders will not put down a dog that is healthy and not suffering unless they can't keep them themselves or can't find a new home for them.
If you are unsure what the particular breeder you are buying from would do with a returned dog you can always ask, they should be happy to tell you.
What Do Reputable Breeders Do With Dogs They Don't Place?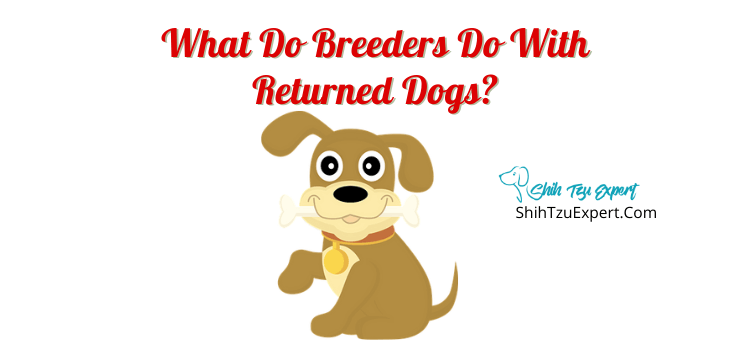 A reputable, responsible breeder does truly care about the animals they breed and always want to make sure they are in a safe and loving home.
So if you call your breeder about not being able to home their dog anymore, they will take them in and find a new home for them themselves.
If they do not have space for another dog, they will arrange for the dog to be taken in by a foster family until they can find a suitable forever home for them.
A reputable breeder will want to hear from you about how the dog is doing and to help solve any issues that may have arisen.
It would be a big red flag if a breeder seemed like they didn't care about the wellbeing of a dog that they bred and then sold.
What Happens To Unsold Puppies From Breeders?
Usually, puppies would be given to friends or family members of the breeders to ensure that the puppy still goes to a good home even if they don't make a profit.
If there aren't any friends or family willing to take the puppy the breeder may choose to keep the puppy for themselves or set them up with a foster family until they can find a home.
This being said, most reputable breeders have long waiting lists that are always longer than the number of puppies they have, so they never really have unsold puppies.
The reason the waiting lists are so long is that reputable breeders will only produce so many litters at a time, so they don't stress or overwork the mothers.
Non-reputable breeders can't be trusted to do this though, they will often drop off unsold puppies at shelters or even abandon them.
What Do Breeders Do With A Returned Aggressive Puppy?
Most dogs that are aggressive can be trained to be less reactive to things and thus much safer to be owned, especially if you start young.
So if you return a dog for being aggressive they will most likely be given to someone with proper experience in order to train them.
Unfortunately, this is not always the case and sometimes dogs can be too aggressive to be able to train effectively enough to ensure safety.
If a dog is too aggressive to the point that they are a danger to all those around them then they will have to be euthanised.
Do Breeders Put Returned Dogs Down?
The only breeders who will put healthy, friendly dogs down just because they were returned are ones who only care about profit and not the animals they are bringing into the world.
It is sadly commonplace for people who operate puppy mills to put down a returned dog because they had been spayed/neutered meaning they couldn't make more puppies to sell.
If you accidentally bought a puppy from a non-reputable breeder and are worried about them putting it down if you return it, give the puppy to a friend, relative or shelter.
This ensures that the puppy will still have a good home and won't be needlessly euthanized.
Returning Puppy After A Week?
If a puppy ends up not being the right fit for your home and you have to return it, it's better done earlier than later.
Returning a puppy after a week will be much better for them emotionally than returning them after a few years have passed and they have an emotional connection to you.
Reasons To Return Dog To Breeder?
There are many reasons why you may want to return a dog back to their breeder, a lot of the time (assuming you bought from a responsible breeder) you will be reimbursed.
The most obvious (and most common) reason for a dog to be returned to a breeder is that the person or family have realised that they don't have the space or recourses to care for the dog.
Another reason is that the dog you got was not the dog that was advertised to you, whether this is a mistake on the breeders part or an intentional scam, it does entitle you to a refund.
A puppy arriving with an illness that you were not made aware of prior to receiving the animal is another reason why the pup may have to be returned.
If a dog gets too big for you to be able to handle or bigger than is typical for a dog their breed you may also have to return the dog to the breeder.
Another reason that is quite uncommon but still possible is that you have gotten a puppy that is very aggressive to the point that they can not be trained.
Can I Return A Dog I Bought & Get A Refund?
If the dog was not as advertised or came with an undisclosed illness then you are more than entitled to return the dog and be fully reimbursed for the payment.
However, if you have to return the dog for a reason that is unrelated to the breeder or the dog then you might not be entitled to a refund.
For example, if you are moving away and can't take the dog with you. The breeder should be able to take the dog back and find them a good home though.
What Is A Pup Back Deal?
A pup back deal is where the owner of a bitch (female dog) will make a deal with the owner of a stud (male dog used to inseminate the bitch).
This deal is that if the owner of the bitch gives the owner of the stud one of the puppies from the resulting litter if they lend the stud for mating purposes.
This is a good deal as the bitch owner doesn't have to pay a fee for the stud (which can cost anywhere between $250 – $100).
As well as the fact that the owner of the stud will get their choice of the puppies born, which is a very rare privilege otherwise.
Most Commonly Returned Breeds Of Dog
Dogs of all breeds can get returned for a variety of reasons, but some definitely give new owners a run for their money and get returned more.
Here are some commonly returned dogs breeds and why they get returned, so you can make a better-informed decision about the kind of dog you want to get.
Jack Russell Terriers – while very small and seemingly harmless Jack Russel Terriers are very active dogs and can end up causing a lot of damage by chewing and wrecking things.
Labrador Retriever – possibly one of the most popular dogs, especially for a home with children, they often end up being returned because people who get them only see them in ads and on television and don't expect the workload and responsibility that comes with owning them.
German Shepards – another very popular dog they are very often 'returned' or put up for doting simply because they are retired police dogs, however, a lot of people can struggle to keep up with how active they are.
Saint Bernard – Staring in the classic family film 'Beethoven' a lot of people think that it is the perfect dog for them, not realising how big they grow up to be and later returning them for that reason (not to mention the fact that they are impressive slobberers!).
American Pitbull Terriers – These cuties often get re-homed due to their bad reputation of being fight dogs and having aggressive tendencies, but they are really no more aggressive than any other dog and are often very loving.
Akita Inus – Unlike our previous entry this breed of dog actually can have quite an aggressive streak even though it isn't very widely known because of their cute smiley faces. There are a lot of reports of Akita Inus being aggressive with other animals and children, it seems they don't like to share the spotlight.
Huskies – Adorable, loving and striking stunning dogs it seems like huskies are the perfect dogs for almost everyone! Unfortunately, what people don't tell you is that they are notoriously noisy drama queens, definitely not for anyone with neighbours close by or who just really value their sleep.
English Bulldogs – Not the prettiest dogs in the world but are very loving and surprisingly good guard dogs for how stout they are, so why are they returned so often? Their owners are unfortunately unable to afford them a lot of the time because they suffer from a wide variety of health issues that can end up being quite costly.
Spaniel – These are very high energy hunting animals, so when people buy them hoping for a quiet house dog they end up with quite a shock. It is very difficult to keep up with their physical demands, especially if you live a busy lifestyle and unfortunately, all this pent up energy often means they end up being naughty and destroying things for something to do.
Rottweilers – a very affectionate breed who make excellent guard dogs, these can make a great pet for some people, the problem with them though is that they are incredibly strong, so if they are very well trained they may just end up taking you for a walk instead of the other way around. They can also have some issues with aggression since they are bred to be guard dogs.
How to know if you are ready for the responsibility of owning a dog?
It can be tempting to rush into getting a dog because they are such great companions to have, but how do you know if you are ready for one?
You are ready to deal with the dirt – if the idea of picking up poop and moping pee doesn't disgust you to no end, that is definitely a good sign that you are ready for a dog.
You have time and energy – dogs need to be walked often and their bladder rarely holds a perfectly convenient schedule, so you need to have the time to take them outside.
You have excess income – dogs are expensive. Not only with the upfront cost but beds food and vet bills will all add up to a pretty penny and that expense never goes away.
You have already sorted out their vet and groomer – knowing where and to whom you are going to bring your pet for their regularly scheduled appointments as well as during emergencies shows that you have taken planning for your pet seriously.
You know that you don't know everything – being able to learn, grow and adapt to your dog's needs is crucial for them and shows how much you care about their wellbeing.
If you can tick all these boxes, I think you can definitely start thinking about bringing home a new pet!
References:
https://www.wonderpuppy.net/canwehelp/breeder.htm
https://breedingbusiness.com/pick-of-the-litter/