Some mistakenly believe that retired breeding dogs don't make good pets.
Although breeding dogs have a different start in life to most dogs, and can have some challenges if they've come from puppy farms or retired early, they will always make great pets.
Let's take a look at the facts you should consider before choosing to adopt a retired breeding dog…
Do Retired Breeding Dogs Make Good Pets?
Retired breeding dogs always make great pets (same with retired show dogs). Like all dog searches, it depends on the dog whether they will be right for you. A retired breeding dog will be a beautiful example of the breed but may have issues with behavior, or have been mistreated in the past. Make sure you have time to train your dog and to give them a loving forever home.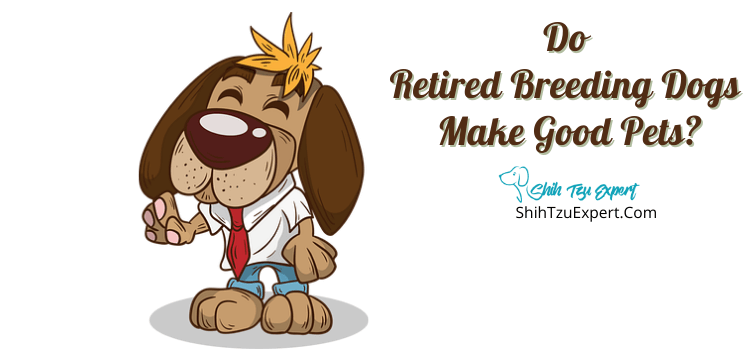 Why Do Breeders Retire Dogs?
First, let's take a look at the main reasons why breeders retire dogs.
Breeders are not the same as normal dog owners.
Most breeders keep dogs to make money by selling puppies.
A good dog breeder will want to breed the best example of the breed they sell.
For example, a dalmatian breeder will want to breed dogs with a lot of well placed, dark spots. A pug breeder will want only the flattest noses. And of course, all breeders will want to breed a puppy with a good temperament.
Now we understand what kind of dogs breeders are looking for, it will be easier to understand the main reasons why dogs are retired from breeding.
The main reasons why a breeder will stop a dog breeding are:
The dog is too old to have any more puppies.
The dog has had too many litters already.
The dog has an undesirable character trait that they are passing on to their puppies.
What Happens To Breeding Dogs When They Retire?
When buying a puppy, most people don't think about what will happen to the parent dog when they leave.
If you've bought your puppy from a family dog, chances are their life will be pretty much the same as before they had puppies.
However, if you picked up your puppy from a reputable breeder, that dog will usually go back to breeding. When it can't it will retire.
When a dog finishes its breeding period, most of them go on to be rehomed.
Often, breeders are producing the best example of a breed.
Although they are older, a lot of good breeders will have given their dogs impeccable training.
Therefore, a lot of breeders have a waiting list of people who want to take a retired dog, as well as a puppy.
You can sometimes see retired breeding dogs in rescue centres too – but these are more likely to have come from an unregistered breeder or puppy farm.
Whatever the kind of home it had whilst it was being used for breeding, a retired breeding dog will almost always be spayed, and rehomed.
An ex-breeding dog can most often be found living a second life as a sofa dog!
Why Do They "Rehome" Retired Breeding Dogs Instead Of Keeping Them?
A lot of animal rights activists take the example of breeding dogs being rehomed as an example of animal cruelty.
They suggest that if breeders can 'get rid' of their dogs when they can no longer make money from them, it proves that the dog was never loved in the first place.
Good breeders get very upset about this.
Good breeders do love their dogs but often find that rehoming them is better for the dog.
Female dogs like to live alone.
Female dogs can be very territorial. They don't typically like living with other dogs. If a breeder gets another bitch, so that they can keep breeding more puppies, their retired bitch and their new one would need to be kept separate. This would be a stressful life for the breeder, as well as the dog. It is usually nicer for retired bitches to have their own new family, where they can be centre of attention!
Breeders don't have the space.
Most breeders will continuously have dogs for breeding. Most breeds retire at around 6 or 7. This means that there is another 6 or 7 years of life in a breeding dog. If breeders kept all of their retired dogs, there would be no room for all of their dogs (and all of their puppies!).
What Does Retirement Mean For Breeding Dogs?
Why do we use the word 'retirement' in relation to dogs?
If you know much about dogs, older dogs do similar things to younger dogs.
These are the things that would mean a breeding dog is retired:
They are no longer having puppies.
They have been spayed or neutered.
They are usually rehomed, where they can act like a pet.
They live in a house with a family.
Having puppies puts a lot of stress on the health of a bitch. This is why they shouldn't have too many litters.
A retired bitch will need a relaxed life after working hard to deliver lots of puppies over their lifetime.
Retiring a bitch and sending her to a relaxed, loving home is the best kind of retirement for a dog.
When Do Breeding Dogs Retire? (After Winning / Old Age)?
There is no national retirement age or pensions for dogs.
So when should they retire?
The best reason to retire a breeding bitch is when they are too old. The national kennel club advises against breeding a dog over 8 years old. It is more common to retire a dog at 5 or 6 years old. This is for the health of the bitch and for the puppies.
If a bitch has had 2 or 3 puppy litters, this is a good indication that their body will be ready for them to retire.
If you're looking for advice on retiring a specific dog, check its breed. Smaller dogs tend to need to retire younger than bigger dogs.
If the dog has health issues.
If a dog has health problems due to breeding or has inherited some, this dog will retire early so as not to pass these on to puppies, or to endanger their own life.
What Age Should A Breeding Dog Retire [Are They Too Old]?
A healthy dog might be full of energy, right up to their last years!
It might seem like they could go on breeding cute puppies forever.
However, for the health of the dog, it is important to retire a dog at a certain age.
You should retire most bitches at 6 or 7 years old.
Older than that in dog years is geriatric – and you can't imagine your grandma having babies!
It might be tempting to breed a dog older than this, but these guidelines are generally accepted to protect the health of the dog as well as of the puppies.
Are Breeding Dogs Pets?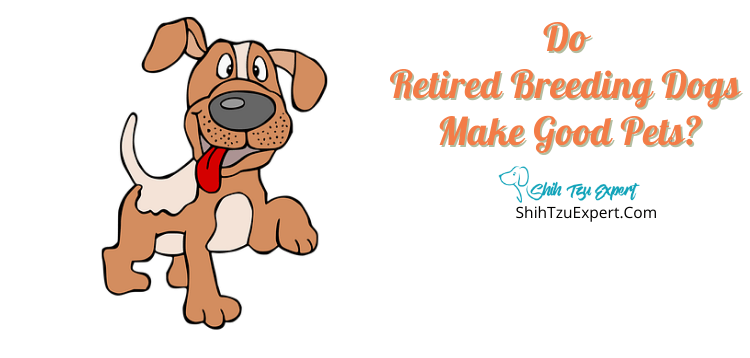 When looking for a pet dog, you might not consider a breeding dog or ex-breeding dog.
When they're working, breeding dogs have a very different life from retired dogs.
Usually, breeding dogs have a strict routine. They will live in a crate or kennel around other dogs and have a very strict diet and lots of health checks.
Of course, they will have puppies a lot, which will mean they are tired and stressed.
However, breeding dogs can have a successful second life as a pet, and actually, most breeding dogs do become great pets.
Do Retired Breeding Dogs Have To Be Trained?
If you're interested in rehoming a breeding dog because you love a particular breed, you might be worried about how much training they will need.
How will they adapt to their new home?
As they are older, will you be able to teach them new tricks?
Will there be naughty or strange behaviours because of their past?
The best answer is that all dogs can be trained whatever their age!
If you've got an ex-breeding dog from a reputable breeder, these dogs are likely to be very easy to train.
Breeders train their dogs to live with other dogs, and to exhibit the best characteristics of their breed.
A lot of breeders also take their dogs to dog shows, where they perform certain tricks.
You may need to teach your dog whether it can go on the sofa, but they should have good manners to start with.
If you rescue a breeding dog, it may have come from a puppy farm. These bitches might have been mistreated previously. This can mean that they have difficult behaviours, and are a bit more scared of humans.
However, with a bit of love and training, these dogs can turn into the best pets!
Where Can I Find Retired Breeding Dogs For Adoption?
Breeding dogs are very cute, and often the best-looking dogs for their breed. If you're looking to adopt a retired breeding dog, the top 3 places to find one would be:
Breeders are registered. You can look up their details and reach out to them with your request. They might have a suitable dog immediately, or be happy to put you on a waiting list.
From an animal rescue centre.
Retired breeding dogs here might have come from a slightly more stressful home, like a puppy farm. They will need a bit more training, but the rescue centres often offer help with this, and they make rewarding pets!
Look for reputable pet rehoming sites and you'll see all kinds of different dogs. Breeders list their older dogs here too.
What Is An Ideal Retirement Home For A Breeding Dog?
Offering a retirement home for an ex-breeding dog is a great idea!
Like all dogs, there are some key things your new dog will need:
Lots of love!
Enough exercise.
A healthy diet (probably the same as what the breeder gave them).
A lot of relaxation.
No other dogs.
Ex-breeding dogs can make the most loving pets, and are great family dogs.
How Much Do Retired Breeding Dogs Cost [Are They More Expensive Than Other Dogs]?
If you've started to look for a dog, you might be settled on a specific breed.
You might be thinking that a breeding dog is a good option, and will be more cost-effective.
Whilst this is somewhat true, the cheapest dogs will always come from a rescue centre.
(Often rescue centres don't charge for the dog – just for their admin).
Retired breeders are still a pedigree. They have been specially bred and cared for, and often won prizes.
This means that they come with a price tag.
Rarer or more popular breeds will be in the thousands of pounds.
It will be more expensive to buy a puppy, but a retired breeding dog will still have an expensive price tag.
If you are looking for a cheaper dog, look at rescue centres or for cross-breeds. This will bring the price down if you're not set on a breed.
How Difficult Is It To Find A Retired Breeding Dog?
A lot of people wish for a specific breed of dog.
Do you like Great Danes but hate Dachshunds? Or do you want a pug or Frenchie to be a good city pal?
If you're looking for a dog, your experience is going to be unique.
Some people might find that their breeds have long waiting lists for puppies when they look. This might mean that retired breeding dogs are easier to find because younger dogs are more popular.
On the other hand, there might be a lot of retired breeding dogs available, if you are looking for a popular breed where there are also a lot of puppies.
Rescue centres have a mix – if they have retired breeding dogs, they will often be from puppy farms and will need more care and attention.
So be careful when looking for your dog!
Wherever you choose your breed, make sure the breeder is reputable and registered, or you are getting your breed from an official rehoming centre.
How Would I Go About Acquiring A Retired Dog From A Good Breeder?
A lot of breeders would be happy to part with a bitch or dog that they had retired.
To give a breeding dog its second home, you should:
Look up your breeder online.
Breeders are registered, so you should be able to find their details. A legitimate breeder has to meet certain standards and conditions to keep their dogs healthy and well looked after. This is where you should look to get your new pet.
Contact your breeder directly.
It is likely the breeder will want to ask you questions, as much as you want to interview them. Good breeders will ask you about the type of home the dog is going to, and sometimes check you have enough space, money and time to care for them properly.
Agree on the price.
Ex-breeding dogs will be cheaper than puppies, but they still come with a pedigree price tag. Take a look at similar-sized breeds to understand what price to expect.
Be prepared to wait.
A breeding dog needs to retire when the breeder is ready, and it's up to them to decide when that is. If you're set on a retired breeding dog you'll forget you had to wait by the time you take it home!
Pros And Cons You Should Consider Before Getting A Retired Breeding Dog
Pros of getting a retired breeding dog:
Breeding dogs are bred for their good looks, so you'll have a great example of your desired breed.
They are looking for a forever home.
After an early life of hard work, some people think retired breeding and show dogs are the most deserving of a new home. Can you give them one?
They can be cheaper than puppies.
Retired breeding dogs might be a more cost-effective option if you're looking for a specific breed.
Cons of getting a retired breeding dog:
They might need extra training.
Some dogs are retired from breeding because they have bad habits that breeders don't want to pass down the bloodline. This might mean that they need more time and attention than another dog.
They might have had a sad start.
If you're rescuing a retired breeding dog from a puppy farm, they may be a little anxious or scared of humans. However, with a loving home, these dogs can become great pets!
References
https://www.thedogplace.org/ShowPlace/when-a-breeder-retires-a-dog-a19H01.asp
https://www.germanshepherds.com/threads/why-do-breeders-sell-retired-dogs-instead-of-keeping-them-for-life.156136/