If your vet has asked you for a vet reference and has not offered up any explanation as to what that is, it can be really confusing. Here is what you need to know.
What Does A Vet Reference Mean?
A vet reference is a way for people (mostly animal adoption centers) to know whether or not you will be a good fit with their animals by looking at how you have worked with them in the past.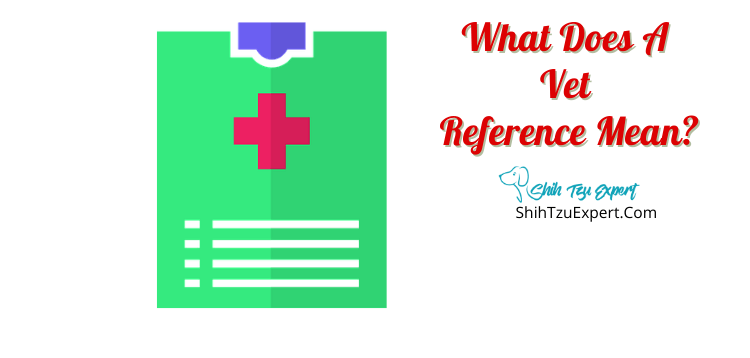 What Is In A Vet Reference?
When anyone asks for a vet reference, they are really asking about your past pets and any medical treatment they might have received.
So if you had previously had a dog that never had any injuries but was vaccinated, that is what you would tell them or what they would be shown proof of by your vet.
It can also mean a reference from people you know about how animals are treated in your care. Whether they were yours or if you were just minding them.
Who Would Ask For A Vet Reference?
Mostly the only ones who are going to ask for a vet reference are vets themselves from your previous vet so they know the animal's medical history first hand.
Another case where it would be commonplace to ask for a vet reference would be adoption centers or animal shelters before you adopt or foster an animal.
Another case where this is possible is if you are going to be pet sitting for someone, they may want the reference to see how you are with animals, this isn't incredibly likely though.
What Is A Vet Check For Adoption?
A vet check for adoption is when the adoption center checks with your previous vet/vets to see if your animals were taken proper care of and that there were no signs of abuse.
They check things like vaccination records, injuries your animals have sustained over the years and whether or not your animals are brought in for regular check-ups.
These vet checks while they might seem tedious are integral in making sure animals end up in loving homes that won't mistreat them.
How Do I Get A Vet Reference?
All you have to do is go to your vet and ask, you might have to sign a waiver that allows them to legally release your information but that is all.
You could be given a form to give to your vet to fill out but most likely the adoption center will contact your vet for you.
What Do Rescues Ask Your Vet?
The questions in particular they ask will range from adoption center to adoption center.
What you do know is that they will be asking questions that relate directly to your animal husbandry, whether or not your pet was vaccinated, had any suspicious injuries etc.
They will also ask your vet for both their professional and personal opinions on how you are with your pets and whether or not they think you would be a good candidate for adoption or fostering.
Do Animal Shelters Call Your Vet?
Yes, whether by call or email any animal shelter that truly cares about the animals in their care will contact the listed vets of all of the potential owners.
If they check your vet history and see any signs of animal neglect or abuse or that your current animals are not up to date on all their vaccines you will not be getting an animal from them.
If this happens you can always try again, just make sure to get vaccines up to date and go for at least an annual checkup for all of your animals.
Should I Have A Vet Before Adopting A Dog?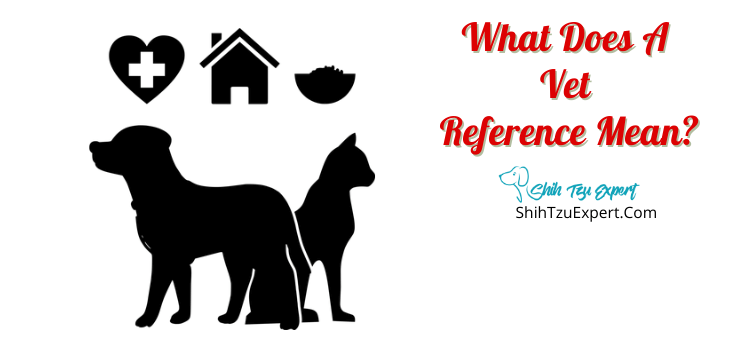 Absolutely, it is always best to be prepared. While it's not always necessary to have a vet before adopting a dog if you're a first-time owner, it does make the process easier.
It also shows the adoption center that you're prepared and willing to go out of your way for the health of your new pet.
How To Find A Vet Before Adopting?
This will probably be one of the easiest parts of the adoption process.
All you have to do is google the vets around your area, read some reviews and see what animals they specialize in treating and then ring whichever seems to be the best fit!
What Are The Most Common Reasons For Denying Pet Adoption?
It can be frustrating to be denied for a pet adoption application and make you feel like you aren't good enough.
Always remember that there are lots of reasons why you may be rejected during the adoption process (including some that are completely out of your control).
Here are some common reasons why a shelter could deny your adoption:
You don't have a secure or big enough yard for the animal you want to adopt.
You work long hours meaning that you wouldn't have enough time for your pet.
Your home is not big enough for the pet to be housed comfortably.
The current pets you already have aren't spayed/neutered or are not up to date on their shots.
You have young children and the animal you are trying to adopt isn't friendly or socialized with children enough for them.
How To Get A Vet Reference For People Who Didn't Have Pets Before?
A vet reference isn't always necessary if you have never had pets before but contacting them beforehand and listing them as your future vet can help you score some brownie points.
To do this, contact the vet you will plan to use if the adoption goes well and set up an appointment for any shots/spaying/neutering/general checkups that your new pet may need.
How To Get An Authorised Vet To Provide A Vet Reference For You? [Consent To Release Information Vs Data Privacy Policy]
To consent to the release of your information from your veterinarian, all you have to do is let your vet know that the adoption agency will be contacting them and sign a consent form.
What Can Lead To A Bad Vet Reference [How To Plan Yours]?
The only way to get a bad vet reference is to have treated your animals badly or neglectfully in the past.
As long as you bring your animals to the vet for annual check-ups and to be treated when needed and get all of their vaccination shots you have nothing to worry about.
They also might check for whether or not you keep up to date with grooming and preventative medication and if your current animals have good body condition in both the past and present.
One great way to show commitment to adoption and help your case is to talk to your vet about adopting or fostering an animal before you even start the adoption process.
Most adoption centers will ask and showing that you were planning ahead for the adoption will definitely help bump you up in the adoption centers books.
Potential Questions In A Vet Reference Check
Knowing what is on the list of questions for your vet can help ease your mind from worrying while going through the somewhat stressful process of adoption.
Here are 15 commonly asked questions in a vet reference check and a brief explanation for what each question means:
For how long has the applicant been your client? – This simply is asking how long you have been with your current vet.
What animals have you treated/ are currently treating for your client? – This is asking how many pets you have had with this vet.
Are the animals you treat for your client up to date on all their shots? If not, why? – Shots is referring to their vaccinations for diseases such as rabies or canine hepatitis, if you have not gotten these for your dog they do ask for your reasoning.
Are all animals owned by your client spayed/neutered? If not, why? – They ask this to ensure your pets won't end up accidentally creating unplanned babies that you couldn't care for and could thus end up becoming even more strays.
Are animals brought in by your client for regular check-ups? If so, how often? – This is asked to see if a regular check-up schedule is being maintained, as they only want to send animals to homes where they will have proper medical attention.
Has your client expressed interest in adopting, volunteering or fostering a pet previously? – They ask this to try and determine whether adoption is a spur of the moment thing for you or if you have taken ample time to plan for your new family member.
Do you know if the house they currently live in is safe for pets? – They would like to know the professional opinion from your vet about the safety and fit of your house to the animals you currently house.
Do you feel that your client is a good owner of their pets? – Again, this is asking for a professional opinion of your animal husbandry towards your current pets, rather than one of a friend or a neighbour.
How is the environment outside the house, is it safe and secure for their pets? – This is asking about the security measures taken in your yard in relation to the pets you own, for example, if you had a wooden fence that was on the short side to keep a Great Dane in, that would not be secure enough, but it would be perfect for a terrestrial lizard.
Are their pets left outside for extended periods of time? – This is asking the vet whether they have noticed any neglectful signs that could mean that you are just leaving your dog outside, exposed to the elements, like being excessively dirty whenever they are brought in or having very matted fur.
How are they with their current pets? – They are asking the vet with this question to give an opinion on the way you interact with your pets while they are in the vet's office to see whether you are nice with them or maybe a little stern or angry with them.
Do you feel like your client is a responsible pet owner? – This is asked to ensure that an owner will make the right and responsible decisions for an animal, even if they are difficult decisions.
Has this client had any pets euthanized unnecessarily (i.e., without an extreme injury or fatal health issue)? If so, what was the reason? – They ask this to make sure that if the animal becomes too much or is no longer wanted that they will not be unfairly euthanised.
What is your personal overall opinion of this client as a pet owner? – This asks for the vets personal opinion of your interaction with your pets, as opposed to their professional one. This allows them to tell them more about their feeling instead of just hard facts.
Do you have any particular reservations or general comments – good or bad- about the applicant in question? – They ask this question not only to gain some greater insight but it allows your vet to vouch for you on your behalf if they feel inclined to do so.
While this list does list a lot of the most commonly asked questions there may be a few that aren't on here.
In general, just remember to be good to your pets, provide them with all the medical attention they need and talk to your vets, then the application process for adoption should be a breeze.
References:
http://beavercreekfarm.co/wp-content/uploads/2015/05/BCFS_Vet_Ref_Check_Apr2015_PDF.pdf