Lizards and dogs aren't well known for being animal friends. Some households have both a dog and a lizard and need them to coexist. Otherwise, the lizard or the dog could be in serious danger.
This article will teach you how to introduce your dog to a lizard.
How To Introduce Your Dog To A Lizard?
To introduce your dog to a lizard, you need to exercise caution and do some research before. Learn about both species' behavior and make sure you are aware of any signs of aggression or fear. Slowly let the two meet and increase their time together after successful interactions.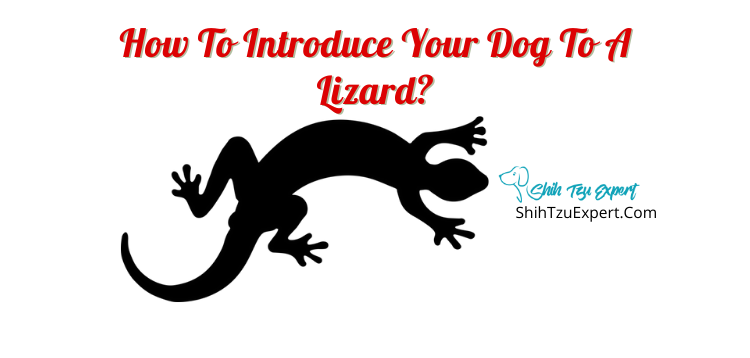 How Well Do Dogs And Lizards Get Along?
Dogs and lizards can get along fairly well, but there are a lot of different factors that determine how good their relationship is. Generally speaking, dogs and lizards get along.
Some types of lizards get along better with dogs than others. The types of lizards that best interact with dogs are:
Bearded dragons
Leopard geckos
Blue-tongued skinks
Can A Dog And A Lizard Be Friends (BFF)?
A dog and a lizard can be great animal pals! Historically, dogs have not been trained to track lizards. Plus, lizards aren't necessarily a dog's first choice to chase or hunt.
Sometimes, dogs can even grow fond of their lizard housemates and become BFFs.
All it takes is a well-trained dog and a bit of patience.
How To Introduce Your Dog To Your Lizard [Step By Step]
Here is a step-by-step method on how to introduce your dog to your lizard:
Hold your lizard comfortably and allow it to get settled.
Have someone else bring in your dog on a loose leash.
Let your dog sniff the lizard while you hold it.
Reinforce positive or neutral behavior by the dog with treats.
Repeat this process regularly until both are familiar with each other.
Do Dogs Get Jealous Of Lizards?
Just like dogs can get jealous of other dogs or pets in the house, they can also become jealous of a lizard.
Some signs that your dog is jealous of your lizard include:
Aggression
Going to the bathroom in the wrong place
Crowding your space
You can help stop these behaviors by keeping track of when your dog starts acting differently.
Make sure you're paying equal attention to both your lizard and your dog.
Why Do Some Dogs And Lizard Don't Get Along At All?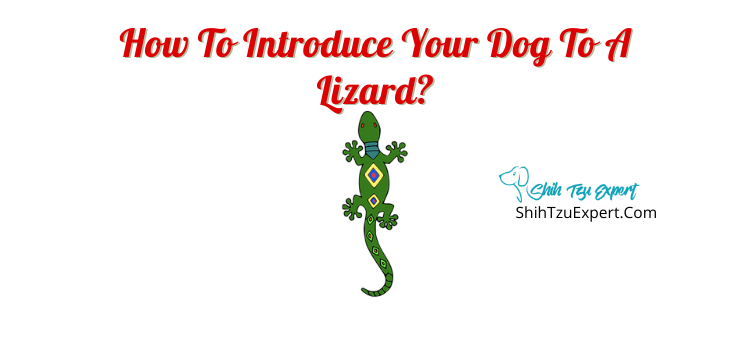 Some dogs and lizards, despite how well-behaved they are, just won't get along. There are a number of reasons for this.
One of these reasons is the difference in size. Even if your lizard is big and your dog is small, some dogs will want to chase or play with the lizard, not knowing how to be gentle with the lizard.
The lizard may feel threatened by the dog and react like it is under attack.
How Can I Safely Determine How My Dog Will React To My New Lizard?
The only way to safely discover how your dog will react to a new lizard pet is to have them actually meet.
You should make sure you have complete control over both pets. Hold your lizard securely and tightly, and have your dog on a leash.
Let them meet for a brief period of time, observing how both pets react. If they're adjusting well to each other, you can let them continue to meet. If they're not, you should separate them to avoid any distress.
Do Dogs Eat Lizards?
While all dogs have a different level of instinct and drive to attack and potentially eat a lizard, left unattended, dogs are known to sometimes eat lizards. Due to the curious nature of some dogs, they may mistake a lizard for prey and eat it.
Though some dogs may mistakenly eat a lizard, the good news is that most of the time it will not harm the dog, unless the lizard is poisonous.
How To Keep My Dog From Eating My Lizard?
To keep your dog from eating your pet lizard, you should make sure to never leave the two pets alone and unattended. Make sure that whenever the two interact you are there to intervene in case the situation turns aggressive.
This way you know that you can control your dog in the event they mistake your lizard as prey.
Why Did My Dog Attack My Lizard?
If your dog attacks your lizard, it does not mean that your dog has malicious intent to harm your lizard. Dogs have been bred and trained to hunt prey and also have natural hunting instincts.
Even the most well-trained and behaved dogs can have a moment where they fall back on instinct and attack another animal that they view as prey.
How Can I Train My Dog To Not Attack Lizards?
Training your dog takes a lot of time and reinforcement, but it is possible to teach your dog to ignore and not attack your lizard.
The best way to train your dog to not attack your pet lizard is to teach it a basic command, such as "leave it."
Place a treat or favorite toy on the ground in front of your dog.
Make your dog wait to retrieve the treat or toy and say "leave it" repeatedly.
Once they have ignored the reward for a short amount of time, allow them to retrieve the reward.
Slowly lengthen the amount of time that you make your dog wait for the reward.
My Dog Ate My Lizard What Should I Do?
In the event that your dog accidentally eats your lizard, there is likely not a reason to fret about your dog's health. Most lizards aren't poisonous, but lizards do carry bacteria that could cause an infection or reaction in a dog.
Look up the kind of lizard that your dog ate and make sure it is not known to be poisonous to dogs. Then, watch for signs of a reaction in your dog. Make sure they are behaving normally.
Can You Raise A Lizard With A Dog?
Yes, you can raise a lizard with a dog. While these two species of animal differ greatly, they can successfully coexist with a bit of extra effort by the owner.
It is your responsibility as the owner of both of these pets to make sure they feel safe and comfortable in their living environments.
Are Lizards Harmful To Dogs?
While most lizards are not harmful to dogs, some lizards are known to secrete poison through their skin as a method of protection from predators.
Even if a lizard isn't poisonous, any lizard could carry parasites or bacteria such as salmonella. These parasites or bacteria can be harmful to dogs, so make sure your dog doesn't lick or get too close to your lizard.
What Dog Breeds Are Good With Lizards?
There are a lot of dog breeds that are good with lizards. For the most part, it really depends on the temperament of your individual dog rather than their breed, but here are some dog breeds that are known to be good with other pets:
English Springer Spaniel
Golden Retriever
Labrador Retriever
Irish Setter
Shetland Sheepdog
Pug
These are not the only dog breeds that are good with other pets, just a few of the many.
What Dog Breeds Are Not Good With Lizards?
There are a few dog breeds that are known to be natural hunters. This does not mean that every dog of this breed is not good with lizards. These are breeds that you may want to steer clear of:
American Foxhound
Beagle
Bloodhound
Jack Russel Terrier
Weimaraner
Are Lizards Scared Of Dogs?
Due to the general drastic size difference between lizards and dogs, it is possible and likely that lizards are scared of dogs. To know if your lizard is scared of your dog, look for these common behaviors:
Being skittish or aggressive while you try to handle it.
Hiding for a long period of time.
Eating less than usual.
Problems shedding its skin.
Scratching on the glass of its tank.
Why Is My Dog Is Obsessed With My Lizard?
There are a number of reasons why your dog may sit for hours watching your lizard in its enclosure or tank. One of those is that your lizard moves around in its house, so your dog may be naturally curious as to what it is.
Another reason may be that dogs have natural hunting instincts, so they may be watching your lizard as though it is prey.
Why Is My Dog Whining At My Lizard?
Your dog could be whining at your lizard for a lot of different reasons. Here are some of them:
The dog wants to play with the lizard.
The dog wants to hunt the lizard.
The dog is jealous and wants attention.
How To Introduce A Lizard To A Dog?
To introduce a lizard to a dog, you'll need to be sure your lizard feels safe at all times so it does not become distressed and aggressive.
Hold your lizard away and above your dog at first, then you can bring it down to your dog's level for a brief sniff or meeting. Make the first meeting a brief one and then you can increase the amount of time with each other with each meeting.
Do Lizards Live Well Together With Dogs?
As long as lizards have a space that they can call their own in a neutral area of the house, they can live well with dogs. The important thing is to make sure that their enclosure or cage is out of reach of the dog, so the lizard is removed from fear.
Can A Puppy Be Around Lizards?
Puppies have a lot of energy and often lack a lot of training or discipline, so having a puppy meet new animal friends can be a challenge for the owner, but it is possible for a puppy to be around a lizard.
Puppies want to play, so their instinct may be to play with the lizard, which you should avoid. As long as you are closely supervising the puppy and lizard, they can be around each other.
How Do Dogs React To Lizards?
Dogs can react in all different ways to lizards:
Some may growl or bark at the lizard.
Some may want to play with the lizard.
Some may not react at all.
Every dog is different when it comes to its reaction to lizards!
Are Lizards Scared Of Dogs Barking?
Most lizards have about the same level of hearing as human beings, so loud barking from a dog can startle them, or put them on alert. If you notice that your lizard is showing signs of being scared after hearing lots of barking, make sure you stop the dog's barking or move your lizard to a quieter area.
Will The Lizard Attack The Dog?
If a lizard feels threatened, it can potentially bite or attack a dog.
Aggression in lizards is common in both wild and captured animals. Here are some behavioral signs that your lizard is feeling aggressive or aggravated:
Push-ups
Head bobbing
Tail raising or wagging
Back-arching
These are all signs that the lizard may be ready to attack.
How To Get My Lizard To Love My Dog?
Getting your lizard to love your dog will probably take some time and patience, but every animal is different. The only way to establish a good relationship between your lizard and your dog is to make sure that they spend a bit of supervised time together.
The reality is not every lizard is compatible with every dog.
[What Should I Do] My Dog Is Eating Lizard Poop?
If your dog is eating lizard poop, you need to find a way to prevent them from being able to do so. Lizard feces can contain harmful bacteria to your dog, so it is essential that they are not allowed to eat any more of it.
Watch the behavior of your dog and make sure it does not show any signs that the lizard poop has made it sick. Take the dog to the vet if it starts acting sick.
[What Should I Do] My Lizard Is Eating Dog Poop?
While there is not a lot of research that has been done regarding what happens if a lizard ingests a dog's poop, it is a good idea to not let your lizard eat your dog's feces.
If your lizard has accidentally eaten some, make sure to have them tested for parasites and watch for any abnormal behavior.
Will The Lizard Charge At My Dog?
If it feels threatened or startled, a lizard may run at or attack a dog. Always observe the behavior of the lizard when you are allowing them to be in the same space as the dog.
If you maintain control over the lizard, you can prevent a potential attack on your dog.
Are Dogs Afraid Of Lizards?
Like when you introduce your dog to any other animal, there is a chance that your dog may be afraid of the other animal.
Generally speaking, dogs often see lizards as prey and are not afraid of them.
Do Lizards Make Good Pets?
Yes, lizards can make great pets, but they require a bit more attention and different care than other common household pets.
How Much Room Does A Lizard Need?
Different lizards grow to be different sizes, so each type requires different sized enclosures. You should see what type of lizard you have and then do some research as to the recommendation for that lizard. Typically, a pet store can give you the advice you need.
Is It Expensive To Raise Lizards?
Generally, raising a lizard is less expensive than other pets. Lizards need special care but don't cost a lot to purchase and get started.
Do Lizards Learn Their Names?
There is a lot of debate when it comes to if a lizard can learn its name, but some people claim that a Bearded Dragon can recognize its name when it associates it with something positive, like a treat!
Can A Lizard Kill A Dog?
It is possible that a lizard can kill a dog. Lizards can be a variety of sizes and their bite or secretions can be venomous.
Can Lizards Become Emotionally Bonded With Humans Like Dogs?
While lizards can learn to recognize their owners, typically by associating them with feeding, it is unlikely that they become emotionally bonded with humans as dogs can be. There is a lot of controversy over this subject and we do not know for sure.
Why Is My Dog Petrified Of The Lizard's Bite?
Before a lizard bites, it may hiss or make some form of noise to try and intimidate predators. Your dog may be startled by these noises and get scared that the lizard will bite.
References
Lizards and dogs: 3 reptiles that get along with dogs
https://www.petmd.com/dog/behavior/9-signs-your-pet-jealous-and-how-stop-it
https://www.hillspet.com/pet-care/healthcare/are-lizards-poisonous-to-dogs-and-cats
​​https://www.purina.com/dogs/dog-breeds/collections/best-dog-breeds-for-multi-pet-households
https://www.britannica.com/science/sound-reception/Hearing-abilities-of-lizards
https://wagwalking.com/reptile/condition/aggression-in-lizards