Dogs and guinea pigs can get along well, but it's important to know a few things about dog breeds and how to introduce the animals first. A little bit of research can help you avoid a catastrophe when bringing your dog and guinea pig together under one roof.
What Dogs Are Good With Guinea Pigs?
With a slow and steady introduction and a little bit of training, many dogs can learn to live with guinea pigs in peace. Some may even become friends! It all depends on the dog, but breeds with strong predator instincts – like terriers and hounds – might find it more difficult to accept guinea pigs as a member of the household. If you already have a guinea pig and are considering getting a new dog, think about herding breeds like collies or gentle-natured dogs like labs.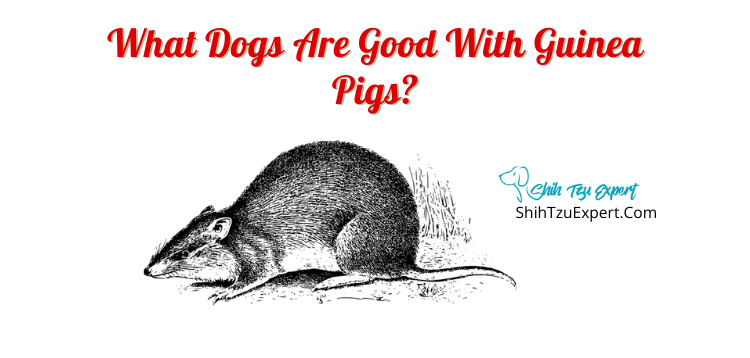 How To Desensitize A Dog To Guinea Pigs?
Depending on your dog's temperament, you might spend between a few days to several weeks desensitizing your dog to a new guinea pig.
Here are the steps you can take to slowly introduce the two animals:
You might let your dog get used to the guinea pig's habitat (wood chips, food, and other smelly things) before bringing the guinea pig home. This will be a no-risk beginning of their introduction.
Once you have the guinea pig at home, keep the dog and guinea pig in completely separate areas of the house at first. Do not let the animals see each other at all in the beginning.
Pet the guinea pig to get its scent on your hand. Alternatively, place a piece of cloth in the guinea pigs cage for a while to transfer its scent to the cloth.
Let your dog smell the guinea pig scent. At the same time, talk to your dog in a friendly tone and give plenty of pets to create a positive association around the guinea pig smell.
Reward your dog with treats if they remain calm while smelling the guinea pig scent. You might have to repeat this step over several days until you get the desired response from your dog.
Once your dog reacts calmly to the guinea pig's scent, try introducing them on either side of a closed door. Reward your dog for positive behavior during this introduction. Repeat this step if necessary until your dog shows a neutral reaction.
When you feel good about the unseen introduction, your dog and guinea pig might be ready to meet face-to-face. But don't go in full force. Keep your dog leashed and your guinea pig protected in a cage at their first meeting. Be ready to separate the two animals if either shows signs of being scared, agitated, or anxious.
Introduce the animals in this safe manner over several days. If the guinea pig shows signs of distress – trying to run away, breathing quickly, showing teeth – separate the two immediately and try again another day.
Once the dog and guinea pig seem calm around each other, try having them in the same room with two people: one holding each animal. Pet each animal while doing something calm, like listening to music or talking.
If this works well, move closer to each other. The person holding the dog might reach across and pet the guinea pig, and the person holding the guinea pig might reach across and pet the dog. Keep the scene calm and give lots of positive reinforcement for calm behavior.
After several days of being in the same room together, you might carefully consider letting the two animals sniff each other on the floor. Be prepared to pull back your dog if they show any signs of agitation or predator behavior, such as stalking, drooling, or growling.
If the guinea pig and dog seem to get along well, celebrate! Give treats and reward this positive behavior.
But do not leave the dog unattended with the guinea pig, even if they seem to be best of friends. One nip or an overly happy greeting could seriously injure or kill the guinea pig.
If your dog gets stuck at any of the steps and cannot seem to stay calm around the guinea pig, you might have to keep the animals separated. Not all dogs will get along well with a new pet, especially a small animal like a guinea pig that could resemble a snack.
Why Is My Dog Obsessed With Guinea Pigs?
Think about how your dog was introduced to guinea pigs. Was it a slow and deliberate process, where they learned to know each other over time? If not, try desensitizing the animals to each other and see if that helps.
But if your dog just cannot relax around guinea pigs, especially if the dog is drooling, pacing, or stalking, it might be mistaking the guinea pig for food.
Some dogs, like terriers, have a harder time getting past their strong predator instincts when it comes to being around rats, mice, and small mammals like guinea pigs. They were bred to hunt these animals, so it's no wonder.
Can Dogs And Guinea Pigs Stay Together & Be Friends?
Most dogs can at least co-exist with guinea pigs. Some might even grow affectionate toward a guinea pig.
But for those dogs who don't seem to calm down no matter how carefully you have introduced them to your guinea pig, you might rethink their friendship. Some dogs' predatory instincts are too strong to entertain the idea of having a guinea pig friend.
My Dog Ate My Guinea Pig?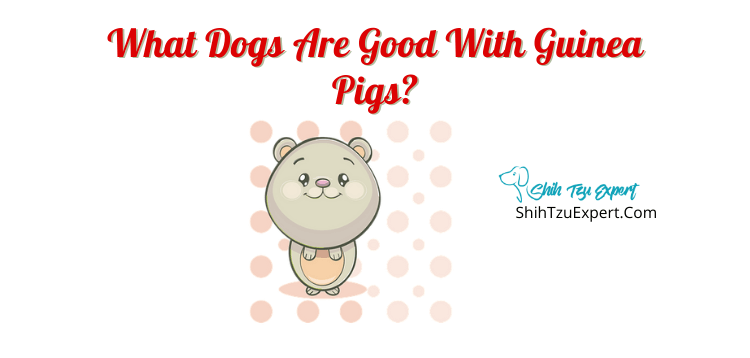 If your dog eats your guinea pig, call your vet. Let them know what happened and find out what the next steps are for your particular dog.
Some dogs eat wild animals, like birds or mice, and have no trouble digesting them. But depending on your dog's size and overall health, you might need to take them into the vet for a checkup.
Can Dogs Make Guinea Pigs Sick?
Guinea pigs are susceptible to respiratory infections, including bordetella. Dogs can spread this bacterial to your guinea pig.
These precautions can help your guinea avoid contracting an illness from your dog:
Get your dog a yearly bordetella shot
Wash your hands thoroughly after coming in contact with your dog's feces, urine, or bedding
If your dog is sneezing or has cold-like symptoms, keep them separated from your guinea pig
Do Guinea Pigs Live Well With Dogs?
Some guinea pigs live perfectly well with dogs! It depends on both animals, but if the guinea pig is not exceptionally nervous and the dog is calm, the two can get along just fine.
Are All Dogs Good With Guinea Pigs?
Not all dogs will be good with guinea pigs. Dogs that show signs of aggression, dislike other animals, or have strong predatory instincts probably will not do well with a guinea pig.
Are Shih Tzu Good With Guinea Pigs?
Shih Tzu's tend to be open-minded to living with other animals, like cats. They also have a lower prey drive than other dog breeds.
If your Shih Tzu is on the calmer side, they might be good with a guinea pig.
Are Guinea Pigs And Yorkies Good Together?
A yorkie is a type of terrier, and terriers were bred to hunt small rodents like mice.
For that reason, the yorkie's prey drive might be a little too strong to get along well with a guinea pig.
Are Staffy And Guinea Pigs Good Together?
A staffy, aka Staffordshire Bull Terrier, would not necessarily be a good match for a guinea pig. Similar to the yorkie, staffy breeds were trained for hunting rodents like guinea pigs, not for befriending them.
Are Border Collies Good With Guinea Pigs?
Border collies are a herding breed of dog and are often good with other animals. With a solid introduction and time to get used to one another, a border collie and guinea pig could get along well.
33Are Labradors Good With Guinea Pigs?
Labradors tend to be calm and gentle natured, making them a better fit for a guinea-pig-loving household.
Are Golden Retrievers Good With Guinea Pigs?
Similar to labradors, retrievers tend to be calm, gentle, and good with commands.
Golden retrievers would be a more likely breed to get along well with a guinea pig.
Are Beagles Good With Guinea Pigs?
Like terriers, beagles have a strong prey drive. Beagles might get preoccupied with the guinea pig's rodent smell and have a hard time staying calm in the same room.
Are Corgis Good With Guinea Pigs?
Corgis have history as farm animals and, like collies, are more likely to want to herd your guinea pigs than eat them.
Still, as with all animals, it depends on the dog. Corgis can sometimes get territorial and might not want a new little guinea pig in the house.
Are Chihuahuas Good With Guinea Pigs?
Chihuahuas have an average prey drive, which means they might get along well with guinea pigs, especially if they grow up together.
However, even though they weren't bred to hunt, chihuahuas can be feisty and territorial.
Are German Shepherds Good With Guinea Pigs?
German shepherds have a higher prey drive, which might make them a less likely guinea pig mate.
But shepherds also heed commands well and show extreme loyalty to their human protectors, so the pairing could work with the right teaching.
Are Pugs Good With Guinea Pigs?
Pugs have a low prey drive and could be a good match for a guinea pig household.
Pugs and other small dogs might see the guinea pig as a playmate, which means you might need to spend extra time training the pug to understand boundaries around the new friend.
Do Pomeranians Get Along With Guinea Pigs?
Pomeranians are another low-prey drive breed of dog that could get along naturally with a guinea pig.
Do French Bulldogs Get Along With Guinea Pigs?
Not all small dogs have a lower prey drive, but french bulldogs are another example of a small breed that would more likely consider a guinea pig friend than food.
Do Bulldogs Get Along With Guinea Pigs?
A bulldog's deep bark may scare your guinea pig, but the bulldog does not have a high prey drive and might be a good choice for your guinea pig home.
Do Poodles Get Along With Guinea Pigs?
Poodles have a relatively high prey drive, but are also good learners. With proper training, a poodle and guinea pig might be able to live under one roof.
Do Pointers Get Along With Guinea Pigs?
Pointers are a hunting dog with strong predatory instincts that might be difficult to train around guinea pigs.
Do Terriers Get Along With Guinea Pigs?
Terriers are one of the dog breeds to watch out for as you're building your guinea pig home.
Terriers were bred to hunt small rodents (like the guinea pig) and have strong instincts to hunt them still.
What Dog Breeds Should Not Be Kept With Guinea Pigs?
Dog breeds with a high prey drive, such as hunting dogs, should not be kept with guinea pigs (or use extreme caution if introducing them). These include:
Yorkie
Jack russell
Rat terriers (and other terriers)
Huskies
Pointers
Hounds
References
http://www.animalbehavior.net/LIBRARY/GuineaPig/EFGPR/GuineaPig_HouseholdPetsIntroductions.htm
https://wagwalking.com/sense/can-dogs-live-with-guinea-pigs
5 Ways To Properly Introduce Dogs And Guinea Pigs
https://www.petmd.com/exotic/conditions/respiratory/c_ex_gp_bordetella_bronchisepta_infection