Dog barking can destress a guinea pig and even lead to their death in extreme cases.
In this article, you will learn the important steps on how to stop a dog from barking at guinea pigs.
How To Stop Dog Barking At Guinea Pigs?
To get a dog to stop barking at guinea pigs, you must reward neutral behavior with positive reinforcement. Give your dog treats or attention when it is quiet and doesn't pay attention to the guinea pig. Repeat these steps to form a positive pattern.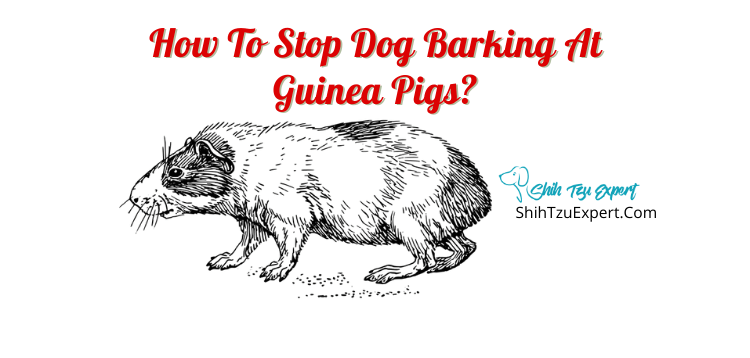 How To Stop Dog Barking At Guinea Pigs (Step By Step)?
Getting a dog to stop barking at guinea pigs can be a challenge, but here is an easy step-by-step guide:
Introduce their scents to each other before you let them meet.
Have them meet with both of them safely under control.
Allow them to socialize safely and over time.
Reward your dog for showing positive or neutral behavior.
Teach your dog a command like "leave it."
If you follow these steps you can get your dog to stop barking at your guinea pig, or prevent it from forming this bad habit in the first place.
Why Does My Dog Always Bark At My Guinea Pig?
Your dog could be always barking at your guinea pig for a number of reasons. The most likely reason for barking is the fact that guinea pigs are rodents, which your dog can view as prey.
Dogs have a long history of being bred to tap their natural instincts to hunt. Due to this, if they can see your guinea pig and watch it run around, but can't chase or attack it, they may be barking out of frustration.
To avoid this, make sure that your guinea pig's cage or enclosure is somewhere away from the dog's primary habitat.
Should I Ever Use A Shock Collar On A Dog If It Barks At My Guinea Pig?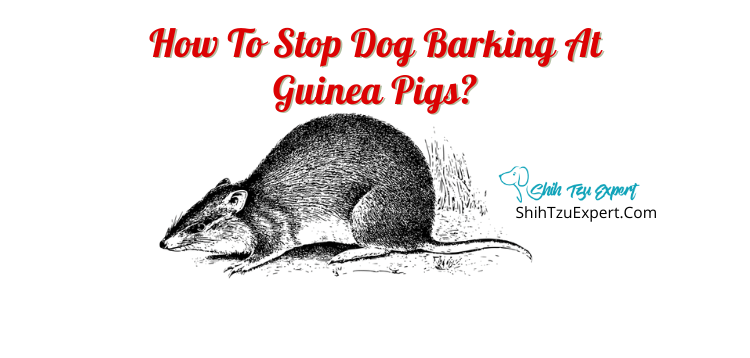 Using shock collars on dogs to stop them from barking is a little controversial. While there is evidence to support that shock collars can be effective in reducing barking, some people question their use ethically.
That said, some shock collars have different levels of "shock" and are deemed safe for use on dogs to get them to cease barking.
If your dog fails to stop barking at your guinea pig after you have tried other methods, a shock collar may be an appropriate solution to avoid further distress for the guinea pig. However, shock collars offer no positive reinforcement for ceasing barking, so it may not be the best solution.
You should consult your veterinarian for their advice and opinion on shock collars and attempt to train your dog with positive reinforcement training first.
How To Teach My Dog To Leave My Guinea Pigs Alone?
Teaching your dog to leave your guinea pig alone may take a lot of time and patience. The best way to make sure that your dog does not bother your guinea pig is to positively reinforce neutral behavior.
To do this, you'll need to let your dog share the same space as your guinea pig. Make sure that your dog is restrained with a leash to prevent any accidental rough behavior to the guinea pig and make sure that the guinea pig feels safe.
Once both are safe in the same space, let your dog sniff the guinea pig and investigate it. After that, reward your dog with a treat or toy for ignoring, or behaving neutrally around the guinea pig.
Repeat this process frequently until the dog is no longer curious about the guinea pig.
How Can I Prevent My Dog's Obsession Towards A Guinea Pig?
To prevent your dog from becoming obsessed with your guinea pig, it is important to desensitize your dog to your other pet. Once they are familiar with the guinea pig, they should be less inclined to show less obsessive behavior towards it.
While you should make sure that your guinea pig has a safe space away from your dog, as long as your dog has not shown any aggressive behavior towards the guinea pig, it is ok to let your dog visit the guinea pig's space.
This could mean letting your dog sniff the guinea pig's cage or enclosure a few times a day.
Why Is My Dog Jealous Of My Guinea Pig?
Just like humans, dogs can get jealous of other pets if they feel like they are not receiving equal attention from their owners. This behavior can also manifest if the dog has been the only pet in the house and suddenly a new pet is introduced.
The imbalance of their established normal environment can make them feel jealous of the guinea pig.
Does Dog's Barking Scare Guinea Pigs?
Guinea pigs are very sensitive animals, particularly to sound. A dog's barking can deeply destress and frighten a guinea pig.
Guinea pigs have much better hearing than human beings do, so what we would consider a moderately loud noise, such as a dog bark, could be quite alarming to a guinea pig.
These loud noises can startle a guinea pig and cause it to think it is in danger of attack because they are prey animals. You should try to prevent as much dog barking as possible.
How Do I Keep My Dog Away From My Guinea Pig?
Keeping your dog away from your guinea pig may be as simple as having a designated space and playtime for both of the animals.
If you have an extra room in your house, make this the place where you keep your guinea pig's enclosure. Only allow your dog in that room under your careful supervision to make sure both are getting along.
If you don't have any extra space for your guinea pig, keep their enclosure higher up on a shelf or in a raised area that your dog can't get to. Make sure you watch both carefully anytime you allow them to be near each other.
How Do I Get My Dog Used To A Guinea Pig?
The two key factors in getting your dog used to a guinea pig are time and repetition.
Dogs learn behaviors with practice and positive reinforcement through rewards. So, if you want your dog to get used to a guinea pig, or really any other new pet in the house, you need to make sure they spend time with the guinea pig and are rewarded for neutral or positive behavior.
Every day, multiple times a day, let your dog get close to the guinea pig while it's on its leash. Let it sniff the guinea pig and watch it act normally. Reward the dog when it stops paying attention to the guinea pig.
After you repeat this process a few times a day, your dog should start to treat the guinea pig like a normal part of its environment.
Will My Dog Hurt My Guinea Pig?
While your dog may be very well behaved and not typically aggressive, it is possible that your dog could hurt your guinea pig intentionally or unintentionally.
Dogs are natural hunters and guinea pigs are typical prey. Your dog, no matter how gentle it is with you or other dogs, may mistake your guinea pig for prey and try to attack it.
Or, if they don't mistake the guinea pig as prey, they may try to play with a guinea pig in the same way they would play with another dog. Because of the size difference, they could unintentionally hurt the guinea pig.
Guinea pigs are fairly defenseless creatures and are not able to defend themselves against a dog bite, so you should exercise caution when you let your dog interact with your guinea pig.
How Do Dogs React To Guinea Pigs?
Every dog is different, so every dog's reaction to a guinea pig is going to be different.
Some dogs may show initial interest, sniff the guinea pig, and then not show any interest after that.
Others may see the guinea pig as prey or a toy, and want to chase or attack it.
It's also possible that the dog may want to be friends, or nurture the guinea pig. Some may even try to cuddle or groom the guinea pig.
You won't know how your dog will react to a guinea pig until they actually meet!
Can Dogs And Guinea Pigs Be Friends?
Dogs and guinea pigs can be animal pals and coexist peacefully.
As long as your dog is not naturally aggressive and you have trained it not to see the guinea pig as a toy or prey, it is likely that your two pets will get along just fine.
Dogs are typically fairly social and kind animals and may adapt very well to having a guinea pig in the house. They may even become fond of the guinea pig and bond with it.
What Animals Can Live With Guinea Pigs?
Guinea pigs are social animals and live happily when they are allowed to live with other guinea pigs. The only other type of animal that should live in the same cage as a guinea pig is another guinea pig.
Guinea pigs can also live in the same house as a variety of different animals as long as they are introduced carefully and with caution. Always make sure the guinea pig's primary environment is safe and away from any other pets that could view the pig as prey.
Here are some animals that guinea pigs can live with:
Guinea pigs and rabbits should never be kept together, as rabbits carry bacteria that could kill a guinea pig.
Do Guinea Pigs Hate Dogs?
Every guinea pig is different, so their reaction to a dog will depend on their temperament. Guinea pigs will not innately hate a dog, but, more than likely, they will be afraid of the dog at first.
Dogs are typically much larger than a guinea pig, and guinea pigs will view the dog as a predator. If not introduced properly, the guinea pig could develop a permanent fear of the dog.
Do Guinea Pigs Do Well With Dogs?
If a good relationship is established with a proper and careful introduction of the dog to the guinea pig, guinea pigs can do very well sharing their home with a dog.
The key to making sure a guinea pig does well with a dog is to make them not feel in danger or threatened by the dog. As long as they feel safe and secure, the chances that they will get along well with the dog are high.
How Do Most Dogs React To Guinea Pigs?
Most dogs will be naturally curious about a guinea pig when you first introduce them. It is highly unlikely that they have ever encountered another animal that is similar to a guinea pig if you have had the dog since they were a puppy.
Dogs investigate a new situation or animal with their noses, so they will likely want to sniff the guinea pig and its enclosure.
Can Dogs Scare Guinea Pigs To Death?
Unfortunately, guinea pigs are quite sensitive and can ultimately be scared to death. If the guinea pig feels like a dog's bark or presence is making it in danger, it won't be able to relax.
If a guinea pig feels stressed for too long, it can die. This is why it is very important to monitor the guinea pig's reaction to a dog very closely and carefully.
References
Shock Collar For Dogs: 8 Things To Know Including Pros, Cons & How To Train
https://pets.webmd.com/news/20210416/dogs-get-jealous-too-even-for-hidden-rivals
Guinea Pigs And Loud Noises: How Do They React To It?
https://guineapig101.com/guinea-pigs-scared-of-loud-noises/