Shih Tzus can and will bite like any other dog breed, they are no exception.
Puppies especially are prone to nipping/biting but with training can be corrected.
Keep reading to find out how and more about the strength, frequency and even how to get your Shih Tzu to stop biting.
What Is The Bite Force Of A Shih Tzu?
Shih Tzus are known to be a calmer and friendlier breed that don't often get too nippy. If you are concerned about your Shih Tzus biting behavior then it is best to reach out to a trainer to fix this behavior if you are having trouble doing so yourself.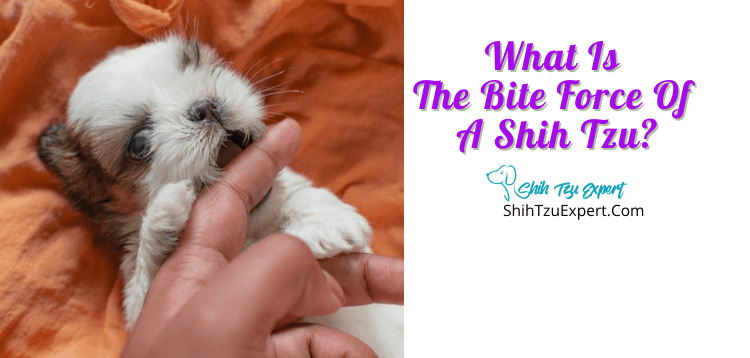 What Is The Bite Force Of A Shih Tzu Puppy?
There is no straight answer to what the bite force of a Shih Tzu puppy is specifically as it has not been studied, but it can be guessed that it is around the bite force of an adult Shih Tzu, maybe a little less than the 100 psi.
What Is The Bite Force Of A Shih Tzu Adult?
While there is no formal study specifically on the bite force for the Shih Tzu breed, a vet estimated that the bite force for an adult Shih Tzu is around 100 psi since it is indeed a smaller breed. 100 psi is more than enough to do damage though.
What Is The Bite Force Of A Shih Tzu Senior?
We know that a average age and the size of a Shih Tzu's dog bite force is around 100 psi estimating because there are no formal studies on it, it could be assumed that a seniors is less than this as they don't have as strong of teeth or not as many due to old age.
Do Shih Tzu Bite?
Yes, all breeds of dogs can bite, this does not disculde the Shih Tzu. Shih Tzus are arguably one of the most friendly dog breeds out there and are less likely to bite than other breeds. Shih Tzus mostly bite during their puppy stage as most puppies do.
Most dogs can become aggressive if someone is intruding in their territory, if the person seems "bad" to them as dogs are great judges of characters or if someone hurts the Shih Tzu that is grounds for biting. Your Shih Tzu, if bitten in these situations, is most likely protecting you, themselves and their territory.
Why Do They Bite?
Most dogs can become aggressive if someone is intruding in their territory, if the person seems "bad" to them as dogs are great judges of characters or if someone hurts the Shih Tzu that is grounds for biting. Your Shih Tzu, if bitten in these situations, is most likely protecting you, themselves and their territory.
Can A Shih Tzu Bite Through Bone?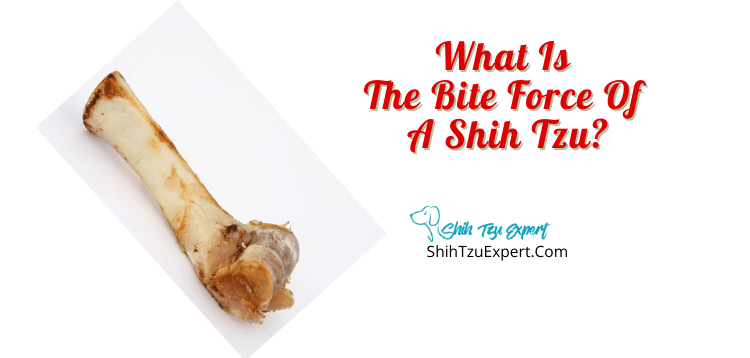 Not through a human bone but if a small dog such as a Shih Tzu bites you it is possible that they could fracture the bone where they bit if they did so hard enough.
A dog bone that is available as toys/treats is usually strong enough that your Shih Tzu shouldn't be able to bite through it, making it a safe option as long as it is always supervised by you so no choking occurs.
Can Dogs Bite Harder Than Humans?
Dogs do bite harder (320 psi) than humans (70 psi).
How To Measure The Bite Force Of A Dog (Unit, Method Of Measurement)?
A bite force is a factor of a dog's strength, it is measured by the unit of pressure the dog's bite delivers. The pressure can be dependent on the dog's breed and mood. As humans our average bite force is 120-140 psi (pounds per square inch).
The average bite force of a dog is anywhere between 230-250 psi. Bite force strength also depends on the size of the dog and the size and shape of their jaw.
Why Is The Force Of A Bite Measured In psi?
The force of a dog's bite and other animals are measured in psi because it tells us the amount of pressure that is put on the bitten object per square inch of the area. It is the easiest and most accurate way to measure a bite.
Can A Shih Tzu Bite My Hand Off?
No, a Shih Tzu is too small and does not have a strong enough bite force to bite off a human hand. Yes they can bite your hand, but they will not bite your hand off.
Can They Break The Neck Of A Puppy?
No, it is not likely that a Shih Tzu or another dog will break the neck of a puppy, especially the mother though it is always a possibility. But accidents do happen so if your dog is playing rough around your puppies neck, make sure to tell your dog to back off, be careful and always supervise play time.
Dogs when playing are oftentimes seen biting at each other's necks, but it is most often in playful spirits. This is an important part of playtime as it teaches the puppy/dog how to use their biting inhibition without necessarily being aggressive and respecting the other dog's mood/boundaries.
Does A Bite Of A Shih Tzu Hurt?
Whenever a dog bites, it usually will hurt or sting a little. Since Shih Tzus have tiny and sharp teeth their bite will most likely hurt you, but you can train them not to bite. There are also different types of biting that you can keep an eye out for.
How Hard And Strong Can A Shih Tzu Bite?
We know the psi of a Shih Tzu/a similar small dog is around 100 psi which isn't super hard, Shih Tzus can bite pretty hard like any other dog if the situation permits especially if it is an aggressive and non playful bite intended to hurt you.
What Is The Maltese Shih Tzu Bite Force?
Around 100 psi.
What Animal Has The Biggest Bite Force?
The biggest bite force on record belongs to the Nile Crocodile which is anywhere from 5,000-22,000, the great white shark follows with a bite force of 4,095-18,220. When comparing it to dog breeds bite force, dogs bites seem like nothing!
Some of the dogs with the biggest bite force start off with the mastiff breed with the psi of averaged 743, next with a 700 psi then some bully breeds which are around 300 psi, coming in next the shepherd breed such as the german shepherd with a 238 psi.
What Dog Has The Weakest Bite Force?
Smaller dogs tend to have the weaker bite force as their jaws/mouth are smaller doing less damage than bigger dogs. Dogs such as the Shih Tzu. There are certain breeds less likely to bite such as the Scottish terrier, poodle, chihuahua, beagle, boxer, bulldog, yorkies, the retrievers- golden and labrador and collies.
When Is A Bite A Bite?
There are 6 levels of a dog bite.
Aggressive but without skin contact
Teeth make contact to skin but don't break the skin
A single bite that has a shallow wound
A single bite with deeper wound
Many bites with deep wounds
Skin is consumed
Which Small Dog Breeds Have The Strongest Jaws?
While there is no formal data on what small breeds have the strongest jaws, it is believed that Terriers have a strong jaw for their size as well as Dachshunds and Chihuahuas.
How Strong Is A Shih Tzu Dog's Bite Force Compared To A Human?
We as humans have similar bite forces compared to Shih Tzus. We know Shih Tzus bite force is estimated to be around 100 or less while the humans average bite force is estimated to be around 120 psi.
How To Get My Shih Tzu Puppy To Stop Biting?
Cry/squeal/whine to show your puppy that it hurt/caused pain
Give them a chew toy instead of your hand if that's what they're biting on
Teach them to allow your hands near their mouth
Train them not to bite over any food or treat
Exert your dominance
What not to do:
Don't playback with your puppy as a reaction
Try not to react back at all such as yelling as that is a type of reward
How To Reduce Biting Frequency
You need to realize that like with any other training, it takes time so getting your dog to stop biting will take time. You need to distract your dog from what they are biting either you or an object they aren't supposed to be. Firmly tell them no and replace the item with a chew toy, something they are able to bite.
If your dog is biting and ruining furniture in your house then you can look into a spray to make the taste of the item less appealing to them so they will stop biting.
Would Your Dog Ever Bite You?
Yes, it is always a possibility that your dog can and will bite you. If it is an aggressive bite then your dog will warn you with signs before such as a change in mood/behavior, growling and showing their teeth, this is your sign to back off and correct the aggressive behavior. Otherwise, play biting is a part of being a puppy and playing but nonetheless if it is hurting or you don't like the playful bites then redirect your dog.
Top Dog Breeds With Lockjaw?
The term "lockjaw" is a myth. No dog has been found to have a mechanism that allows them to lock their jaws together. Though this myth has long been associated with the dog breeds like Bulldog, Boxer, Pitbull and Terrier.
What Dogs Are Frequent Biters?
Here are the top 10 most frequent biters:
Pitbull
Rottweiler
Husky
Wolf Hybrid Pitbull mix
Bullmastiff
German Shepherd
Pitbull mix
Akita
Chowchow
Doberman
Dog Bite Bacteria And Infections: A Survival Guide For Owners
First you will want to clean the wound with warm water and soap and run it under water to clean out any bacteria then if you have some applied antibiotic cream that can be found over the counter, this is all for superficial bites.
If the bite is deeper and bleeding it is important to stop the bleeding first and foremost, then it is important to seek out medical care immediately if it breaks the skin. You might be advised to take antibiotics or even receive your tetanus shot if you haven't had one in the past 5 years.
Swelling and redness of the area is normal but not if it lasts more than a few days. More symptoms also include drainage, pain that lasts more than 24 hours or having a hard time moving that part of the body.
You need to keep an eye out for flu like symptoms, if you feel any of those then go to the ER immediately.
Biting Vs. Nipping
Nipping is a normal behavior, it is your dog's way of getting the attention of another dog or you when they are wanting to play. Biting is when nipping gets out of hand, it may be because the dog has become too excited while playing.
Nipping and biting are not usually aggressive behaviors, especially nipping. Biting is seen as aggressive when the dog is also growling, or their stance seems defensive if something or someone has spooked them, biting for aggression is almost always out of fear.
References
https://www.elitereaders.com/dog-breeds-bite/2/