Bug zappers. They are a great device used to zap all kinds of pesky bugs by emitting a UV light that attracts bugs to the center of the device where they are electrocuted.
Why Are Dogs Scared Of (Handheld, Indoor, Outdoor) Bug Zappers?
We find that most dogs are terrified of these devices and often have panic attacks and seem very afraid around them. There is an extremely high pitch noise that comes out of big zappers that humans can't hear, but dogs, being able to hear higher frequencies than us, can hear that extremely high pitched squeal. That noise is very intense, loud and often scary to dogs, making them afraid of bug zappers.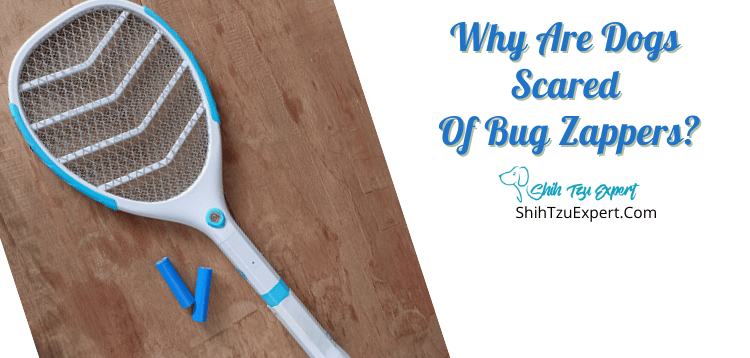 Why Is My Dog Suddenly Afraid Of The Bug Zapper?
There is no real explanation as to why your dog may suddenly be afraid of dog zappers. It could be because they just noticed it, or perhaps you moved the location of the bug zapper and now they can hear it better.
Why Do Bug Zappers Bother And Affect Dogs?
Since a bug zapper emits a very high frequency noise, that certain animals, including dogs, can hear. This noise to a dog is like nails on a chalkboard to humans. A dog can hear a sound up to four times further than humans and can hear almost twice as many frequencies than us. Dogs have 18 muscles in their ears, which is 3 times as many than a human ear. So something with such a high pitch noise, like a bug zapper, will be an extreme noise to an animal with such intense and sensitive hearing. In that case, bug zappers are obviously a great bother to dogs!
Are Older Dogs And Puppies More Scared?
Puppies are usually much more skittish and nervous then other dogs. They're still learning and figuring things out, just like a human baby. The noise of a bug zapper can be much more intense for them as they have no clue what they are hearing. Older dogs will also often become more nervous, but depending on how well their hearing is, they may not seem to mind bug zappers.
My Dog Is Peeing Himself Scared Of The Bug Zapper [Anxiety Attacks]?
An anxiety attack can manifest itself in many different ways. When feeling anxious, dogs will sometimes display,
Heightened aggression, such as growling and barking Sometimes they will begin to
Biting and chewing, any objects or themselves
Drooling
Panting heavily
Pacing/Restlessness
Peeing, on itself, more frequently, or around the house where they know they're not supposed to.
When a dog hears a bug zapper, it can cause an anxiety attack, resulting in any one of these symptoms.
Can Bug Zapper Create Long Lasting Mental Damage To A Dog?
Imagine being scared, really scared everyday for your whole life. It will cause some lasting mental effects to you. The same goes for your dog. You may find that your dog will become more skittish around loud noises especially. after being around a bug zapper.
They may become afraid to even go outside or into the room where the bug zapper is. If this is the case, it would be best to turn it off or remove it from the area and show your dog that it is a safe place to be. Then think of a different way to get rid of your bug problems.
Do Bug Zappers Hurt Dog's Ears?
Bug zappers emit a high frequency sound when it shocks whatever bug gets trapped inside. It's an awful noise to a dog! Humans cannot hear at the level dogs can, so to us it may not sound like much, if any sound at all. Bug zappers sound like nails on a chalkboard or a very high pitched scream to dogs.
Are Bug Zappers Safe For Other Pets?
Bug zappers are technically considered safe for all pets. But that doesn't mean your pet will like it. Dogs hate them because of the high pitched noise they give off. Cats and birds will also tend to hate them for the same reason, though it may not be as dramatic for them as it would for a dog.
Can My Dog Get Shocked/Electrocuted If He Bites The Bug Zapper?
Bug zappers come with a non-electrified grid around the entire unit. This is to prevent any animal or child from getting zapped. So if your dog bites the bug zapper, they shouldn't get zapped.
Are There Dog Safe Bug Zappers?
All bug zappers are technically considered safe for dogs and other pets. But that doesn't mean your pet will like it. If you're looking for a bug zapper that your dog would like, you would have to find something that isn't a zapper and go with a more old-fashioned way to deter the bugs.
Can Dogs Hear Ultrasonic Bug Zappers [Does It Bother Them]?
Ultrasonic night zappers still emit a high frequency noise, although not as loud as a bug zapper. We still cannot hear this sound. Depending on the dog, they still may be afraid of the ultrasonic bug zapper, however generally most dogs do not seem to mind the noise.
Can The UV Light From A Bug Zapper Hurt A Dog's Eyes?
The UV light is pretty strong. The light is not intended to be stared at for long periods of time. Anything who stares at the UV light for long enough will experience eye damage. But a quick glance or a 1 second stare won't be harmful.
My Dog Won't Pee/Poop Outside Anymore Because The Neighbour Has Installed A Bug Zapper?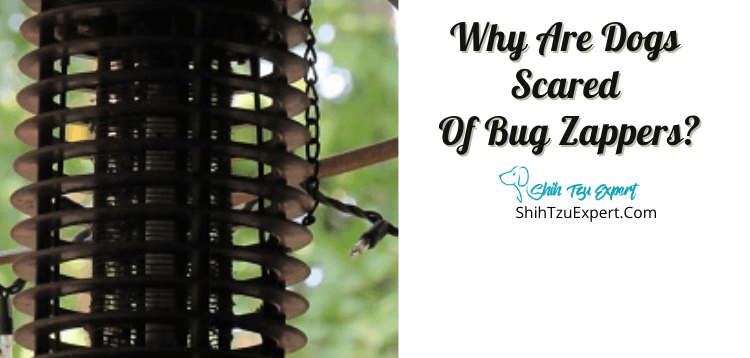 The anxiety that dogs experience from a bug zapper can be so extreme that they won't even want to go outside anymore! Even if your neighbor has installed a bug zapper, the noise is loud and so intense to a dog that it will still affect them, even though it's not in your yard. They will display all of the common signs of anxiety towards this bug zapper including,
No longer wanting to go outside
Peeing inside
Barking/growling
Which States in the United States, Consider Animal Abuse a Felony? Which States Consider it a Misdominear?
There is no federal law pertaining to animal cruelty. All 50 states, however, have their own laws surrounding animal cruelty. Animal cruelty laws typically cover intentional and shocking animal abuse and neglect. 49 states have laws providing felony charges for animal abuse. Iowa is the only state that only has misdemeanor charges.
My Dog Constantly Keeps Barking At The Neighbour's Bug Zapper?
Barking is one of the main symptoms of anxiety in a dog. If you see your dog barking at a bug zapper, it could be your dog displaying anxiety towards that object. It's kind of like the fear of the unknown, and a dogs way to protect itself is through barking.
How To Condition A Dog Not To Be Scared Of The Bug Zapper?
The biggest thing you'll want to do when conditioning your dog to not fear a bug zapper is to make them feel less anxious and calm around bug zappers. These are some great things you can try with your pet!
Positive Reinforcement

When the bug zapper goes off around your dog, quickly praise your dog, telling them "it will be okay" "good dog" and hand them a treat they really love. Try this for an hour everyday and slowly wean off the treats until your dog isn't afraid anymore.

Play with your dog

Take your dog around the bug zapper and simply play with them! Think of it kind of like a distraction.

CBD or anxiety medications

If the problem persists, you can consider using anxiety meds to help your dog. CBD treats are my favorite way to calm my dogs down.
Why Are Dogs Scared Of Bug Zappers?
Dogs have amazing hearing! Practically four times better than humans. Bug zappers emit a very high frequency noise that we cannot hear. Since dogs have this immaculate hearing, the high frequency noise causes immense fear and anxiety in a dog and sometimes other pets like cats and birds. Anxiety can show itself in many different forms for a dog including peeing themselves and barking. Positive reinforcement training around a bug zapper is the best way to train your dog to know that the object is safe and will not cause them any harm. Or simply, get rid of the bug zapper if training is showing no results. While bug zappers are technically safe for dogs, and other pets, it doesn't mean that they will like the object whatsoever.
References
https://www.humanesociety.org/resources/animal-cruelty-facts-and-stats