If your dog is peeing in your pool, this is certainly a unique situation. By their nature dogs are not likely to want to urinate in large bodies of water. They may pee in a puddle or two, or maybe a kiddie pool, but the odds of them peeing in a full-size swimming pool is very low. So if your dog is doing this, why?
Why Does My Dog Pee in the Pool?
Peeing in the pool is not a normal behavior for dogs to exhibit. Your dog might be peeing in the pool to get your attention, because of an incontinence problem, or simply because they are a quirky personality. In any case, you can train them to stop peeing in the pool with time and commitment.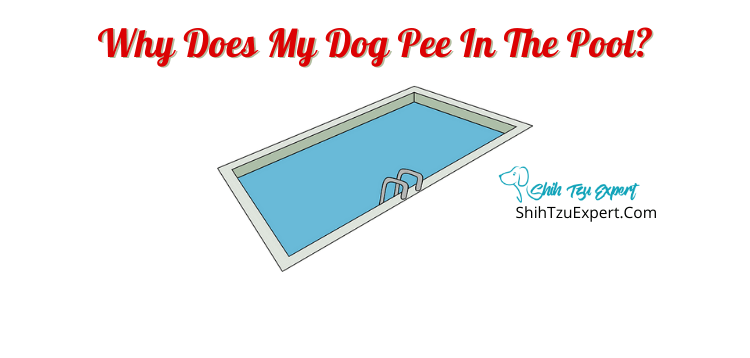 How Do I Stop My Dog from Peeing in the Pool?
The best way to keep your dog from peeing in your pool is to train them not to.
Dogs are creatures of habit, and they want to go to the bathroom in the same places. This is why it can be easy to housetrain them.
Because of this, as long as you teach your dog right off the bat that the swimming pool is not a potty spot, they shouldn't be tempted to pee in it at all.
Do All Dogs Pee in Swimming Pools?
The fact of the matter is that most dogs do not pee in swimming pools.
Dogs that like to swim will see the pool as a play space, a fun space, and a place for them to be a puppy again.
If your dog has been around a swimming pool for their whole life or most of their life, then they will have learned that it is not a potty spot.
Dogs like to urinate in the same places over and over again. Because of this, you can have a dog that will actually get out of the pool to go pee on the grass and then get back in.
It's quite rare for a dog to want to pee in the pool.
How Bad is a Dog Peeing in the Pool?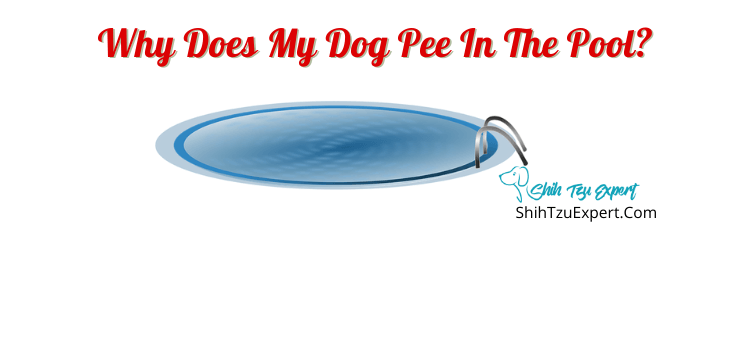 Even though it is not a common behavior, you might still find that your dog has a personality quirk and they like to pee in the pool.
The good thing is, you can train your dog to stop peeing in the pool. And don't freak out, because if they do the chlorine in your pool will help to kill any bacteria or viruses that might be in your dog's pee.
The bigger the dog the more chlorine you should treat your pool with to make sure nothing bad gets into the water.
And if your dog does like to pee in your pool, you should definitely work on training them to stop because it's not a habit you want to encourage.
Should You Let Your Dog Swim in Your Pool If He Likes to Pee in It?
If your dog is one of the exceptions and does like to pee in your pool, then you need to make it clear that the pool is not a peeing spot.
If you let your dog swim in your pool, they may start to see it as more of a playing spot than a peeing spot, and it could curb their want to pee in the pool altogether.
However, your dog can also introduce other problems to your pool. Hair and dirt can get your pool dirty, so make sure you're cleaning it regularly and adding chlorine to it regularly if you are letting your dog swim in the pool.
Does Dog Pee in a Pool Go Away?
If you dog pees in your pool, it doesn't necessarily "go away" so much as it gets chemically treated.
The chlorine in your pool works as an effective disinfectant, keeping your pool from festering with diseases and algae.
Because of the chlorine, when your dog pees in the pool it will get attacked by the chlorine and broken down. Then the pool's filter will cycle the water and help to remove dirt or debris.
So, the pee gets "taken care of" but it doesn't simply go away.
Can a Dog Pee While Swimming?
The way to look at it is like this: Can you pee while swimming?
Humans are more than capable of peeing while swimming. There are signs on every public pool in the summer attesting to this.
So, it's more than likely that yes, your dog would be able to pee while swimming as well.
Peeing is just a biological response to having a full bladder, and, unlike humans, dogs are not bound by social rules that tell us we're not allowed to pee while we're swimming. They don't have to play by the rules, and probably pee while they're swimming if they absolutely need to.
But, also like humans, most dogs can tell when they have to pee. And because dogs like to pee in the same places, most dogs will usually stop whatever they're doing and go to their favorite spot to pee.
Does Dog Pee Cause Algae in Pools & Turn the Water Green?
Your dog peeing in the pool won't cause algae all by itself.
If algae is growing in your pool, it's honestly probably your fault. Algae grows when there isn't enough chlorine in the pool, when the water filter isn't being changed, and when the chemistry of the water in your pool is off.
If your dog is consistently peeing in your pool and the pool is not being cleaned and treated, then it can lead to algae and green water, but it will always be the combination of those things and not just your dog peeing in the pool.
My Dog Went Swimming in a Lake and Developed a UTI?
Lakes are a very good place for your dog to pick up an infection that can lead to a UTI.
Lakes are not the clean, freshwater places that they look like. In reality, they're a big puddle of standing water with very little flow. Add to that the fact that it's full of fish, and has wildlife that uses it for water and shelter, and you get a body of water that is teeming with bacteria.
One of the easiest places for bacteria to enter your dog's body is through their urinary tract. So, it makes sense that it would be easy for your dog to develop a UTI after visiting and swimming in a lake.
Watch your dog for signs of a UTI and check with your vet if you have any concerns.
Urinary Incontinence Noticed in Dog After Swimming?
Sometimes the places that your dog swims may have a lot of bacteria in them. This can cause infections in your dog, most commonly a UTI.
If you notice that your dog is unable to hold their bladder shortly after having gone swimming, they could be getting an infection. Especially if they've been swimming in a lake or river.
Check in with your vet if you have any concerns about your dog's potty schedule, or if you notice that they are peeing in the house more often than usual.
Why Is My Dog Peeing So Much After Swimming?
One of the symptoms of a UTI, a urinary tract infection, in dogs is a need to pee more often.
If you notice that your dog is needing to go out to use the bathroom more, think back to what might have caused a UTI. Usually it will be that they went swimming in a lake or a river, a natural body of water that has more bacteria in it.
If your dog is peeing more often and it looks like it is painful for them, you need to call your vet to get your dog in for a check up. They will be able to prescribe antibiotics that will get your dog feeling better quickly.
Why Does My Dog Pee in the Lake?
Lakes are a different thing than swimming pools to dogs.
You dog might be so excited to be out and about that they pee out of excitement.
But usually your dog will be peeing in the lake as a way of marking their territory.
There will be so many new and different scents at a lake, and your dog might be trying to send a message to the other animals in the area by peeing near the lake. Some dogs might overshoot and end up peeing in the lake.
You might also just have a quirky dog who likes to walk into the water a bit and pee. It's unusual, but rest assured you are not alone.
Does Your Dog Poop in the Pool?
If your dog is pooping in your pool, it will probably be for very different reasons than they would be peeing in the pool.
It's extremely unusual for a dog to want to go poop in a larger body of water. So, if your dog is pooping in your pool, they are most likely doing it for attention.
Dogs like to act out when they feel they are not getting enough attention because to your dog any attention, even if it's you yelling at them, is attention.
Make sure you are spending enough time with your dog if you notice them pooping in your pool.
References
https://vcahospitals.com/know-your-pet/urinary-tract-infections-utis-in-dogs